Giant vs. Trek — are brands that many mountain bike enthusiasts often compare. If you are trying to decide the next mountain bike you want to purchase, you would obviously wonder which of the two brands is better. Well, this article will help you find the answer.
If you look at Giant and Trek MTBs that are in the same price range, Giant is generally better. It has better components than the latter since it is the largest bike manufacturer. Still, Trek offers excellent MTBs, making it another excellent choice for cyclists. (source)
Generally speaking, the greatness of a mountain bike brand depends on its price range. While both brands offer high-end mountain bikes, you need to choose the ones with the same price range if you want to make a comparison.
Giant Vs. Trek: Which Mountain Bike Brand is Better?
Giant and Trek are both major mountain bike brands, not to mention they are leaders in the cycling industry. In fact, some Trek bike frames even come from Giant. These two brands both manufacture high-end and entry-level bikes, depending on the price range.
For instance, an MTB that costs $800 is far better than a $600 mountain bike.
Moreover, there are a few areas that you need to look at if you want to compare Giant and Trek mountain bikes:
Price
Reputation
Frames
Performance
Design
Components
Suspension Technology
Apart from these general features, there are also several core features that differentiate Giant vs. Trek mountain bikes:
Suspension Technology
Materials used
Manufacturing process
Price
Giant offers the best value for your money. It recently lowered the prices of its mountain bikes, while Trek did the opposite. That said, in Giant vs. Trek, in the value proposition, the latter is less appealing.
Needless to say, Giant stands out considering the latest differences in the price points of the two brands. A Giant mountain bike is a better choice unless you get a discount on the other brand. (source)
Reputation
Trek was able to make a great reputation as its bikes won many contests. It bagged the trophy six times in the Tour De France, making the brand a part of the elite class.
Of course, the Tour De France does not have much to do in purchasing a mountain bike. But since Trek won in the competition six times, it gained the upper hand in terms of reputation. (source)
Moreover, in the battle of Giant vs. Trek, both of these companies have been in the industry for quite some time. Giant launched its first bike in 1972, while Trek was established around 1976. Considering how long they have been producing mountain bikes, it is safe to say that both have much experience developing new bike technologies and designs. (source)
Frames
Giant is the world's largest manufacturer of bikes. Its frames are top of the line, and it is hard to keep up with it when talking about quality. In fact, some of Trek's mountain bikes have Giant frames. (source)
On the other hand, Trek's frame angles are more progressive compared to that of Giant's. Trek imposes trickier processes than Giant when hydroforming MTB frames. Notably, hydroforming is the process of using high pressure and fluid to shape tubes.
Thanks to its trickier process, Trek can manufacture strong and stiff bike frames. In addition, Trek is doing a better job in optimizing its frames in the ratio of strength to weight. (source)
Performance
In Giant vs. Trek, both brands excel in the field of performance. Still, the mountain bike's performance will depend on your body build and personal preference.
Trek offers differences in suspensions, making it an outstanding choice for heavyweights and racers. In setting up your Trek mountain bike, the better the performance will be if you will spend a higher price.
For instance, a $500 mountain bike will perform less than a high-end $1000 MTB. Meaning you will get what you paid for every purchase. (source)
Design
Giant vs. Trek both make unique designs. But Giant focuses on affordability and reliability and less on the design. Meanwhile, Trek offers mountain bikes with great and flashy designs.
Additionally, Giant gives more importance to the quality of its bike parts while Trek concentrates more on research and development. The latter also constantly tries to innovate and make better products. For instance, Trek bikes have a different suspension layout than other manufacturers. (source)
Components
After comparing Giant vs. Trek mountain bikes within the same price range, we found out that Giant offers better quality MTB parts. Giant owns a number of factories, and it purchases raw materials in bulk. For this reason, it can get high-quality parts at a low price and sell its mountain bikes affordably.
Moreover, the components do not have anything to do with these two brands since they both buy from different manufacturers. But, the price of the components directly affects both Trek and Giant's mountain bike prices.
Suspension Technology
Giant and Trek have their own versions of suspension technology. In this field, neither is actually better than the other.
Giant boasts itself for its Maestro Suspension Technology. This system features four pivot points, and two linkages positioned strategically. These parts work together, creating a single floating pivot for an efficient suspension system on the trail. (source)
On the other hand, Trek is popular for its suspension technology called RE:aktiv. This technology allows Trek mountain bike owners to instantly transition from soft to firm as they ride on rough trails. Meaning you no longer need to make adjustments on the terrain or choose between control of efficiency. (source)
DIY MTB Tip: Are you ready to get serious about mountain bike suspension? Check out these articles:

What is a Lockout Fork and Why it's Nice!
Quality of the MTB Components
Giant is second to none when talking about the quality of its mountain bikes. The reason all boils down to prices. As mentioned, Giant gets much cheaper MTB components because it has many manufacturers around the world. For this reason, it can offer better quality mountain bikes at a much lower price.
On the other hand, Trek has no choice but to settle on low-quality parts to reduce the cost of its mountain bikes.
With that said, you will have to purchase a much pricier Trek mountain bike if you want bike features that match the quality of a more affordable GIant MTB. (source)
Giant Vs. Trek: The Core Features
The factors discussed above are the general features of Giant and Trek mountain bikes. These features allow you to control the way that you ride your MTB entirely.
But apart from the general features above, there are also a number of core features that differentiate Giant vs. Trek mountain bikes.
The Core Features of Giant MTBs
Carrier Energypak
Giant's Energypak technology aims to aid riders in carrying their essential tools and equipment comfortably and efficiently. Additionally, this feature provides cyclists with 400Wh of additional riding power. This way, you can drive on rough terrain without having to take a break multiple times.
Advanced Composite Technology
Comparing Giant vs. Trek mountain bikes, you will see that both offer frames with carbon materials.
This feature refers to using high-quality raw carbon to create the MTB's frame. The raw carbon has an extremely high stiffness-to-weight ratio, providing Giant mountain bikes with an added stability and overall control.
Due to this feature, the front fork of the Giant mountain bikes is secured by a triangle-shaped design. It is also molded as a continuous piece when manufacturing the bike.
Compact Road
Compact Road technology is Giant's design integration feature. It promotes the use of a downward-sloping top tube that runs from the head tube going to the seat tube. This design provides cyclists with a lightweight and stiff ride that offers efficiency.
In addition, the Compact Road technology makes it easier for riders of different body builds to ride with a unique fit.
The Core Features of Trek MTBs
OCLV Carbon
The battle of Giant vs. Trek is a tie when it comes to using carbon materials. Giant uses high-grade raw carbon, while Trek boasts itself for the unique carbon material that it has been using since 1992.
With Trek using its own manufacturing process, it can produce a special type of carbon fiber, which it utilizes in various manners on its MTBs.
Additionally, using OCLV Carbon on mountain bikes allows Trek to produce a lightweight frame and MTBs with enhanced riding capabilities.
Alpha Aluminum
This system is a unique technology that Trek uses to utilize high-level metallurgy. For this reason, it can stretch the aluminum material of the mountain bikes up to its maximum absorption point.
As a result, the brand is able to create an extremely lightweight material. But despite the lightweight, the material is still highly durable and can last for a long time.
Moreover, this material has been under development for many years. So, Trek was able to refine it to perfection.
Active Braking Point
This technology is a unique rear suspension system that Trek has developed. It provides additional braking power to the mountain bikes, ensuring that cyclists can maintain control over the entire ride.
Trek patents the Active Braking Point technology. It supports the rear suspension on the bike when braking, helping you keep your bike wheels grounded during the entire ride. (sources)
The Pros and Cons of Giant Mountain Bikes
As mentioned, Giant is very popular not only for its mountain bikes but also for other bike types. The brand is also popular due to the quality of the mountain bikes that it manufactures.
Moreover, Giant mountain bikes come in various sizes and categories, all with excellent performance that easily lets you ride on any terrain.
Between Giant vs. Trek, both have their own strengths and weaknesses.
That said, here are the pros and cons of Giant mountain bikes:
| | |
| --- | --- |
| The Pros | The Cons |
| When it comes to comparing the mountain bike prices of Giant vs. Trek, Giant offers lower prices without sacrificing the quality. | Giant is not as innovative as Trek when it comes to mountain bikes. Giant vs. Trek, the latter utilizes better technology to innovate its products. |
| Giant offers the best quality frames. | On its official website, Giant does not have any mountain bike options that are specifically for women. So, if you are a female mountain biker, you might find a hard time looking for a bike that fits your build well. |
| Its mountain bikes are budget-friendly yet high-quality. | The brand does not prioritize its designs and the aesthetic appeal of its mountain bikes. |
| Giant mountain bikes are reliable and sturdy. | |
| The brand strives to manufacture high-end MTBs with the newest technologies it has. (source) | |
The Pros and Cons of Trek Mountain Bikes
Between Giant vs. Trek, one thing that gives the latter more advantage is its designs. Trek prioritizes integrating the most advanced features into its mountain bikes.
As a result, users of this brand's MTBs are able to experience the best features from the bikes. Of course, no one would ever want to purchase an outdated mountain bike, right?
| | |
| --- | --- |
| The Pros | The Cons |
| Trek has a lot of mountain bikes to offer for both men and women. | Trek MTB frames may be a little stiff for mountain bikes. |
| It caters not only to mountain bikers but also to commuters. | Trek mountain bikes are less affordable than Giant mountain bikes. |
| Between Giant vs. Trek, the latter offers more variations and sizes for its mountain bikes. | The brand does not offer many options when it comes to mountain bikes. |
| The mountain bikes produced by Trek are packed with innovative features. (source) | |
The Takeaway
If you are in need of a masterful and reliable mountain bike for your next terrain adventure, you should go for Giant. Apart from its bikes are reliable, sturdy, and long-lasting, the price it offers will not cause you an arm and a leg.
But if you are willing to spend some extra cash in exchange for innovative features and a dependable mountain bike, Trek is also a great option. Both bike brands excel in creating high-end mountain bikes with innovative features. They also use various technologies to provide bikers with the best mountain bikes that they can offer. For this reason, you can ensure that you will have the best mountain bike regardless of the brand you will choose.
---
Learn more about Pedals, Handlebars and Brakes
---
---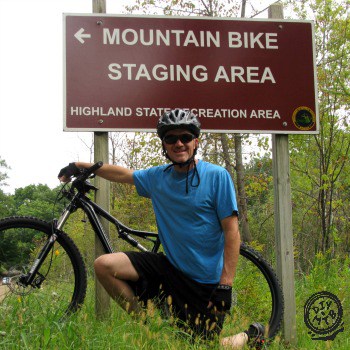 David Humphries is the creator of DIY Mountain Bike. For me a relaxing day involves riding my mountain bike to decompress after a long day. When not on my bike I can be found wrenching on it or making YouTube videos at 👉 DIY Mountain Bike Read more about David HERE.