If you ask me, Trek is one of those brands that comes to mind when talking about mountain bikes. Riders wanting a top-notch mountain bike, will analyze and research to find out whether Trek is an excellent choice or not. On top of that, knowing how Trek manufactures its mountain bikes is essential in knowing whether they can perform on your usual trails.
Trek mountain bikes are one of my top choices for both beginner and professional mountain bikers. The company integrates high-end technology to innovate its MTBs and MTB parts. It resulted in lightweight, durable, and compliant mountain bikes for all types of trails.
In this article, we put Trek mountain bikes to the test to see whether or not they are worth an investment.
How Good Are Trek Mountain Bikes?
It is no secret that Trek is one of the US's biggest and most popular bike manufacturers. The brand has been manufacturing and distributing bicycles and bike parts from Europe to Asia since 1976. Trek's solid reputation and ability to integrate new technologies into its products made it famous as one of the most innovative bicycle manufacturers in the world.
One of Trek's most popular bike types is its mountain bike. But just how good are Trek mountain bikes?
Trek Mountain Bikes: Are They Any Good?
Trek offers mountain bikes for beginners and professionals alike. It is also the first manufacturer to design female-friendly bikes and bike accessories. However, knowing that the company prioritizes the needs of its consumers is not enough to consider it a good brand.
Let's uncover what lies beyond the tip of the iceberg and see whether Trek mountain bikes are worth the hype.
Frames
One of the essential parts of a mountain bike is its frame. For this reason, MTB frames need to be durable and reliable so that cyclists can easily reach the end of their adventure. Trek is aware of this fact, so it offers different types of frames for its mountain bikes:
Aluminum Frames
Aluminum is the most common frame material used by many mountain bike manufacturers. Such a frame is lightweight, rigid, and affordable, thus making a cyclist's mountain biking experience fulfilling.
However, aluminum frames are famous for their stiff nature. So, while aluminum is lightweight and durable, using it as a mountain bike frame sacrifices the rider's comfort. Fortunately, the engineers at Trek have a solution for that.
Trek uses Alpha Aluminum frames for its mountain bikes. This innovative MTB frame is more responsive than regular aluminum. Even better, it provides riders with extreme comfort no matter how challenging a trail they take.
Alpha Aluminum frames retained the lightness and affordability offered by aluminum. According to Trek, the frame's construction and design make it stiff on challenging trails. Still, it is compliant whenever the cyclist needs to make sudden changes to how they ride the bike. (source)
Carbon Frames
Carbon frames are a lot lighter than aluminum frames. Despite the weight, this frame material is stiff, durable, and can withstand the abuse caused by trail obstacles.
To further improve the quality of carbon frames, Trek developed its very own patented Optimum Compaction Low Void (OCLV) Carbon. Trek used the best and most durable carbon fiber material to construct OCLV Carbon frames. Hours of developing the OCLV Carbon resulted in the lightest mountain bike frame ever created by the company.
Trek carefully sized carbon fibers to create the OCLV Carbon frame and layered them using high heat and pressure. The high pressure ensures that each layer of carbon fiber has little to no gaps. This process resulted in a lightweight frame that does not acquire damage regardless of the impact and rough riding conditions it receives. Mountain bikes with OCLV Carbon frames are also comfortable to ride. (source)
IsoSpeed Frames
Since creating the traditional diamond-shaped mountain bike frames, manufacturers have thought of ways to make them stiff yet compliant and efficient. It is the reason why Trek was able to create its most futuristic frame design – the IsoSpeed frames.
The IsoSpeed frames are Trek's most advanced take on the traditional frame design of mountain bikes. With this type of frame, mountain bikes will have to rely less on their suspension systems. The reason is that IsoSpeed frames can absorb impact and vibration when cyclists pass on rough trails. This feature makes Trek mountain bikes with IsoSpeed frames ideal for long-distance mountain biking.
In addition, IsoSpeed frames do not have rear suspension gear. For this reason, they are lightweight and easy to maneuver. (source)
Suspension Systems
The quality of a bike's suspension system is essential as it can make or break a cyclist's comfort. A good suspension system can absorb massive shocks during landing from high areas. It should also be able to dampen vibration when biking off-road. A good suspension system can greatly impact a cyclist's mountain biking experience.
Full Floater Suspension
Trek's Full Floater Suspension solves the dilemma encountered by almost every mountain biker – more travel yet less efficiency. Simply put, a mountain bike with a lot of travel will require a cyclist to exert more effort in pedaling, thus making the ride more exhausting. It also limits the types of terrain that a mountain bike can conquer.
But with the Full Floater Suspension by Trek, cyclists can achieve more travel without sacrificing the ride's efficiency. This suspension system allows cyclists to take on any terrain regardless of the difficulty. It is also highly responsive, so the rider will not feel too much shock, even during jumps. (source)
RE:aktiv
Every mountain biker wants to ride on trails without any distractions. However, one problem with the suspension system is that it dampens the pedaling power applied by cyclists when taking uphill terrain. As a result, climbing uphill becomes extra complicated, causing cyclists to lose a lot of energy.
To solve this dilemma, Trek has developed a suspension system called RE:aktiv.
It adapts to the riding condition, making mountain biking less exhausting and more enjoyable. With this suspension system, you no longer have to lock and unlock your suspension to suit your riding needs. The RE:aktiv suspension system adjusts on its own depending on the demands of the trail you are taking. This way, you will achieve control and efficiency regardless of the trail condition. (source)
Active Braking Pivot Rear Suspension
The primary goal of a rear suspension system is to provide mountain bikes with better traction. It also allows riders to control their mountain bike better, thus improving their comfort during rides. However, the problem with a rear suspension system is that it makes the rear wheel bounce, causing it to break contact with the ground shortly.
Trek's Active Braking Pivot rear suspension works by keeping the suspension active whenever your mountain bike goes over bumps on the trail. This way, the rear wheel does not bounce, keeping it on the ground regardless of how many obstacles your mountain bike needs to overcome.
The Active Braking Pivot rear suspension also increases traction and braking efficiency. It helps the brakes work almost instantly, so riders will not have to push the brakes even when they are still far from their stop. The mountain bike's speed increases significantly without spending more time on the brakes. (source)
Aerodynamics
Trek pays a lot of attention to testing and developing its mountain bikes. The manufacturer also does its best to make its MTBs as aerodynamic as possible. For this reason, Trek mountain bikes deliver in terms of wind resistance. The aerodynamic design also makes it easy for the riders to maneuver their Trek mountain bikes without the wind distracting them.
Aerodynamics Development Processes
Trek was able to improve the aerodynamic design of its mountain bike by creating computer simulations and running them on software. The software then tests the aerodynamic capabilities of the Trek bikes. The mountain bikes also undergo aerodynamic testing in Trek's very own wind tunnel to ensure the accuracy of the test conducted by the software. This way, Trek could improve the quality of their mountain bikes and the comfort of cyclists.
Moreover, mountain bike prototypes created by Trek engineers need to undergo a series of tests. Trek has a program called Computational Fluid Dynamics (CFD) that acts as a virtual wind tunnel for Trek mountain bikes that are still in the drawing stage. CFD tests the aerodynamic capabilities of the bike prototypes. This way, Trek can know which prototype it should turn into an actual mountain bike model and which needs refinement. (source)
How Do Trek Mountain Bikes Ride?
There is no denying that Trek incorporates technology into its mountain bikes to improve their features and performance. For this reason, they make an excellent option for people looking to invest in a mountain bike. The company has been making mountain bikes for 40 years, so cyclists can trust that its techniques have improved.
As you will notice, Trek creates mountain bikes that meet its users' needs and requirements. The technology the brand incorporates into its mountain bikes makes them lightweight and highly maneuverable. For this reason, Trek mountain bikes are easy to pedal and drive fast.
In addition, the technology used by the company to improve the suspension system makes its mountain bikes easy to accelerate, even on steep trails. They can also absorb bumps and shock, proving that Trek prioritizes its customers' comfort. Trek mountain bikes are an excellent choice whether you are a beginner or a professional cyclist. (source)
A Review of The Mountain Bike Types Offered By Trek
It is common knowledge that there are different types of mountain bikes, and Trek offers all of them:
trail mountain bikes
downhill mountain bikes
fat bikes
cross-country bikes
On top of that, Trek is the first brand to develop women-specific mountain bike models. Trek's women's mountain bikes feature women-specific designs. For instance, the size of the saddles, handlebars, and mountain bikes' height is proportional to a woman's body build.
However, how good are each type of Trek mountain bike?
You can consider trail riding as an all-purpose type of mountain biking. It is a good sport if you are a casual mountain biker who is not fond of too many obstacles like uphills and downhills. Using a trail bike is also ideal if you want to enjoy the scenery around the trail.
Moreover, the trail mountain bikes developed by Trek are incredibly versatile, making them ideal for riding on different trails. Trek offers various size options for the bike wheels. They also have an excellent suspension system that allows the Trek trail bikes to handle rough rides and abusive trail conditions.
In addition, the trail bikes manufactured by Trek can easily take on rocky trails quickly. It can even handle drops without sacrificing the rider's comfort.
A downhill mountain bike is the best option for cyclists itching to take on obstacle-filled trails at high speeds. This mountain bike can conquer the steepest and most demanding trails, allowing riders to reach the bottom of a track as fast as possible. Considering how gnarly the trails a downhill mountain bike needs to conquer, their components must be extremely durable.
Trek's downhill mountain bikes have a unique suspension system, highly durable frames, and an excellent ability to absorb shock and vibrations. With these features, mountain bikers can defy gravity by performing jumps from steep trails. Trek's downhill bikes' absorption capabilities can even make dirt jumps comfortable.
If you love doing stunts on trails, Trek's downhill mountain bikes are durable and lightweight enough for you to perform every possible stunt.
Bike manufacturers created fat bikes for trails covered with sand and snow. As the name suggests, this mountain bike has extra large wheels that give riders high traction on slippery trails. These wheels have low pressure, making the bike easy to pedal regardless of the trail condition. You can also use fat bikes on muddy trails and traditional mountain biking terrains.
The fat-tire bikes manufactured by Trek allow cyclists to explore rugged trails. Much like the other mountain bikes offered by the company. Trek fat bikes provide riders with comfort even on steep and treacherous trails.
Trek's fat bikes are also ideal for people who like taking on trails out of the mountain biking season. And since the company's fat bikes have high-quality components, you can use them throughout the year and on various available trails.
A cross-country mountain bike can cover various trails at a fast speed. Such bikes can provide good traction for uphill and downhill rides. Even better, they are also efficient on flat trails as they are lightweight and fast.
After putting Trek's mountain bikes to the test, we discovered that its cross-country bikes are incredibly efficient. They are one of the company's most efficient types of mountain bikes, although the other MTBs we tested are no less than excellent. Trek developed and manufactured cross-country bikes that are lightweight and equipped with an exemplary suspension system. This suspension system allows them to accelerate fast without losing their reliability and compliance.
Additionally, the cross-country bikes from Trek can do trail racing due to their incredible speeds. Their lightness also makes these bikes highly responsive, thus making them suitable as racing mountain bikes. On top of these features, Trek's cross-country mountain bikes are highly stable, so you will not easily fall on trails regardless of their difficulty. (source)
---
Looking For More TREK Information? Let Me Help with these articles. 👇
---
How Do Trek Mountain Bikes Compare to Their Competitors?
Two of Trek's most prominent competitors are Giant and Specialized. These three brands offer great mountain bikes in various types and prices. If you are a beginner, noticing the differences between these mountain bike brands can be a challenge. For this reason, we compared Trek mountain bikes with their competitors to help you find out which one will suit your needs.
Build Quality
Some mountain bike parts that Trek used came from Giant. But if you compare the exclusive components made by these brands for their mountain bikes, you will see that Trek's MTB parts are better than Giant's. The reason is that Trek uses the latest technology available to improve its mountain bike parts' strength and overall quality. Trek's use of technology results in mountain bikes that can cater to the needs of cyclists, such as comfort during rough rides.
On the other hand, Specialized also uses technology to improve its mountain bike parts. For instance, it developed a rear suspension system called Future Shock Rear. Trek and Specialized claim that their suspension systems are better than their competitors.
However, the decision of whether or not Trek is better than its competitors boils down to the personal preference of the cyclist using it.
Design And Style
Trek designed its mountain bike to look good and work efficiently. On the other hand, Trek and Giant focus more on quality rather than aesthetics. Trek takes care of even the most minor mountain bike details to ensure its overall looks are flawless. For instance, you will not see any welding marks in the mountain bike frames made by Trek.
But regardless of the looks of a mountain bike, the choice of which bike looks better depends on the user's preference.
Suspension System Quality
Trek sets high standards in terms of its suspension system's quality. The company's state-of-the-art suspension system is highly effective in rough riding conditions. The three suspension systems developed by the company also have high shock absorption, making rides comfortable regardless of how many obstacles you need to pass through.
When comparing Trek's suspension system with Specialized, you will see that both brands utilize technology to improve their mountain bikes' ease of use. Trek and Specialized's suspension systems give riders more control over their mountain bikes, thus providing stability.
On the other hand, Giant's mountain bikes have less shock absorption than Trek MTBs. Still, its suspension system is effective for various off-road conditions.
Price
If there is one area of comparison that Trek loses, it is the pricing of its mountain bikes. Since Trek uses high-end technology to test and develop its mountain bikes, they are available at a high price point. Meanwhile, Giant prioritizes reducing its mountain bikes' retail prices without sacrificing their features.
However, it is essential to note that the high price point of Trek mountain bikes is worth the investment. If you are a performance-oriented cyclist, an MTB from Trek will surely reach and even exceed your expectations. But if you are not ready to spend a lot on a mountain bike, Giant and Specialized are two great brands to consider. Giant offers affordable mountain bikes with good features, which makes them ideal for beginners. (source)
One More Lap on the Single Track
After testing some of the brand's mountain bike models carefully, we found that you can consider Trek a luxury mountain bike brand. It manufacturers mountain bikes with technology-based features and futureproof designs. The company even goes to the lengths of developing new technologies for its mountain bike parts.
If you have questions about mountain bikes, our comment section is open for you to drop them off, and we'll be more than willing to provide you with helpful answers!
To sum things up, Trek mountain bikes have features better than the ones offered by its competitors. However, getting these features means spending a lot on your mountain bike, which is entirely worth considering how excellent Trek mountain bikes are.
---
Looking for Some More Ways to Help Your Bike Last
---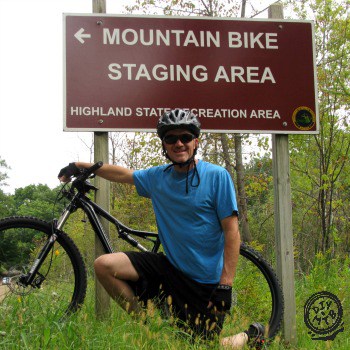 David Humphries is the creator of DIY Mountain Bike. For me a relaxing day involves riding my mountain bike to decompress after a long day. When not on my bike I can be found wrenching on it or making YouTube videos at 👉 DIY Mountain Bike Read more about David HERE.
Sources