When the time comes to upgrade your handlebars, there are several things you should consider before spending your hard-earned money. But what if you're making a wrong decision that could hurt you in the long run? Understanding the science behind handlebars will help you decide on an upgrade, just like it helped me.
Handlebars are worth upgrading for comfort, health and to suit your riding style better. There are four primary considerations to review when deciding if upgrading your handlebars is suitable for you: fit, materials, weight, riding style, and price.
I'll walk you through the fundamentals of handlebar tech, so you go into your potential upgrade armed with the knowledge you need to make an informed decision and improve your ride at the same time. So, I was hoping you could stick with me, and let's get this ride underway!
4 Things To Consider Before Handlebar Upgrading
Fit & Riding Style
Materials
Weight
Price
Handlebar Fit
You need to consider three basic dimensions for handlebars: width, rise, and sweep. The width of the bar is the overall width from left to right and vice versa. The rise is the amount of rising built into the handlebar, raising the handgrip areas above the horizontal for the central stem mounting point on the handlebar. And lastly, the sweep, or angle that the handlebars grip portion sweeps back toward the rider, giving the handlebars a mellow u-shape when viewed from above.
Handlebar Width
The fit of your handlebars should, first and foremost, be suited to your shoulder width. Consider that when you push an object, your arms are more comfortable spread apart. When you pull an object, you can do so with your hands very close together.
Similarly, the closer your hands are together when operating a bike, the less stable your steering control.
You might think a super-wide handlebar is the best because it offers the higher steering control, but there comes the point when it's too wide for your shoulders, and you can cause shoulder damage.
Width Tip: Handlebar width – Too wide will destroy your shoulders. Too narrow, and you lose control. Optimize for push, pull, best shoulder health. To add to your handlebar knowledge read – Why Are MTB Handlebars So Wide?
Lee from Lee Likes Bikes said he used to race with 20″ wide handlebars, then tried wider and got to 800mm. But it hastened the destruction of his shoulders, and he said it was white-hot pain. So, it's so important to get a handlebar width that works for your particular shoulder width.
Lee says he uses a general formula to help people decide what handlebar width they should install on their mountain bike to suit their physiology.
Your height (in centimeters) x 4.4 = Your Maximum Bar Width (in centimeters)
This formula works well for general riding, like cross country. If you are downhill biking a lot, you may want to slightly increase your handlebar width by a few millimeters for more excellent stability. That's what downhill legends like Rachel Atherton, with her 37 world cup race wins, who rides a 775 mm wide handlebar with minimal low rise does. She is only 5'8″, which equates to 172cm. If we multiply this by 4.4, we get 756 mm. Rachel is pushing 19 millimeters above the recommended for the sake of extra control for her downhill bike riding.
DIY Mountain Bike Tip: If your looking to learn how to cut your handlebars down to size read my article – How To Make Mountain Bike Handlebars More Comfortable (Measuring and Cutting)
Handlebar Rise
Speaking of downhill riding, you might wonder what the handlebar rise does for your biking. Well, it's actually rooted deep in science and relates directly to your biking style. Let me explain.
When we look at aerodynamics, we see that a forward-swept rider who leans low and forward on their bike will achieve the most incredible aerodynamics. A rider sitting upright will create the most drag.
While you might think that being aerodynamic is the best, it may only be the case if you ride to win races. Otherwise, it can be hard on your lower back to ride hunched forward.
Enter the handlebar riser or handlebars with a built-in rise. The lower the rise of the handlebar, the more the rider will lean forward, increasing aerodynamic potential while also increasing lower back pain potential.
You might think that if lower handlebars contribute to back pain, you must consider the nature of the riding. Take a ride where one is riding uphill a lot. With uphill climbing, you lean over your handlebars to avoid popping a wheelie from too much weight over your rear wheel. To compensate, we lean forward to move the center of gravity closer where it belongs.
Using a handlebar with a riser will exaggerate the effect of moving the center of gravity more towards the rear wheel, causing a more difficult time climbing.
Here it is summed up:
The fastest MTB racers use a low stance, leaning forward, and more aerodynamic.
Leaning forward can hurt your lower back.
Uphill climbing requires leaning forward, and thus a lower rise handlebar is better suited.
Downhill riding requires leaning back more, and thus a higher rise handlebar is better suited.
Average riders sitting up more with a handlebar with built-in rise will have a more comfortable ride but suffer when trying to climb steep inclines.
What's The Most Common Rise?
15-25mm rise is typical for handlebars sold standard with most mountain bikes. Liam Woods of Worldwide Cyclery mentions how the pro downhill riders always have higher rise bars to accommodate more control and a more comfortable ride when the bike is directed on a downhill trajectory.
Handlebar Sweep
Sweep is measured on mountain bike handlebars using two measurements. These measurements represent two aspects of the sweep. First, the amount the grip portions of the bars sweep upward from the stem. The next is the backsweep which is how the bars bend back from the stem towards the rider. The sweep intends to increase safety and comfort to accommodate the physiology of the human body.
Upsweep is commonly around 5 degrees, while backsweep ranges from 5 to 9 degrees. (source)
Handlebar Materials
The second most crucial factor to consider when determining the validity of a handlebar upgrade is the materials. Typical mountain bike handlebars are available in steel, aluminum, and carbon fiber. Steel is the most common and the heaviest of the three. It's also typically the cheapest.
Aluminum handlebars are more common in mid to higher-end mountain bikes. The feel is not as cold as steel; of course, with your grips, it won't matter. Aluminum handlebars are considerably lighter than steel and have greater rigidity for a firmer feel.
Carbon fiber provides the best riding experience with suitable flexibility and ultimate strength for weight ratio. Carbon fiber is also the most expensive, commanding top dollar compared to steel handlebars.
Handlebar Weight
Depending upon the material used for production, the handlebar weight is another consideration some more advanced riders gravitate towards. And science does back up the case for a lighter bike being more manageable and requiring less energy to get up to speed.
However, depending on how serious you are about shaving off every ounce, the weight difference from aluminum to carbon fiber may not be enough to inspire you to fork over the big bucks to save a few grams.
Handlebar Price
The last consideration one should review is the price of the handlebar upgrade. The differences in cost between the name brand and unbranded handlebars are astronomical when considering the materials used. However, some of the more prominent bike industries carry generations of research behind their name, so it comes down to a comfort and quality concept.
I recently purchased some handlebars from Amazon for a great price to improve the comfort of my sisters bike. Great reviews and a great price, I bought them so feel comfortable recommending BW Riser Handlebars 60mm Rise (Link to Amazon)
You can easily find carbon fiber handlebars for under $100. However, the quality may not be as good as a manufacturer will stamp their name on the product. It would be best if you decided on the upgrade to your handlebars based on fit and comfort and primary riding style. All other considerations should be secondary.
---
Want to read a little bit more about MTB stuff? Check out the below. 👍
---
Learn more about Pedals, Handlebars and Brakes
---
---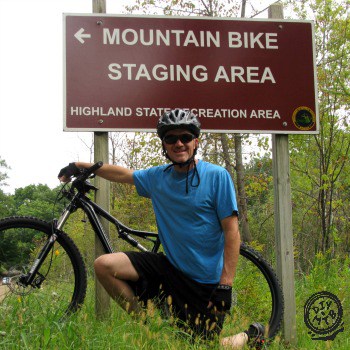 David Humphries is the creator of DIY Mountain Bike. For me a relaxing day involves riding my mountain bike to decompress after a long day. When not on my bike I can be found wrenching on it or making YouTube videos at 👉 DIY Mountain Bike Read more about David HERE.