The best Trek mountain bike for the money can be challenging to find. The reason is that the said manufacturer produces high-quality mountain bikes, making every product worth purchasing. However, there will always be one product that stands out among the rest.
The Trek Marlin 7 is the best mountain bike that your money can buy from Trek. It has an aluminum frame that makes it reliable and sturdy for rough trail rides. The mountain bike also has features that you can only find on expensive bikes.
Best Trek Mountain Bike for the Money
No one can deny how popular Trek mountain bikes are. The reason is that the bikes under this brand are high-quality, thus offering fantastic value for the money.
Additionally, Trek mountain bikes pack modern technologies, which allow them to retain value for years.
Even elite cycling athletes use Trek bikes, adding up to the excellent reputation of the said brand.
However, with so many great mountain bikes offered by Trek, choosing which one is worth buying can be challenging. For this reason, we have dug through the internet to bring you the best Trek mountain bike for the money.
---
Looking For More TREK Information? Let Me Help with these articles. 👇
---
The Trek Marlin 7
Trek Marlin 7's best feature is its aluminum frame. According to the brand itself, "Marlin 7 is where race-worthy mountain bikes begin." The frame packs subtle features, making this 800-dollar mountain bike worth every penny. Additionally, this bike is perfect for both aspiring racers and casual riders.
The frame's paint job is sleek and visually appealing, and the bike itself offers sharp and precise steering that you can only find on high-priced mountain bikes. It also has a 100mm RockShox XC30 coil-spring fork.
For this reason, the bike performs excellently even over the rockiest trails.
Unlike most off-road bikes with single chains, the Marlin 7 has two chainrings. An excellent feature compromises the small number of rear cogs in a nine-speed drivetrain.
Moreover, the smallest gear on the mountain bike measures 22 x 36, while the largest is 36 x 11.
With this combination, you get to have more go-fast gearing than more expensive mountain bikes equipped with SRAM's Eagle 12-speed drivetrain. No doubt, the Trek Marlin 7 is the best Trek Mountain bike for the money.
Additionally, this mountain bike boasts the Shimano MT200 hydraulic disc brakes. Such can provide an excellent level of control needed for exceeding your limits when cycling on high-speed descents.
It also has aluminum Bontrager Connection wheels encased in Bontrager XR2 Comp tires. But it is essential to note that the wheels are not tubeless-ready.
The Trek Marlin 7 is precisely what you want in a mountain bike when riding on trails. It boasts agile steering and excellent shock absorption, thanks to the coil-spring RockShox XC30 fork. And while the 31-pound total weight does not make it the lightest XC bike, it is still reliable enough to jump on knee-high logs.
More About the Trek Marlin 7
Style: XC
Frame: Aluminum
Wheel Measurements: Aluminum Bontrager Connection 27.5 (XS and S), 29 (M to XL)
Shifters: Shimano Altus 2 x 9-speed
Fork: 100mm RockShox XC30
Cranks: Shimano MT101
Front Derailleur: Shimano Altus
Rear Derailleur: Shimano Acera
Chainrings: 36/22
Brakes: Shimano MT200 Hydraulic Disc
Cassette: 11-36 nine-speed
Tires: 2.2" Bontrager XR2 Comp
Handlebar and Seatpost: Aluminum Bontrager.
Stem: Aluminum Bontrager, Blendr Compatible
| | |
| --- | --- |
| Additional Features | Description |
| 2 x 9 Drivetrain | Allows you to drive fast and provides gearing for up-hill terrains |
| Internal Routing | Cables are hidden within the frame, making the Marlin 7 look sleek and aesthetically pleasing. |
| Gear Indicator | Displays which gear you are using |
| Rack Mounts | A good feature if you want to use your mountain bike for commuting and touring |
| Fork Lockout | An easy-to-reach switch that comes in handy whenever you do not need the front suspension (source) |
What Is the Least Expensive Trek Bike?
There is no denying how adventurous mountain biking is. It allows you to enjoy the outdoors regardless of whether or not you have an experience with MTB. But it is essential to note that there is a learning curve that mountain bikers should go through in terms of the features and functions of each mountain bike.
For instance, if you are a beginner, you need a mountain bike with features you can familiarize yourself with quickly. That said, beginners should start with the basics.
So, while the Trek Marlin 7 is the best Trek Mountain bike for the money, you also need to find the least expensive yet high-quality Trek MTB.
The Trek 820
This mountain bike is the least expensive MTB among Trek's line of bikes. Despite the price, it boasts the premium features that make it a powerful option for beginners who seek to explore the world of mountain biking.
The 820 consists of a durable custom stainless-steel frame, allowing it to conquer cross-country, lightweight, and light trail lights. You can even use it on challenging rides without losing its structural integrity.
Even better, the Trek 820 features front and rear Shimano Tourney TY500 and TY300 derailleurs. This feature provides the bike with smooth power on your entire ride. The Trek 820 undoubtedly packs serious features, making it an excellent entry-level mountain bike. That said, it is safe to say that this MTB is the next best mountain bike for the money.
Moreover, below are the core features of the Trek 820:
Frame
The Trek 820 boasts a highly durable Trek Custom Steel frame, which lets it provide excellent power for intense long rides. The frame's rugged design provides the bike with great functionality and actual performance.
Additionally, the frame has an SR Suntour M-3030 preloaded fork. The fork utilizes a coil spring to deliver responsiveness on every trail you conquer.
Brakes
This mountain bike's standard braking configuration is the Tektro alloy linear-pull brakes. Such deliver fast and precise stopping power. The brakes, along with the Bontrager LT3 26 x 2.00 tires, make the 820 an impressive beginner mountain bike when it comes to all-around performance.
Shifters
The 820 packs Shimano Tourney EF40 seven-speed shifters, making it the next best Trek mountain bike for the money after the Marlin 7. The shifters also allow you to perform instant speed adjustments. Additionally, the shifters are supported by:
a Shimano Tourney TY500 front derailleur
a Shimano Tourney TY300 rear derailleur
Seat
Another reason why the 820 is the next best Trek mountain bike for the money after the Marlin 7 is its seat. The cycle consists of a Bontrager SSR saddle, which supports your sitting position as you ride your bike.
It boasts a Bontrager SSR 2-bolt head 29.2, 12mm offset post. The seat is comfortable, making the mountain bike easy to ride even when conquering long trails. (source)
Where Are Trek Bikes Made?
The Trek Bicycle Corporation is the manufacturer and distributor of the Trek brands:
Bontrager
Electra Bicycle Company
Diamant Bikes
It is also the manufacturer of the best Trek mountain bike for the money – the Marlin 7.
Additionally, the company previously manufactured bikes under Gary Fisher, Klein, LeMond Racing Bicycles, and Villiger Bikes.
Trek's headquarters is in Waterloo, Wisconsin, with its bikes marketed through 1,700 independently owned bike shops in North America, Asia, Europe, and South Africa. It also has distributors in 90 countries all over the world.
Moreover, the majority of Trek bikes are manufactured outside the United States. Instead, the bikes are manufactured in Germany, the Netherlands, China, Taiwan.
A Brief History And Technologies
Like other extremely successful bicycle brands, Trek Bikes began as a small business in Waterloo, Wisconsin. Bevill Hogg and Dick Burke opened the company in 1976, with only five employees.
Trek equipped its first bikes with touring steel frames. However, as this brand evolved, the bikes it manufactures and these bikes' features became better, too. Trek started producing road racing bikes and mountain bikes from carbon and aluminum until its steel frames went live soon after. (source)
Technologies
Trek has developed many of the top technological solutions used in top-of-the-line bicycles. For this reason, you can easily find the best Trek mountain bike for the money. The brand has also opened the door that integrates advanced technologies even on mid-range and entry-level bikes.
Moreover, some of the ground-breaking technologies pioneered by Trek are:
Alpha Aluminum – Trek's very own refined aluminum frames boast their overall weight and strength.
– Re:aktiv is an advanced suspension system that provides dynamic flow to riders.
IsoSpeed Suspension – A suspension system for road bikes decouples the seat tube from the top tube, resulting in less fatigue. (source)
Is Trek Better Than Specialized?
Comparing Trek and Specialized can be a challenge since both brands have already established themselves. Both brands also offer fantastic bikes under different price ranges and categories. Still, Trek and Specialized have their own.
1. Mountain Bikes
It can be difficult for beginners to spot the difference in the mountain bikes manufactured by Trek and Specialized. But experienced mountain bikers will notice these differences regardless of how minor they are.
The differences between Trek and Specialized Mountain bikes are noticeable in their expensive line-ups and geometry. Each brand offers MTBs that feels different when you ride them. that said, the choice of which mountain bike brand is better will all depend on your personal preference and body type.
For instance, if you are a beginner, the best Trek mountain bike for the money would be the Trek Marlin 7.
2. Materials
Trek and Specialized use the same materials when manufacturing their mountain bike frames. For less expensive bikes, the brands use lightweight A1 premium aluminum. On the other hand, high-end and costly mountain bikes consist of FACT carbon fiber.
3. Rear-Suspension Design
The difference in the rear suspension design between Trek and Specialized is that Trek developed the Active Braking Point and Full-floater. On the other hand, Specialized created the Future Shock Rear.
Both companies claim their systems to be better than their competitors. Regardless, the mountain bikes from both brands can conquer rough terrains and bumps while reducing impact. For instance, the Marlin 7 – the best Trek mountain bike for the money – is an entry-level MTB. Despite that, it boasts fantastic features that you can only find in high-end mountain bikes.
4. Parts and Features
Both Trek and Specialized have parts and components from SRAM and Shimano, depending on how much the bike is. The two brands can be deemed equal in this area if they cost the same.
So, Which Is Better?
With all that's said, it is safe to say that the answer to which is better between Trek and Specialized depends on your personal preference. You also need to consider your needs and requirements.
These two brands also have their features, which may or may not suit you.
In addition, you also need to consider your budget to help you narrow down your choices. But if you want a beginner mountain bike that packs feature that will not leave your wallet empty, the Marlin 7 is the best Trek mountain bike for the money. (source)
Are Trek Mountain Bikes Worth the Money?
Trek is one of the most trusted brands in the mountain bike industry. It offers mountain bikes and other bikes for kids and adults alike. But are Trek mountain bikes worth the money? To answer this question, let us look at two things.
Geometry And Overall Feel
Trek screams simplicity in terms of mountain-bike geometry, and you can see that on the Marlin 7 – the best Trek mountain bike for the money. The brand offers frames that have alpha sizing. This way, riders can choose between small, medium, and large rather than measuring tub lengths to find the correct geometry.
The reason for using alpha sizing is the brand's commitment to creating bikes for the widest variety of riders. Additionally, the frames are manufactured in a way that would feel comfortable for every type of rider.
Performance
Trek continues to innovate technologies for bikes to ensure that their products will perform the best way they can during every ride. For instance, Trek road bikes feature thin construction, are graceful, lightweight, and rigid. For this reason, Trek road bikes are comfortable to ride on smooth roads.
On the other hand, the manufacturer's mountain bikes have heavy materials, which allow them to endure abusive riding on rough trails and bumpy terrains.
In addition, the materials that the brand use for constructing its bikes are high-quality, which ensures the bikes' longevity and ride quality.
That said, Trek mountain bikes are all worth buying. (source)
The Last Pedal Stroke
Trek built a good name for itself since its humble beginnings. It is one of the best bicycle brands globally, offering high-quality and reliable bicycles. Even professional bikers trust Trek to help them conquer every competition.
The Trek Marlin 7, for instance, is an entry-level bike yet packs features that you can only find on high-end models.
For this reason, this bike is the best Trek mountain bike for the money. If you are a beginner and seek an MTB that offers a comfortable yet fantastic ride, the Marlin 7 is worth considering.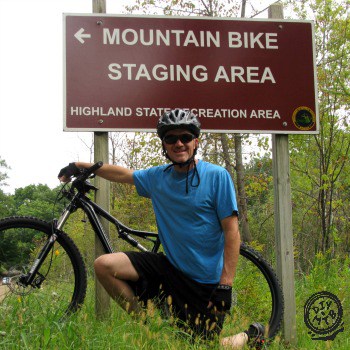 David Humphries is the creator of DIY Mountain Bike. For me a relaxing day involves riding my mountain bike to decompress after a long day. When not on my bike I can be found wrenching on it or making YouTube videos at 👉 DIY Mountain Bike Read more about David HERE.
Source
"Marlin 7." Trek Bikes. Accessed January 12, 2022. https://www.trekbikes.com/us/en_US/bikes/mountain-bikes/cross-country-mountain-bikes/marlin/marlin-7/p/33148/.
"820." Trek Bikes. Accessed January 12, 2022. https://www.trekbikes.com/us/en_US/bikes/mountain-bikes/cross-country-mountain-bikes/820/820/p/17027/?colorCode=black.
"Raised on Rocket Science." Trek Bikes. Accessed January 13, 2022. https://www.trekbikes.com/us/en_US/inside_trek/technology/.
Wikipedia, The Free Encyclopedia. Trek Bicycle Corporation. https://en.wikipedia.org/wiki/Trek_Bicycle_Corporation.
"Bike Reviews." Bicycling. Vol. 48, No. 1. January 2007. 76.
Bill Buxton. Sketching User Experiences: Getting the Design Right and the Right Design. Canada: Elsevier, 2007. https://books.google.com.ph/books?id=2vfPxocmLh0C&pg=PA90&dq=Are+Trek+Mountain+Bikes+Worth+The+Money?&hl=en&sa=X&ved=2ahUKEwixzN3cjLH1AhVb7WEKHXUuAGsQ6AF6BAgJEAI#v=onepage&q=Are%20Trek%20Mountain%20Bikes%20Worth%20The%20Money%3F&f=false.