I know, if only they could make a one size fits all bike! However, we live in a world where your bike needs to be a good fit for your height. Otherwise, you'll have a bike that feels like something a clown would ride on. Or, you'll have to climb up on it like a mountain to get on it. I know it's a mountain bike, but that's too much!
If you're looking for a 26-inch mountain bike, what height is it good for?
Nowadays, 26-inch mountain bikes are meant for people who are budget minded and a bit smaller in height, or for tweens. The recommended rider height is between 4′ 10″ and 5′ 7″ with an is seam between 25 and 30 inches.
---
If your here looking for a recommended 26 inch mountain bike – Amazon has a couple that are highly rated and competitively priced
The Gravity 2020 FSX 1.0 is a Full Suspension MTB with name brand components. Shimano derailleurs, Tektro Disc Brakes and a Suntour Crankset.
A value packed MTB is the Huffy Stone Mountain. This bike is a hardtail with rim brakes and and 21 speeds.
For the tween audience, the 26-inch bike is good if you're too small for the kids' bike, but you're still growing and don't have a need for the adult bike yet.
If you're an adult and you're shorter, would a 26-inch bike be good for you?
It all depends. You see, bikes are more than just their tire size. Their frame size is important as well. So is how long your legs are.
A 26-inch bike works well for people who are 4'10-5'7, or 147 cm to 170 cm. Also, it works well for people whose leg inseam is 25-30 inches, or 63-76 cm.
However, the frame size may need adjustment depending on your height. If you are 4'10-5'3, or 147-160 cm, with a leg inseam of 25-28 inches or 62-70 cm, your frame size should be 13-14 inches.
You'll need a 15″-16" frame size if you're 5'4″-5'7″, or 160-170 cm. Your leg inseam will be about 25-30 inches, or 63-76 cm.
For clarification, check out this chart:
| | | |
| --- | --- | --- |
| Rider Height | Inseam | Tire Size |
| 4′ 10″ to 5′ 7″ | 25 – 30 inches | 26 inch Wheel Size |
| 5′ 5″ to 6′ 0″ | 26 – 32 inches | 27.5 inch Wheel Size |
| 6′ 0″ to 6′ 6″ | 28 – 34 inches | 29 inch Wheel Size |
Rider Height with Tire Size Recommendation
Of course, there are many different sizing charts with some telling you that 26 wheels can work for any depending on the frame size.
At the end of the day, you'll have to try out the bike yourself. Get on the bike and feel it for yourself. Does it have enough leg room without having too much open space?
Considering a 26 inch mountain bike? Read more in this article: Should I Get a 26 inch Mountain Bike?
Can you reach the handlebars comfortably? Can it ride fast?
If you're buying the bike in person, you may be able to try it yourself. If you're buying online, see if the manufacturer has their own sizing chart.
In case you order a bike and it doesn't fit, make sure the manufacturer has a good return/replace policy. You don't want to spend a lot on return shipping, or be stuck with a bike too big or too small for you!
A cool thing about shopping for a bike is the "test ride". Read all about how to test ride an MTB in this article. How to Test Ride a Mountain Bike
What's More Important: Wheel Size (like 26 inch) or Mountain Bike Frame Size?
Both are needed in order to have the best ride. If the frame's too small, you'll be cramped. Your legs will be unable to take you too far.
However, if the frame is too big, you won't be able to move it around as much due to your legs being too short. Wheel size is important, but frame size needs to be correct in order to ensure the best fit.
The manufacturer should have a guide that tells you what height is appropriate.
| | |
| --- | --- |
| Rider Height | Suggested Frame Size |
| 4′ 10″ to 5′ 3″ | 13″ – 14″ |
| 5′ 4″ to 5′ 7″ | 15″ – 16″ |
| 5′ 5″ to 5′ 9″ | 16″ – 17″ |
| 5′ 9″ to 6′ 0″ | 17″ – 18″ |
| 6′ 0″ to 6′ 3″ | 18″ – 19″ |
| 6′ 1″ to 6′ 6″ | 19″ + |
Wheel size is important as well, but it mostly affects performance. For example, you are going to want to have a bike with big wheels if you are going to go on a bumpy trail.
However, if you're doing a trail that's a bit smaller and easier, a 26-inch bike may work for you.
Things to Consider When Getting a 26-inch Wheel Mountain Bike
Do you want a 26-inch wheel mountain bike? Consider the pros and cons of one.
Pros:
This bike is easy to move around because it's light. Heavier wheels on a bike tend to take a while to get going, and may be slower.
They're also cheaper than their bigger counterparts. Parts tend to cost less as well. The bigger the bikes are, the more they may cost.
Like accelerating? This bike is good at that as well. It does it much faster than some of the bikes with bigger wheels.
If you're riding it on a smooth trail, this bike is great for that. Bigger sizes will roll over small obstacles easier.
Cons:
Unfortunately, these bikes are not good for tougher trails. They have poorer traction and have difficulty going up hills. A smaller tire will have a smaller contact patch.
Also, they're much smaller. Typically the frame is smaller on a 26 inch MTB.
Their availability isn't what is used to be as well. 26 inch MTBs aren't as popular as they once were, good for deals on older bikes. Bad in that parts are becoming less available for a "higher" end MT.
Where Can I get a 26-inch Bike?
The 26-inch box used to be the norm, but it's no longer as available as it used to be.
However, finding a 26-inch mountain bike is still quite easy. Here are some places you can find it:
Amazon Sells 26 inch Mountain Bikes!
Amazon has various bikes available with 26-inch wheels. I would read the reviews closely because some bikes require a bit of assembly. Huffy bikes have videos on YouTube that will step you through each step. A couple wrenches which usually come with the bike will get you riding fast.
The Stone Mountain has a great rating and a proven track record of providing great value. With 21 speeds and a suspension on the front fork you could be tackling light trails and commuting in a couple days. Here's a link over to AMAZON to get prices and read reviews. Huffy Hard Tail Stone Mountain Mountain Bike.
Another great option is the GRAVITY 2020 FSX 1.0. This is a full suspension 26 inch mtb with TEKTRO disc brakes on the front and rear. A full suspension bike will dramatically improve your comfort which translates into pedaling longer and enjoying the ride.
Disc brakes benefit you in a couple ways. Because the brake is at the center of the wheel it is protected from mud and water that can get on a rim brake. Water on the rims WILL reduce how affective the brakes are. The other benefit is that disc brakes can be "modulated" easier. This means the rider has more control over the pressure applied to the brakes.
Other features of the Gravity 2020 FXS 1.0 (link to Amazon for prices) are the Shimano (big brand) shifters and Suntour (Big Brand) crank. The advantage of getting this bike on Amazon is the quantity advantage. Meaning since big numbers can be sold great value can be added in. Recommended – Gravity 2020 FXS 1.0 from Amazon (link)
Ordering from Amazon is great, because of the free shipping. Just think about trying to stick a big bike in a trunk. Although I did a video putting an MTB in the trunk of a Honda Civic.
LBS – Local Bike Shops
Consider looking at other shops as well. Your local stores may carry it, for instance. LBS will repair, service and maintain your bike. Safety is important so leave tasks that you don't know to professionals.
Mountain bikes need maintenance, I've found it's best to make maintenance a scheduled thing. Read exactly how in this article. DIY Mountain Bike Maintenance Schedule (Complete Guide)
A bike is something you may want to do research about before you purchase it. A good manufacturer will have a return policy if you're not satisfied, but even then, you should look for the best bike the first time and not make it a trial and error situation.
Riding Away on a 26-Inch MTB
A 26-inch mountain bike may work for you, but you need to make sure it's big enough.
They work amazingly for tweens and shorter people, but some tall people may have trouble riding one.
A mountain bike is a serious investment. Even a cheaper one is. You need to do research and find the correct mountain bike for your situation.
---
Learn more about Pedals, Handlebars and Brakes
---
---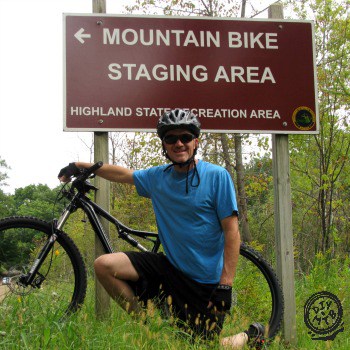 David Humphries is the creator of DIY Mountain Bike. For me a relaxing day involves riding my mountain bike to decompress after a long day. When not on my bike I can be found wrenching on it or making YouTube videos at 👉 DIY Mountain Bike Read more about David HERE.