If you are planning to enter the biking scene, I am sure that you are looking for an affordable bike to start. If you do, you probably heard of the brand name Huffy. This bike company makes affordable bikes that are suitable for entry-level bikers.
I find Huffy bikes to be good for beginners or casual riding. They're affordable and sturdy, but not really cut out for serious cycling. They're great if you're just starting out or need a bike for occasional use.
When I was starting to enter the biking world, I was hesitant to purchase an expensive bike as I was not sure if I'll enjoy the activity. So, I looked online and found that Huffy makes affordable bikes. So, without second thoughts, I bought one and immediately used it around my neighborhood.
I used my Huffy bike for quite a long time and I resolved that Huffy gives you good quality bikes without having to spend too much.
So, let me share with you what I learned about its quality and components.
A Little Bit About Huffy Bikes
Are Huffy bikes good quality? If you are into the biking scene, you know one of the industry's most prominent bike manufacturers. At first glance, you will see that this brand designs durable bikes that make it possible for cyclists to enjoy long rides.
But if you take a deeper look into this brand, you will find out that there are drawbacks behind the things that make it stand out. It leads us to the question – are Huffy bikes good quality?
The history of Huffy comes from 1887. During this time, George P. Huffman bought the Davis Sewing Machine Company. Three years later, he moved the company to Dayton, Ohio, where it manufactured the first Dayton bicycle in 1892. That said, Huffy has been manufacturing bikes for about 125 years now. (source)
Considering the years this brand has been in the industry, are their bikes any good?
How Good Are Huffy Bikes?
The answer to the abovementioned question depends on what you seek in a bike. For instance, Huffy mountain bikes do not suit professional riders. The reason is that the brand's mountain bikes and other bike types are for a specific group of buyers – casual bikers.
Huffy bikes are fantastic entry-level bikes for cyclists trying to practice their biking skills. However, Huffy bikes are not suitable for people planning to cycle on a technical trail filled with obstacles. But if you are a beginner biker, Huffy bikes are a great choice.
If you want to know whether or not a Huffy bike is the right one for you, it is essential to consider what you will get when you purchase one. (source)
What You Get When You Purchase a Huffy Bike
Before purchasing a bike, one thing cyclists need to consider is the benefits they will get from their purchase. True enough, one of the primary reasons why people choose Huffy bikes is the different features the brand includes in every bicycle they manufacture.
However, knowing the features alone is not enough. Instead, you also need to know the benefits these features can bring you and the bike itself.
Bike Parts Quality
Bikes must have high-quality components for them to run efficiently. However, top-of-the-line bike parts mean high retail prices once the bikes are out on the market.
Moreover, as top brands do, Huffy does not use the best components for its bike. But the quality of its products maintains a good standard.
Most Huffy bikes also have adjustable components. The reason is that the brand prioritizes the comfort of its customers. It allows cyclists to customize their bikes according to their liking, thus preventing discomfort during long rides.
DIY MTB Pro Tip: I've got a couple articles that can help you "tune-up" your Huffy bike. Read 👉 How to Adjust the Gears on a Huffy Bike and How to Adjust the Brakes on a Huffy
Bike Build
Huffy usually uses aluminum bike frames to ensure that its products are lightweight. This way, cyclists can comfortably pedal even on steep hills. The bike's overall build provides riders with comfort, allowing them to pedal for hours without feeling fatigued.
But as mentioned, Huffy does not have the best components installed on its bikes. So, while your Huffy bike's build reaches a certain quality standard, it will not last long if you ride it on rough trails.
Control
The quality of a bike's braking system is crucial for reducing the risks of accidents. Despite the price and quality of Huffy bikes' components, the manufacturer uses a highly responsive braking system for every bike they manufacture. This way, riders can control their bikes while preventing accidents.
Design
Huffy bikes are simple and affordable, allowing them to fit different customer needs and requirements. The frame used for Huffy bikes is light yet durable, which prevents drag when a gush of wind suddenly comes while you are biking. Cyclists can also adjust the bike's saddle to provide them with the most comfort. (source)
Reasons To Buy Huffy Bikes
Huffy bikes are affordable, making them an excellent entry-level product for people still starting to get into the biking scene. If you are planning to get a Huffy bike, here are some reasons why Huffy is a good bike brand:
1. Affordable
Beginner bikers often opt for lower-priced bicycles. Such makes Huffy popular. This brand makes one of the most affordable bikes on the market, so those who want a good quality bike at a pocket-friendly price opt for this brand.
Even better, Huffy provides decent warranties when purchasing a bike from them. The warranty covers your bike's components and design defects. In addition, the company offers limited lifetime warranties for the bike frames and components.
2. Low Maintenance Costs
Huffy bikes are low-maintenance, apart from being affordable. You can get most of the bike parts locally when you need replacement. On top of that, the price of these spare parts will not hurt your budget.
That said, Huffy bikes are both affordable and cost-efficient.
3. Sizes
This bike company does not only make adult bikes; it has various bike sizes for everyone. May it be a kid's bike, mountain bike, or road bike, Huffy can provide it for you.
4. Comfortable
Huffy made its bikes to be comfortable. The aluminum frames of its bikes are both lightweight and durable. Huffy bikes also have quick-release seat posts, making it easy for cyclists to adjust the seat's height according to their sitting position. (source)
DIY MTB Pro Tip: I've got an incredible article that helps make your bike more comfortable. Read 👉 How To Make Your MTB More Comfortable
The Drawbacks
Of course, the quality of components that Huffy use for its bikes causes them to have a few drawbacks regarding the following:
weight
assembly
steel frame quality
Weight issues
As mentioned, Huffy uses aluminum frames to reduce the weight of its bikes. But while its bikes with aluminum frames are lightweight, its steel frames can be pretty heavy. This weight issue makes Huffy bikes not ideal for pro cycling.
Even the most minor addition to the bike's weight can cause fatigue, making it more difficult to take on challenging terrains.
1. Tricky To Assemble
Unlike other bikes that come pre-assembled, Huffy bikes come in parts—which means you must assemble each piece, which can be time-consuming. The assembly process can also be complicated if you are not handy.
2. Quality Issues
True enough, Huffy continues to maintain its quality standard. However, the manufacturer has bikes that disappoint when it comes to quality. This issue makes Huffy bikes only great for casual riding but not for pro-riding. (source)
How Does Huffy Compare to The Top Bike Brands?
Huffy bikes are relatively famous for casual riders. The price, along with the quality of the bike and its parts, is perfect for trails with fewer obstacles. If you are into casual biking, the quality of Huffy bikes is something to applaud.
However, it is common knowledge in the biking scene that Huffy bikes are not for professional riders. You cannot use them for bike races as their components cannot take too much abuse. For instance, the suspension fork system the company uses for its bikes lacks quality. For this reason, it will wear out quickly even when riding the bike with little abuse.
Comparing Huffy with Other Brands
Huffy is a fantastic entry-level bike. But it cannot compete with the top-of-the-line brands like Schwinn Bikes, Trek Bikes, and Specialized. These brands make high-end bikes with high-quality components that cyclists can use without any problem.
In addition, bikes made by high-end brands work smoothly and perfectly for long rides, providing cyclists with a great experience on both the road and trail. Huffy caters to casual cyclists and people who want an affordable bike, so you cannot expect it to use top-of-the-line components.
Still, it is critical to note that Huffy bikes are not at all poorly made. The company's bikes can last for years with proper usage and care. Huffy even uses rust-proof frames to ensure that your bike will serve you longer while keeping its style.
Huffy Bike Reviews
If you are planning to get a Huffy bike, here is our top pick and our runner-up out of the ones the company manufactured:
This mountain bike is ideal for cyclists aged 13 and above. The 26-inch wheels and 17-inch frame make it perfect for people with a minimum height of 5ft. This bike height and frame geometry give cyclists a good riding position, thus preventing fatigue.
Huffy Stone Mountain Bike a micro-shift twist shifter and Shimano TZ-31 rear derailleur. This combination of components allows the bike to deliver 21 speeds that you can use for uphill and downhill riding. The tires, measuring 26 inches x 1.95 inches, provide excellent grip, allowing you to take on different trails easily. (source)
Huffy Hardtail Mountain Trail Bike (👈 Amazon shortcut link) features a 17-inch frame and vibrant design. It features a lightweight aluminum frame, making the bike easy to maneuver. Even better, a few size varieties ensure you get the right bike height.
Additionally, the bike features the following:
Shimano EZ Fire Plus Trigger
Shimano drivetrain
Indexed rear derailleur.
For this reason, the 21-speed bike runs smoothly and precisely shifts when needed.
The front suspension system allows the bike to edit and proof response when maneuvering it. The braking system also functions smoothly. (source)
Final Thoughts
Huffy is a good bike brand for beginner cyclists looking to purchase an affordable bike. It offers good quality without you having to spend all your budget.
Have you tried using a Huffy bike? Let us know what you think about this brand in the comment section! You can also comment on your questions in the comment box below.
Moreover, Huffy bikes are good quality if you are looking for a good bike on a budget.
---
Looking for Some More Ways to Help Your Bike Last
---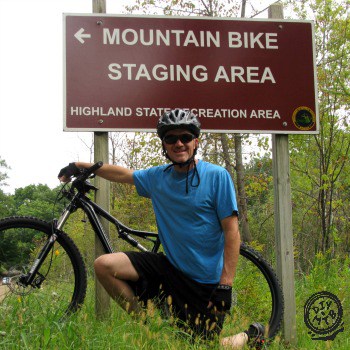 David Humphries is the creator of DIY Mountain Bike. For me a relaxing day involves riding my mountain bike to decompress after a long day. When not on my bike I can be found wrenching on it or making YouTube videos at 👉 DIY Mountain Bike Read more about David HERE.
Sources