With mountain bikes, the wheel sizes are important for performance and control. One size you may consider is the 26-inch bike. Are they still available, and are they for you?
Without further ado, let's answer the question. Should I Buy a 26-inch MTB?
A 26-inch mountain bike is excellent as a transition for a teenager that has a really desire to get into mountain biking. Most of the technologies on newer 27.5 and 29 inch bikes was proven out on 26-inch MTBs. Knowing this a 26-inch MTB is a great first mountain bike for 10 to 16 year old's. A quality 26-inch bike tends to be lightweight and easy to navigate and when equipped with name brand components will last for years.
---
If your here looking for a recommended 26 inch mountain bike – Amazon has a couple that are highly rated and competitively priced
The Gravity 2020 FSX 1.0 is a Full Suspension MTB with name brand components. Shimano derailleurs, Tektro Disc Brakes and a Suntour Crankset.
A value packed MTB is the Huffy Stone Mountain. This bike is a hardtail with rim brakes and and 21 speeds.
The period between childhood and the older teen to adult years can be bumpy. A child can feel too big for a kid's bike, but too little for an adult bike. Twenty-six inches used to be a bike size that was more mainstream, but nowadays, it's aimed at older children and young teens.
Alternatively, it can be good for adults who are shorter. We're talking the lower end of 5-feet. Someone who is taller may have more difficulty using a bike that's 26 inches.
It can be a smooth transition to a bike meant for adults, but you have to remember that these bikes are harder to find nowadays. They used to be the norm, but the norm is something that is always changing. These bikes have their own pros and cons. A 26-inch bike can be strong and easy to maneuver due to its lower weight. You can buy them for cheap, with cheap parts if you ever need a repair. Also, these bikes are fast to accelerate.
One of the first things I thought about when considering a 26 inch MTB is: Who are they for. Read more about that exact question in. – Who is a 26-inch Mountain Bike Good for?
If you're riding on a smoother trail, you may find that this bike is quite fun. Its wheels can help you to accelerate fast and feel the wind hit your hair. With that said, these bikes are a little less stable and are a little bumpy. Their traction isn't as good as other bikes, and they're meant for a smaller person.
Do not ride this bike if you're planning to take a rocky trail or go up hills. A 26-inch bike just won't cut it, and you may find yourself unable to ride it very far. Also, while they're still available, they aren't as available as they used to be. You'll be able to find them in some bigger stores as of right now, but who knows where the 26-inch bike will be in the next few years?
Are 26-Inch Mountain Bike Wheels Good for Trails?
It depends on the trail that you're riding. If you're riding a beginner's trail that's gravely with the occasional bump, 26 inches should be sufficient enough. However, these aren't meant for rough trails. You may find that your bike struggles to get over them.
In that case, you may want to invest in a bike with bigger wheels. With that said, since most modern 26-inch bikes are aimed at tweens, you probably don't want your child to be on a trail that's too dangerous. Look at the trail's difficulty, if the trails you're riding on have one.
Avoid riding your 26-inch bike on any trails that are difficult. Be cautious with any intermediate trails as well. However, easy trails should work well for you.
Should I Sell My 26-Inch MTB?
If you're needing an upgrade, is selling your 26-inch mountain bike worth it? It depends on how old it is and where you are. Bikes can devalue with time. In some places, a 26-inch may be more in demand. Since it's a bike, the cost of shipping it may not be worth what you can sell it for. Because of this, sell it on Craigslist or Facebook Marketplace.
A local buyer may want it, and you can get some extra cash. Just make sure that the bike works well enough. Obviously, a bike that has more wear and tear may not be desirable, especially for trails.
What's More Important Wheel Size (like 26 inch) or Mountain Bike Frame Size?
Both are important, but since mountain bikes don't have a variety of wheel sizes, frame size is more important. This is because if your frame is too small, the ride won't feel comfortable. You'll feel cramped and you won't be able to use your legs to go fast enough.
Big frames are problematic as well, as your legs will once again not be enough to reach their full potential. How can you check if the frame is big enough? For a mountain bike, sit down on the seat, have the balls of your feet touch the ground, and grab hold of the handlebars. If you're comfortable, you should be good.
Also, there needs to be a 1-2 inch clearance between your crotch and the center bar of the frame.
Who Still Makes 26-Inch Mountain Bikes?
Twenty-six inch mountain bikes are not as available as they used to be, but you can still find them in many different places.
If you are on a budget, Walmart offers them for a fair price.
However, if you want something higher quality, Woom and Trailcrafrt make some premium trail bikes if you're serious.
Don't be afraid to check your local shops, either. They may have a good 26-inch bike. However, don't be surprised if they do not. Give them a call and see what they offer.
If I'm a Serious Mountain Biker What Wheel Size Should I Consider?
If you're serious about mountain biking, you should probably go for a bigger wheel size. This is because bigger wheel sizes such as 29-inches tend to be better for rougher terrain and for uphill travel. This is not to say there isn't a use for smaller-wheeled bikes. Bikes with smaller wheels can be quicker. Having bikes of multiple sizes may be a good solution.
Who Buys a 26-Inch MTB?
A 26-inch mountain bike is great for tweens, with some adults finding use out of them. However, 27.5-inch and 29-inch have been more popular as of late, with the 26-inch bike slowly falling out of style. We hope this helped you decide which bike is better for you.
---
The Gravity 2020 FSX 1.0 is a Full Suspension MTB with name brand components. Shimano derailleurs, Tektro Disc Brakes and a Suntour Crankset.
---
Learn more about Pedals, Handlebars and Brakes
---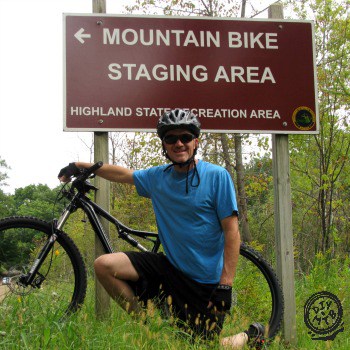 David Humphries is the creator of DIY Mountain Bike. For me a relaxing day involves riding my mountain bike to decompress after a long day. When not on my bike I can be found wrenching on it or making YouTube videos at 👉 DIY Mountain Bike Read more about David HERE.