Upgrading an existing mountain bike can be tricky, especially if you're trying to figure out if you can put 27.5-inch wheels on a 26-inch wheel MTB. Are all forks and frames the exact clearance? Are they universal for this upgraded wheel diameter? Let's find out.
You can put 27.5-inch wheels on a 26-inch wheel mountain bike if the following are true:
The bike fork clearance can accommodate a 1" greater wheel radius, measured from the axle to the top of the tire vs. the axle to the top clearance point of the fork.
The old and new wheel axles are the same widths.
The rear wheel gearing cassette is compatible.
If rim brakes are in use, the brakes are either adjustable for compatibility or replaced with compatible braking systems.
We'll dive a bit deeper into each point dealing with the concept of upgrading the size of the wheel on your 26-inch mountain bike. You may be able to swap without replacing other parts; you might not. You need to investigate several variables, and I'm about to walk you through each – don't worry, none of it is rocket science, so stick with me until the end to be sure you've got this.
Will a 27.5-inch Mountain Bike Wheel and Tire Fit a 26-inch Mountain Bike?
Will a 27.5-inch mountain bike wheel and tire fit a 26-inch mountain bike fork and frame? That's a great question, and the answer is maybe. It might. And it depends. Clear enough answer? In all seriousness, there are a few things you'll need to double-check.
You can double-check these measurements easily before spending money or disassembling your bike. Don't worry; I'm going to walk you through it. You're going to need to know three things. Here's what you'll need to have:
Your existing 26" bike with inflated tires, fully assembled (for measuring).
A measuring tape.
Measurements of your potential new 27.5-inch rims and tires (and axles).
Measurements and information about your rear cassette (gears on the rear wheel).
If your existing bike uses disc brakes, it should be compatible with new rims that use axles and disc brakes compatible in size with the existing bike rims/wheels.
Suppose your existing bike uses a cantilever or similar rim braking system. In that case, they are only compatible if the clearance and adjustability available on the brakes can suit a rim approximately an inch further away from the axle than the existing 26-inch bike.
Should I Convert a 26 in MTB to a 27.5?
There are several systems to converting a 26 to a 27.5 MTB. Here are a few of the benefits of a 27.5-inch wheel over a 26-inch wheel for your mountain bike.
Larger contact area for more excellent traction
Subtle improvement in obstacle roll-over cushioning.
More rotational inertia for ease of maintaining momentum
Will My Rim Brakes Work If I Install 27.5-in Wheels?
Using 27.5-inch wheels on a 26-inch bike that utilizes a cantilever or similar rim-braking technology may or may not be a viable choice. Depending on the type of rim brakes and their adjustability, the system may or may not work.
Here's how to check if your 26-inch MTB bike setup is compatible with 27.5-inch rims and tires.
Measure your existing bike's rear wheel. Note the distance from the center of the axle to the inside edge of the rim. This distance is the beginning of where the side of the rim would make contact with your rim brake pad.
Measure the distance you can adjust your brake pads upward/outward to suit a larger rim diameter. The new rim will be about 0.75-inches further out than your existing 26" rim.
Next, measure the clearance between the outside edge of the tire and the part of the brakes that crosses over the tire (the cable, for example, that attaches the two cantilever brake arms). A 27.5-inch tire needs 0.75-inches of clearance above the 26" tire. So, as a general rule, if you have an inch, you may be okay if the new tire profile is not extended above 27.5" when fully inflated.
Can I Change the Front Fork to Fit a 27.5-inch Wheel?
In order to replace the front fork of your bike to accommodate a larger wheel size, there are a few considerations you'll need to make.
What kind of headset is your existing bike. How does the handlebar assembly attach to the fork?
What are the dimensions of your existing fork? You'll need to know the width, height, height of the top tube (the top tube above where the crown splits the fork into two sides).
Distance of travel of the fork. Upgrading the fork to accommodate a greater wheel size is excellent and upgrading the travel is great, but if the combination makes the new wheel hit the underside of the frame, you're going to have bike problems.
If you aren't keen on changing major components, packing bearings with grease, or aligning/setting up your headset properly, then leave the fork replacement to the pros and bring your bike to a bike shop.
How Much Bigger is a 27.5-inch Mountain Bike Wheel?
Mountain bike wheels come in a variety of sizes. These wheels are also measured in a few different ways, depending on where they are made. For example, American manufactured bikes are measured in Society of Automotive Engineers (SAE) standards, hence the 26 and 27.5-inch wheel sizes. However, if the bike was manufactured in Europe, you will measure the bike in Metric.
Depending on the type of wheel, the size of both the 26 and 27.5-inch rims may vary. For example, a standard 26-inch may be anywhere from 22-inches to 23-inches.
The diameter difference between 26-inches and 27.5-inches is 1.5-inches. However, we must divide this in half because we measure the axle out to get the radius (half of the diameter).
A 22-inch rim that holds a 26-inch tire maintains that the tire is 4-inches in overall diameter, more significant than that of the rim. It equates to a radial difference of 2-inches. Assuming this same formulation applies to a 27.5-inch tire, we can assume that the rim will be 2-inches less in radius, being an outside diameter of 23.5-inches. This measurement is assuming a tire height of 2-inches.
If you are using 27.5-inch tires with a 2-inch height, then the rim will be 23.5 inches diameter or 0.75-inches greater radius than the 26-inch wheel that uses 22-inch (actual) rims.
---
Looking for some great tire suggestions?
---
Recommended 27.5-inch MTB Wheels and Forks for an MTB
Here are a couple of great wheels and forks for your mountain bike that I recommend.
27.5-Inch All-Terrain Disc Brake Wheel Set
A great way to get what you need is to buy a complete wheel "set". WTB has been in the mountain biking business for may years and you can trust the products they sell. Highly recommended is the Bucklos Carbon MTB Wheelset. These wheels are light and strong, two important factors for getting the most out of your bike.
Front front you'll need to thick about swapping the forks. Now is a great time to do a little "upgrade" A great buy is the BUCKLOS LUTU 27.5 Air MTB Suspension Fork. Be sure to select the 27.5 inch model, these forks have adjustable rebound and are designed for QR axles. If you're unsure about QR axles read this article The Difference Between QR and Thru Axles
Another great feature is the 120mm of travel that should absorb those roots and rocks found on the trail.
---
Learn more about Pedals, Handlebars and Brakes
---
---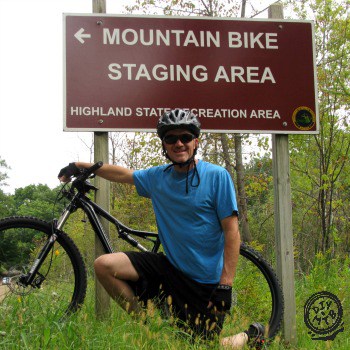 David Humphries is the creator of DIY Mountain Bike. For me a relaxing day involves riding my mountain bike to decompress after a long day. When not on my bike I can be found wrenching on it or making YouTube videos at 👉 DIY Mountain Bike Read more about David HERE.