The best mountain biking socks can change how you ride your bike. Your socks can provide you comfort, so it is essential to wear one every time you go mountain biking. However, what is the best pair of biking socks you can get right now?
The Sealskinz Waterproof Cold Weather Mid-Length Sock is the most excellent sock that you can get on the market. It has a Merino wool material that makes it very breathable. The Merino wool also prevents your feet from getting unwanted odors.
The Best Mountain Biking Socks You Can Use
Many mountain bikers think choosing socks boils down to color scheme and style. However, the socks you wear can add up to your comfort while mountain biking.
The truth is that there is a sock for every ride, making the material, length, and overall quality essential.
So, what do you need to look at when finding the best mountain biking socks?
DIY MTB Recommendation: If you want to jump to what I use. When it's cold I wear SealSkinz Waterproof Mid-High and on warm days I wear Swiftwick Aspire Seven. (link to Amazon for current prices) Both of these socks have great compression and move well in my shoes.
Material
The best socks for mountain biking are created using high-quality materials. In terms of materials, you can choose between synthetic and natural fibers.
Take a look at the table to see how the two materials differ:
| | |
| --- | --- |
| Synthetic Fiber Socks | Natural Fiber Socks |
| Synthetic fibers can be woven closer together than natural ones. This factor allows synthetic cycling socks to conform better to the foot's shape. | Acts as an excellent insulator even when wet |
| Closely woven threads prevent road grime from working its way into your feet. | Comfortable and soft, especially when the natural fibers come from bamboo and wool |
| Features antimicrobial or antibacterial capabilities, preventing your feet from having a bad smell | Most natural fiber socks are hypoallergenic since natural fibers do not have chemicals. |
| Balances the bacteria on your skin | Some natural fibers are highly absorbent |
| Reduces chances of skin irritations | Has natural antibacterial properties, making them odor resistant |
Other Considerations
Apart from the material, the other things that you need to consider when looking for the best mountain biking socks are:
Length – the longer the socks' length is, the more protection and insulation it can offer. However, long cycling socks may not be ideal when mountain biking during the summer.
Moisture management features – synthetic fibers are better than natural ones for moisture absorption. Natural fibers have a moisture retention rate of 7 percent, while synthetic fibers only have 1 percent.
Fit – cycling socks need to be fit but not to the point that you will feel uncomfortable wearing them. (source)
Sealskinz Waterproof Cold Weather Mid-Length Sock
If you need waterproof socks, this one from Sealskinz is a must-have. It features a silicone-free Hydrostop cuff that prevents water from sipping through the fibers and down to your foot.
Even better, the sock's material is waterproof yet is still breathable.
The socks include a Merino wool lining to keep the foot warm when. In addition, the lining can absorb sweat and dry quickly.
The Merino wool also provides comfort to your skin as you pedal on rough trails.
It is worth noting that the Sealskinz Waterproof Sock is an expensive option, but it is one of the best mountain biking socks that you can get. (source)
Shoes, Socks and Pedals – taking care of your feet riding is critical. Check out the articles below:
Swiftwick Aspire Seven
The Swiftwick Aspire Seven is thin yet compressive. For this reason, wearing this pair of socks will help you reduce fatigue, especially if you are mountain biking for long hours. It also has four length options:
seven-inch
four-inch
two-inch;
and one-inch cuffs
Moreover, the material of this sock is 65 percent nylon, 29 percent olefin, and 6 percent spandex. So, you can ensure that it will feel highly durable when worn, making it one of the best mountain biking socks in the market. (source)
Tommaso Cycling Socks
Suppose you need a budget-friendly, and lightweight pair of socks. In that case, the Tommaso cycling socks will never disappoint. It consists of highly stretchable elastane and nylon fibers.
However, it is essential to note that this product is not long-lasting due to its thin material. For this reason, it is a good choice for those who need a temporary pair of socks.
The package comes in three pairs, allowing you to replace the first ones you have used once they wear out. You can also choose between high and low cuffs and black and white colors. (source)
POC Essential Road Sock
The POC Essential Road sock allows you to add a pop of color and extreme comfort while cycling. This sock boasts its woven mesh material that enhances comfort and airflow. In addition, the midfoot band is woven tightly, allowing it to offer support. But despite the tightness, the breathability of this sock is still promising.
Moreover, the only downside is that the foot of this sock is white. For this reason, it will quickly absorb dirt and dust once your mountain bike. (source)
DeFeet Woolie Boolie 6″ Cuff Socks
People looking for socks for the cold season know that the DeFeet Woolie Boolie is a go-to option. The sock material composition is 48 percent wool, 49 percent nylon, and 3 percent lycra. The result of this fiber combination is a sock that can maintain its shape regardless of how much you stretch it.
Additionally, the cuff and sole are padded with a terry loop. It also has arch compression for excellent stabilization. More than that, the Woolie Boolie will help your feet stay warm and comfortable when you are biking in the winter.
No doubt, the DeFeet Woolie Boolie's features are what make it one of the best mountain biking socks right now. (source)
Giro Comp Racer High Rise
The Giro Comp Racer has polyamide, polypropylene, elastane, and lycra materials. For this reason, the sock promises high-stretch yet light compression. It also features a 6-inch cuff that is easy to wear yet will not fall while cycling. (source)
Even better is that you can wear this pair of socks in any condition. It will stay comfortable even during long-distance cycling as it holds up pretty well. One user even said,
"These Giro socks are great for cycling in warm weather. They are thin and work well in my cycling shoes, causing no friction spots thus far."
Castelli Quindici Sock
The Castelli Quindici Sock consists of 100 percent Merino wool. So, it is an ideal sock during the cold season. The wool material also has odor-minimizing properties, allowing your feet to stay fresh as you bike.
Moreover, this pair of socks will not disappoint as it is among the best mountain biking socks that you can use. The 15cm cuff prevents any bib tights to the sock gaps. Meanwhile, the muted tones ensure that the sock will recover from road sprays and dirt after a machine wash. (source)
Swiftwick Vision Six
What makes the Swiftwick Vision Six a must-have is its different design choices. More than that, the quality of this sock makes it one of the best cycling socks out there,
According to Swiftwick, the sock has advanced high-performance fibers that wick moisture. This way, your feet remain dry and cool.
The softness of the fiber also keeps your feet blister-free.
Moreover, this sock fabric consists of nylon, polyester, and spandex. You have different designs, sizes, and colors to choose from, so you can ensure that you will get the perfect pair. (source)
SockGuy SGX Raceday Sock
Socks from SockGuy are incredibly durable, and the SGX Racerday is not an exception. It features comfortable compression and excellent ventilation. Additionally, the sock boasts a design that reduces friction.
The 5-inch cuff is tight and promises to stay in its place even if you pedal fast. The SGX Racerday is one of the best mountain biking socks on the market. (source)
What Is the Best Material for Cycling Socks?
The best material for cycling socks depends on the season.
In the summer, you need to go for a pair of socks with thin material. That said, polyester is the best material during hot weather. The reason is that manufacturers can weave polyester into a thin fabric. (source)
Additionally, polyester dries quickly, so it will not retain sweat while you are mountain biking. More to the point of the best mountain biking socks material is that it dries quicker than cotton.
During the winter, cycling socks with Merino wool content are the best option. It is sweat-wicking, breathable, and insulating, regardless of its thinness.
Merino wool also does not hold odors, so it will keep your feet fresh after cycling for many hours. (source)
Do I Need Mountain Bike Socks?
Your feet are likely to have frictional blisters when jogging, hiking, or mountain biking. The blisters come from compression, shearing, and scraping forces, especially when not wearing anything to protect your feet.
That said, you need to wear socks when mountain biking. Apart from protecting your feet from blisters, wearing the best mountain biking socks will add comfort when you are riding rough trails. You can also opt for compression cycling socks if you want a tighter feel when mountain biking.
According to foot surgeon Dr. Georgeanne Botek, DPM, compression socks "promote better blood circulation in the legs." She added that compression socks help keep the blood circulation going, thus preventing your legs from swelling after long hours of mountain biking. (source)
DIY MTB Pro Tip: Comfort is the name of the game when cranking out the single track miles. I've got an awesome article on 10 Ways to Make Your MTB More Comfortable
Are Compression Socks Good for Mountain Biking?
Back in the day, compression socks were only used by mainly running athletes. However, it became increasingly popular among race cyclists and mountain bikers. Looking at the benefits of compression socks will help you understand why.
But the question is – are compression socks suitable for mountain biking? To answer this question, let us look at the benefits of using compression socks:
1. Keep Calves Under Pressure
Compression socks are tighter than regular socks. The pressure they apply to your calves allows your body to recover faster after straining it from pedaling up and downhill.
Additionally, these socks prevent you from having tight calf muscles and cramps.
2. Added Leg Support
Biking is not challenging on the legs, especially if you wear the best mountain biking socks. However, pedaling for hours puts your ankles and knees at strain. If you already had an injury in the said areas, you need more support than usual.
Such is something that compression socks can provide. Compression socks prevent fluid retention, swelling, and muscle soreness. So, it reduces the chances of getting injured on your knees and ankle.
3. Extreme Comfort
Compression socks are made particularly for left and right feet, fitting like gloves. Once you begin sweating while mountain biking, the material of compression socks will wick away the sweat. As a result, your feet will feel relaxed since the material can regulate temperatures.
That said, compression socks are among the best mountain biking socks to choose from. (source)
What Kind of Socks Do Cyclists Wear?
Your position, kit, and contact points play a huge role in your overall comfort when cycling. However, one crucial thing that some amateur cyclists overlook is the comfort and protection that the best mountain biking socks can provide.
If you are not new to mountain biking, you know how essential a good pair of socks is. The most popular socks for professional cyclists are wool or synthetic socks.
They provide a fantastic amount of ankle and foot support without covering too much or too little of your calves.
Additionally, wool or synthetic socks provide ankle protection. It is helpful if you encounter a bike crash or ride through the brush.
Moreover, cyclists also use socks that can manage moisture effectively. This way, their feet will still feel dry even when you sweat. (source)
One More Lap
The best mountain biking socks are the ones you are comfortable with. It can be made of natural or synthetic fibers. In fact, you will never run out of choices as there are many options in the market for you.
If you are looking for more protection, you can opt for a pair of long-cuff socks. On the other hand, people who want more breathable socks can choose low or mid-cuff socks.
There are even compression socks that can provide you with three significant benefits. This way, you can ensure that you will not experience discomfort, sweaty feet, and even cramps.
---
Learn more about Pedals, Handlebars and Brakes
---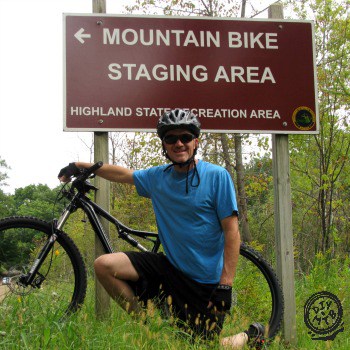 David Humphries is the creator of DIY Mountain Bike. For me a relaxing day involves riding my mountain bike to decompress after a long day. When not on my bike I can be found wrenching on it or making YouTube videos at 👉 DIY Mountain Bike Read more about David HERE.
Sources
Matthew B. Werd, E. Leslie Knight, Athletic Footwear and Orthoses in Sports Medicine, Lakeland: Springer Science+Business Media, LLC, 2010. https://books.google.com.ph/books?id=W50VfqSXbW4C&pg=PA72&dq=difference+between+synthetic+and+natural+fiber+socks&hl=en&sa=X&ved=2ahUKEwjloNDTt9H0AhWFZd4KHfpEBqEQ6AF6BAgJEAI#v=onepage&q=difference%20between%20synthetic%20and%20natural%20fiber%20socks&f=false.
"Waterproof Cold Weather Mid Length Sock," SealSkinz, accessed December 7, 2021, https://drive.google.com/drive/folders/1UVYcsiMCPcilzz-jvyMQ_xBPMAdU0-re.
"Tommaso Cycling Socks" The 9 Best Cycling Socks for Summer #SockDoping (blog), July 30, 2020. https://www.bicycling.com/bikes-gear/a20048017/best-cycling-socks/.
Daniel Dunn, "How do your socks actually help cyclists and other athletes?," Interview with Mark Cleveland, CEO of Swiftwick Socks (blog), September 29, 2014. https://enduro-mtb.com/en/interview-with-mark-cleveland-ceo-of-swiftwick-socks/.
Essential Road Sock, Poc Sports, accessed December 7, 2021, https://www.pocsports.com/products/essential-road-sock?variant=39296245498008.
Woolie Boolie 6″ D-Logo Charcoal, DeFeet, accessed December 7, 2021, https://defeet.com/collections/woolie-boolie/products/woolie-boolie-6-d-logo-charcoal.
Comp Racer High Rise Sock, Giro Socks, accessed December 8, 2021, https://www.giro.com/p/comp-racer-high-rise-cycling-socks/110000000500000017.html.
Quindici Soft Sock, Castelli Cycling, accessed December 8, 2021, https://www.castelli-cycling.com/us/quindici-soft-sock/p/451154221A.
Sgx Raceday 5″ Socks, SockGuy, accessed December 8, 2021, https://www.sockguy.com/sgx-raceday-5-socks-x5raceday.
Baxter, Donald E., David A. Porter, and Lew Schon. Baxter's The Foot And Ankle In
Roni Sarig, Paul Dorn, The Bike to Work Guide, USA: Adams Media, 2009, https://books.google.com.ph/books?id=KSLrDQAAQBAJ&pg=PT51&dq=should+bikers+wear+short+socks&hl=en&sa=X&ved=2ahUKEwjNhoX_ttH0AhWCE4gKHasGBnwQ6AF6BAgIEAI#v=onepage&q=should%20bikers%20wear%20short%20socks&f=false.