I recently tackled a little dilemma in my Mountain Bike Build. I had a new 29 inch wheelset that was never used. I purchased a lightweight wheelset with crazy aspirations of upgrading my bike for racing. These lightweight race wheels sat on a shelf in the basement for 3 years.
More recently I've undertaken an MTB build for my daughter. While in part search mode, I found a sweet deal on a lightly used FOX 34 Pro Float fork. The problem is those race wheels I mentioned have 100mm x 15mm hubs and the sweet Fox fork is for a more modern boost 110mm x 15mm hub.
What is Boost Spacing on MTB Front Wheels
Boost wheel hubs were mass market introduced in 2015 as a way to strengthen wheels, axles and accommodate wider tires. On front hubs 10mm was added to the width to the front hub which enables the spokes to provide more lateral strength to the wheel by increasing the angle from the hub to rim.
The "boost" change is not connected with the move to "thru axles". I wrote an article about the different axles in: "What's the difference between a Thru Axle and Quick Release?".
Actually a push had already occurred to move from QR axles to Thru Axles. A couple years before the boost move safety concerns were being tackled with quick release axles on mountain bikes. Quick release axles just weren't holding up to the punishing demands of mountain biking. Bent axles were common and front forks deflected enough to cause discs brakes to rub on brake pads.
I mention this only because I haven't seen a boost fork with a quick release axle.
How to Install an Older MTB Wheel in a Newer Boost Fork
There are two methods for updating your front hub to work in a boost fork.
Buy a new 110mm hub, remove all the spokes from the 100mm hub and lace (re-install the spoke) into the 110mm hub.
PROs: you get all the improved strength benefits of a wider hub.
CONs: Higher cost and more labor
Cost: a mid-quality 110mm hub costs $80 to $180 (plus you would need to add bike shop labor for truing)
2. Use an Adapter to convert 100mm Hub to 110mm Fork
PROs: fast effective conversion
CONs: Not as strong
Cost: $28
I opted for using an adapter for a couple reasons; my daughter is 5'3" and weighs 105 pounds and the wheelset was brand new and I hated to tear them apart.
What Does the MTB Hub Adapter Kit Do?
The kit adds 5mm spacers to the both sides of the hub at the axle attachment. These spacers are machined to take up the gap between the hub and fork.
Additionally, the brake disc also needs to move 5 mm and the kit provides an adapter for that as well. My wheels are what's called centerlock. Which means the brake disc is locked to the hub with a lockring in the center of the hub.
In order to make this switch, the front brake disc converts from the centerlock style to a popular 6 hole style using the lockring to hold the whole assembly in place.
I bought my adapter kit from the UK company, Mt Zoom. They sell two versions of adapters:
Standard style, which is for a 6 hole brake disc. Amazon also carries this-here's a link – VeloFuze Hub Adapter going to 110mm.
Centerlock style, which converts from a centerlock to a 6 hole disc. (this is what I used) You can check out Mt. Zoom at this link – https://mtzoom.com/
Steps to convert 100mm wheel hub to work on 110mm fork
Below is a list of typical tools and materials for this job.
Freewheel Remover
Hex and Torx Wrenches
Adapter Kit
Wheel
Fork or Bike for test fitting
Remove front wheel from bike. With the wheel off, remove the brake disc.
While the disc is off, it just makes sense to clean up the hub and apply some grease to the axle hole.
Mount the disc adapter to the hub. For my centerlock hub I used a freewheel socket to re-attach the adapter with the 6 hole disc. If you started with a 6 hole disc, use the provided bolts which are longer to attach the disc. These attachments should be torqued to the correct settings. SEE BELOW TORQUE CHART
Installing the 5mm spacers to both sides of hub at axle.
Remember you'll need a 15mm by 110mm thru axle.
Reassemble the wheel to the fork
Test ride making sure the brakes are working and nothing is rubbing.
Done!
Torque Chart For Mountain Bike Hubs and Disc Brakes
Your dealing with wheels and brakes so PLEASE torque all attaching bolts to the specified values. Below is the information I took directly from the SRAM and SHIMANO. The links send you directly to the installation manuals.
I've mentioned this before in my article on Mountain Bike Torque Wrenches, I recommend the Venzo Torque Wrench which has been a workhorse in my MTB Tool Kit.
What is a Boost Rear Hub on a MTB?
At the same time front forks were changing to 110mm hubs, rear hubs increased from 142mm to 148mm. For the rear wheel hub going BOOST gains many improvements:
A stronger wheel with improved spoke angles between hub and wheel rim.
More flexibility with rear cassette selection.
Wider suspension pivot points increase MTB frame strength.
Improved tire to frame/fork clearances
Can a Rear Wheel be Adapted From 142mm to 148mm?
Yes rear wheel hubs can be adapted to 148mm frame widths using a similar adapter kit. Luckily, I didn't need to do this for my MTB build, but I thought I should touch on this.
The Quick Answer: YES you can use a similar adapter kit but the 6mm spacers are only added to the non-drive side of the hub and adding a 6mm spacer to the brake disc. This keeps the chain aligned to rear cassette.
The problem with this kind of conversion is that now the wheel is 3mm out of its designed centerline position. So little tweaks to the rear derailleur might be needed, but this would be minor.
The correct thing to do at this point is to re-dish the wheel. Re-dishing basically requires all the spokes to be loosened and then laced so the wheel is shifted 3mm toward the non-drive side of the hub. This recenters the wheel to the correct centerline of the bike.
A wheel alignment gauge and truing stand are required to do this correctly. For me this wasn't an option, but you can see how not understanding this could cause a major problem during the build of a MTB.
Another important thing to consider is having the correct axle. For a boost rear the axle goes from a 12mm x 142mm to a 12mm x 148mm. It's easy to forget this when ordering parts for a mountain bike build.
Now the Reverse – Can You Convert a Boost Front Hub to a Non-Boost Fork?
Reading around forums and scouring the interwebs attempting to do this, it is NOT advised. I would add that if your trying to upgrade a bike this way, it means your using an old MTB frame which most likely doesn't have many of the newer frame design geometry improvements.
The bad ideas thrown around described heating and bending the frame, milling the face of the hub and the only reasonable option was re-lacing a new non-boost hub.
Will Mountain Bike Hubs Continue to Grow?
I'm already seeing "Super Boost" hubs stretching the frame width to 157mm x 12mm. Both Race Face and Pivot have started to use 157mm hubs on there downhill bikes. Where will it stop? I understand that the wheels will be stronger, but at some point it seems like these changes are a marketing ploy.
---
Suspension is Fun to Talk About
---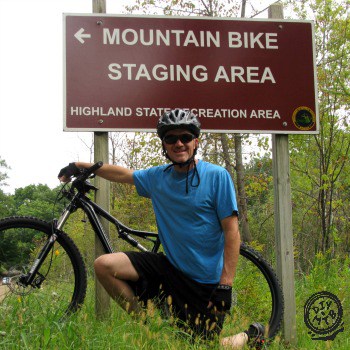 David Humphries is the creator of DIY Mountain Bike. For me a relaxing day involves riding my mountain bike to decompress after a long day. When not on my bike I can be found wrenching on it or making YouTube videos at 👉 DIY Mountain Bike Read more about David HERE.