The different axle choices for my mountain bike have always baffled me. There was a time when I was trying to install my bike's rear wheel, but I was not sure of the thread size I needed to use. In the end, I decided to go to my local bike shop and have my rear wheel installed.
Fortunately, a local bike shop near my home helped me understand bike axle thread sizes. I found out that there are different axles that I can install on my mountain bike. However, I first need to determine what size of thread I need, or I will get a thread that does not fit my bike.
| | |
| --- | --- |
| Axle Type | Thread Size |
| Front Hubs, Quick Release | 9mm x 1mm |
| Front Hubs Campagnolo Brand (not common) | 9mm x 26 tpi |
| Solid Axle, including coaster brake models | 3/8 in x 24 tpi |
| Sold Rear Axle | 3/8 in 26 tpi |
| Most Quick Release Rear Axles | 10mm x 1mm |
| Rear Axle Compagnolo Brand (not common) | 10mm x 26 tpi |
Source – HERE
So, in this article, let me share with you everything I learned about bike axles and their thread sizes.
Tips For Determining the Exact Thread Size
You need to secure each part of your mountain bike to ensure safety. Similarly, you need to regularly check your bike's thread and axles to see if any of them are loose or damaged.
For this reason, you cannot simply pick up a thread and use it to fasten your bike parts. The reason is that the thread may fit the bike's axle, but it may also loosen as you go cycling, especially on bumpy trails.
That said, here are some tips to properly determine the accurate thread size for your wheel:
DIY MTB Tip: Periodically applying grease to the axle bearings is a great maintenance item. Learn about the greases and lubes for bikes in this article -> Greases and Lubes for Bikes
1. Take your wheel to the hardware store.
Hardware stores have the right tools to measure the right thread size for your wheel. The people there also have the knowledge about everything about bolt and bike axle thread sizes. If you are not aware of bike threads and their sizes, you can ask the hardware store's clerk to help you find the right thread size for your bike.
This way, you can ensure that you will get the exact thread size that you need when you go to your nearest hardware store.
2. Look at the owner's manual provided by your manufacturer.
The owner's manual that comes with your package when you purchase your bike contains all the information you need about it. So, if you want to know the thread size you need, get your manual and find the bike axle thread sizes page. You can also look for an online copy of your owner's manual from your manufacturer's website if you no longer have a physical copy.
Go to the page that discusses everything about wheels and axles, and you will find the thread size that you need on one of the pages.
3. Visit the local bike shop near you.
| | | |
| --- | --- | --- |
| Type Of Axle | Front Axle Thread Size (l x d) | Rear Axle Thread Size (l x d) |
| Quick Release | 100mm x 9mm | 135mm x 10mm |
| Boost Thru-Axle | 110mm x 15/20mm | 142mm x 12mm |
| Non-Boost Thru-Axle | 110mm x 15/20mm | 148mm x 12mm |
| Superboost Thru-Axle | 110mm x 15/20mm | 157mm x 12mm |
If you are like me and can no longer find the bike's owner's manual, a local bike shop can help you find the bike axle thread sizes you need. Fortunately, the people from the bike shop near my home were friendly and helpful enough to explain everything I needed to understand.
If you start hearing crunching when your rear wheel is spinning or if the rear wheel seizes up completely, you know it's time to…
Different Axles and Threads
As bikes begin to upgrade, thread applications also change. Currently, thread sizes differ depending on how you will use them. For instance, on some models, the front wheel of your bike has a different thread size from the rear wheel. While both the front and rear wheels have axles that make them more durable, the rear wheel applies more force. For this reason, they also need different thread sizes.
DIY MTB Tip: I get asked all the time about thru axles and quick release. Read about everything QR vs Thru Axle in this guide. -> What's the Difference Between QR and Thru Axles
Similarly, thread sizes also differ depending on your bike's manufacturer. Threads have their specific uses, so different manufacturers mean different thread sizes. There is no universal thread size, which means you need to know the different bike axle thread sizes if you want to install a new wheel on your bike.
A Little Background About Axle Types
1. Quick Release Axle
Quick-release axles are hollow tubes that you need to install into the slotted dropouts that MTB frames and forks have. The axle has a cammed lever at one end and a tightening nut at the other.
Moreover, quick-release axles allow you to change the wheel almost instantaneously. However, there is a possibility that your wheel will separate from the dropouts. For this reason, you need to ensure that you install your wheel and dropouts securely.
2. Boost Thru-Axle
The boost thru-axle is something that you will commonly find in modern bike models. It is the most excellent and most recent axle platform that most mountain bike manufacturers are adopting. Using the boost thru-axle, you will be able to widen the front and rear axle by 10mm and 6mm, respectively. Meaning the boost thru-axle is larger than the other bike axle thread sizes.
However, it is essential to note that the boost thru-axle is incompatible with old mountain bike models.
3. Non-Boost Thru-Axle
A non-boost thru-axle is almost the same as the boost hubs. The only difference is the size. The reason is that the boost thru-axle has a standard size of 148mm x 12mm rear axle. On the other hand, a non-boost thru-axle has a standard rear axle size of 142mm x 12mm.
4. Super Boost Thru-Axle
This axle has wider bike axle thread sizes with a rear size of 157mm x 12mm compared to the front size of 110mm x 15/20mm. With the wider rear axle size, there are more rear-wheel bracing angles. The increased axle width also increases rigidity. (source)
DIY MTB Tip: I've got a complete article about boost axles and how to adapt old wheels to new frames and forks. Check out that article -> HERE
What Is the Common Thread Size for a Schwinn Bike Axle?
High-end bike company Schwinn has its standard thread size for bike axles. Most of its bike's front axles are 5/16″ x 18 TPI. This thread size requires a 9/16″ Hex wrench for you to install.
The first thing you need to do to remove the wheel is loosen the nut using your 9/16″ hex wrench by turning it counterclockwise. Next, carefully slide the wheel down to get it out of the fork.
For example, I had not removed my Schwinn bike's wheels for a long time, so it became stuck. So, to take it out of the fork, I pushed the rim from side to side until the wheel loosened. (source)
What Is the Standard Thread Size for a Huffy Bike Axle?
The majority of Huffy bikes have a thread size of 10mm in diameter. In contrast, other bikes from the same brand have different bike axle thread sizes. This thread size requires a 17mm spanner wrench. But if the hub set of your Huffy bike is standard, you will need three-cone wrenches, with a size of 13mm, 15mm, and 17mm.
Notably, axles are better for Huffy and other mountain bikes. The reason is that these tools prevent the front wheels from coming out of the dropouts as you pedal on technical trails.
To remove the wheel off your bike, flip the bike upside down, so you can easily access the thread and nuts. If you remove the rear wheel, remove the chain from the crank and rear cog. Make sure to place the chain on the right side of the wheel to ensure that it will not hinder the wheel removal.
Next, shift to the smallest sprockets if your bike only has one chainring on the front or rear. If your bike has derailleurs, you need to shift to the smallest chainring at the back and front. You can do this step either while riding or off your bike.
Finally, get your 17mm spanner wrench and loosen the nuts and threads. Once you have removed the thread, carefully slide the wheel out of the fork. (source)
Where To Buy Replacement Axle Nuts
Your bike's thread can obtain damage after a long time of using it. Taps and dies can cut your bike threads, rendering your bike unusable. The cut usually happens at the end of the thread if such occurs. Such minor damage to the thread is possible to retap. However, there are some cases when you need to find out your bike axle thread sizes and replace them.
Purchasing replacement axle nuts is simple to do. You can easily find the right nuts for your axle online on Amazon and online bike accessory shops. However, you need to make sure that you purchase your nuts from a trusted source, so a specialty bike shop that knows your brand is the best solution. This way, you can ensure that you will receive the right high-quality product.
If you have a local bike shop or a hardware store near you, these places also sell axle nuts. Purchasing from physical stores is better than ordering nuts online. The reason is that you will be able to check the quality and size of your nuts in real-time. If you are not sure how to replace your axle nuts, you can even ask the people from the shop to help you install them.
Tools For Axle Nuts
Axle nuts do the job of securing a wheel to an axle. For instance, mountain bikes may have two axle nuts to secure the wheel to the fork. The rear also works the same way, so your mountain bike has multiple nuts to keep the parts together. Meanwhile, many modern mountain bikes use a quick-release system rather than nuts.
Since nuts secure the wheel to the axle, these tools need to be tight enough not to move at all. As a result, removing your bike's wheel can be difficult, especially if the nuts have gone unmoved for a long time. You will need a wrench to twist and loosen the axle nuts during this case.
What Size of Wrench for Axle Nuts?
If axle nuts secure your mountain bike's wheels, you need a 13mm to 17mm wrench. Usually, axle nuts work with a 15mm wrench.
A basic wrench set with metric sizes between 9mm to 19mm is a great set for working on bikes. I'm partial to the kit sold by Bikehand. Basic tools for the home bike mechanic. Short cut link to Amazon – Bikehand Bike Tool Set
In addition, the best wrenches for removing axle nuts are the ones with an open and closed-end. Make sure to use the closed wrench whenever possible as it holds the nut better without damaging them. (source)
What Is A "Cone Wrench" For Bikes?
A cone wrench is a tool to assemble and maintain your bicycle. It looks similar to the standard open and closed-end wrench. The only difference is that a cone wrench is much thinner than the standard wrench.
A standard wrench is usually 14mm thick. On the other hand, a cone wrench only measures 2mm thick.
If you're looking to buy some cone wrenches here's a short cut link to Amazon for a complete set. Cone Wrench Set
Moreover, you can use a standard wrench to loosen cone locknuts. But it is essential to note that only a cone wrench can adjust the cones. The reason is that these cones have close clearances and narrow flats.
The standard sizes for cone wrenches are
13mm x 14mm
15mm x 16mm
17mm x 18mm
If you want to replace your own bike's wheel, it is ideal to have at least two of the cone wrench sizes. You also need to ensure that your cone wrenches fit your bike's nuts. (source)
Frequently Asked Questions
How Do I Get a Quick Release (QR) Nut Size?
Your quick release mechanism has three essential dimensions:
diameter
threading
length
But if you are replacing the adjusting nut independently, the only measurement you need to know is the threading. The most common threading size for a quick-release mechanism is 5mm x 0.8mm. If you have an old French skewer, the size may be 5mm x 0.9mm or 5mm x 0.75mm. To get the correct nut size, measure the thread with a thread-pitch gauge or have multiple nuts that you can try and fit with your quick-release mechanism.
How Do I Measure a Thru-Axle Thread's Size?
You measure thru-axle threads by length. To measure the thru-axle size, you need to know its diameter, total thread and length, bolt head, and thread pitch. Most manufacturers print the thru-axle thread's size on the specification sheet. However, you can always measure it yourself to ensure accuracy. (source)
---
Learn more about Pedals, Handlebars and Brakes
---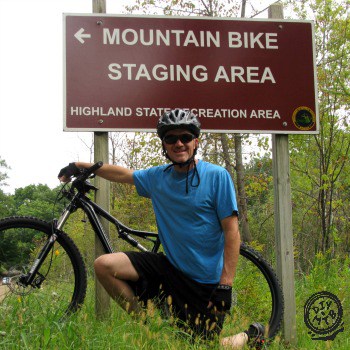 David Humphries is the creator of DIY Mountain Bike. For me a relaxing day involves riding my mountain bike to decompress after a long day. When not on my bike I can be found wrenching on it or making YouTube videos at 👉 DIY Mountain Bike Read more about David HERE.