If you are an avid biker, you most likely have been looking for the best mountain bike forks. However, the problem that most people have is that they have no idea what to look for and it can actually be a long process. You need to focus on being able to find the best bike suspension forks so that you will be able to travel perfectly with your bike.
These suspension bikes can vary in stiffness, weight, shock damping ability and many more. You will also need to focus on other factors like price and so it is crucial to know what you want in a bike suspension fork.
Why is a Suspension Fork So Important?
The front fork is as important to a bike as the frame. The bicycle fork is an extension of the frame and serves to:
Holds the front wheel
Turn the wheel at an angle equal to the steering wheel angle.
Maintain the trajectory of the turn (Helps maintain the chosen line)
Take on the loads arising from braking.
Damping vibrations caused by uneven trails- and this is typical not only for shock-absorbing front forks, but also rigid, or as they are also called, rigid.
Suspension forks are a sophisticated component on a mountain bike.
What Travel Will Work Best?
The first thing to think about is what travel will work best. This means that the more that your fork can move, the smoother it can absorb impacts.
MTB Pro Tip: TRAVEL means what? Seriously is more better? Read If more is better in this article -> What Does Travel Mean on a MTB and is More Better?
A small amount of 10mm can really change the overall feel of your ride and so you should definitely keep this in mind. Always try to do some research beforehand to help you determine how long a fork you need to avoid any overstress on the bike frame.
Mountain bike forks with greater travel will naturally feel plusher and will smooth out the trails you ride more effectively. The payoff is, the more travel – the greater the weight.
| | |
| --- | --- |
| Style of Riding | Suspension Fork Length |
| Hybrids | 50-70mm |
| Mountain Bike (regular cross country) | 80-100mm |
| Enduro/Trail | 120-150mm |
| Freeride (Single Crown) | 150-180mm |
| Downhill (Double Crown) | 180-220mm |
| Hardcore Downhill | 250-300mm |
MTB frames are designed with a particular range of fork travel in mind. Putting a 140mm fork on a cross country bike designed for 100mm will jack up the front end and completely change the balance of the bike. This, apart from ruining the ride, can stress the wrong places in the frame and will often void the bike manufacturer's warranty.
A good reason to upgrade your mountain bike forks is to get a travel adjustment feature. Many new forks come with adjustable travel, which allows you to adjust in small increments between a short travel for climbing and sprinting, to a longer travel setup for better handling at speed on a descent.
What Length Suspension Fork is Best?
First and foremost, I wouldn't recommend changing the length of the fork. If your bike was designed for a 120mm suspension fork, getting a 140mm probably will NOT improve the handling. The frame was designed for a particular fork length and changing the geometry typically results in lower performance.
Please consider that suspension forks have three important measurements.
Is the suspension length – I've beaten that to death in this article.
Tire size – three sizes dominate the bike market. 26-in, 27.5-in and 29-in.
Fork Width – common widths are 100mm, 110mm (boost) and 148mm (super boost)
MTB Pro Tip: With all the different widths of bike forks it's easy to get the wrong size. I wrote up how to adapt an old wheel to a new boost. Read it -> HERE
Know Your Budget – Forks are Expensive
The most important thing to figure out is your budget. You simply need to know how much you are willing to spend to make sure that you are looking in the price range. Before you even start to search, you need to make sure that you know what your budget is and realize that this is the biggest determining factor of what kind of fork you will get. The more you pay, the more consistency and control you can expect.
A good reason to upgrade on a mid-high level mountain bike is to breathe new life into the bike and your enthusiasm for riding it. Instead of spending thousands on a new bike, a few hundred on a fork could be a handy solution. Always ask your local bike store for advice.
Also, something to consider, if you have a mountain bike with a crappy elastomer sprung fork, you are probably better off spending your money on a whole new bike that is coil or air sprung than bothering upgrading an expensive component like a suspension fork.
Some brands to look for: Fox, RockShox, Marzocchi, DT Swiss, Magura
Improving Mountain Bike Handling
Understand however that the more you will be traveling, the harder it will be to control. Look to get the adjustable rebound damping and this will allow the fork to return smoothly to the its natural height for riding. Bikes that are more advanced will help the spring go slower so that the impact is absorbed. However, do not mess with damping adjustment too much if you have no idea what you're doing. If you want a very reliable unit, do not worry too much about tweaking the fork.
Trading Off Fork Strength for Weight
You must figure out how much strength you actually need. This is important because you simply do not want to carry extra weight that you don't really need. However, you need to understand that trying to figure out a fork's strength is very hard and so it is a better idea to just go with what the manufacturer recommends.
A stiff, strong fork tracks in the direction you choose without that feeling of flex like it's about to snap in two pieces!
Mountain bike suspension forks that look as thin and straight as uncooked spaghetti are obviously designed for short travel cross country bikes and riders. If this is your style then a great reason to upgrade is to get the latest lightweight technology like carbon fiber construction.
Likewise, heavier, stronger, chunkier suspension forks are designed for those who like to push the boundaries of their riding all the time. For these riders a great reason to upgrade is to get a super plush, very stiff fork that will track well in all trail conditions.
MTB Pro Tip: What the heck is a "Lockout Fork"? Find out in this article -> What is Lockout on a Mountain Bike: Why it's Nice!
Types Of MTB Suspension Forks
Simple Coil Spring
This is a classic spring made of steel or titanium. It has the following advantages:
Simple design and, accordingly, low price
Linear progression, which means that how many times the spring is compressed, the resistance to compression also increases by the same amount. Thanks to this feature, spring forks are used where there is a large load – in freeriding and downhill
Low shear force means the fork compresses with ease even with minimal load, because it does not require seals to operate like air forks
Less prone to effects of low temperatures.
Disadvantages:
Large weight;
A small range of adjustment for the weight of the cyclist, which is why some even change the spring on their own.
Air Spring Fork
Fulfills the properties of a spring due to the pressure in a closed air chamber. It is pumped with a special high-pressure pump, but there are also ordinary bicycle pumps with adapters, which I wrote about.
Air Spring Advantages:
For 50-70% of the stroke, the compression force does not change, after which it increases only at the end of the stroke. On the one hand, this provides pleasant work on short-travel bicycle forks, but on the other hand, it increases the tendency to breakdown during extreme riding;
Weight is approximately 150 grams less than that of spring forks;
Fine adjustment for any weight of the cyclist thanks to the change in the pressure in the chamber.
Disadvantages:
Great shear force. In order to prevent the air from being vented, seals are placed, but they also increase the friction of the walls of the air chambers. The problem of fork sensitivity is solved by installing an additional negative air chamber on more expensive forks;
Work in the cold is deteriorating due to the fact that the seals are tanned, thus bleeding the air;
Difficult to manufacture, and therefore more expensive.
Are MTB Forks Interchangeable?
It is highly recommended that you buy a mountain bike fork that has a tapered steerer tube that allows your bike to be stiffer without having to increase the weight. It is just very important that you find a fork that will be very compatible with your bike and traveling.
The process of being able to find the best mountain bike forks might seem like it is too hard but as long as you stay patient, you will be able to find the best fork available.
Which Fork is Best for the Heavy Rider?
Any fork will feel plush to a heavy cyclist and will handle bumps well. The problem lies in its strength and reliability. If it is a fork with a steel spring, then you need to make sure that when you sit on the bike, the fork does not shorten by a quarter or more of its travel.
You should also see how it behaves when leaving the curb, whether there is enough power reserve. Otherwise, you will have to take an airy one. Also, you shouldn't chase ultralight forks designed for racing, but cheap ones with thin legs shouldn't be taken either.
Do You Need a Remote Fork Lock Out?
The fork locking lever is primarily needed by riders when actively accelerating or climbing uphill. For everyone else, it will be just a pleasant bonus, which, between us, can be easily broken when transporting a bicycle. In general, this device will not be superfluous.
Is Front Suspension Necessary for Riding on the Road?
The answer will depend on the quality of the road surface. Obviously, on smooth asphalt, the fork will have nowhere to prove itself. It is also obvious that the asphalt in our latitudes is far from smooth and is fraught with many surprises.
It is impossible to give an answer unequivocally, some unpleasant vibrations in their hands will discourage all the desire to ride, and for some (and there are a lot of such people) this is not a problem at all, it is better for them to have as little weight as possible on the bike and not waste extra energy on the fork.
Can You Put a Suspension Fork on Any Bike?
YES, should be able put a suspension fork on most bike frames. You might have a couple problems though.
If the bike was a rigid frame, I doubt that the geometry was compensated for suspension, this means that you'll be limited to amount of travel you can run (maybe 80mm).
Your stem is might be a quill style (the stem grips onto the inside of the steerer tube via an expander bolt), if so you'll have to get a stem that bolts onto the outside of the steerer and headset (though your current headset may need replacing anyway).
---
Suspension is Fun to Talk About
---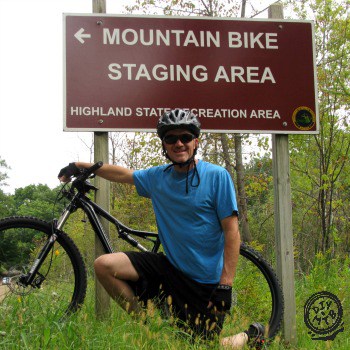 David Humphries is the creator of DIY Mountain Bike. For me a relaxing day involves riding my mountain bike to decompress after a long day. When not on my bike I can be found wrenching on it or making YouTube videos at 👉 DIY Mountain Bike Read more about David HERE.