Whether riding clipless or flat pedal, mountain bike shoes on your feet are the best option. However, if you're anything like me, then you're asking why mountain bike shoes are the best; why not just use a pair of regular comfortable running shoes?
Mountain bike shoes are designed specifically for use while riding a mountain bike. The shoes come in two basic types: clipless and flat pedal MTB shoes. Both are superior to regular shoes for riding a mountain bike for a variety of reasons explained below.
I'll explain what I learned when I first questioned the validity of a mountain bike-specific shoe and what I've learned about using them since. So, stick around and find out why mountain bike shoes are the best (because of their features) and how they will impact and improve your ride.
Two Types Of Mountain Bike Shoes To Choose
It would be nonsensical for me to explain why MTB shoes are the best when I haven't clarified which type I'm discussing. There was a time when I had no idea that mountain bike shoes existed as a type of shoe at all. After some time, I learned there are two types: the Clipless and the Flat Pedal mountain bike shoe.
Clipless Mountain Bike Shoes
Clipless shoes are ironic. No, seriously; here's why: Initially, the first clip-in MTB shoes were toe clip. They were dangerous because you couldn't quickly release the clip, so heaven forbid you need to remove your foot from the pedal to hold your bike (and yourself) up when you stop.
In order to fix the clipping problem, a new design came out that allowed the clip to move closer to the center of the ball of the foot and allowed for a relatively easy clip-out. Therefore, the toe clip ceased to exist, making it toe-clipless, which is now just called clipless, but there's still a clip-in. It just has a better release system. Now a rider merely rotates the foot outward, and the clip releases.
Therefore, the irony in calling a clip-in style shoe clipless. It makes me laugh every time. Although to be forthcoming, many call the clips cleats. They are a recessed two-bolt cleat setup that is sunk (recessed) into the sole, so you don't walk around on a lumpy cleat in the center of your shoe. (source)
Looking for some aid in installing cleats to your MTB shoes? Check out this video that explains how to install cleats.
Pro Tip: Some clipless riders love the "eggbeater" pedals and shoe setup. Learn more about that system in this article: What Are Eggbeater Pedals on MTBs
Flat Pedal Mountain Bike Shoes
Flat pedal mountain bike shoes have no clip and no means of locking into a pedal. These shoes look similar to skateboard shoes but are often built up more. Think of a skateboard shoe on mild steroids.
These shoes are pretty popular amongst mountain bikers for several reasons, but let's jump back to the clipless first and take a look at the benefits that make mountain bike shoes superior to average joggers or other typical shoes.
Shoes, Socks and Pedals – taking care of your feet riding is critical. Check out the articles below:
6 Benefits Of Clipless Mountain Bike Shoes
Clipless mountain bike shoes are perfect shoes for wearing during your ride. The shoes sport a sleek look, but that's only on the surface. Let's take a look at all the benefits of these fantastic, MTB-tailored shoes.
The Look
Okay, you got me; I like things that look kind of cool. And MTB clipless shoes are no exception. These shoes always look slick, in my opinion. So, if you want to look like a pro, clipless pedal shoes are the way to go.
The Feel
One of the first things I noticed when I tried on my first pair of clipless MTB shoes was the feel. The shoe forms around your foot, almost like a wet shoe for kayaking, but without the rubber feel. It was very comfortable, feeling like it was an extension of my foot.
Rigid Treads
Many shoes lose part of your energy when you push the pedal. A small amount leaves from the flex of a regular shoe's sole. The clipless MTB shoe defeats this with its semi-to-rigid sole construction. You can still walk in these shoes, but you'll notice the sole is much more rigid.
The added rigidity of the sole helps decrease power loss from each push on the pedal. In a sense, the shoes make you a more efficient rider.
Clip-In Comfort
When you clip into your MTB for the first time, you'll notice, as I did, that it suddenly feels like the bike is much more of an extension of yourself. The empowering feeling of really being connected to your mountain bike allows for more excellent stability and control. It adds a level of comfort knowing that you feel confident that your feet won't just slip off the pedals.
Easy Release Clipping
Slowing down to a stop, you might think having your shoe clipped to the pedal is dangerous. And, in fact, it was dangerous back in the day before the new designs of today was out and about. As mentioned before, with the toe clips of the past, you'd have to stop by a tree or pole to brace yourself from falling while you undid your shoe to pedal connection.
The new styles of clipless pedals have a clip that allows you to disconnect when you rotate your foot (heel) outwards. A simple turn of your foot and you're free, yet regular pedaling action keeps you firmly locked in place.
Breathable
Mountain bike shoes are designed for use pedaling hard and fast, both up and downhill. You and I both know our feet can get pretty toasty in there when you're working hard.
MTB clipless shoes are designed for MTBing, so they typically have excellent ventilation in the form of mesh 'windows' that allow your feet to breathe. As they are specially designed for riding, breathability has been a part of most designs since day one.
DIY Mountain Bike Tip: Some folks ask – What about using MTB Shoes for Commuting? We've got you covered with this article – What are the Mountain Bike Pedals for Commuting
6 Benefits Of Flat Pedal Mountain Bike Shoes
Flat pedal mountain bike shoes are a flat-soled shoe that resembles skateboarding shoes. The differences, though, are that MTB flats are designed with biking as the sole use. Here are a number of the benefits of using a flat pedal mountain bike shoe over other types of shoes.
The Look
Again, if you're swayed by something that just looks right for the job, then you ought to enjoy the look of the flat pedal mountain bike shoe. Most of these shoes look athletic, rugged, and extreme-sporty with their similarity to skateboarding shoes. Want to star in the XGames? Grab a cool pair of these shoes, and you might feel like you're already a part of the games.
The Feel
Speaking of feel, I like the feel of flat pedal mountain bike shoes. These shoes have a sticky sole (I'll get to that) which helps you feel like your sticking to the pedals. They are much better than a running shoe that might feel more like the tread wants to slide off the pedal, launching your foot far and away. Having a comfortable shoe is essential for long rides, and the flat pedal mountain bike shoes are not ones to disappoint.
Semi-Rigid Treads
Remember how you want a rigid tread to increase your power transfer from foot to pedal? Well, the downside of that is that you lose any use of the tread to cushion your feet from shocks.
Due to the lack of shock absorption of a clipless compared to a flat, many hardtail riders prefer to use a flat pedal mountain bike shoe over a clipless.
The treads of MTB flats are often just a bit stiffer than a standard running shoe. You need to find a good balance between pedal efficiency and also impact absorption. The flat pedal MTB shoe aims to achieve this balance allowing for maximum efficiency and comfort when riding. (source)
Super Sticky Soles
Above when I spoke of the feel of these flat pedal MTB shoes, I mentioned the tread is sticky. Okay, it's not flypaper, but it is more sticky than a standard running shoe. The rubber is specially formulated for this exact purpose. The tread design intends to complement the sticky nature of the shoe to offer maximum grip to your flat MTB pedal.
Padded Protection
When comparing a standard running shoe to a flat pedal mountain bike shoe, you'll notice that the MTB shoes have a thicker sidewall. Although breathable (again, I'll get to that), the shoes offer superior protection where you need it most. The concept here is to protect your feet from branches and the like while you are whipping about the trails.
Breathable
Lastly, the purpose-designed mountain bike shoe intends to offer you superior performance without baking your feet into sweaty prunes. As mountain biking can take quite a bit of effort, your feet are often the first to suffer from overheating.
Mountain bike shoes are designed for mountain biking. The designers know you're doing an extreme sport and that it can really make you warm, so you'll find that mountain bike shoes often have superior ventilation over everyday shoes.
---
MTB Tools I Love and Recommend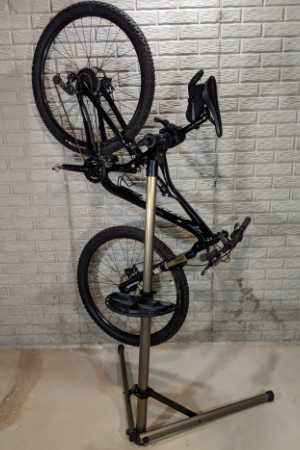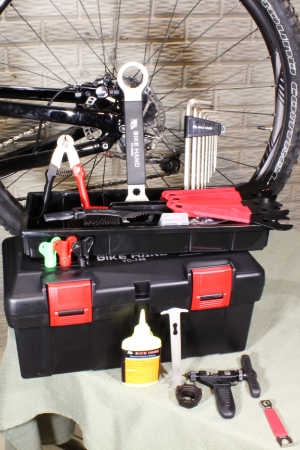 I own each of these tools and only recommend things I own and use.
---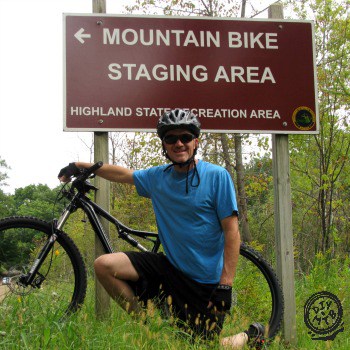 David Humphries is the creator of DIY Mountain Bike. For me a relaxing day involves riding my mountain bike to decompress after a long day. When not on my bike I can be found wrenching on it or making YouTube videos at 👉 DIY Mountain Bike Read more about David HERE.