My riding buddies keep talking about "Eggbeaters". So I was wondering, "What are Eggbeater mountain bike pedals?"
Eggbeater pedals are clipless mountain bike pedals manufactured by Crank Brothers. The name "egg beater" is used since the pedals look like mixing blades. The biggest advantages to these pedals is their light weight and versatility.
Are Eggbeater Pedals For You?
The claim to fame for Eggbeaters is that they're the lightest pedals on earth. If you're like me, you're a bit obsessed with lightweight bike components. After coming out with a single model initially, there are now several Eggbeater models to choose from.
---
Are you looking for the lightest, strongest, most durable mountain bike pedals?
You can experiment with pedals, I've done it. Get something cheap only to have it break or you just end up settling for something sub-par. Pedals and shoes are primary contact points for you to your bike. Get the best you can afford. Fortunately with the internet we can shop and compare quickly. See the link below for Crankbrothers on Amazon.
Crankbrothers Eggbeater Pedals
---
If you're a beginner, sport or expert mountain bike rider, Eggbeater pedals are an attractive option. They're light and work great. I dig their sleek profile. Their shape makes them look like cake mixer blades, hence the name.
Years ago I started using Eggbeaters from Crank Bros. They were so unique that you could only get them from a local bike shop (LBS). The last time I bought Eggbeater 1 Pedals (link to AMAZON). You can also read the reviews and see the questions other riders have.
What Makes Egg Beater Pedals So Unique?
Besides the light weight, the design of the pedals is totally minimalist. Basically, only the cleat clamping mechanism and the axel are present. When I first saw a pair of Eggbeaters, I immediately thought, "Sweet!" There's just no other pedal out there that looks like these.
Another thing I instantly noticed is that Eggbeaters have a four-way entry design. Standard clipless pedals only have two-way. Four-way entry means you can clip in faster, which is great.
The minimalist profile also offers other advantages, such as improved mud clearance. If you're into winter riding, these pedals may be less likely to get gunked up with snow and ice as well.
Will SPD cleats work on Crank Bros Egg Beaters?
Yes. You can use standard Shimano SPD cleats with Egg Beater pedals. Still, when your current cleats wear out, it might be a good idea to get Crank Brothers cleats. The difference in performance might be small, but anything that improves performance is worth it if you ask me.
Still, the manufacturers of Egg Beaters know that compatibility is important, so SPDs work just fine.
Can I use Eggbeaters and MTB shoes for road biking?
Most road and mountain bike pedal axle diameters are standard. You can easily mount Eggbeaters onto a road bike. But if you get seriously into road biking, you'll probably want pedals, shoes and cleats made for road biking.
Road bike foot gear is stiffer for better power transfer. Mountain bike shoes are softer for better maneuverability. Plus, you sometimes have to dismount and run or walk, so MTB shoes are more like regular shoes.
When some of my riding buddies first got into the road scene, they used MTB pedal gear. All of them eventually upgraded though.
Do Eggbeater pedals require special shoes?
Yes and no. Any clipless pedal system requires special mountain bike shoes. Eggbeaters can use any MTB shoe and cleat combination that is SPD compatible. You don't need a special Eggbeater shoe to use Eggbeater pedals.
Do lightweight pedals, like Eggbeaters, really matter for mountain biking?
As far as I'm concerned, weight is a big deal. The more you ride, the more you appreciate lightweight components. If you're going for a casual 15 minute ride, then don't sweat it. But if you're planning something more epic, lightweight is crucial.
It's not just about weight though. Another thing I always consider is component strength. If something breaks on the trail, you're walking home. So your gear must be durable too.
Lastly, is price. Ultra-lightweight components are made of exotic (= expensive) materials like titanium and carbon fiber. The top of the line Eggbeaters are made of ti and stainless steel. They only weigh 179 grams per pair. That's insanely light.
Do just a few grams of weight really make a difference?
Again, it depends on the type of riding you do. If you plan long rides, or racing, then yes, weight it super important. Each component can be reduced to give an overall weight savings. When you're climbing a hill in the last half hour of an all day ride, you feel those extra grams, believe me.
There's a reason pro riders are obsessed with how much their bike weighs. Nobody wants to be lugging around extra metal when going full tilt on a race course.
Professional mountain and road bike racers have been known to carefully weigh their bikes and even individual components. Some don't even trust the manufacturer data, so they use their own scale. I'm not that nuts, but I clearly see the advantage to lightweight gear.
Is there any downside to using Eggbeater pedals?
When these pedals first came out there was some concern about durability. I'm pretty sure Crank Brothers has resolved any major issues. My Eggbeaters have performed superbly.
Downhill pedals are a whole different species. They are sturdy and heavy since they take a lot of abuse. Downhilling is really a different sport altogether. If you're into cross country or rail trail riding, you're not wearing a full face downhill helmet and crash armor either.
If the terrain you ride is somewhat extreme and requires big hit jumping, then Eggbeaters are not your best bet. Crank Brothers actually makes a wide range of other pedals for more abusive activity like downhilling.
Is there a bodyweight limit for Eggbeater pedals?
According to the Crank Brothers website, the pedals have the following weight limitations. (I'm also noting the pedal weight and composition):
Eggbeater 11

– Rider weight limit 200 lbs/90 kg. This is the featherweight titanium model at 179 grams per pair.

Eggbeater 3

– 280g per pair. No rider weight limit. Cast stainless steel. Wings are 17-4PH stainless.

Eggbeater 2

– 285g per pair. No rider weight limit. Cast stainless steel. Wings are stamped steel.

Eggbeater 1

– 290g per pair. No rider weight limit. Body and wing made of stamped steel.
Are Eggbeater pedals customizable?
You can adjust the float and release angle on Eggbeater pedals. Float is how much the ball of your foot can rotate while clipped in. Release angle is how far your foot must rotate before you clip out.
There are a couple of reasons riders like these adjustments. Some might have knee problems which require more float to take the stress off the knees. Others like to be able to move around a bit when clipped in.
Personally, I don't require all that much float, almost none really. I prefer to be snug in the pedal for more efficient power transfer and control.
How about cost? Are Eggbeater pedals more expensive than other brands?
Eggbeater pedals are priced competitively. For instance, the middle of the road Eggbeater 2 costs from $89.99 to $99.99. Shimano Deore XT pedals costs about the same.
You can get a decent pedal for less money. Like the Ritchey Comp XC which will cost you about $65. This pedal weighs 331 grams compared to 285 grams for the Eggbeater 2.
I always find it challenging to compare components from one brand to another. Personal preference is a big part of the decision making process. Also, you'll never find the exact same level of performance within some component classes, like pedals.
Want to check the cost of the different Eggbeaters?
Below are links to Amazon to check reviews and prices
Do Eggbeater pedals come with a warranty?
Yes. Crank Brothers offers a 5 year warranty. This means they will replace the product if it's defective. If you're bouncing through a rock garden and break a pedal, that's not covered by any warranty.
If you are riding normally and the pedal breaks spontaneously, then yes, you have a legit warranty claim.
If your bike has Eggbeaters, can you ride with regular tennis shoes?
You can ride any bike that has pedals even if you have tennis shoes on. But if you're going for a serious ride, you should use mountain bike shoes with cleats. If it's just a quick ride down the block, no need for any special shoes.
Crank Brothers even makes a hybrid pedal, called the Double Shot. It's basically an Eggbeater encased in a platform pedal. This means you can ride with MTB shoes or with normal sneakers. Very nice.
One of the coolest things I see at the races are pit bikes. These are bikes with regular flat pedals that mechanics use just to get around. Since bike mechanics are on their feet a lot, they don't want to be standing on cleats.
Does Crank Brothers have a good reputation as a component brand?
Crank Brothers has been around since 1977. They started out in a Laguna Beach garage. Just surviving as a MTB gear maker is a huge accomplishment, let alone being a big name since the '70s. These guys are true industry pioneers.
Crank Brothers has been making a bunch of cool components and accessories for years. They have a stellar reputation in the MTB world, including cross country and downhill. Plus, they sponsor a bunch of riders on the pro circuit. I think the brand is awesome.
---
Learn more about Pedals, Handlebars and Brakes
---
What are some options to pick similar to Eggbeaters?
There are a few pedal options on the market. I already mentioned the Shimano Deore XT and the Ritchey Comp XC. Both are solid pedals, and some of my friends swear by them.
LOOK also makes MTB pedals, but their strength is really in the road bike market.
Eggbeaters are one-of-a-kind when it comes to design. Plus, they are the lightest MTB pedals on earth.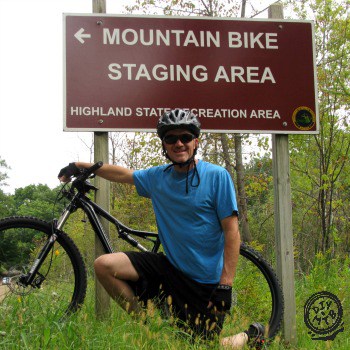 David Humphries is the creator of DIY Mountain Bike. For me a relaxing day involves riding my mountain bike to decompress after a long day. When not on my bike I can be found wrenching on it or making YouTube videos at 👉 DIY Mountain Bike Read more about David HERE.