Mountain biking is fun yet an extreme way to explore the outdoors. It requires balance, endurance, and the ability to navigate around while riding fast. The best thing is mountain biking has trails to offer, whether you are a beginner or a seasoned biker.
Key Takeaways
This article will discuss the following:
What singletrack, double track, and fire roads are
The differences between various types of trails
How to find and choose a mountain biking trail
Mountain biking trail difficulty levels
The difference between singletrack and double track is their width. Singletracks are a little over the width of a mountain biker's shoulders, while double tracks are twice a singletrack's size. Fire roads are emergency roads for fire management purposes.
This article will differentiate the different trail types and help you choose what trail is ideal for your skill level.
Differences Between Mountain Biking Trails
According to Statistica, there are 8.69 million cyclists who participated in non-paved mountain biking in 2021. Looking at these statistics, you may consider trying a new sport and exploring different dirt paths. But did you know that mountain biking trails are not created equal?
Trails come in different types – singletrack, double track, and fire roads. But what exactly are these trails, and how do they differ?
Singletrack
The most common type of mountain biking trail is the singletrack trail. Its width is usually only enough to let one mountain bike pass.
Singletrack trails are usually smooth and wind up on flat terrains. However, expert-level singletrack trails have occasional bumps, ascends, and descends.
This type of trail also has technical sections, which feature roots and rock gardens. These obstacles will require you to focus on the road you are taking. The good thing about these technical sections is they help cyclists improve their skills.
Doubletrack or Two-Track
Double track, or two-track trails as some people call them, are twice the size of singletrack. The paths of a doubletrack trail are created due to the constant passing of vehicles, which smoothens the trail and provides a cycling line for mountain bikers.
You will usually be able to find doubletrack mountain biking trails on roads that motorized vehicles cannot (typically) access. These roads include old mining areas, unused jeep trails, and powerline roads.
On doubletracks, cyclists can pass by each other without anyone having to give way. In addition, a doubletrack path is mellow, although it still has a few technical features and obstacles.
Fire Roads
Fire roads are dirt roads that emergency vehicles use. Mountain biking on fire roads is famous in the Pacific Northwest, where service or emergency roads are abundant.
Before singletrack and developed MTB trail systems, people typically used fire roads as their cycling paths.
Moreover, fire roads are a form of two-track mountain biking trail. According to the Mountain Biking Activity Safety Guideline, fire roads are commonly used by cross-country mountain bikers.
---
Learning about Mountain Bike Tires could take years. Let me help you just a bit quicker with some articles.
---
Finding Out The Differences
Singletracks Vs. Doubletracks
The main difference between singletrack and two-track mountain biking trails is their size. As mentioned, singletrack paths are one-way biking trails, while doubletracks are twice the singletrack's size.
Cyclists specifically made singletrack for mountain biking. They consist of bumps caused by tree roots and artificial obstacles.
Moreover, you'll find a lot of cornering when on a difficult skill-level singletrack, so you need excellent cornering abilities.
On the other hand, doubletracks could be old and overgrown dirt roads within the woods or gravel paths for four-wheeled vehicles like jeeps and ATVs. For this reason, you may not find any artificial obstacles in this type of mountain biking track.
Contrary to singletracks, where you have to navigate on many corners, doubletracks do not have sharp curves or any artificial obstacles. Still, doubletracks are tricky to ride on, as they may have steep slopes and gravels.
Fire Roads Are A Form Of Doubletracks
Finally, fire roads can be a doubletrack, as emergency vehicles pass them. These service roads give access to emergency vehicles, especially those for fire management. The vehicles' wheels create two parallel paths on the dirt road, serving as trails for mountain bikers.
---
Learn more about Pedals, Handlebars and Brakes
---
How To Pick A Mountain Biking Trail
Sometimes, choosing the best trail type for mountain biking skills can be tricky. This fact is especially relevant if you are new to the sport. However, this difficulty should not hinder you from exploring the outdoors in a fun way.
Now that you know the different mountain biking trails, you next need to know how to pick the right trail for your skill level.
Find out where the nearby trails are
If you are new to mountain biking, chances are you still do not know where the best places to practice the sport are. Fortunately, discovering nearby trails are relatively straightforward. In fact, mountain biking trails may be nearer than you think they are.
A Google search of the mountain biking trails near your area will give you various locations you can explore. YouTube and social media platforms can also provide you with different trail information.
If you want a more specific result when searching for MTB trails near you, you can use apps like Strava, AllTrails, and Trailforks. These apps will provide details like the trail's exact location and length.
Moreover, finding nearby trails also means deciding whether you want to explore a singletrack, two-track, or fire road.
Trail Length
Riding on a 20-mile singletrack with a high elevation may not be the best idea if you are a beginner. Instead, finding a short, flat trail where you can hone your skills, whether singletrack or doubletrack, is ideal. After developing your MTB skills, you can try riding on more technically challenging trails.
Weather Condition
Let's say you already have a trail you want to explore. The next thing you will do is to plan when you want to explore that trail. Choose a day when the weather is fine, as rain can make the trail slippery. Slippery trails increase the likelihood of accidents, so riding your mountain bike under the sun is better. In addition, it is not ideal to explore a course when it has rained recently, as these can still be wet and slippery.
The Type Of Mountain Bike You Have
While your mountain bike may be high-quality, there are still limits to what it can do. For this reason, you need to find a trail that matches the quality of your mountain bike. If you have an entry-level mountain bike, choose a beginner-friendly path.
MTB Tools I Love and Recommend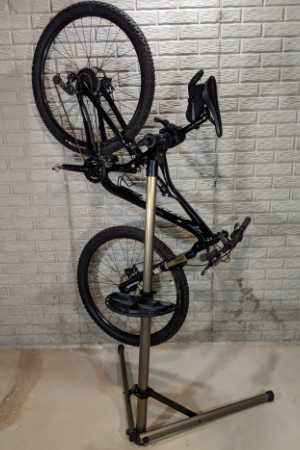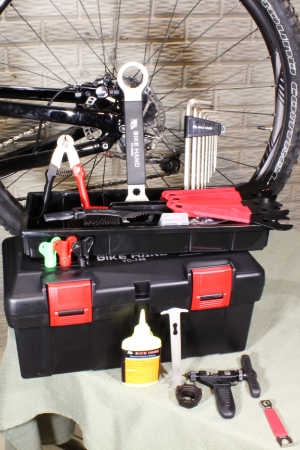 I own each of these tools and only recommend things I own and use.
How To Find Out A Trail's Difficulty
As mentioned, a quick search on Google will provide you with a list of nearby trails. So, this method will also allow you to discover the difficulty of the trail you want to explore.
Meanwhile, finding out a trail's difficulty level is easy if you use a mountain biking app. The reason is that these apps use a difficulty rating system for MTB trails. Colors define each trail's difficulty.
The International Mountain Bicycling Association (IMBA) created a trail difficulty rating.
White
Mountain biking trails marked green are easy trails that are ideal for beginners. You only need to have basic cycling skills to ride on these trails.
Green
Similar to trails marked green, blue trails are also suitable for beginners, particularly those with riding skills higher than basic. When riding blue trails, you must know how to ride drop-offs, jumps, corners, descend steps, and other obstacles.
Blue
These trails are for intermediate and experienced mountain bikers. Red courses require cyclists to have a high mountain biking skill level. Such advanced trails include jumps, sharp corners, and steep ascends. For this reason, you need to have good braking skills.
Black
Such trails are for expert cyclists who own top-quality mountain bikes. You need to develop excellent mountain biking skills, as black trails have unavoidable obstacles that are relatively difficult to master.
Double Black
This type of trail is the most challenging trail type. It has unavoidable obstacles, steep ascends, and even loose rocks. Double black trails require a high level of mountain biking expertise, as they are widely unpredictable.
Which Mountain Biking Trail Will You Choose?
There are different mountain biking trails that people can explore. They vary in difficulty, length, and elevation.
Do you have questions, comments, or suggestions about this article? Make sure to leave your thoughts in the comments section!
Singletracks, doubletracks, and fire roads differ in width. Singletracks are narrow, doubletracks are double the singletrack's width, and fire roads are accessible by four-wheeled vehicles.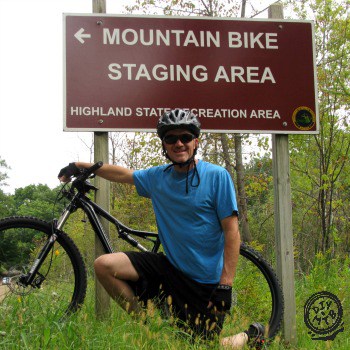 David Humphries is the creator of DIY Mountain Bike. For me a relaxing day involves riding my mountain bike to decompress after a long day. When not on my bike I can be found wrenching on it or making YouTube videos at 👉 DIY Mountain Bike Read more about David HERE.
Sources
Statistica Research Department. Number Of Participants In Mountain/Non-Paved Surface Bicycling In The United States from 2011 to 2021. https://www.statista.com/statistics/763737/mountain-non-paved-surface-bicycling-participants-us/#:~:text=This%20statistic%20shows%20the%20number,biking%20amounted%20to%208.69%20million. Accessed January 26, 2023.
Tutorials Point: Simply Easy Learning. Mountain Biking. https://www.tutorialspoint.com/mountain_biking/mountain_biking_tutorial.pdf/ Accessed January 26, 2023.
International Mountain Bicycling Association. IMBA Trail Difficulty Rating System. https://www.imba.com/sites/default/files/content/resources/2018-10/IMBATrailDifficultRatingSystem.jpg. Accessed January 26, 2023.