Changing the tires on your mountain bike to hybrid tires can be great if you want to commute with your bike or just ride in road conditions or varying terrain. In this post, we will look at what hybrid tires are and where they are best suited.
What Makes Hybrid Tires different from MTB Tires
Unlike Mountain bike tires designed solely for rugged terrain, hybrid tires are designed to provide performance in both road conditions and off-road conditions.
Hybrid tires feature a smooth surface at the center of the tire to give great on-road traction, especially in wet conditions. The edges of the tire feature lugs that are great for digging into loose soil, gravel, and sand, adding traction for riding on more rugged terrain.
Features and designs that work in a wide variety of conditions are very advantageous for cyclists who need to ride on various surface conditions such as roads and dirt trails on a regular basis.
If you'd like to read a whole bunch more about hybrid bikes – Check out this article – What's the Difference Between a Hybrid and Mountain Bike
Things to Consider before Installing Hybrid Tires
If you plan on changing over to hybrid tires or swapping from mountain bike tires to hybrid tires regularly, there are some things to take into consideration.
Ride Quality
You will be happy to know that if you decide to purchase and ride on hybrid tires that they perform well in the ride quality department!
Hybrid tires are wider than their road-specific counterparts, and the center surface designed for road travel being wider means that the tire has more surface pressure.
Wider tires also mean there's less chance to get a pinch flat and can be used with less air pressure.
With the pros out of the way, there are also some cons. Wider tires mean that compared to road tires, they will require a little more effort to accelerate, as the tires are heavier than road tires. Hybrid tires are not built for speed per se, but this is overshadowed by providing excellent performance in ride comfort and control over varying terrains, making them great for commuters and casual riding.
Traction on Dirt
Hybrid tires work just fine on dirt paths and other surfaces like gravel, and of course, pavement.
You won't have any issues with gravel roads or trails and paths that consist of dirt, but with that being said, they still aren't suited to the more rugged terrain features that you would use mountain bike tires on, terrain that is very rocky and bumpy will be a struggle when using hybrid tires.
Hybrid Tire Width
While Hybrid tires are much wider than road tires, many will be narrower than mountain bike tires. But with this decrease in width depending on the brand and model, you will see an increase in acceleration and other performance perks associated with a lighter and slimmer bike tire over a mountain tire.
What are Hybrid Tires Best For?
Hybrid tires are best suited to people who ride on varying terrains such as gravel, pavement, and dirt paths on a regular basis, or when encountering varying terrain regularly on a single trip, whether it is simply to commute or casual riding.
As mentioned earlier hybrid tires are not suited for very rough or rugged terrain that is more suited towards off-road mountain bike tires.
Recommended Tire Pressure for Hybrid Tires
Optimum tire pressure for a road bike tire is around 70 to 130 psi, and optimum mountain bike tire pressure is around 25 to 45 psi. Since hybrid tires blend these two tire types, featuring some characteristics of both, we can meet in the middle, with tire pressure for hybrid tires coming in around 40 to 90 psi.
With those guidelines being said, it's important to note that there isn't a "perfect" set in stone tire pressure, and the optimum and most comfortable tire pressure depends on factors such as body weight and riding style.
If you'd like to read more about tire pressures read the results of a survey of thousands of riders. What Tire Pressure Should I Use on My MTB
When it comes to body weight and optimum tire pressure, you should reference the tire manufacturer's recommendations, and the more someone weighs, the higher the tire pressure needs to be.
Many people will give you different answers on optimum tire pressure, and to a certain extent, it is a personal preference topic. When putting on hybrid tires it will most likely take a few test rides to determine the tire pressure you are most comfortable with based on the recommended guidelines.
Recommended Hybrid Tires for Mountain Bikes
Here are some great hybrid tires to consider if you are looking to purchase a set for your mountain bike for commuting or casual riding around the area you live and travel in daily.
Continental is no stranger to avid cyclists and has been producing quality bike tires since 1871, although technology since then has definitely come a long way! These are a great tire and I highly recommend them. Check out the great reviews and prices with this Amazon link – Continental Top Contact II
Continental has refined their tread mixture on this Top Contact II model, and the tire gives exceptional performance in the speed, durability, and skid performance departments.
The distinct center tread design along with siped shoulders gives the cyclist exceptional handling on a wide variety of surfaces.
The reinforcing and matrix fibers of the Top Contact II are made of Vectran. Vectran is five times stronger than steel, and it is incredibly abrasion resistant and, more importantly, very lightweight, protecting your tires from punctures and cuts far better than the standard of double nylon layers.
The Maxxis Detonator takes the proven, and popular tread design of their road training tires and puts this design on a wider hybrid tire, making it one of the top designs for those who commute or casually ride on varying surface make-ups.
These tires are built for speed, so if going faster is your goal get the MAXXIS DETONATOR HYBRID (link to Amazon for the current prices)
The tire comes in several variations with offerings in both wire and foldable beads and sizes varying from 26 to 27.5 inches.
Are Hybrid Tires Good for Trail Riding?
Well, it depends. Answering the question of whether or not hybrid tires are suited for trail riding really depends on the trail.
If it's a rugged trail with steep areas, sharp turns, and mixed with rocks, roots, and stumps typical of a mountain bike style of trail, we would have to say no.
If the trail consists of less rugged terrain and a surface consisting of gravel and dirt, free of scattered rocks and excessive tree roots, hybrid tires will work great.
Any local trail that is popular with walking and cycling and features a variety of surfaces like pavement, gravel, and dirt will be particularly suited for hybrid tires.
Will a Hybrid Tire make My Mountain Bike Go Faster?
Yes, a Hybrid tire instead of the lugged mountain bike tire will certainly allow you to cruise at higher speeds more efficiently, especially on smoother terrain.
It will also require much less effort, as the smooth-rolling tire will require you to peddle less often and encounter less resistance.
Keep On Pedaling
Swapping out tires is pretty quick, if you know most of your riding is going to have you on pavement with some dirt mixed in Hybrid tires are the answer. If you MTB is a "convert" project to use for commuting hybrid tire are a great option as well. I like to call it Urban Assault riding. Besure to check out the recommendations I particularly like the Continental Top Contact II. (link to Amazon) If road riding is what your mostly doing and you want to squeeze a little bit of speed out of your MTB read this article. Can I Put Road Tires on My MTB Hybrid tires are an excellent option for anyone looking to commute or casually ride on varying terrains like gravel, dirt, and pavement.
---
Learn more about Pedals, Handlebars and Brakes
---
---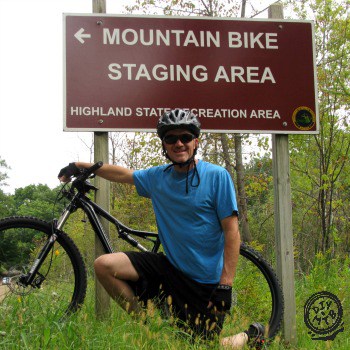 David Humphries is the creator of DIY Mountain Bike. For me a relaxing day involves riding my mountain bike to decompress after a long day. When not on my bike I can be found wrenching on it or making YouTube videos at 👉 DIY Mountain Bike Read more about David HERE.