Bicycles have a long lifespan; with a bit of maintenance, you can breathe a new life into your old mountain bike. However, technology has brought us new and improved mountain bike engineering. For this reason, you might contemplate whether you want to repair the old bike or buy a new one.
If the frame of your old bike does not fit you or there are damaged parts, you may want to buy a new one. But if the damages on your old bike are easy to repair and the replacement parts are inexpensive, repairing or upgrading it is a viable option.
That said, there are several options that you need to consider during the decision-making. For this reason, you need to assess your bike thoroughly to find out which option will work best for you.
Repair Old Bike or Buy New One: Which Option Works Best for Your Situation?
Whether you should repair an old bike or buy a new model depends on how the old bike's condition is, starting with the frame. If the old bike no longer fits you and there is significant damage, the best option is to buy a new one.
But if the old bike is still in good condition and the frame still fits your body build, it may be less expensive to repair it by installing similar or upgraded parts.
You also need to consider the frame weight. If you are a leisurely, casual rider, then you may not be that concerned with shaving off a few pounds on the bike's side of things. However, if you're getting serious about riding or want a more efficient ride, then you might consider the weight of the old frame versus a new one.
However, before deciding which option will work for you, I recommend taking a brief look at the age of the bike and comparing it with newer technology.
| | |
| --- | --- |
| Old Bikes | New Bikes |
| Most have mechanical friction use cables to shift levers and control brakes. | Have similar mechanical or STI levers that use cables. Higher-end uses hydraulics. |
| Older bikes are generally heavier, overbuilt steel, some aluminum frames. | Most modern bikes have steel, aluminum, or carbon fiber frames; all considerably lighter than their predecessors. |
| Most use single pivot caliper brakes | Dual pivot caliper brakes or disc brakes are far more effective with new engineering. |
| Most are hardtail and lack decent suspension. | New suspension systems can be adjusted to suit rider preference. Dual (aka full) suspension is quite common. |
| Old bikes may have limited gearing. | New bikes will have decent gearing and some even come electric power-assisted. |
When to Keep Your Old Bike
It feels good to make your old things look new with a bit of cleaning and polishing. So. If you feel like your old bike will still work after repair or upgrading it, then these might be a perfect option.
If your older bike was a high-end bike at one time, it may still be better than today's budget bikes and you ought to consider repair or upgrade options.
Here are some points that you need to keep in mind when upgrading an old bike:
The Old Bike Should Still Fit You Well
If the size of your old bike still fits your physique after serving you for years, keeping and upgrading it is an excellent idea.
If it is more cost-effective to repair your old bike than to buy a new one, and you don't have an overwhelming desire for new and shiny things, then you might want to consider repairs.
If you have a bike that is old yet is working very well, then there is no reason for you to replace it, financially speaking. It will be less expensive to replace some parts of your bike instead of buying a new and expensive one.
Your Bike Has Sentimental Value
Some people get attached to the things they have. If you are that type of person and really love your bike, upgrading and repairing its old parts is a great idea.
The bike frame should not have any severe damage, otherwise, it isn't worth fixing (unless you're a really good welder).
The severity of the bike frame's damage will determine whether or not you need to purchase a new bike. If the frame is only a little compromised, repairing your old bike might be a good option.
However, if the bike frame's damage is beyond repair, there is really only one option – consider a new bike.
When You Need to Buy A New Bike
Sometimes, repairing an old bike is no longer cost-effective. Such happens when the damage is too expensive to repair or if you need to upgrade multiple bike parts.
Below are the indications that you need to replace your old bike:
You Cannot Find Good Bike Parts
Some old bike models have parts that are difficult to find. For instance, if there is an odd-sized derailleur hanger with a frame-specific mounting that only your old model bike has, then you may have a very hard time finding a replacement. Take a look at my article on derailleur hangers for more information.
As bike parts become hard to find, bike owners have no choice but to downgrade from their previous top-of-the-line components to low-end parts, in a lot of cases. When you run out of options, you run into having to purchase a newer model of MTB.
The Replacement Parts Are Too Expensive
If you want to repair an old bike, you need to compare how much you will spend on parts upgrades versus buying a new one. The amount you will spend on buying new parts for an old bike should be less than the price of a new model.
Similarly, you should do a cost evaluation. For example, you may want to consider a rule like:
If the parts and labor cost to repair an old bike are 50% or more of the cost of a brand new bike, then don't do the repair and buy a new bike instead.
The Damage to Your Bike Frame Is No Longer Repairable
If your bike has a broken frame, it is no longer ideal for throwing money into repairing it. The reason is that the upgrade will be too expensive. If you're a competent welder, then this may not be the case. However, let's be honest – most of us are just not qualified to re-weld a bike frame.
Although you may be able to ride a bike with a dented or scratched frame, when it goes you'll have to consider replacing the frame or the entire bike. If the components were high-end, I'd consider a new frame and do a build from the frame up, using the best of the older high-end components. (source)
However, if the components were all budget parts, I'd consider replacing the entire bike, frame, components, and all.
Your Options for Repairing an Old Bike or Buying a New One
Regardless if you chose to buy a new bike or repair your old one, there are several options that you need to check out. Additionally, we trust bicycles to carry us safely from one place to another. For this reason, keeping it in perfect shape is crucial.
That said, you need to know your options for repairing your old bike and for buying a new model. And if you're going to fix it, know there are some repairs you can do at home, and some best left to a bike shop. (source)
Options for Repairing an Old Bike
You have two options in terms of repairing your old bike:
Do the repair work yourself
Hire a professional
But before you can do the repair work yourself, you need to have the right tools. You can get tools like the Bike Hand Complete Repair Tool Kit online to help you get the job done.
Not only having the right tools but having a bike repair stand is more than a little convenient. There's nothing worse than trying to pedal a bike, shift and adjust the gears while trying to hold the bike up off the ground. Just get yourself a good bike stand, like the Bike Hand Repair Stand if you're going to go the DIY route.
DIY Bike Repair and Upgrade
You can repair your old bicycle yourself when the damages are only minor. However, you need to learn some basic repair skills that you can do these things at home to save time and money.
Still, you can bring your bike to a professional mechanic if you are not sure if you can do the repair work yourself. However, you can see many repairs on YouTube (there are even some on the DIY Mountain Bike channel here)
Degrease The Chain
When degreasing a bike's chain, the first thing you need to do is to clean, rinse, and dry the cassette and chain. You can use degreasers that are specifically for bikes as well as chain-cleaning gizmos. But if you do not have such cleaners, you can use dish soap and a toothbrush as alternatives.
Watch the DIY Mountain Bike video on cleaning a rusty bike chain here.
Next, apply a drop of lubricant onto each roller of the chain while turning the crank backward for two or three rotations. Ensure that you are not adding more than one drop, as the chain will be too greasy.
Lastly, get a clean rag and gently hold the chain's outer plates while spinning the cranks for another rotation. Keep rotating the chain until you have wiped off all the excess lube.
Take note that the lube should mostly be inside on the rollers of the chain and not outside. If there is excess lube outside the chain, it can attract dirt, which can possibly damage your bike.
If you've cleaned and re-greased your chain but it's still stiff, replacing the chain might be a great way to make that old ride feel new again. (source)
Inflating The Tires
Low pressure on tires can cause a tube to pinch against the tire's rim. Such is what you call a pinch flat.
To fix this issue, look at the side of your tire and find the manufacturer's recommended PSI range. Next, inflate the tube up to at least the lower number. But if you are a heavy rider, fill the tuber with air up to the maximum number.
I love using a Topeak Smartguage to check my tire pressure fast, easily, and accurately.
When you are inflating a flat tire, look around it to check if any foreign object punctured it before you start inflating. If you find any, you can either repair the tire by yourself or bring it to a bike shop.
Hire A Professional
Hiring a professional bike mechanic is easy. You can search on the internet to see if there are trusted mechanics around your area. If you know someone who owns a bike, you can ask them where they bring their bike for maintenance.
When looking for a bike shop, you must look at the customer reviews. This way, you will see if the previous customers were satisfied with the service of the bike shop you are investigating.
Options for Buying a New Bike
Before going straight to a bike shop to pick up a new top-of-the-line bike, you need to know some minor details regarding your options. This way, you will be able to make your bike buying experience a lot easier.
Below are your options when buying a new bike:
The Type of Bike
When buying a new bike, your first option is the type of bike that you want to get. To figure that out, you need to identify what kind of riding you are going to do. Will you ride on smooth pavement, or do you want to ride on terrains?
DIYMTB Tip: If your just a bit older like me, you might want to consider a full suspension mountain bike. I've written about full suspension bikes for older folks HERE.
If you are going to stay on the pavement and use your bike for exercise, you can opt for a fitness bike or a road bike. You can also use a city bike if you will primarily use it for commuting. But if you want to bike on muddy roads or terrains, a mountain bike is the best option for you.
Mountain bike technology has come a long way. You will have the option of choosing from several types, the most common being:
Dirt Jumping MTBs
Downhill MTBs
Trail MTBs
Cross Country (XC) MTBs
Fat Tire MTBs
Electric MTBs
How Much Do You Want to Spend?
You can buy a decent budget bike for around $200 to $500. However, a high-quality bike will last longer than cheaper ones. For this reason, you will get more out of your investment.
Generally, bikes worth $200 to $500 have a sturdy metal frame, basic front suspension or rigid fork. These bikes also have a wide-range drivetrain, cable-activated disk brakes or rim brakes, and often come in a variety of colors.
On the other hand, bikes priced from $500 to $1,000 have better front suspension and lighter wheels and tires. Some models even have hydraulic disc brakes.
If you want to do a price comparison between building and buying a mountain bike read this article. Build or Buy a Mountain Bike
Finally, bikes worth above $1,000 boasts lighter carbon fiber or aluminum frames than less expensive bikes. In addition, they commonly have hydraulic disc brakes, excellent suspension, and much lighter tires and wheels.
Where to Purchase
You have several options when it comes to where you can purchase your bike. If you are planning to buy from a direct online dealer, you will have access to the full line of the brand. That means a better selection of older model-year sales, typically that is.
DIYMTB TIP: Sometimes just getting the timing right can make or break a deal when buying an MTB. Check out this article on the Best Time to Buy A Mountain Bike
However, since you are getting your bike from an online dealer, you will not test drive it. You will also not have additional discounts and usually no service package.
On the other hand, buying from a local shop will give you access to brand-authorized models, service plans, expert help, and discounts. However, local shops also have the most expensive selection. Did I mention you get what you pay for?
Whatever you decide, I wish you an expedient return to your biking adventures, whether on your old/repaired/upgraded bike, or your new bike. Let me know in the comments what you decide, I'd love to hear.
---
MTB Tools I Love and Recommend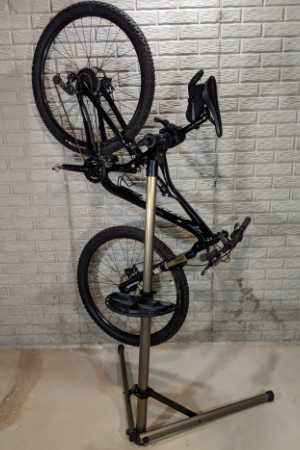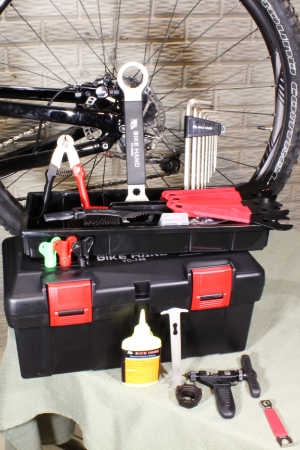 I own each of these tools and only recommend things I own and use.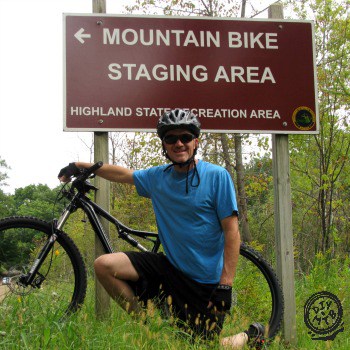 David Humphries is the creator of DIY Mountain Bike. For me a relaxing day involves riding my mountain bike to decompress after a long day. When not on my bike I can be found wrenching on it or making YouTube videos at 👉 DIY Mountain Bike Read more about David HERE.