How do you measure the benefits of staying in shape? For me, it's easy. On that first group ride in the spring, where I'm nearly as strong as I was when I put my bike away last fall. – And finish with the KOM for the group.
I get it though, on those dark, wet, cold days it can be miserable to hop in the saddle for a ride. The answer to those days is an indoor trainer, but is it worth it?
Whether it's the changing seasons keeping you indoors or the desire to up your mountain biking skills, a bike trainer promises to be a game-changer. But is it worth the Investment?
In this comprehensive guide, we'll tackle this question head-on, diving deep into the value proposition of bike trainers. From breaking down costs to exploring the physical and mental health benefits, we aim to provide you with all the information you need.
So, sit tight as we answer the question on every mountain biking enthusiast's mind: "Is the Investment justified? Why are bike trainers absolutely worth it?"
Why Consider a Bike Trainer?
Mountain biking is a fantastic sport, pastime, hobby, and exercise type. For you and me, it's what we want to do all day, all night. However, in rain, snow, winter, or other such conditions, I bet you don't want to go outside any more than I do. Enter our savior: the indoor bike trainer.
Outdoor riding is terrific, but as mentioned, you can't really enjoy a ride in a torrential downpour or in the heart of winter. That's why bike trainers are so sought after. They provide a solution for riders like you and me to continue riding to solve the following issues:
I've got a free gift! Check out this article 👉 The Ultimate Indoor Mountain Bike Training in it is a FREE download work out plan.
What Is a Bike Trainer and How Does It Work?
You might think of a bike trainer as an exercise bike or spin bike, as some call them. However, a real bike trainer is a device that enables you to use your regular mountain or road bike indoors in place of a typical exercise bike. However, did you know there are actually a few different types? Let's review:
Roller Bike Trainer
A roller bike trainer is a three-roller trainer that looks sort of like a ladder set down on the ground. Two side beams are connected by three rollers like those used for conveyor belts. There are two rollers for the back wheel of your bike to support your weight and one roller at the front to support the front wheel.
Advantages
These roller bike trainers are relatively inexpensive.
These roller bike trainers typically fold down to a smaller size for easy storage.
Easy to set up.
Disadvantages
These roller bike trainers do not typically provide resistance, so it's like always riding a smooth, level road.
These roller bike trainers can take some getting used to as they require you to maintain your balance.
Rear Wheel-On Roller Resistance Trainer
The most common indoor bike trainer is the one that connects to your bike's rear-wheel axle. These trainers require you to leave your bike intact, and the rear wheel rolls against a small roller attached to one of the resistance systems described below.
Magnetic Resistance
Magnetic resistance bike trainers utilize powerful magnets to induce resistance. These bike trainers are a little noisy, but they can simulate more challenging rides, giving you a better workout.
Fluid Resistance
Fluid-resistant bike trainers utilize some fairly clever chemistry and physics relating to fluid viscosity. To put it in layperson's terms, the liquid inside the houses will thicken when heated. Pumping it through the resistance chamber via riding will force the fluid to warm up. The harder you ride, the greater the resistance.
DIY MTB Pro Tip: Read all about magnetic and fluid trainers in 👉 Fluid vs Magnetic Trainers
Advantages
Rear wheel-on bike trainers are relatively easy to set up.
These trainers offer a degree of side-to-side support, so you don't have to worry so much about balance as you would outdoors.
Disadvantages
The magnetic resistance types are known to make some noise. If a silent ride is what you like, you won't like the magnetic resistance trainers.
Rear Wheel-Off Resistance Trainers
Moving into the more adept, higher-end trainers, we find the first significant break from the standard axle-clamping noisy trainers. That is, the rear wheel-off mounting type of bike trainers. (Often called direct drive trainers)
These trainers replace your entire rear wheel with a special axle and usually a unique cassette. Let's take a look at the good and the bad.
Advantages
They are more stable than roller-style bike trainers.
Quieter than wheel-on bike trainers.
Disadvantages
Complicated setup compared to roller trainers
Smart Trainers
Smart trainers are the cream of the crop in the world of indoor bike trainers. Smart trainers often integrate with the latest apps like Zwift, so you can put a screen in front of you to simulate riding outdoors.
Smart trainers are also usually accompanied by their own app or smart controls that typically integrate with your phone in the form of an app. These trainers can run programs that can increase and decrease the resistance automatically to simulate a natural ride with increasing and decreasing difficulty.
For more information and to see the setup first-hand, check out my video review of the Saris H3 Smart Trainer.
The Financial Investment: Breaking Down Costs
A standard rear-wheel-on bike trainer can run anywhere from fifty to two hundred dollars. However, when you get into the higher-end smart trainers like the Saris H3, you can expect prices upwards of a thousand dollars.
| | | |
| --- | --- | --- |
| Trainer | Type | Price |
| BalanceFrom | Wheel On | $42 |
| Feedback Sports Overdrive | Roller | $490 |
| Saris H3 Smart | Direct Drive | $650 |
| Wahoo Kickr Smart | Direct Drive | $600 |
| ROCKBROS | Roller | $140 |
| Alpcour Fluid | Wheel On | $190 |
***Please check for current prices
In contrast, standard exercise bikes can run anywhere from two hundred and fifty all the way up to a thousand dollars as well, making it similar in cost to a high-end smart trainer.
Health Benefits: Physical and Mental
In my experience, the health benefits of a good bike trainer can do wonders for your mental health. Just being able to hop on your own bike and go for a ride in your own home was enough to sell me on the idea.
Using an indoor bike trainer during the winter months can work wonders for maintaining your endurance, stamina, and, depending on the trainer, your balance. I think the perfect balance would be to have two bike trainers: a roller-style and a smart trainer.
You could use the roller style to improve balance while maintaining good cardio. Moreover, using a smart trainer can use programs that automatically adjust resistance, providing a much more suitable workout.
According to the WHO (World Health Organization), a person should have an average of 60 minutes per day of moderate to vigorous-intensity exercise. What better way than to ride your bike, even in the dead of winter?
I know the importance of a solid indoor training setup. That's why I'm here to share my insights on bike trainers with power meters. These aren't…
Skill Improvement: Be a Better Biker
As mentioned, having one or a combination of bike trainers, like the roller and smart trainers, for example, will significantly enhance your off-season training. Not only that, but you'll get to keep riding your bike all year long. It's a win-win.
The Convenience Factor
You can't dismiss how convenient a good bike trainer is for off-season riding. The fact that I can jump on my mountain bike right in my living room and go for a ride before or after work is a blessing in my winter experience.
One of the seldom considered points to why indoor bike trainers are so convenient is the fact that you don't have to worry about a helmet or traffic. It's not like you have to watch for cars in your living room (I hope not, anyway). You also don't have to worry about smog, road dust, or car pollution while riding in your home. I'd say that's pretty convenient.
Are There Any Downsides?
I've talked a lot about the upsides of having an indoor bike trainer to use at home. However, I have not mentioned some of the downsides, like taking up space or complicated setups. If you want to know all the nitty-gritty dirt on bike trainers, then you should read my article, Think Twice: Unveiling the Cons of Using a Bike Trainer.
Before You Buy, Consider This
Should you invest in a bike trainer? The answer is a resounding yes. Not only do bike trainers offer you the freedom to ride your own bike in the comfort of your home, but they also provide multifaceted health benefits.
You'll maintain your endurance and improve your biking skills, all while enjoying a convenient and safer environment. Sure, there may be downsides like taking up space and set-up challenges, but the pros undoubtedly outweigh the cons.
Don't hesitate; invest in a bike trainer and transform your mountain biking experience for the better. And if you want to delve deeper into any drawbacks, make sure to check out my article, "Think Twice: Unveiling the Cons of Using a Bike Trainer."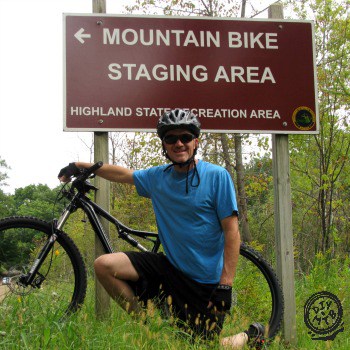 David Humphries is the creator of DIY Mountain Bike. For me a relaxing day involves riding my mountain bike to decompress after a long day. When not on my bike I can be found wrenching on it or making YouTube videos at 👉 DIY Mountain Bike Read more about David HERE.