I know the importance of a solid indoor training setup. That's why I'm here to share my insights on bike trainers with power meters. These aren't just regular trainers; they're a crucial tool for enhancing your cycling skills.
In mountain biking, success often hinges on your training. A quality bike trainer with a power meter is key. It provides real-time performance metrics, like wattage, helping you train more effectively.
In my guide to bike trainers with power meters, I highlight:
Game-Changing Equipment: These aren't just trainers; they're crucial for serious cyclists, offering real-time metrics like wattage.
Indoor Training Necessity: Especially vital during off-seasons or rainy days to maintain and improve cycling skills.
Choosing the Right Trainer: Consider these key factors:

Compatibility: With your bike and training apps.
Size: Ensure it fits your space.
Budget: Must be affordable.
Noise Level: Important for shared living spaces.
Features: Look for specific features that meet your needs.

Top Recommendations: I suggest some of the best bike trainers with built-in power meters for an effective training experience.
In this article, I'll dive into the world of bike trainers with power meters. I'll cover their benefits, how to choose the right one, and review the top products on the market. Whether you're a casual rider or aiming for the pros, this guide will help you make an informed choice.
So, let's cut to the chase and find the bike trainer that will boost your indoor training and cycling skills.
Why You Need a Bike Trainer with a Power Meter
Training throughout the winter is a definite must for every hardcore bike rider. Whether you're addicted to the street or love single track out in nature, the winter months can really put a damper on your exercise routine. Similarly, even in summer, there are those days of rain when you just don't want to go outside – and no one's judging, I get it. That's why training indoors with a bike trainer is critical.
Every bike trainer is not created equally. Some are noisy, some have complicated setups, but one of the best features is a power meter. Using a bike trainer with a power meter makes the experience better. Furthermore, when you add a power meter to a system that can dynamically control resistance, you can simulate a real-world riding situation (minus the rain or snow, of course).
Power meters are also critical if you want to know precisely how many calories you burn during your ride. Let's look at some of the features and which are best for you.
How to Choose a Bike Trainer with a Power Meter
As mentioned above, using an indoor bike trainer in conjunction with a power meter and app on your phone makes for the beginning of a fun experience. If the app is like one of the best top bike trainer programs, then you might even want to get a monitor or television in front of you for your riding.
Factors you'll need to consider when choosing a bike trainer with a power meter include:
Compatibility – To your bike, your space, and to your favorite bike training apps
Size – A critical factor when deducing trainer compatibility
Price – The trainer might fit your bike, but does it fit your budget?
Noise – Some types of trainers are quieter than others. If you live with other people or you are in an apartment, this could be a significant factor.
Features – If you really want to have a specific feature, then features are an essential part of the decision-making process.
Top Bike Trainers with Power Meters
Bike trainers come in a variety of types. Here are the ones I recommend that have built-in power meters and software compatibility for a more engaging ride experience.
Best Overall: Garmin Tacx Neo 2T Smart Trainer
Why: The Garmin Tacx Neo 2T stands out with its high-end features like dynamic inertia technology, a very high load capacity (2,200 watts). Its compatibility with a wide range of cycling apps, quiet operation, and realistic ride feel make it a top choice for serious cyclists.
Pros: Realistic ride feel, accurate power measurement, quiet, wide app compatibility, durable design.
Cons: High price, some mechanical knowledge needed for setup, occasional issues with axle conversion.
Great Value: Saris H3 Direct Drive Trainer
Why: The Saris H3 offers a balance of quality and price. It features precision-balanced components, can handle up to 2000 watts, and replicates a 20% climbing grade. Its quiet operation and compatibility with popular training apps like Zwift make it a great value choice.
Pros: Quiet operation, easy setup, realistic resistance changes, stable construction, good customer support.
Cons: Potential resistance delay, some mechanical knowledge needed for setup.
Budget Model: Magene T110 Smart Indoor Bike Trainer
Why: The Magene T110 is an excellent budget-friendly option. It offers a good balance of features like near-silent operation, broad software compatibility, and precise data monitoring. It's suitable for beginners and provides a realistic cycling simulation.
Pros: Budget-friendly, good for beginners, reliable app connectivity, relatively quiet.
Cons: Issues with flywheel slipping, some units may have the wrong plug type.
1. Garmin Tacx Neo 2T Smart Trainer
According to Amazon Reviewers: 4.8/5 stars with 340 reviews.
My Thoughts on the Garmin Tacx Neo 2T Smart Trainer
The Garmin Tacx Neo 2T Smart Trainer is at the top of Garmin's lineup, offering a quiet and immersive training experience. It features ANT+ Cycling Dynamics for pedal stroke analysis with third-party software, enhancing performance monitoring.
With a 2,200-watt load capacity and 1% wattage accuracy, it's a precision tool for serious cyclists, capable of handling steep inclines for challenging workouts. Note that some disc brake frames may need a spacer for clearance, provided by Garmin.
A standout feature is its dynamic inertia technology, ensuring a lifelike ride feel by adapting to speed and incline changes. In summary, it's a top choice for cyclists seeking a high-performance training companion, known for its compatibility, precision, and realistic ride feel.
Features
Crafted for Durability and Performance: Meticulously constructed from a combination of robust metal and high-quality plastic materials, this trainer is built to withstand the rigors of intense indoor cycling while delivering top-notch performance.
Silent Magnetic Resistance: Powered by an advanced magnetic resistance system featuring 32 Neodymium magnets, this trainer guarantees a whisper-quiet and exceptionally smooth ride, ensuring a disturbance-free workout environment.
Space-Saving Foldable Design: With a thoughtful foldable design, this trainer quickly transforms into a compact form for hassle-free storage when not in use, optimizing your space utilization.
Wireless Connectivity at Your Fingertips: Seamlessly connect to your preferred devices via ANT+ and Bluetooth technology, offering broad compatibility with iOS, Android, macOS, and Windows, ensuring a hassle-free setup for all your smart devices.
Versatile Compatibility: Engineered to accommodate a wide range of axle types, this trainer is incredibly versatile, making it suitable for various cycling setups, ensuring compatibility with your bike.
Impressive Maximum Load Capacity: With an impressive power capacity of up to 2,200 watts, this trainer is primed for challenging and high-intensity workouts, allowing you to push your limits.
Precision Wattage Measurement: Boasting a remarkable 1% accuracy in wattage measurement, this trainer provides you with exact training data, ensuring your workouts are as effective as possible.
Realistic Riding Experience: Thanks to dynamic inertia technology, this trainer offers a lifelike and immersive riding experience, swiftly adapting to changes in speed and incline to mirror real-world cycling conditions.
Varied Incline Simulation: Capable of simulating inclines of up to 25%, this trainer adds diversity to your training sessions, allowing you to tackle virtual hills and inclines with ease.
Broad Axle Compatibility: Designed with versatility in mind, this trainer offers compatibility with a wide range of axle types, making it suitable for a variety of bike configurations and setups.
Pros and cons
It has a very realistic ride feel.
Accurate power measurement.
Quiet operation.
Compatible with a wide range of cycling apps.
Built-in fan.
Smooth and tactile road feel.
Easy setup with no pairing issues.
Can replicate outdoor rides accurately.
Durable and stable design.
Matches power measured by external power meters.
Expensive (mentioned as a minor con).
Initial setup and installation may require some mechanical knowledge.
There are some issues with axle conversion for specific bike setups.
Cadence measurement may not be reliable (mentioned in one review).
In one case, a metallic noise was reported in the hub with first use, leading to customer support involvement.
2. Saris H3 Direct Drive Trainer
According to Amazon Reviewers: 4.6/5 stars with 285 reviews.
My Thoughts on the Saris H3 Direct Drive Trainer
Inside the H3, you'll find meticulously calibrated components designed to measure power, speed, and cadence with precision. It also features a precision-balanced flywheel capable of handling up to 2000 watts of power and replicating a challenging 20% climbing grade.
In summary, the Saris H3 Direct Drive Smart Indoor Bike Trainer is a reliable and quiet training companion that offers precision, versatility, and advanced training features. Whether you're a serious cyclist or a casual rider, it's designed to take your indoor cycling experience to the next level.
Features
Whisper-Quiet Operation: The H3 Smart Trainer revolutionizes indoor cycling with an innovative drive system, ensuring tranquility during your training sessions. Measuring a mere 59 decibels at 20 mph, it delivers a serene and peaceful training environment.
Precision at Its Peak: With an impressive accuracy level of +/- 2%, this trainer offers precise training data, allowing you to monitor and optimize your workouts with utmost precision.
Electromagnetic Resistance Mastery: Experience controlled and unwavering resistance through advanced electromagnetic technology, guaranteeing a consistent and precisely measured workout every time you ride.
Seamless Connectivity: Seamlessly connect to your preferred indoor cycling apps via dual ANT+ FE-C and Bluetooth FTMS standards. It proudly carries certifications from Zwift and BKOOL. It even includes a one-month subscription to the Rouvy virtual training app.
Versatile Compatibility: Engineered for versatility, this trainer accommodates a wide array of rear hub types. It effortlessly handles thru-axle rear hubs with widths of 142 mm or 148 mm and quick-release hubs with widths of 130 mm and 135 mm. It's also compatible with Shimano/SRAM 8-11 speed cassettes.
Convenient and Thoughtful Design: Packed with user-friendly features, this trainer boasts folding legs for easy storage, a practical carrying handle, a built-in front wheel block for stability, and an efficient cooling system to maintain peak performance throughout your workout.
Pros and cons
Very quiet and smooth operation.
Easy setup with straightforward installation.
Reliable connectivity with Zwift and other apps.
Realistic resistance changes, suitable for various workouts.
Provides a tremendous virtual riding experience.
Stable and durable construction.
Offers substantial resistance variation.
Comes with a 30-day free trial for Zwift.
Excellent customer support for replacements and issues.
One user mentioned a potential issue with resistance delay, but it wasn't attributed to the trainer itself.
Initial setup might require some mechanical knowledge, especially if you need to install a cassette.
One user experienced a missing power adapter and a broken front wheel block upon delivery.
3. Tacx Flux S Smart Bike Trainer
According to Amazon Reviewers: 4.5/5 stars with 177 reviews.
My Thoughts on the Tacx Flux S Smart Bike Trainer
The Tacx Flux S Smart Bike Trainer's sturdy construction allows for intense workouts, so you can go all out without worrying about stability. The heavy flywheel further enhances the ride feel, making it a realistic and immersive training experience.
In short, the Tacx Flux S Smart Bike Trainer is the ideal indoor training companion for cyclists of all levels. With its precision, quiet operation, and realistic simulation, it's a valuable tool to help you achieve your training goals.
Features
Precision in Power Measurement: The Flux S Smart Trainer excels in power measurement accuracy, delivering training data with an impressive precision level of within 3%. It ensures that your training metrics are consistently spot-on.
Whisper-Quiet Performance: Experience the luxury of near-silent operation with this direct drive trainer, allowing you to pedal without disturbing those around you. Enjoy a peaceful training environment.
Seamless App Integration: Seamlessly integrate your training regimen with popular third-party apps like Zwift and TacX, expanding your training options and enhancing your cycling experience.
True-to-Life Incline Simulation: Push your limits with this trainer's capability to simulate inclines of up to 10%, offering a demanding workout experience. It also provides a maximum sprint resistance of 1,500 watts, catering to your high-intensity training needs.
Built to Last: Designed with durability in mind, this trainer can handle intense riding sessions and stand on the pedals without compromising stability, ensuring it withstands the test of time.
Enhanced Realism with a Heavy Flywheel: Benefit from a highly realistic ride feel courtesy of the trainer's heavy flywheel. It adds to the authenticity of your indoor cycling experience, mirroring the sensation of riding outdoors.
Pros and cons
Quiet operation, much quieter than wheel-on trainers.
Good value for a direct-drive trainer.
Realistic road feel and resistance.
Easy setup and compatibility with training apps like Zwift.
Reliable performance for indoor cycling workouts.
Can handle most cyclists' power needs for winter training.
Smooth and consistent resistance changes during workouts.
Some users reported issues with belt slippage, resulting in a squeaking noise.
One user mentioned the need to purchase a cassette separately, which was not clearly stated in the product listing.
Occasional connectivity problems, with the trainer losing connection during training sessions.
4. JetBlack Volt Smart Bike Trainer
According to Amazon Reviewers: 4.0/5 stars with 22 reviews.
My Thoughts on the JetBlack Volt Smart Bike Trainer
JetBlack's Volt Smart Bike Trainer brings affordability and premium quality together, providing exceptional value for money. As a family-owned business passionate about cycling, JetBlack is dedicated to innovating and serving the cycling community with top-notch products.
Riding the JetBlack Volt Smart Bike Trainer Stand offers precise control, seamless app compatibility, and adaptability to various bike types. Its quiet operation and innovative features make it an excellent choice for indoor cycling enthusiasts looking to meet their fitness goals.
Features
Out-of-the-Box Riding: The Volt bike indoor trainer arrives fully assembled, complete with an 11-speed cassette, simplifying the setup process. A straightforward installation involves threading the stationary bike converter through the quick-release axle, ensuring you're ready to hit the pedals in no time.
Zwift Integration: Setting a precedent in embracing smart technology, JetBlack seamlessly connects to leading training apps like Zwift, providing you with access to a virtual cycling world to meet and exceed your fitness goals.
Unparalleled Precision and Control: Experience an extraordinary ride feel backed by an impressive accuracy of 2%. The Volt bike trainer excels in simulating gradients of up to 16% and generates a robust 1800 watts of power. It excels in replicating the dynamic sensations of acceleration, inertia, and resistance, delivering a lifelike road-like experience within your home.
Adaptable and Versatile: The JetBlack Volt indoor cycling trainer boasts compatibility with a wide range of road and mountain bikes. It caters to quick-release rear hubs with widths of 130mm and 135mm, as well as thru-axle rear hubs with widths of 142mm or 148mm. There is no need for a stabilizing mat thanks to durable rubber-gripped contact pads, ensuring a secure and steady workout experience.
Whisper-Quiet Performance: This stationary bike stand provides a smooth and almost silent ride, making it the perfect choice for apartment dwellers. You can enjoy a convenient workout experience, even after the little ones have gone to sleep, without disturbing the peace.
Pros and cons
Easy and quick setup.
Realistic road feel and resistance simulates hills effectively.
It is a quiet operation, quieter than many other trainers.
Connectivity with training apps like Zwift.
Measures speed, power, and cadence accurately.
Sturdy construction.
Good value for the price.
Some users experienced occasional sensor disconnection during rides, but it seems to be infrequent.
Initial setup may require adjustments to the rear derailleur and bike cables.
The exposed flywheel gets hot during use, which can be a concern if you have pets or small children around.
One user reported issues after a firmware update, affecting calibration and performance.
4. Elite SRL Direto XR-T Trainer
According to Amazon Reviewers: 4.3/5 stars with 40 reviews.
My Thoughts on the Elite SRL Direto XR-T Trainer
The Elite SRL Direto XR-T Home Bike Trainer is a versatile and interactive training tool that empowers cyclists to achieve their fitness goals with precision. Whether you're looking to conquer steep gradients, analyze your pedaling technique, or track vital training metrics, this trainer delivers an immersive and data-rich experience.
Features
Mastering Steep Gradients: The Direto XR-T is more than just an interactive home trainer; it's your training partner that automatically adapts resistance levels, ensuring peak performance even during the most demanding workouts. This intelligent feature allows you to effortlessly track your training data, conduct fitness assessments, and tackle high-speed sprints with maximum power.
Seamless Interactive Connectivity: The Direto XR-T effortlessly syncs with all software platforms via ANT+ FE-C and Bluetooth, providing a hassle-free experience. With just a few clicks, you can chart your course or program your training sessions, putting you in control from the moment you start pedaling.
Broad Compatibility for Diverse Bikes: This trainer is your versatile companion, ideally suited for gravel, mountain, and city bikes. It readily accommodates quick-release setups with widths of 130-135 x 5mm and thru-axle configurations with widths of 142 x 12mm, ensuring compatibility with your preferred bike.
Precision Pedaling Analysis: Unlock the secrets of your pedaling technique with the Direto XR-T's pedaling analysis feature. It enables you to assess your power output throughout the entire pedaling cycle, employing a meticulous 24-point system scale for pinpoint accuracy.
Instant Data for Optimal Training: Experience immediate transmission of vital training data, including power, speed, and pedal cadence. It ensures that you can follow the most specific and accurate training plan, helping you achieve your cycling goals with precision.
Pros and cons
Easy setup and quick to assemble.
Realistic feel for changes in elevation.
Good compatibility with virtual cycling apps like Zwift, Rouvy, RGT, and Bkool.
Stable and sturdy construction.
Competitive power and gradient specs.
Comes with a coupon card for free subscriptions to myETraining and 1-month codes for various cycling apps.
Some users experienced issues with the electronic board failing after a few rides.
Slow response and unhelpful support from the manufacturer when seeking assistance.
Compatibility issues with certain bike setups, particularly 12-speed MTBs, due to clearance problems.
Ambiguous installation instructions that rely on online videos for guidance.
Inconsistent performance in ERG mode and hill simulation.
6. Wahoo KICKR CORE Direct Drive Bike Resistance Trainer
According to Amazon Reviewers: 4.5/5 stars with 185 reviews.
My Thoughts on the Wahoo KICKR CORE Direct Drive Bike Resistance Trainer
The KICKR CORE is a top choice for cyclists who want responsive resistance control, a lifelike ride feel, and compatibility with various training apps and accessories, making it an excellent addition to your indoor cycling setup.
Features
Adaptive Resistance Control: The KICKR CORE takes your indoor cycling experience to the next level by automatically adjusting resistance when connected to your smartphone, tablet, computer, or GPS bike computer. This dynamic resistance control meticulously replicates real-world conditions, immersing you in a cycling experience tailored to your chosen software or route.
Versatility at Its Best: Whether you're following structured workout routines, exploring virtual realms like Wahoo RGT and Zwift, or re-riding routes captured on your GPS bike computer, the KICKR CORE delivers the most authentic ride feel and responsive resistance, ensuring a diverse and engaging training experience.
Trusted by Champions: Trusted by more than 25 of the world's most elite professional cycling teams, including EF Education-Easypost and EF Education-Tibco-SVBP, the KICKR smart bike trainers are the go-to choice for crucial training sessions that make champions.
Precision with Flywheel Technology: Equipped with a 12-pound flywheel, the KICKR CORE offers the precise inertia necessary to recreate the sensation of cycling outdoors while you train indoors. It's all about providing a lifelike riding experience.
Customized Setup: The trainer supports a range of speed options, including 8, 9, 10, and 11-speed configurations. This flexibility allows you to equip the trainer with your preferred cassette, mirroring the gearing of your outdoor groupset. Please note that a cassette or wheel block is not included.
Unlock Wahoo X: All Wahoo smart trainers and smart bikes provide a trial to Wahoo X, granting you access to two distinctive indoor cycling apps within a single account. It enriches your indoor cycling experience with diverse training options.
Complete Ecosystem Compatibility: The KICKR CORE seamlessly integrates with the KICKR Trainer Accessories lineup, including the KICKR CLIMB Grade Simulator, KICKR HEADWIND Smart Fan, KICKR TRAINER FLOORMAT, and KICKR DESK. This comprehensive compatibility allows you to craft the ideal setup for your indoor cycling needs, creating the ultimate training environment.
Pros and cons
Quick and easy setup, requiring minimal assembly.
Smooth power control and accurate power readings.
Realistic road simulation for indoor cycling.
Quiet operation, making it suitable for indoor use without disturbing others.
Compatibility with various training apps like Zwift.
Integration with Wahoo's ecosystem of fitness devices and software.
Sturdy construction and ease of bike attachment.
Good customer service and responsiveness from Wahoo support.
Some users reported issues with power readings being too stable, possibly not reflecting instantaneous power accurately.
Occasional challenges with low cadence and power output require careful attention to maintain consistent pedaling.
The exposed belt and wheel may pose a risk to curious pets.
The power connector is a short cord, and some users prefer an integrated design.
The need for third-party cadence sensors for improved accuracy.
Limited free software options, with the recommendation to consider a subscription.
7. Elite Srl 2021 Suito Pack Direct Drive Trainer
According to Amazon Reviewers: 4.4/5 stars with 72 reviews.
My Thoughts on the Elite Srl 2021 Suito Pack Direct Drive Trainer
The Elite SRL Suito Interactive Home Bike Trainer is a powerhouse of features, offering an exceptional indoor cycling experience. Its user-friendly setup, robust construction, precise resistance control, and compatibility with top training apps make it an outstanding choice for cyclists seeking a superior training companion.
Features
Advanced Features for a Superior Training Experience: Suito is your ultimate interactive home trainer, boasting power, stability, and tranquility. It's meticulously designed to offer you a seamless, lifelike, and precise indoor cycling experience.
Effortless Setup: Setting up your indoor bike training session has never been easier. The Suito stands out in Elite's interactive home trainers range with its innovative Plug & Play configuration. It allows you to dive into your indoor cycling session swiftly and effortlessly.
Robust and Stylish Design: The strong steel structure is a standout feature of this home trainer, ensuring unwavering stability and durability even during your most intense sprints. Suite combines elegance with aggressiveness, embodying solidity and power. Its broader support base and pre-assembled legs automatically lock in place when unfolded.
Precision and Power: Suito excels at simulating slopes with gradients of up to 15%, boasting an impressive accuracy of ±2.5%. These specifications position it among our top-performing interactive home trainers. With a resistance capacity exceeding 1900 watts at a speed of 40 km/h, Suito ranks as one of the most potent home trainers available, making it the perfect tool for pushing your limits, even during the most demanding sprints.
Unlock Premium Training Apps: Experience the world of Zwift and My E-Training with ease. When you invest in the Suito, you'll receive a complimentary 1-month subscription to Zwift and a full 12-month subscription to My E-Training, accessible on both desktop and mobile platforms. The suite is also fully compatible with ANT+ FE-C and Bluetooth interactive home trainers. It is compatible with virtually every app, software, computer, and device, including smartphones and tablets, across iOS, Android, macOS, and Windows.
Pros and cons
Easy setup and installation, with minimal assembly required.
Stable and secure bike attachment.
Quiet operation, making it suitable for indoor use without noise disturbance.
Smooth and natural feel during cycling.
Ability to connect with external sensors such as power meters, HR sensors, and cadence sensors.
Foldable legs for convenient storage.
Compatibility with training apps like Zwift.
Suitable for riders of various experience levels.
Some users found the user interface of the associated app and PC software to be less intuitive and in need of improvement.
Variability in power readings during ERG mode, with occasional fluctuations in power output.
Occasional creaking sounds from the chassis, which may require tightening of fittings.
Reports of difficulties in linking multiple Bluetooth devices when using external sensors.
Users noted that the software interface could be more user-friendly.
8. Magene T110 Smart Indoor Bike Trainer – Best Value
According to Amazon Reviewers: 4.5/5 stars with two reviews.
My Thoughts on the Magene T110 Smart Indoor Bike Trainer
The Magene T110 Smart Bike Trainer combines advanced structural design, near-silent operation, broad software compatibility, precise data monitoring, and realistic cycling simulation to provide a comprehensive and engaging training experience for cyclists of all levels.
Features
Enhanced Structural Design: The T110 smart trainer features a classic parallel-leg design, ensuring even and uniform force distribution across every square inch. Its foldable design reduces its storage footprint by half, making it easy to store. With an overall weight of just 9.7kg, it's both compact and portable.
Whisper-Quiet Operation: When it comes to operational silence, Magene leads the way. The T110 employs an electromagnetic drive and belt transmission system, delivering a whisper-quiet training experience. The noise level consistently stays below 56dB, allowing for peaceful workouts.
Seamless Software Compatibility: The T110 smart trainer boasts perfect compatibility with a wide range of global software, including popular options like Onelap, Zwift, The Sufferfest, FulGaz, TrainerRoad, Rouvy, Kinomap, Wahoo RGT, Wahoo System X, and BKOOL.
Precise Data Monitoring: Powered by an electromagnetic transmission system, the T110 minimizes power loss. It provides comprehensive data, including power (up to 600 watts), speed data, and spin-down calibration, meeting all your training requirements.
True-to-Life Cycling Simulation: The T110 Smart Bike Trainer takes your training to the next level with smart resistance control, route simulation, and ERG training mode. It calculates your speed based on cadence, automatically adjusting resistance. You can set specific power targets to tailor your training, and using the Magene Utility APP, you can configure bike type, gradient, and aerodynamic parameters to create a lifelike cycling environment that suits your preferences.
Pros and cons
The trainer is budget-friendly and suitable for beginners.
It works reliably when used with apps like Zwift for cycling.
It connects well with cycling apps, making it user-friendly.
Users noted that it provides smoother power delivery and a better road feel compared to wheel-on trainers.
The trainer is relatively quiet during use, primarily generating drivetrain noise.
Suitable for Structured Workouts: It is ideal for structured workouts and training in ERG mode.
Some users experienced issues with the flywheel slipping against pedaling during hill simulations. However, this issue was resolved by tightening a hex bolt connecting the flywheel.
Some units may come with the wrong plug type, but this can be resolved by reaching out to the company or using an adapter.
Users mentioned the requirement to activate the trainer using a mobile app, which asked for email and GPS information, which may raise privacy concerns for some.
9. ThinkRider A1 Direct Drive Bike Trainer
According to Amazon Reviewers: 3.4/5 stars with 36 reviews.
My Thoughts on the ThinkRider A1 Direct Drive Bike Trainer
The ThinkRider Portable Direct Drive Bike Trainer offers exceptional stability, precision power output, quiet indoor operation, long-lasting performance, and top-notch after-sales support. It's your gateway to an immersive and effective indoor training experience at a budget price.
Features
Stability Meets Performance: Our ergonomic design features a four-point support system and a robust triangular stability structure. This combination ensures uniform force distribution and rock-solid stability. Strengthening the chassis, we've enhanced overall body rigidity, allowing the trainer to handle riders up to 100kg effortlessly. Say goodbye to wobbling and embrace stability during diverse riding challenges.
Precision Power Output: The ThinkRider portable direct-drive bike trainer is your key to unrivaled power accuracy. Even during intense sprints, it maintains precision without skipping a beat. Experience a quiet ride that's easy on your tires.
Whisper-Quiet Operation: Indoors, silence reigns. With noise levels as low as 58dB, our turbo trainer delivers a smooth and nearly silent riding experience. Exercise daily without disturbing those around you.
Long-lasting Performance: Enjoy extended battery standby time of up to 300 days and up to 300 hours of training. With a preset 3% slope for fixed resistance and a power range of 0-1200w with just ±3% power error, our trainer is compatible with smartphones (iOS/Android), computers (MAC/Windows), and ANT+/Bluetooth bike computers. It seamlessly integrates with popular apps like Zwift and more.
Top-Tier After-Sales Support: At ThinkRider, we're committed to delivering first-class after-sales service. When you purchase from us, you'll receive personalized, one-on-one technical guidance for installation and product usage.
Pros and cons
The trainer offers a good road feel and is relatively quiet, providing a realistic cycling experience.
Users mentioned that it's straightforward to set up, and having your cassette and bike ready beforehand helps speed up the process.
The trainer's stand is described as heavy and sturdy, providing stability during use.
It's viewed as a good option for indoor training during the winter months or when outdoor conditions aren't ideal.
Users noted that the trainer offered good value for the price they paid.
Some users reported difficulties with the trainer staying connected to their devices and transmitting data consistently.
The electronics of the trainer received mixed reviews, with some users experiencing problems with power and speed measurements.
A few users expressed concerns about the overall build quality and durability of the trainer, particularly in terms of long-term use.
One user mentioned receiving instructions in another language with no English instructions provided.
I know the importance of a solid indoor training setup. That's why I'm here to share my insights on bike trainers with power meters….
Final Thoughts Before You Buy
When choosing the best smart bike trainer with a built-in power meter, there are several factors to consider to ensure you make the right choice for your training needs. Here are some closing thoughts and considerations to help you make an informed decision:
Accuracy: Prioritize trainers with precise power measurements.
Compatibility: Ensure compatibility with your preferred software.
Setup: Choose a trainer with easy bike installation.
Power & Resistance: Match resistance levels to your fitness goals.
Noise Level: Consider quieter trainers for shared spaces.
Budget: Stick to your budget while getting the desired features.
Stability: Pick a stable and durable trainer.
Extras: Evaluate incline simulation and road feel features.
Warranty: Check warranty and customer support.
Where To Go From Here
If you're still not sure, take a look at my unboxing and testing videos on YouTube: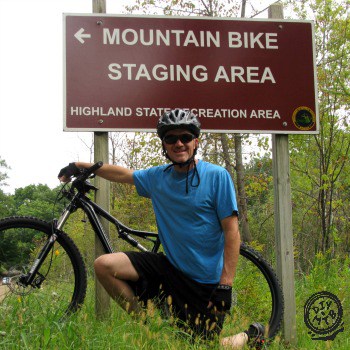 David Humphries is the creator of DIY Mountain Bike. For me a relaxing day involves riding my mountain bike to decompress after a long day. When not on my bike I can be found wrenching on it or making YouTube videos at 👉 DIY Mountain Bike Read more about David HERE.