Let's dive deep into the world of indoor cycling without breaking the bank. No, I'm not talking about those high-end indoor cycling machines that cost a fortune. I'm referring to the Balancefrom Bike Trainer, a game-changer that lets you cycle indoors for under $100.
The catch? You'll need your own bike. But if you've got one, this is a golden ticket to fitness right in the comfort of your home.
First Impressions
Upon unboxing the Balancefrom Trainer, I was immediately impressed by its robust steel build, complemented by quality welding and a sleek painted finish.
The packaging was top-notch, ensuring all components were intact and ready for assembly. However, I did find the instructions a tad challenging to decipher.
DIY MTB Recommendation: For the $$ this is probably the best bike trainer you can get. Simple to use, yet still affective for riding indoors. Want to learn more? Head over to Amazon with this shortcut link 👉 Balancefrom Bike Trainer
Quick Overview of the Trainer
Price: At $80 one of the most competitively priced trainers.
Easy to mount: Simply drop your bike into the axle clamp and ride.
Adjustable Tension: The 8-resistance settings work in combination with your bikes gears.
Robust Build: Features a sturdy steel construction enhanced by quality welding.
Sleek Appearance: Boasts a polished painted finish, adding to its aesthetic appeal.
Comprehensive Package: Comes well-packaged with all necessary components for complete assembly.
User Experience: While the trainer itself exudes quality; the instructions can be a bit tricky to navigate.
Affordability: Offers a blend of durability and functionality without breaking the bank.
Video Review of the Balancefrom Trainer
A video can often be more informative than written instructions. Below, you'll find a video that guides you through assembling the trainer and testing it. This visual guide aims to address any uncertainties you may have about setting up your bike with this trainer.
Balancefrom Bike Trainer Product Overview
The Balancefrom Bike Trainer isn't just any product; it's Amazon's choice. Earning this badge means it's of good quality, has great reviews, and boasts massive sales. With over 1000 reviews and growing and an average of above 4 stars, this trainer is making waves in the indoor cycling community.
Made of steel, it's strong, durable, and can support up to 330 pounds. It's designed for bikes with wheel sizes ranging from 26 to 28 inches and also accommodates the 700c wheel size.
Assembly and Setup
Setting up the Balancefrom was a breeze. Although the instructions were vague. I only had to attach a single blot with a few provided tools, I had it ready in no time. The back wheel of my bike fit securely on the trainer, and the front wheel rested on a riser block, ensuring the right height and position.
The resistance-changing knob attached easily to my bike's handlebar, offering eight resistance levels. The entire setup felt sturdy, and I was eager to start my indoor cycling journey.
Included in Package
Trainer
Quick Release Skewer
Front Wheel Riser Block
Wrenches for Assembly
Securing the Wheel to the Trainer
I found the process of attaching the wheel to the trainer to be straightforward and reliable. The mounting bolts firmly latched onto my bike's axle. After aligning the rear tire with the roller, I was able to easily slide the locking ring into its designated position to secure the setup.
Features and Technology of Balancefrom Bike Trainer
The Balancefrom trainer offers eight resistance levels, easily adjustable with a thumb push on the handlebar-mounted knob.
While I initially wondered about the resistance, but when I set the bike's gear to a level of resistance I can comfortably maintain I was able to "Tune-In" the resistance even more with the selector knob.
A feature the I found a use for was the adjustable feet on the trainer stand. By turning the rubber feet I was able to level stand, providing even more stability.
One thing to note is the noise level. With my road bike, it was relatively quiet. However, when I tried my mountain bike with its rugged treads, the noise was more pronounced. But a simple tire switch can easily solve this.
Setting the Tire Tension
For optimal tension between the roller and the bike tire, I discovered that using thumb pressure to adjust the roller wheel until it no longer slipped on the tire worked well. Keep in mind that the tension may change slightly when you sit on the bike.
However, with this level of contact pressure, the resistance should be effective without causing excessive wear on the tire.
Riding Experience with Balancefrom Bike Trainer
Riding on the Balancefrom felt stable and secure, thanks to its low stance. The resistance levels were effective, and I found myself pushing harder with each session.
The noise reduction technology worked well with my road bike tires, but as mentioned earlier, mountain bike tires did produce some noise. But for the price and the experience, it's a minor trade-off.
Sound Testing
With aggressive mountain bike tires, I measured 74 dB. 74 dB is pretty loud, would have trouble listening to music while exercising.
When I switched to a "Slick" the noise dropped considerable to 67 dB which is just above normal talking level, which allowed me to listen to my favorite podcast while riding. I bought the WTB Slick (👈 link to Amazon) and I'm really happy with it.
Pros and Cons of Balancefrom Bike Trainer
The Balancefrom Bike Trainer has garnered attention for its features and performance, especially given its price point. To give you a clearer picture, let's break down its strengths and areas of improvement in a concise table format:
| | |
| --- | --- |
| Pros | Cons |
| Affordable and offers great value. | Can be noisy with aggressive tire treads. |
| Sturdy steel construction. | Lacks the advanced features of pricier models. |
| Easy assembly and setup. | 29-inch tires are not compatible. |
| Versatile wheel compatibility. | |
Comparing Balancefrom Bike Trainer to Others
While I haven't tried many other trainers, the Balancefrom stands out for its affordability and performance. It might not have the bells and whistles of premium models, but for someone like me who's just starting with indoor cycling, it's perfect.
Maintenance and Durability of Balancefrom Bike Trainer
The Balancefrom's steel construction promises durability. The rubber feet on the wheel stand and the front wheel riser ensure no scratches or marks on any floor type, be it wooden or tiled.
It's a well-thought-out design that prioritizes both the bike and the floor it stands on.
The warranty details for the Balancefrom Trainer are somewhat unclear. The Balancefrom website doesn't provide specific information about bike trainers, nor does it mention the warranty for these products. Check the website – Balancefrom https://balancefrom.com/
If all of what I've said interests you, do what I did and head over to Amazon and pickup this trainer. Here's a shortcut link 👉 Balancefrom Bike Trainer
Conclusion on Balancefrom Bike Trainer
The Balancefrom Bike Trainer has been a revelation for me. For just around $80, I've managed to maintain my fitness and cycling routine indoors, without any complications.
It might not replace a full-fledged indoor cycling machine, but it comes pretty close, and at a fraction of the price. If you're looking to start indoor cycling without a hefty investment, this is a brilliant choice.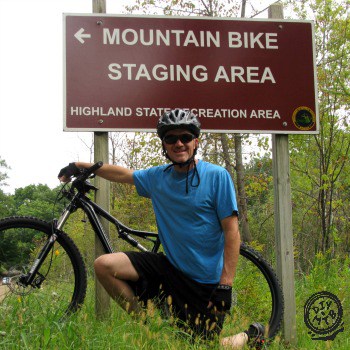 David Humphries is the creator of DIY Mountain Bike. For me a relaxing day involves riding my mountain bike to decompress after a long day. When not on my bike I can be found wrenching on it or making YouTube videos at 👉 DIY Mountain Bike Read more about David HERE.