The NordicTrack S22i commercial studio cycle is a top-of-the-line bike for working out. It boasts an excellent set of features appealing to many users.
It offers extreme durability and a sturdy overall build. Apart from the build quality, it has:
automatic resistance and incline
100s of recorded rides
"live rides" with personal trainers
bluetooth compatible
built-in speakers
22 inch touchscreen
a variety of incline and decline levels
multiple indoor cycling classes that you can watch and follow
automatic Trainer Control feature
From someone who seeks comfort and ease, it is safe to say that S22i may be one of the best studio cycles ergonomically speaking; this is after a year of using this revolutionary equipment. Here's why.
The NordicTrack S22i Commercial Studio Cycle
The NordicTrack S221 is a studio cycle manufactured by the iFIT Health & Fitness Inc. It promises fantastic features that you will seldom find on most studio cycles. This studio cycle even has a 22-inch Smart HD touchscreen that you can rotate 360 degrees.
The S22i stationary bike also enables control on how inclined you want your workout position to be. Apart from the features, I like this studio cycle because it comes with a 10-year labor warranty. For this reason, I do not have to worry about it maintaining its quality. (source)
---
Why I Love the NordicTrack S22i
automatic resistance and incline
personalized workouts
free delivery with Prime easy assembly
100s of beautiful ride routes (like going on a trip)
This was a "no-brainer" decision to buy and over a year later (& hundreds of miles) I would do it again. Below link button to Amazon to check prices and reviews.
---
How The NordicTrack S22i Compares to Others
The Market Leader: Peloton Bike
The Peloton Bike is the leading workout bike on the market today. It provides a premium workout experience, thanks to the stationary bike's build quality. The original Peloton Bike model has a 24-inch monitor where you can play instructor-led workouts and follow them.
Additionally, the Peloton Bike has a set of fantastic workout apps provided by the brand's partner app. It also packs social features, such as high-five other members, riding virtually with friends, and leaderboards where you can see achievement badges.
Social Features
Moreover, the social feature makes the Peloton Bike better than the NordicTrack S22i. It has better community features that let users connect with fellow stationery bikers. This way, you can have a more vigorous workout session.
Meanwhile, the S22i also has its strengths. It has a better build than the Peloton Bike and boasts better technological features, such as the automatic incline and decline.
| | | | | | |
| --- | --- | --- | --- | --- | --- |
| Model | Price as of 2022 (use link for current price) | Monthly | Features | Rating | Link |
| NordicTrack S22i Studio Cycle | $1,654 (all options included) | $39/mth | 22 inch touch screen, automatically adjusts resistance and incline, 100s of "recorded" rides, included dumbbells, live classes | 4.3 out of 5 👍 | NordicTrack S22i Studio Cycle |
| Peloton Bike + | $1,995 (starting cost) | $47/mth | 23 inch touch screen, optional resistance, live classes | unknown | Peloton Bike + |
The S22i 2021 Model
iFit first launched the S22i in 2021. The design and features of this old version provide basic workout needs, like training videos and Wi-Fi connectivity. If you try to use the 2021 S22i, you may think there is nothing to improve.
However, iFit wants its customers to have a better workout experience with this stationary bike.
A year later, the company launched a newer version with better features. While this old model has a touchscreen and the latest version has improved HD graphics performance. You can even listen to the video instructions without interrupting the people around you, thanks to its Bluetooth headphone connectivity.
Using the exercise bike for hours will not cause the touchscreen to heat up as it now features a processor cooling system. Additionally, the 2022 S22i model has a faster Wi-Fi reception (5GHz), connectivity (2.4GHz), and an Android 9 Operating System. You can now check your heart strength using the heart rate connectivity feature of the S22i. (source)
What I Like About the NordicTrack S22i
One of the major players in the fitness space is the Nordic Track S22i. iFit Health & Fitness Inc., its manufacturer, makes the top-notch exercise equipment. So, it is safe to conclude that the S22i would deliver a great workout experience.
After inspecting it, these are just some of the fantastic features I found in the NordicTrack S22i. However, I found out that it can offer more when you use it.
Here are the things that I like about the S22i.
DIY Pro Tip: The #1 thing I was looking for in a studio cycle was "automatic resistance" . The NordicTrack delivered even more by including "auto incline and resistance" I love it!
Ease Of Use
With all the high-tech features offered by the S22i, I initially thought that I would have a hard time operating it. But I was happy to know that these tech features are easy to use, regardless if you are a beginner in workout bikes.
For instance, the intuitive design allowed me to find out how to control the incline and decline quickly. There are also various incline and decline levels, -10 to 20 percent, so I can easily find a comfortable position.
High Weight Capacity
Another thing that I like about the S22i is that it can accommodate a person with a weight capacity. This weight limit is higher than many exercise bikes on the market. The benefit allows people to use the workout bike regardless of weight.
Long Labor Warranty
As mentioned, the NordicTrack S22i has a 10-year labor warranty. You can always bring the exercise bike to the service center whenever it needs some fixing. Not that the S22i constantly needs fixing, but it is still good to always have a service warranty.
NordicTrack S22i Pros and Cons
While the S22i has fantastic features, it is essential to know its many advantages and drawbacks. Knowing these pros and cons will help you figure out what you need to consider when buying the exercise bike.
The Advantages
A spongy coating wraps around the handlebars for a comfortable grip.
The flywheel feels and smoothly moves when you pedal.
A pair of fans sit under the screen and have four power settings.
The top of the screen displays a status bar where you can see the speed and wattage of the bike, the duration of your workout, the calories you burned, etc.
Includes front and rear stabilizers that help the bike stay steady while exercising.
The Drawbacks
The console speakers sit at the back of the screen when the front seems to be in a better position.
The bike's seat feels slightly stiff, but you can swap it out if you want (source)
DIY Pro Tip: I upgraded the pedals to a "dual pedals" with a strap on one side and SPD clipless opposite. Since I prefer clipless this allows both my wife and I to ride. I bought the Venzo Spin Bike Pedals Shimano SPD
Things To Consider Before Buying a Stationary Bike
Stationary bikes, such as the NordicTrack S22i, are convenient equipment for people who want to work out at home. However, it is worth noting that you need to consider if you plan to purchase this exercise equipment.
Comfort
Exercise bikes need to be comfortable when you are using them. If the exercise bike seat is too hard, it will cause pain in your tailbone. A rigid bike seat may even cause leg and toe numbness caused by discomfort.
To prevent problems relating to discomfort, you need to look for a stationary bike with an ergonomic seat. This way, you will be able to work out for hours comfortably.
DIY MTB Pro Tip: One of the first things everyone should get is "riding shorts" the gel cushion is a life saver.
Stability
An exercise bike needs to be stable. If not, it will shift back and forth while using it. An unstable exercise bike may even cause noise, interrupting how you work out.
Buying a stable and high-quality workout bike will help you resolve this issue. A high-quality stationary bike will stay on the floor firmly as you pedal, preventing it from causing noise and unnecessary movements.
Handlebar Style
When looking for an exercise bike, the handlebar style should depend on the equipment. Choosing a workout bike with drop-down handlebars is ideal for people who often use a road bike. Meanwhile, people who want to focus on their upper body portion should pick an exercise bike with a handlebar that features a weight rack. (source)
NordicTrack S22i Features and Benefits
This workout bike has the Silent Magnetic Resistance. This electronic resistance system opposes the spinning force to provide muscle pressure when using the studio cycle. It also has a 13kg inertia-enhanced flywheel for pedaling.
Here are the essential features offered by the NordicTrack S22i and how they benefit the users:
IFit Software Technology
The NordicTrack S22i boasts the iFit software technology. This feature provides users with popular studio classes and workout tutorials from 51 global destinations. Meaning you can display different locations on the 22" screen, such as outdoor locations like the mountains of Europe or indoor sessions for a true-to-life cycling feel.
This feature also provides the feel of real-world cycling. iFit has an automatic terrain matching technology that matches the difficulty of your workout on the terrain flashed on the screen.
Silent Magnetic Resistance
The NordicTrack S22i has magnets located adjacent to the flywheel. These magnets oppose the rotation of the flywheel, which results in friction-free resistance. If you feel like the resistance is too much or too little, you can always increase or reduce the 24 resistance level.
You can adjust the resistance through the touchscreen or the manual adjuster on the handlebar. This way, you will have the right amount of force that you need for your workout session.
Touchscreen
This stationary bike boasts a large 22" touchscreen that you can use for viewing workout tutorials and controlling the bike itself. You can rotate the screen 360 degrees, allowing you to find the perfect position for it.
There are also electronic readouts that you will find on the lower corners of the screen. This readout shows how inclined and how much resistance the bike has.
Space-Saving
Exercise bikes are large and heavy. However, the NordicTrack S22i has a compact design that prevents it from consuming too much space. This equipment is only 55" long and 57" high, so it is perfect for people who do not have a lot of room for workout equipment.
For strength training over the winter, improving cardio and just staying in shape the "NordicTrack S22i is easily one of the best pieces of exercise equipment I've ever bought." I seriously recommend this machine. Read more over at Amazon with this shortcut link -> NordicTrack S22i Studio Cycle

David the guy behind this website
Free IFit Family Plan for The First Month
The S22i offers an iFit family plan package for the first month after buying it once the free 30-day subscription is over, iFit costs $39 every month, which can accommodate up to five users.
While you may choose not to subscribe to any plan, it is worth noting that a subscription will provide many benefits. The iFit family plan offers more than 16,000 workouts, such as outdoor rides and workout classes. NordicTrack also updates the database constantly, so you will never run out of workout choices. (source)
Final Thoughts
The NordicTrack S22i is top-notch workout equipment that provides comfort to its users. Its ergonomic design prevents pain and discomfort while exercising, satisfying your workout session.
This exercise bike has a seat that you can incline or decline depending on your desired workout position. It even allows you to set the flywheel's resistance level, so you can intensify your exercise whenever you want.
That said, it is safe to conclude that the S22i is one of the best studio cycles on the market.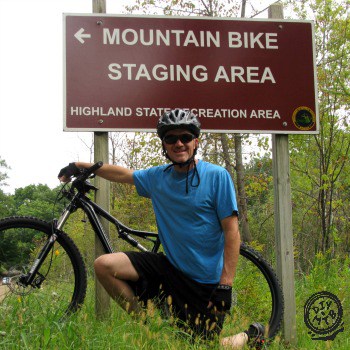 David Humphries is the creator of DIY Mountain Bike. For me a relaxing day involves riding my mountain bike to decompress after a long day. When not on my bike I can be found wrenching on it or making YouTube videos at 👉 DIY Mountain Bike Read more about David HERE.
Sources