I'm super excited to share my experience with the Saris H3 Smart Turbo Trainer. I've been using it for about three weeks now, and let me tell you, it's been a game-changer for my indoor training. I've had my eye on this trainer for a while, and finally, I got my hands on it. No more excuses for skipping workouts!
Saris H3 Product Overview
The Saris H3 is a direct drive trainer that's compatible with a variety of bikes, thanks to its interchangeable adapters. It has a 9-kilogram (20lbs.) flywheel, which is heftier than some competitors, and it offers a more realistic riding experience. It's also compatible with Shimano, SRAM, and even the new Ultegra and Dura-Ace 12-speed setups.
I highly recommend this smart trainer. Just so many reasons to get the H3. Check prices and what other folks are saying at Amazon with this shortcut link 👉 Saris H3 Smart Trainer
First Impressions
Unboxing this beast was like Christmas morning. The setup was straightforward, but you'll need to buy a cassette separately. I used a nine speed Shimano cassette, and it fit perfectly. The trainer doesn't come with a skewer, but I was able to use the one from my bike.
What immediately caught my attention was the thoughtful design of the trainer. The legs of the trainer are foldable, making it convenient to store in a closet when not in use, especially during outdoor riding seasons.
The ability to train on my own bike, rather than a big stationary bike that becomes a clothes rack in the summer, was a significant factor in my decision to purchase this smart trainer.
The instruction manual is exceptionally user-friendly, providing a detailed step-by-step guide for the entire setup process. I was pleased to see this level of detail, as many instruction booklets often skip essential preliminary steps, leaving users puzzled about where to start.
What I Love about the H3
Super Quiet: I love how quiet this trainer is. I can even listen to podcasts while riding.
Fits All My Bikes: The direct drive design is compatible with all my bikes and no wheel slips!
Easy App Connection: It connects effortlessly to my favorite training apps like Zwift and ROUVY.
Video Setup of the Saris H3
If you're looking to elevate your indoor training experience, you're in the right place. We'll unbox the trainer, walk you through installing a cassette, and show you how to get your bike securely mounted. By the end of this video, you'll be ready to hop on and connect to your favorite training apps. So grab your toolkit and let's get started!
Setting Up the Saris H3 Smart Turbo Trainer: Step-by-Step Guide
Unboxing
What's Included: In the box, you'll find the Saris H3 trainer, a power supply with international adapters, a bag of end caps for different bike types, a user manual, and a front wheel stabilizing block. Make sure to read the user manual for safety information.
Preparing the Trainer
End Caps: The trainer comes with end caps for a 130 quick-release road bike. Additional end caps for other bike types like 135 quick-release, 142 spacer, and boost 148 axles are included in the bag.
Freehub Body: The trainer comes with a freehub body compatible with Shimano and SRAM cassettes, ranging from 8 to 11 speeds. For 11-speed cassettes, remove the black spacer held by a rubber band.
Cassette Installation
Tools Needed: You'll need a cassette of your choice, a chain whip, and a lock ring tool. An adjustable wrench can also be used.
Removing Spacer: If you're installing an 11-speed cassette, remove the 8-to-10-speed spacer from the freehub.
Installing Cogs: Align the narrow spline on the freehub with the narrow notch on the cogs and slide them on. Use the chain whip and lock ring tool to tighten the lock ring securely.
Bike Preparation
Changing End Caps: If your bike requires different end caps, use a 5mm Allen wrench or 18 mm cone wrench to remove the existing ones and replace them with the appropriate ones from the bag.
Leveling the Trainer: If the trainer is on an uneven surface, adjust the feet to make it level.
Bike Installation
Preparation: Remove the rear wheel from your bike and shift the derailleur to the smallest cog.
Disc Brake Block: Use the disc brake block from the front wheel block to insert into the rear brake caliper. This prevents accidental brake compression.
Mounting the Bike: Align the bike's rear dropouts with the trainer's axle and insert your bike's quick-release or through-axle. Tighten securely.
Front Wheel Block: Place the front wheel stabilizing block under your bike's front wheel.
Final Steps
Power Supply: Plug the power supply into the trainer.
Connect to Saris App: You're now ready to connect the trainer to your favorite training app.
Features and Technology: My Personal Experience
It's So Quiet!
I was amazed by how quiet this trainer is. The all-new drive system has significantly reduced the noise level compared to previous models. Now, I can focus on my ride without any annoying background noise.
Accuracy Matters to Me
What I love about this trainer is its +/- 2% power accuracy. It's incredibly precise, allowing me to track my performance down to the smallest detail. This is a game-changer for me, especially when I'm aiming to improve my cycling skills.
Consistency is Key
The electromagnetic resistance system provides a consistent and controlled workout every single time. I don't have to worry about fluctuating resistance levels; it's like having a personal coach setting the pace for me. This smart trainer is designed to have a power accuracy of +/- 2%.
No More Wheel Slips
The direct drive design is another feature I can't live without. It's compatible with a wide range of bikes and eliminates the annoying wheel slips I've experienced with other trainers. It's as if the trainer was custom-made for my bike.
All-in-One Sensing
I was thrilled to find out that I don't need any external sensors. The trainer measures speed, cadence, and power all by itself. This simplifies my setup and lets me focus on what's important: my training.
Easy App Integration
Connecting to my favorite indoor cycling apps was a breeze, thanks to the dual ANT+ FE-C and Bluetooth FTMS standards. It's like the trainer knows exactly what I need for an engaging and interactive training session.
Bonus Features
A Month of ROUVY: The package came with a one-month subscription to the ROUVY virtual training app. I've been exploring various virtual routes and it's been a blast.
A Month of Zwift: Knowing that this trainer is Zwift-certified gives me peace of mind. It assures me that I'm using a high-quality product.
BKOOL Certified: It's also BKOOL certified, which is another testament to its quality and reliability.
🚴‍♀️ If you think the H3 is for you, check the current prices and availability on Amazon with this shortcut link 👉 Saris H3 Smart Bike Trainer
The H3 Design and Build Quality
The Saris H3 is built like a tank. It's heavy, sturdy, and the adjustable legs make it incredibly stable. I love the fact that you can adjust the feet to make sure it's level, eliminating any rocking during intense sessions.
The substantial weight of the H3 trainer, which I measured at 49 lbs, is a significant advantage for me. The combined mass of the trainer and its flywheel ensures excellent stability, even when I'm standing up while riding.
My Riding Experience: A Game-Changer in Indoor Training
The Sound of Silence
One of the first things I noticed was how incredibly quiet this trainer is. I used to have to crank up the volume on my speakers to drown out the noise of my old trainer, but not anymore. Now, I can easily listen to my favorite podcasts or blast my go-to workout playlist without any interference. It's a serene experience that lets me concentrate on my ride.
Seamless Zwift Integration
I'm a big fan of Zwift, and this trainer connects to it effortlessly. With just a few clicks, I'm immersed in the virtual world, choosing from hundreds of workouts tailored for all athletic levels. Whether I'm in the mood for a casual ride or a high-intensity interval training session, Zwift and this trainer make it happen seamlessly.
Realistic Road-Like Feel
The 20 lbs. flywheel on this trainer is a game-changer. It mimics the momentum and feel of road cycling so well that sometimes I forget I'm indoors. The trainer carries momentum like a real bike, providing a gradual ramp-up in resistance that feels incredibly realistic. It's like the trainer understands the nuances of outdoor riding and replicates them indoors for me.
These personal experiences have elevated my indoor training sessions to a whole new level. The combination of quiet operation, easy app integration, and realistic road feel makes every ride an enjoyable and productive experience. It's not just a workout; it's a ride that transports me.
Pros and Cons of the H3
After spending some quality time with the Saris H3 Smart Turbo Trainer, I've had the chance to thoroughly evaluate its performance, features, and overall user experience. To give you a quick and comprehensive understanding of what this trainer has to offer, here's a table summarizing its pros and cons:
| | | |
| --- | --- | --- |
| Aspect | Pros | Cons |
| Connectivity | Seamless connectivity with Bluetooth and ANT+ | |
| Design & Build | Sturdy, stable, and well-built | |
| Riding Experience | Realistic feel thanks to the heavier flywheel | Takes time to get used to the heavier flywheel |
| Additional Costs | | Need to buy a cassette and skewer separately |
| Noise Level | Quiet operation at 59 decibels | |
| Versatility | Compatible with a variety of bikes | |
Comparing Saris H3 to Others
Compared to the Wahoo Kicker Core, and Balancefrom (link to review) the Saris H3 offers:
less expensive by $100 (at the time I purchased)
a more realistic riding experience with the 20 lbs flywheel
super quiet ride
more stability with a wider platform and 49 lbs mass
easy storage with folding legs and convenient handle.
Maintenance and Durability
So far, it's held up well, and I haven't had any issues. I'll keep you updated on its long-term durability.
Kicking Up Dust in the Pain Cave
Is the Saris H3 worth the investment? Absolutely. It's a solid, well-built trainer that offers a realistic riding experience. If you're serious about your indoor training, this is a trainer you should consider.
💗🚴‍♀️ Highly recommended – I'm loving this trainer. If you think the H3 is for you, check the current prices and availability on Amazon with this shortcut link 👉 Saris H3 Smart Bike Trainer
User Reviews and Feedback
I've seen other users praise its build quality and realistic ride feel. The only common complaint is about having to purchase a cassette and skewer separately.
So there you have it, folks! That's my in-depth review of the Saris H3 Smart Turbo Trainer. If you're looking to up your indoor training game, this could be the trainer for you. Happy riding!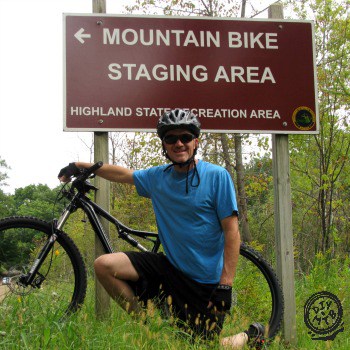 David Humphries is the creator of DIY Mountain Bike. For me a relaxing day involves riding my mountain bike to decompress after a long day. When not on my bike I can be found wrenching on it or making YouTube videos at 👉 DIY Mountain Bike Read more about David HERE.
Additional Resources for Saris H3
Here are some websites where you can find more information, reviews, and insights about the Saris H3 Smart Trainer: