I know for a fact that conventional chainrings have narrow teeth that fit between the spaces of inner chain links. These narrow teeth are the standard for chainrings, so I wondered what a narrow-wide chainring was the first time I encountered it. It turns out that the name of this chainring type exactly describes what it looks like to us.
I made this article to shed some light on the narrow-wide chainring topic. So, read on if you want to learn more about the chainring design that provides a whole host of benefits to bikers.
A narrow-wide chainring is a chainring with slim and then wide teeth alternately machined into the chainring. A narrow-wide chainring grips the chain better reducing chances for the chain to fall off. Narrow-wide rings can only be used in 1X and single-speed bike drivetrains.
What Are The Benefits Of A Narrow Wide Chain?
A narrow-wide chainring is precisely how it sounds – a series of alternating narrow and wide teeth. This teeth design allows the chainring to fit into the inner and outer chain links, allowing the chainring to hold the links securely.
Back when the conventional chainring was the only bike choice, bikers had to use a chain guide to prevent the chain links from popping off. However, your bike chain moves a lot when you are cycling, especially if you are on a rough trail. For this reason, the bike's chain can still fall off even when a chain guide is holding it.
The purpose of the narrow and wide teeth pattern around the chainring is to prevent the links from moving too much and eventually falling off them.
In simpler terms, the narrow-wide chainring eliminates the need for a chain guide while keeping the links in place.
Narrow-Wide Chainring: The Benefits
The sole benefit of a narrow-wide chain ring is chain retention. As mentioned, the alternating pattern of this chainring type matches the alternating width of chain links.
The inner chain links are narrow, while the external links are wider. By placing the links into teeth suitable for their width, they become more secure in their places. This design improves chain retention without a derailleur or chain guide holding the links in place.
Another benefit you may get from switching to a narrow-wide chainring is convenience. Since your chain will not fall off your chainring repeatedly, you will not have to stop pedaling in the middle of the trail to pop it back. Once you start your adventure on the trail, your chain falling off will be the last thing to stop you from pedaling. (source)
Are There Any Drawbacks?
The disadvantage to using a narrow-wide chainring is that you can only use it if you have a single chainring. It does not work on bikes with multiple chainrings at the front. The reason is that changing gears is not possible for bikes with a narrow-wide chainring.
Are Narrow Wide Chainrings Only For Single Speed Bikes?
The design of a narrow-wide chainring is specific for single-speed bikes. Meaning you cannot use it for bikes with more than one gear. As mentioned, bikes with a narrow-wide chainring cannot change gears, so they only work at a single speed.
Moreover, the idea of using a narrow-wide chainring is to remove the front derailleur. The role of the front derailleur is to move your bike's chain from one sprocket to another. On the other hand, the narrow-wide chainring works by preventing the chain from popping off its place. Because these two bike parts have different purposes, you need to remove the front derailleur if you want to install a narrow-wide chainring to your bike.
Removing the front derailleur means nothing will "derail" or remove the chain from the chainring and transfer it to a different gear. Eliminating the front derailleur means you cannot switch from one gear to another. As a result, you can only ride your bike at a single speed.
However, you can also use a narrow-wide chainring on bikes with a 1x drivetrain. This setup also eliminates the front derailleur but uses sprockets. For this reason, 1x drivetrain bikes can still run at multiple speeds. (source)
Can You Shift The Front Derailleur Gears With A Narrow Wide Chainring?
Conventional chainrings require a front derailleur to work. It helps shift the chain from one gear to another smoothly. However, the invention of a narrow-wide chainring means bikes with such a chainring no longer need to shift from gear to gear. If your bike has a narrow-wide chainring, you do not need the front derailleur.
That said, you can remove the front derailleur of your bike and replace it with a narrow-wide chainring.
The 1x Drivetrain Setup
A 1x (pronounced as "one by") drivetrain is a bike drivetrain with a narrow-wide chainring and a rear derailleur. The rear derailleur needs to have a clutch mechanism, as it plays an essential role when the two drivetrain components are working.
The narrow-wide chainring replaces the front derailleur in a bike. For this reason, the rear derailleur needs the clutch to keep moving while the chain stays in place. The clutch also prevents the chain from slapping against the frame as your ride on obstacle-filled trails.
Moreover, the combination of a narrow-wide chainring and rear derailleur with a clutch allows your bike to work without the front derailleur.
The Benefit Of Shifting The Front Derailleur With A Narrow-Wide Chainring
The primary benefit you will get from replacing your front derailleur with a narrow-wide chainring is convenience. The 1x drivetrain setup eliminates the need for finding the correct gear combinations. Meaning you can conquer rough trails without wondering if the gear you are using can make the ride better.
You will also be able to shift the two derailleurs simultaneously. Instead, you will only have the rear derailleur to control. As a result, you can avoid cross chainrings, reducing the amount of wear and tear on your bike components. (source)
Who Makes Narrow Wide Chainrings, And Where Can I Get One?
Although narrow-wide chainrings are still pretty new to the cycling world, many online websites already sell them. Now that single-speed and 1x drivetrain setups are revolutionizing trail riding, front derailleurs are becoming obsolete.
Popular Bike Component Brands That Make Narrow-Wide Chainrings
As the popularity of narrow-wide chainrings increases, their availability on the market also increases. Today, countless bike component shops online sell narrow-wide chainrings with different brands. However, you can still sign in to an online shop and get the first narrow-wide chainring that you will find.
Apart from the suitability of the chainring to your drivetrain, it would be best if you also looked at what brand made them. The more trustworthy the narrow-wide chainring manufacturer is, the more reliable and durable they are.
Take a look at some of the brands that manufacture and sell narrow-wide chainrings:
Shimano is one of the most popular bike component brands that manufactures narrow-wide chainrings. Established in 1921, this Japanese brand has been developing high-quality bike components, one of them being the Shimano XT M8000 Single Narrow Wide Chainring.
The said chainring utilizes the brand's very own DCE or Dynamic Chain Engagement technology. As a result, the chainring holds the link securely regardless of the trail condition.
The chainring's teeth have a plated steel construction. For this reason, it can withstand abuse and last for an extended period. (source)
This bicycle component brand makes high-quality products for amateur and professional bikers alike. It began making bike parts in 1987 and is still an excellent brand today.
SRAM chainrings are one of the best ones you can get on the market. For instance, the SRAM X Sync 2 Chainrings are narrow-wide rings that feature an aggressive and durable tooth profile. The chainring's teeth hold the chain in place while preventing mud and grime from clogging the spaces in between. (source)
Race Face is a Canada-based bicycle component manufacturer established in 1996. Although Race Face is less old and experienced than the other bike component brands, it still makes and distributes bike parts that provide every biker's needs and requirements.
One of the products this brand manufactured is the Race Face 1x 104 BCD Narrow-Wide Chainring. Apart from ensured chain retention, this narrow-wide chainring features a plate thickness of 4 millimeters. It consists of 7075-t6 aluminum, allowing it to resist wear and tear. (source)
Is It Easy To Change Bike Chainrings?
Replacing the conventional chainring of your bike with a narrow-wide one is a fairly easy task. If you often conduct maintenance and repairs on your bike, you can replace your chainring yourself as long as you have the following:
Hex keys
Chaining nut wrench
Bottom bracket removal tool
Separate the chainset from the drivetrain
You will need either a hex or Torx key and a chainring nut wrench to remove the chainset. Identify the correct wrench size to use on the chainset's bolts and nuts and use them to loosen them. After removing the screws, carefully remove the chainset from the crank arm.
Install the narrow-wide chainring
The installation is simply a reverse of the removal process. Slip the new chainring over the crank arm, place the bolts back into their respective places, and tighten the nuts.
Before securing the chainring in place, make surrey that its ramped edges are facing toward the bike. (source)
MTB Tools I Love and Recommend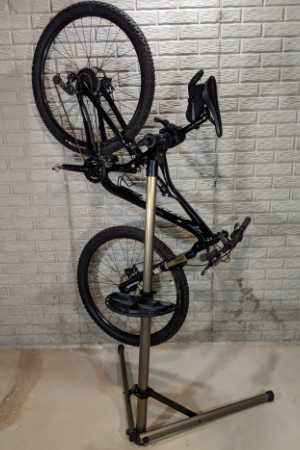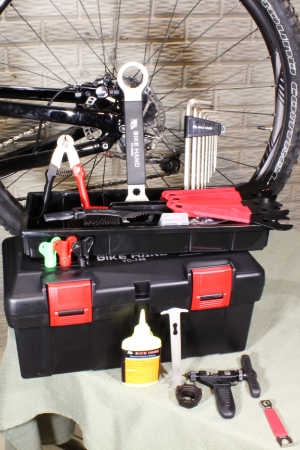 I own each of these tools and only recommend things I own and use.
FAQs
What Is BCD On A Chainring?
BCD, or bolt circle diameter, is a pretty descriptive name. It refers to the diameter of the circle that passes through the center of every bolt in your chainring. The BCD is an essential measurement to know during a chainring replacement.
You will see your chainring's BCD measurement engraved on its backside. (source)
What Do 48T And 36T Mean On A Bike Chainring?
48T and 36T refer to the number of teeth a chainring has. With 48T and 36T, there are 48 and 36 teeth around your chainring, respectively. (source)
What Chainring Do I Need For Mountain Biking?
The recommended chainring for a mountain bike is 32T and 26T. Chainrings with these numbers of teeth make climbing trails easier. These chainrings help cyclists maintain their speed on trails. (source)
Keep Pushing Those Pedals
What is a narrow-wide chainring? If a dropped chain is often your problem while biking on rough trails, a narrow-wide chainring can help you prevent that. The reason is that a narrow-wide chainring has a series of slim and thick teeth that holds the bike chain securely.
A narrow-wide chainring is ideal for single-speed and 1x drivetrain setups.
We hope this article helped you understand the basics of a narrow-wide chainring. If you plan to replace your old chainring with a new one, we recommend the ones listed above.
---
Learn more about Pedals, Handlebars and Brakes
---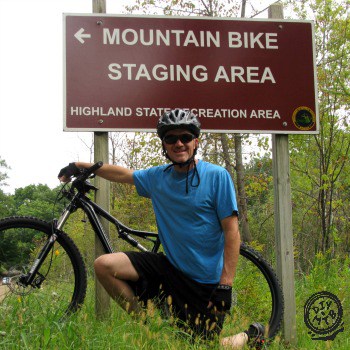 David Humphries is the creator of DIY Mountain Bike. For me a relaxing day involves riding my mountain bike to decompress after a long day. When not on my bike I can be found wrenching on it or making YouTube videos at 👉 DIY Mountain Bike Read more about David HERE.
Sources