Have you ever wondered how the best mountain bikers consistently push their limits, conquering trails that seem nearly impossible? The secret often lies in their training, but not just any training—structured training using bike trainer programs.
Bike trainer programs are specialized programs that offer mountain biking enthusiasts like yourself a comprehensive interactive guide to honing skills, building strength, and maximizing performance gains.
In this article, I'll dive deep into the top bike trainer programs that promise to elevate your training sessions and deliver maximum results. I'll uncover the vital features to look for, present you with my top picks, and offer tips to get the most out of your chosen program.
Why Training Programs are Important for Mountain Bikers
If you're serious about mountain biking but you live in a place with cold winters, it can be challenging to weather the winter storms and still stay in shape. However, with a good trainer and a program to keep track, you could stay fit for the winter or even set some loftier goals to outperform come spring back on the trail.
Training programs help you to set a fitness plan in motion and keep you on track. They help you develop skills like stamina, endurance, and more, so your winter months indoors result in performance gains come warm weather.
Key Features to Look for in a Bike Trainer Program
When shopping for a bike trainer app, you'll want to look for key features that are going to improve your experience. Here are five questions you can ask to guide you to the right bike trainer program for you:
Does the app developer let me test before I buy? Is there a free trial?
Is the app compatible with my current smartphone or tablet?
Does the app work with wearable technology like a smartwatch?
What are the features I need? What are the features I want?
Does the app have good reviews? Can I trust them?
In my experience, these are some of the fundamental questions you should consider when deciding. I've taken all of these into account for my review of each of the top bike training programs on the market.
Top Bike Trainer Programs
Look, you know as well as I do that you don't need another big list of suggestions. So, I took the best of the best: the apps I tried, tested, and believe are worth your time.
Tacx is one of my favorite indoor bike trainer programs. The app is easy to install and get started. It offers movies (FPV) of some beautiful rides from around the world. It also offers some neat GPS-mapped view rides. Furthermore, the app provides data-driven workouts that work with your smart trainer for a perfectly set ride.
Pros & Cons
Pros
Tacx is not only easy to get started with, but it's got some great ride videos that are really cool to watch while riding.
I love how it connects to smart trainers to enable precise, data-backed workout tracking.
Cons
Videos of rides tend to freeze up without an excellent internet connection.
Paid subscriptions are hard to find within the app. I had to search on my desktop to find out what the pricing is, which isn't overly intuitive on the part of Garmin.
User Experience
I definitely enjoyed using the app. I like having a video of the ride to help me feel like I'm not stuck indoors. Again, I have to stipulate that this app is heavily dependent on a good connection to stream the videos.
It was a little glitchy at first when I first started it, but I try to keep a clear connection to the internet for the best results. If you live in rural areas with poor internet, then you might have some issues using the app.
Compatibility
System
Compatibility
Android
Yes 😎
iOS
Yes 😎
mac
Yes 😎
Windows
Yes 😎
Smart Trainer
Connectivity via Bluetooth
Yes 😎
Pricing
Yes, companies are still trying to charge more for higher resolution. Here's the breakdown:
Monthly plan – standard definition – $9.99/month
Annual plan – standard definition – $99.99/year
Monthly plan – high definition – $13.99/month
Annual plan – high definition – $139.99/year
Purchase Recommendations
I recommend taking the time with the free version to see if you really like it or not. Personally, I'm not a fan of companies charging more for higher definition.
If they were to make a promise about resolution, now that would be something. Still, the higher definition is really vague, so I'm not sure the high-definition plan is worth it.
Vingo is an indoor cycling and running app. This app delivers a virtual world and lets you create a personalized avatar. Moreover, the app comes with a bunch of features built-in, compatibility with many devices, not just smart trainers but exercise bikes too.
The app promises to work with nearly any indoor bike or treadmill. Still, if it doesn't work, you can order a sensor or dongle (for Windows) to allow the app to communicate with your trainer.
Pros & Cons
Pros
If you have a trainer or exercise bike that won't connect, if you're in the USA, you can order a cadence sensor for free to install to your bike so it will communicate with the app.
The free version doesn't have maps locked, so even if you don't want a paid plan, you can still go for a ride.
Vingo has built-in voice chat functionality (paid plans only), so you can ride with a friend, log into the app, and have a chat while you ride.
Cons
Slow to get started. Unlike other apps, this one takes some time to load.
The graphics are a little outdated. This app gives you plenty of maps to choose from, with some great, albeit poor graphics.
User Experience
If you can get past the excruciatingly long load times, this app has a lot of great features. However, I will say that I loaded the app on my laptop running Windows, and I set the graphics to their best settings, and then I couldn't see my avatar, just an empty bike pedaling itself.
Furthermore, I found little difference in the quality of the scenery when switching from low to high graphics. The app tends to glitch more when you put it on the best graphics settings.
Compatibility
System
Compatibility
Android
No 🙁
iOS
Yes 😎
mac
No 🙁
Windows
Yes 😎
Smart Trainer
Connectivity via Bluetooth
Yes 😎
Pricing
The free version enables you to go on rides on any of the maps.
A paid subscription is $11.99/month, which unlocks all the features. Annual plans drop the price to $9.99 per month
Purchase Recommendations
If you don't intend to use features like the gaming part of the app that lets you get XP and in-game coin rewards, in-game items above level 5, or voice chat, then the free version should work fine for you. If you want the other extended features, you'll have to purchase a subscription.
Zwift is a cycling and running app that can connect to your trainer and log your rides. It offers some virtual environments where other app users' avatars ride as well, giving it a real competitive/community feel.
Pros & Cons
Pros
It has a great community feel, with other rider's avatars visible while you ride through the virtual landscape.
Cons
Without connectivity, you can basically just watch other riders. So, if you've got an incompatible trainer at home, you won't be able to use this app much.
User Experience
I like this app. It's fun, and the community feel is nice. The app is pretty easy to set up, and despite the somewhat simplistic graphics, the community aspect makes up for it, in my opinion.
You can choose from a number of tracks for different visuals. I like how you can register for upcoming virtual events – it really makes the community feel great.
Compatibility
System
Compatibility
Android
Yes 😎
iOS
Yes 😎
mac
Yes 😎
Windows
Yes 😎
Smart Trainer
Connectivity via Bluetooth
Yes 😎
Pricing
Zwift pricing comes in at $14.99 per month.
Purchase Recommendations
Test the app for connectivity with your bike trainer before you purchase. The app won't function right without either a speed or power sensor paired.
If you're used to working with a personal trainer, then Motosumo is going to work well for you. You can sign up for live cycling classes, on-demand pre-recorded, or you can just ride to a blank screen. Still, you can send emojis to the public board so others in the same group can respond with their emojis.
You can connect a heart rate monitor or cycle power monitor via Bluetooth.
Pros & Cons
Pros
Having a personal trainer pushing you along is great.
Live cycling sessions really help bring the feel of a live gym to your location.
Easy to use, easy to set up.
Cons
If you want a change from watching a trainer ride on your device, then this app is not for you.
The 'just ride' program is basically you staring at a blank screen (except for other's emojis, of course).
There does not appear to be a lot of difference between free and paid plans.
User Experience
I jumped into this app with the feeling that I'd be joining a class. However, it felt more like the classes were all pre-recorded, although they say they are live. With that oddness aside, if you want to have a ride with a personal trainer coaching and motivating you, then you might really like this app.
Compatibility
System
Compatibility
Android
Yes 😎
iOS
Yes 😎
mac
No 🙁
Windows
No 🙁
Smart Trainer
Connectivity via Bluetooth
No 🙁
Cycle Power Meter
Yes 😎
Cycle Power Meter
Yes 😎
Pricing
Motosumo has three price tiers; the first one is free.
Free with limited functionality
The monthly premium subscription comes in at $19.99 per month.
The annual premium subscription comes in at $149.99 ($12.50/month).
Purchase Recommendations
The free version gives you on-demand and scheduled cycling classes where you can ride along with others who have also joined. Premium membership unlocks all scheduled events and on-demand classes.
I know the importance of a solid indoor training setup. That's why I'm here to share my insights on bike trainers with power meters. These aren't just regular…
#5 – CycleGo – Indoor Cycling App
CycleGo gets into the list of my top picks for a few reasons, but the one I like the most is that you run it totally independent of the trainer, so it works great with manually controlled difficulty trainers. So, if you're looking for a 'smart' app to link to your smart trainer, check out one of my other picks.
For all of you who have a bike trainer at home that isn't Bluetooth compatible or isn't a 'smart' trainer, this is the app you've been waiting for. It's simple to get started and offers a variety of features that keep you interested and wanting to do more.
A Great Budget Trainer – My Video
Pros & Cons
Pros
The app uses music to help you keep pace. You can choose from a small variety of tracks.
The app is easy to use, easy to get started, and you don't need a smart trainer to use it (a bonus if you have a non-smart trainer, like one you adjust manual difficulty.
Cons
The graphics for the videos are a little dated.
The app lacks compatibility with smart trainers, so you'll be adjusting your own resistance.
User Experience
I found the app to be pretty straightforward. The user interface is easy to navigate, and the videos, although poor graphic quality, had a fun feel to them. The workouts are okay, and they mix it up with warm-up time, heavy riding time, and breaks in between.
The one downfall to this app is that it is excellent if you have an older or non-smart trainer setup. For example, I've got an older exercise bike that doesn't have much more than a calculator-like computer (not compatible with any other tech). For these situations, this is the perfect app. You just have to adjust your difficulty accordingly during your ride.
Compatibility
System
Compatibility
Android
Yes 😎
iOS
Yes 😎
mac
No 🙁
Windows
No 🙁
Smart Trainer
Connectivity via Bluetooth
No 🙁
Pricing
The app is free to use very basic features.
$6.49 for a monthly plan
On my device, the plans cost $59/year ($4.91/month) for an annual plan
$129 for a lifetime subscription.
The app is free to use very basic features, but you'll soon need a paid plan if you want to get the most out of it. On my device, the plans cost $59/year ($4.91/month) for an annual plan, $6.49 for a monthly plan, and $129 for a lifetime subscription.
Purchase Recommendations
Try the basic features for free. If you think you like it, sign up for one month to test further. If you still like it after 20 days (before your monthly subscription renews, and think you'll use it for at least the next two years, then cancel your monthly subscription and just buy the lifetime subscription instead.
Out of all the apps I tested, TrainerRoad is the only one that doesn't let you test without giving your credit card or other payment information. However, it's also the highest data-driven approach I've seen so far. This app is great if you're serious about metrics and using data science to improve your abilities.
Pros & Cons
Pros
Highly data-driven for a more scientific approach to your ride training.
Cons
There is no free trial, only a money-back guarantee for the first 30 days.
It is boring to watch or look at during your training session, unlike others that provide a more enjoyable visual experience.
User Experience
Although this app is really geared towards building plans and using metrics and data to optimize your bike training. Consider it a digital coach that can train you by providing you with appropriate workouts based on your goals.
The app gets confusing if you try to involve more than one plan. I recommend only using one plan at a time so you don't cover your calendar and make it even more confusing.
Compatibility
System
Compatibility
Android
Yes 😎
iOS
Yes 😎
mac
Yes 😎
Windows
Yes 😎
Smart Trainer
Connectivity via Bluetooth
Yes 😎
Pricing
Monthly $19.95
Annually $189.99 ($15.83/month)
Purchase Recommendations
Watch the reviews on YouTube before you purchase. Keep in mind this is a data-driven workout solution, but not entertaining while you work out, so make sure it's what you're looking for first.
Rouvy is a fun, straightforward, and useful indoor training app that gives you an amazing augmented reality experience. The app has a bunch of exciting real trails (over 4,300 miles or 7,000 km) with over 70 locations and over 3,000 other ride videos.
Pros & Cons
Pros
I love how the Rouvy app uses augmented reality, so you get a real view of real places with a virtual avatar of yourself.
You can virtually train for specific rides in real locations.
Cons
Rouvy won't work unless you hook it up to a smart trainer or other sensing device. Without a device connected, it won't work.
User Experience
Rouvy only works with smart trainers and other smart tech. If you have an older trainer or a manually adjusted one, Rouvy won't work for you. Once you get things hooked up (including your payment method if you want more than 14 days of use), it works easily and intuitively.
Compatibility
System
Compatibility
Android
Yes 😎
iOS
Yes 😎
mac
Yes 😎
Windows
Yes 😎
Smart Trainer
Connectivity via Bluetooth
Yes 😎
Pricing
Rouvy lets you get started with a 14-day trial; beyond that, you need a paid plan.
Monthly – $15/month
Monthly with a 6-Month Commitment – $14/month
Annual commitment – $12/month ($144/year)
Purchase Recommendations
Before you purchase, I recommend that you first ensure the app connects to your trainer or smart sensor. You get a 14-day trial, so it should give you adequate time to test the app first.
Bkool is another popular indoor cycling app. It's been around for a long time, and they have split their app into two separate apps, the Bkool Fitness and the Bkool Cycling app.
The creators of Bkool apps are definitely trying to get in front of the two primary indoor cycle app styles: 1) virtual or more entertaining ride-along sort of style, or 2) the more gym-oriented, personal trainer style. The first is the more entertaining, game-like applications, while the latter has you watch a personal trainer on a bike. Pick your flavor.
Pros & Cons
Pros
A subscription gets you access to both the cycling and fitness apps by Bkool.
Cons
You can't test the app without inputting payment info. I'm not a fan of this setup; I prefer to test without giving away secure information.
Real-world videos are of mixed quality, some much worse than others because they used users to source the videos instead of getting them professionally.
User Experience
I found that the virtual courses were smoother than the real-world filmed courses. I mean, it's really cool that they have videos of the actual rides, but it's a bit too glitchy for my liking. It felt like I was watching a rather old video. Now, truth be told, I don't have the fastest internet in the room where I tested it, so take that with a grain of salt.
Compatibility
System
Compatibility
Android
Yes 😎
iOS
Yes 😎
mac
Yes 😎
Windows
Yes 😎
Smart Trainer
Connectivity via Bluetooth
Yes 😎
Pricing
The monthly cost is 11 Euros. ($11.55 USD)
An annual plan for 110 Euros ($115.54 USD) that works out to 9.17 ($9.63 USD) Euros per month
Purchase Recommendations
Due to the fact that you need to input payment information first, I recommend checking out further reviews and compatibility with your equipment before purchasing.
How to Maximize Gains with Your Selected Program
There are a few points I'd like to make that I've found helped me with using training programs.
Consistency
It doesn't matter how good a training program is; if you don't stick to it, it won't help you. So, consistency is critical for best results. Try to set time aside every day into your schedule, and pretend you'll get in trouble if you don't commit. That's one strategy you can use, but do what works best for you to keep committed.
In their 2018 publication, the US Department of Health and Human Services states that for adults, a minimum of 150 minutes of moderate-intensity aerobic activity every week is more than a good thing. In fact, this amount shows substantial results1. Why not spend it on your bike trainer?
Tracking Your Progress
A great way to stay motivated is by actively tracking your progress. It could be as simple as using a calendar and writing how long you rode each day. Or, you could use the app's abilities to connect with your heart rate and other monitors to really dig into your riding training metrics.
According to a study by Harvard Health Publishing at the Harvard Medical School, a 155-pound person can burn as much as 252 calories2 with a 30-minute moderate bike ride. Knowing this fact, you can track your progress and get an accurate idea of how many calories you're burning based on the time you ride.
Keep in mind that the apps that will connect with your bike trainer may have more accurate tracking and give you better metrics of your workout.
Before You Install a Program, Consider This…
No matter the app you choose, remember that consistency and effective tracking are the linchpins for any successful training program. From setting aside regular biking sessions to leveraging app capabilities for advanced metrics, make the most out of your selected program to see meaningful results.
Bike Trainer Program FAQs
Is there a free alternative to Zwift?
If you just want a free app that you can ride your bike indoors, then check out Vingo. You won't have as many features as a paid app, but the free version is decent enough that it could stand on its own against some of the pricier options.
Is Zwift better than TrainerRoad?
Zwift and TrainerRoad are two very different indoor cycling apps. Zwift has a more game-like feel, making it more interesting. I found that TrainerRoad was a bit lacking in the presentation, with a rather boring interface. I quickly lost interest in using TrainerRoad despite the better metrics and data analysis. I have more fun using Zwift, which means I'm riding more.
Which is better, Zwift or Tacx?
I like Tacx better than Zwift. With Zwift, I experienced connectivity and compatibility issues; with Tacx, I did not. Although Tacx does require a decent connection to the internet for video streaming, I felt it was the better option.
What is the best indoor bike trainer for beginners?
This question is a tough one because it depends on how we define a beginner. Suppose you don't feel comfortable adapting your bike (pulling the rear axle, etc.). In that case, you might want to check out my video about the best budget bike trainers (see resources below).
If you want a good trainer that works with a lot of different apps and isn't too hard to get going, check out my video on the Saris H3 (again, see resources below for the link).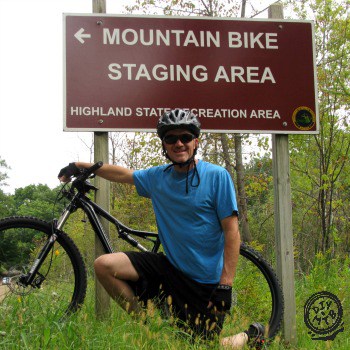 David Humphries is the creator of DIY Mountain Bike. For me a relaxing day involves riding my mountain bike to decompress after a long day. When not on my bike I can be found wrenching on it or making YouTube videos at 👉 DIY Mountain Bike Read more about David HERE.
Resources & Sources
More Resources
Article Sources
US Department of Health and Human Services. 2018. "Physical Activity Guidelines for Americans 2nd Edition." Health.gov. https://health.gov/sites/default/files/2019-09/Physical_Activity_Guidelines_2nd_edition.pdf.
"Calories Burned in 30 Minutes of Leisure and Routine Activities – Harvard Health." 2004. Harvard Health. Harvard Health. July 2004. https://www.health.harvard.edu/diet-and-weight-loss/calories-burned-in-30-minutes-for-people-of-three-different-weights.