Shopping for the best mountain bikes for a teenage boy can be challenging. While teens are at the age when they know how to ride a bike, there are still many factors that they need to master in terms of mountain biking.
Choosing the Right Mountain Bike for Teenagers
When considering the skill level of a teenage boy in selecting a mountain bike, it's important to tailor the bike's features to their experience and the type of riding they'll be doing:
Frame Size and Fit:

For beginners, a bike that's easier to control is crucial. A slightly smaller frame might be better as it offers more control and confidence. For more experienced riders, a frame that matches their size more closely will provide better handling and efficiency.

Suspension Quality:

Beginners: A hardtail mountain bike is often recommended. It has suspension in the front, which is enough to handle most beginner trails and is also lighter and easier to maintain.
Intermediate/Advanced Riders: A full-suspension bike is more suitable for experienced riders tackling more challenging terrain. It offers better shock absorption on rough trails and helps maintain traction.

Gear System:

Beginners: A bike with fewer gears and a simpler shifting mechanism is less overwhelming. This allows the rider to focus more on basic skills like balance and steering.
Experienced Riders: More gears offer experienced riders the flexibility to navigate diverse terrains efficiently. They can handle steep climbs and rapid descents better with a wider gear range.

Brake Type:

Beginners: Mechanical disc brakes are often sufficient. They provide good stopping power and are easier to maintain.
Advanced Riders: Hydraulic disc brakes offer superior stopping power with less hand strength required, which can be a significant advantage on long and challenging rides.

Tire Quality and Tread:

Beginners: Look for tires that offer good traction but aren't too aggressive, which can make the bike harder to pedal on simpler trails.
Experienced Riders: They might benefit from wider tires with more aggressive tread patterns for better grip and stability on rough and technical trails.
Read About More Ways to Get Our Youth Outside
How To Choose the Best Mountain Bikes for A Teenager Boy?
Getting a mountain bike for your teenager can be a real challenge, especially now that you have countless options. For this reason, it is essential to know what features you need to look for when looking for the best mountain bikes for a teenage boy. That said, here are some tips for choosing a mountain bike for your teen:
Appropriate Size
One of the essential factors to consider when looking for a teen's mountain bike is the size. If your bike is too high, it will be challenging for your teen to hop on it. But if it is too low, pedaling the bike will also be a challenge. So, you need to ensure that you get that sweet spot of the bike size for a teenage boy.
Pro Rider Hannah Finchamp put together an awesome article: How to Select Your First Mountain Bike
There is no standardized size chart of a small, medium, or large mountain bike size. For this reason, you need to check the bike's reach and stack measurements and compare these measurements with your teen's body build.
Wheel Size
Small teenage boys should go for a smaller wheel size than tall teenagers. The best mountain bikes for a teenage boy who stands about 4'6″ are the ones with 20-inch wheel size. On the other hand, teenagers with a height of 5′ or so will go well with mountain bikes with 24-inch wheel size.
Prioritize Durability Over Bike Weight
There is no denying that a mountain bike's weight is crucial for a smooth and controlled ride. But when choosing the best mountain bikes for a teenage boy, you need to prioritize the bike's durability over its weight. The reason is that a flimsy mountain bike will quickly fall to the ground once it encounters bumps and obstacles.
Such can result in an accident, especially if your teenager is relatively new to mountain biking. Always pay more attention to the bike's strength than its weight.
Choose A High-Quality Suspension Fork
Many mountain bike buyers obsess over the suspension forks they want their teen's mountain bike to have. But one thing worth noting is that a single high-quality suspension fork is a lot better than a dual-suspension fork with low quality. Excellent shock absorption and more control over the ride will always be far better than any amount of additional travel.
Wondering about travel on a mountain bike? I've got you covered with 👉 What is Travel on a MTB? (is more better)
Your teen may also not have the same stamina as an adult professional biker. So, the best mountain bikes for a teenage boy do not need to have a lot of extra travel.
Flashy Trinkets Aren't All That Matters
One of the everyday things that manufacturers usually do to sell their mountain bikes efficiently is to equip them with flashy trinkets. However, flashy does not mean high-quality. For this reason, you need to check the quality of the mountain bike parts that you are eyeing.
While a great appearance is essential, so too is the quality of the bike's cranksets and shifters. It would be best if you also remembered that low-quality mountain bike components are usually heavier than their high-quality counterparts.
Sometimes you just need to understand what bikes to avoid. Read 👉 What Bike Brands You Should Avoid
Find A Future-Proof Mountain Bike
The bike scene is undoubtedly moving forward, with some mountain bikes becoming out of fashion. Since you are buying the best mountain bikes for a teenage boy, you must look for a future-proof design. Thus, your teen's mountain bike will not go out of style even after years of using it.
Reserve Some Budget for Protective Gear
True enough, the best mountain bikes for a teenage boy are expensive. The reason is that they have top-quality components that make them easy to control regardless of the riding condition. However, you need to ensure that you are not spending all your budget solely on your chosen mountain bike. You also need to reserve some budget for your teen's protective gear, such as a good helmet and knee and elbow protectors. If your teen is a beginner in the mountain biking scene, these gears are even more essential to protect them in case of a fall.
Be Mindful of the Gear Settings
A teenage boy may be old enough to understand the different gears on a mountain bike. But for beginners, the simplicity of MTBs with only a few gears is more beneficial. So, when choosing the best mountain bikes for a teenage boy, make sure that you are basing the bike's speed settings on your teen's biking abilities. It will be easier for them to master the off-road scene. (source)
Final Thoughts
We can conclude that the best mountain bike for teens is the Schwinn High Timber. It offers different speeds so that you may choose depending on your teen's height.
The Hiland Vulcan and Huffy Mountain Bike are also fantastic options. Both bikes have high-quality components, making them easy for your teen to maneuver and master. These bikes are also durable, so that they will last years of regular use. This factor puts value on your purchase.
---
More Ways to Stay Safe On Your MTB
---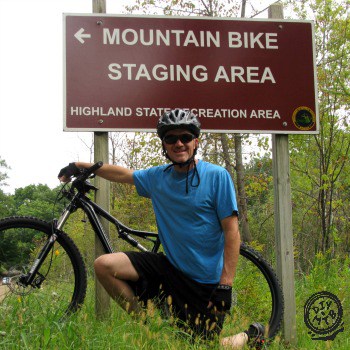 David Humphries is the creator of DIY Mountain Bike. For me a relaxing day involves riding my mountain bike to decompress after a long day. When not on my bike I can be found wrenching on it or making YouTube videos at 👉 DIY Mountain Bike Read more about David HERE.
Sources