Like most things in life, there are good and BAD. If you're new to this mountain biking thing, or think you've found a great deal, let me help you weed out the bad models.
Most MTBs will last a little while and they something breaks and it get put into the back of the garage and never ridden again. Get a bike with some quality components can simply meaning avoiding a couple bad apples.
For this reason, you need to know the mountain bike models that you need to avoid, especially if you are buying your first MTB.
Generally speaking, you need to avoid mountain bikes made by unknown brands. The reason is that these MTBs offer inferior parts and often do not fit the body build of cyclists. With these features, these mountain bikes will not last long, and you will end up replacing their components. (source)
Moreover, we have dug deep on the internet to know what MTB riders are avoiding in terms of particular bike models. This way, you will know which bikes you should pay attention to during your buying journey.
9 Mountain Bikes to Avoid According to Cyclists
One of the most complex bikes to drive is a mountain bike. The reason is that they need to have to be sturdy enough that riders can drive them on rough, rocky, and even muddy terrains. For this reason, bike manufacturers constantly integrate innovative features into mountain bikes.
However, not all bike manufacturers take MTB feature development seriously. Such is especially true for unpopular brands.
But since the market offers so many mountain bikes, we listed down some of the mountain bikes to avoid according to cyclists.
1. 2009 KHS XC 004
The 2009 KHS XC 004 is a budget-friendly mountain bike. It features an alloy frame, a wheelbase of 44 inches, and a total weight of 29.8lbs. Many people who are purchasing a mountain bike consider this particular one due to its low price.
However, those who have previously owned this MTB model had problems with it. Even after upgrading the components of the KHS SC 004, its weight negatively affects the way it takes different trails. You will feel the heaviness of this MTB, especially when you are pulling up on the bars.
For that reason, you will have to exert more effort than you usually do when you are driving on cycling on terrains.
2. Niner RIP 9 RDO
This mountain bike has two versions:
a 27.5-inch version
a 29-inch version
Both versions have 150mm up front, 140mm rear travel, and a frame that's designed around each wheel size. Meaning, the manufacturer did not simply use the same frame for each version of the bike. Instead, each mountain bike version has a purpose-built frame that perfectly fits the wheel size.
These features sound excellent for a mountain bike. However, some previous Niner RIP 9 RDO owners experienced cracking bike frames, and several MTB components required replacements.
Apart from the frame, the chain of the Niner RIP 9 RDO also has a problem. The chain can easily get stuck on the rear derailleur and bend the hanger. In such a case, the chain will push the derailleur into the spoke, causing it to break and puncture the bike's tire.
For these reasons, the RIP 9 RDO became one of the mountain bikes to avoid.
3. Trek Marlin 6
The Trek Marlin 6 is a mountain bike with huge wheels — either 27.5 inches or 29 inches. Other features include:
Alpha Silver Aluminum frame
SR Suntour SCT 30, 100mm fork
16 gears
Tektro hydraulic disc brakes
Since it came from a massive brand like Trek, you would not expect the Trek Marlin 6 to have any problem. However, some people beg to disagree.
Due to the affordability of this mountain bike, its wheels, fork, and tires are not as innovative as the higher-end mountain bikes from Trek. If you want to get its full potential, you will have to upgrade every component.
4. 2000 GT XCR – 4000
This old mountain bike is a full suspension MTB with a T6 / Fox Vanilla / RockShox Delux frame. It weighs 35lbs due to the materials used for making the frames and the other components.
Additionally, the bike comes with Mountain Mix components, such as s headset WTB Momentum Comp ST headset and Ahead GT stem.
Moreover, the weight itself is enough to tell why many mountain bikers avoid this model. With such heaviness, mountain bikers find it difficult to drive it up on hilly terrain. According to someone who previously owned a 2000 GT XCR – 4000, even the tiniest mistake could cause the bike to crash.
5. Cannondale RZ 120
The Cannondale RZ 120 boasts itself for its aluminum frame, 120mm rear travel, 120mm fork travel, and a wheel size of 26 inches.
Something odd about the RZ 120 is that its seated riding position is pretty forward set. The reason is the seat angle is quite steep.
With a weight of a little under 30lbs, there is no denying that this bike is on the hefty side. The weight is the reason why cyclists say that it is one of the mountain bikes to avoid.
At first, the RZ 120 will work perfectly, just like what the manufacturer promised. However, the rear suspension easily wears out. While the bearings fit into the slightly large link, the problem is that it was not a press fit. Instead, the makers of this mountain bike glued it lock tight in position. For this reason, you will have to replace the beatings frequently.
6. 2010 Giant Reign X
The 2010 Reign X by Giant has a 160mm out travel outback and a Maestro Suspension technology controlled by a RockShox Monarch Plus Debonair RC3 shock. It also has a 35mm chassis that poses extreme stiffness and control.
It is common knowledge that Giant manufactures reliable and sturdy mountain bikes. For this reason, you can expect the 2010 and later Giant Reign X to be a great mountain bike.
However, Giant made it a bombproof bike. As a result, the Reign X became fragile and dull in terrain rides.
These factors are not many reasons why cyclists say that the Reign X is one of the mountain bikes to avoid. However, many cyclists opt for mountain biking to experience fun and adventure. So, if an MTB gives boring rides, that is enough reason for these bikers to avoid purchasing it. (source)
7. Kirk Revolution Mountain Bike
The Kirk Revolution is an old mountain bike model. It has a frame made of cast magnesium, which makes it very different from other modern mountain bikes.
Looking at the Kirk Revolution, there is no denying that it is a fantastic mountain bike. However, the same feature that makes it different from modern MTBs is also the reason why bikers avoid this model. The magnesium alloy easily deteriorates, which reduces the lifespan of the mountain bike.
Once the magnesium alloy frame begins to deteriorate, you will have no choice but to replace the entire bike frame.
8. 1992 GT Richter 8.0
This mountain bike is a rare model that features a True Temper GTX double-butted frame. The fork is a RockShox Mag 32 with Deore DX Rapidfire+ shifters.
There are not many reasons to avoid buying this mountain bike. However, a cyclist who once owned such a model said that:
the bike has a "U" brake that you can find on the chainstays
the Rock Shop Mag 30 forks were flexing badly
the chains and tires collect mud, which makes it hard to pedal on wet terrains
With these inconvenient features, cyclists say that the 1992 GT Ritcher 8.0 is one of the mountain bikes to avoid. (source)
9. Cannondale M800 Beast of The East
The Cannondale Beast of the East is a mountain bike with a raised bottom bracket. Such is something that works very well on terrains with stumps. It also has a Pepperoni all-aluminum fork and Wolber Titanium Light rims.
It sounds like excellent features, right?
However, the Beast of the East also has a high bottom bracket, making it hard to ride. According to those who rode it, the aluminum tubes are also oversized, which was a reason for an uncomfortable ride. (source)
How to Choose a Good Mountain Bike?
Manufacturers are constantly modifying mountain bikes to better cater to cyclists. For this reason, a lot of MTBs today can easily tackle rigorous riding and challenging terrain.
However, there are still mountain bikes to avoid if you want to get the best out of your purchase.
So, when purchasing your mountain bike, keep in mind that there are different sizes to choose from. Most manufacturers will provide you with a size guide that can help you pick an MTB that best fits your weight and height.
There are also different wheel sizes. So, if you are unsure which one you should choose, the best thing to do is ask the seller for the sizes. They have a background when it comes to selecting MTBs. For this reason, they know very well how to pick one that best fits beginners and professional riders alike. (source)
---
Looking for a good MTB? – Check out these articles
---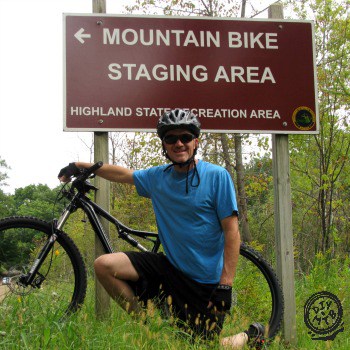 David Humphries is the creator of DIY Mountain Bike. For me a relaxing day involves riding my mountain bike to decompress after a long day. When not on my bike I can be found wrenching on it or making YouTube videos at 👉 DIY Mountain Bike Read more about David HERE.
Source