Many people are not familiar with how to fix a loose bike kickstand. However, this job is relatively easy and only takes a few minutes to finish. Knowing the correct steps is all it takes to tighten a loose kickstand.
The first step to fixing a loose kickstand is to inspect it for damage. After ensuring that the bolt is the only thing that needs fixing, get a hex key set and find the wrench that fits the loose bolt. Twist the wrench until the bolt is back to its original tightness.
How To Fix a Loose Bike Kickstand?
A good-fitting kickstand is essential for propping up a bike in a stable way. It prevents your bike from tipping over when you need to leave it somewhere for a short time.
The kickstand also prevents your bike from scraping against rough surfaces since you will not have lean it on the wall
However, your bike's kickstand becomes loose eventually. If such happens, it is ideal that you know how to fix a loose bike kickstand. (source)
Steps To Tighten a Loose Bike Kickstand
Tightening a loose bike kickstand is not a complicated job. You need to follow only three simple steps to get your kickstand working well again.
Inspect the kickstand
When tightening a bike kickstand, the first thing you need to do is to check for any metal damage. The kickstand should easily move up and down without applying too much force.
If you find the bike kickstand challenging to move, you need to replace its entire assembly.
2. Get your tools
After inspecting that the kickstand does not have any damage, get your hex key set (like the Crank Bros M19) and choose the wrench that fits your kickstand's bolts. Carefully tighten the pivot pin bolt, making sure not to twist it too tight.
3. Lubricate
Position the kickstand down and apply lubricant to the moving lever. The lubricant will allow you to quickly move the kickstand up and down when you need to leave your bike.
Moreover, the ideal lubricant for a bike kickstand is the WD-40.
4. Test the kickstand
It is ideal for moving the kickstand up and down a couple of times. After that, check if the bolt is still intact. If the bolt is still securely in place, you can go back to riding your bike again. (source)
DIY Mountain Bike Tip: Why don't some MTBs have kickstands? I've got you covered in this article -> Do Mountain Bikes Have Kickstands?
Replacing A Bike Kickstand
As mentioned, you need to replace your entire kickstand assembly if you see any damage to it. Fortunately, replacing a bike stand does not require you to be a professional. Even better, it only requires a couple of minutes to finish.
Your new kickstand assembly will come with a top bracket and bolt. At first, these parts may seem difficult to assemble. But all you need is a correct fitting wrench to attach your new kickstand.
What you'll need:
bike cleaner
a new kickstand assembly
hex set
Clean Your Bike
The bottom of the bike where you will install your kickstand is its dirtiest part. For this reason, it is crucial that your bike is clean before doing any repair or installation.
Position The New Bike Stand
Position your bike upright and find the exact position where you need to place your bike kickstand. Generally, it attaches to the frame in the chainstay, so you will not have any difficulty finding the proper position.
Your kickstand should sit low enough on the bike frame. This way, it can support the bike when you need to position it upright.
Install The Bike Kickstand
Once you are happy with the position of your bike kickstand, you can proceed to tighten the bolts. First, tighten the bolts with your fingers and see whether or not it touches the rear wheel when closed.
When you are sure that the kickstand will not rub against the rear wheel, you can now use a wrench to tighten the bolts. I've got a complete installation article HERE
Try Using The Kickstand
Place the bike in an upright position and move the kickstand down. Rest the bike on the kickstand and see whether it will support the entire weight of the bike. (source)
Are Bike Kickstands Universal?
When you know how to fix a loose bike kickstand, you can easily tighten it whenever its bolt becomes loose. But if you need a replacement kickstand, it is essential to note that you cannot just purchase the first kickstand assembly that you will find in your local bike shop.
Bike kickstands are not universal. So, if you are buying a new kickstand for your bike, you need to ensure that you are getting one that will fit your bike size.
In addition, you may need to read the installation guide for your chosen kickstand. The reason is that some of these bike attachments will only fit bicycles with particular mounts. (source)
Is It Normal For Some Bikes To Not Have A Kickstand?
Some bikes do not have a kickstand. Cyclists lean these bikes into the wall whenever they need to park them. You may be wondering why some bikers opt not to have a bike kickstand when it is so helpful.
To be more specific, mountain bikes do not have a kickstand. Such is entirely normal, and there is a reason for it.
Kickstands are not helpful on these bikes as they add weight to their sides. Mountain bikes are already heavy. So it is easy to knock over, especially if one of its sides is heavier than the other.
There is no way to know when someone might accidentally bump into your bike. For this reason, kickstands are not ideal for road bikes, although they are helpful for other bicycles.
Kickstands Can Increase Weight Drag
Cyclists must reduce drag. Unfortunately, kickstands increase the drag of road bikes, which slows them down significantly.
Of course, drag is not much of an issue for most cyclists. But if you are an amateur, reducing the drag can significantly improve how these bikers ride their road bikes. (source)
What Bikes Need To Have A Kickstand?
Bikes that cyclists use for casual riding generally need to have a kickstand. For instance, if you have a hybrid or a cruiser bike, you probably use it to go from one place to another. For this reason, you need to make frequent stops, so you need to position your bike upright frequently.
In such a case, you need a kickstand to easily position your bike correctly whenever you need to park it.
Additionally, it is ideal for touring bikes to have kickstands. The only problem is that the weight of a fully-loaded bike is too much for a kickstand to handle. So, if your touring bike is heavy, it may not be ideal for installing a bike kickstand into it. (source)
Final Thoughts
Bicycle kickstands are essential for casual bike riders. It allows them to put their bike upright whenever they need to leave it.
But more than that, a bike kickstand also keeps the structural integrity of your bike. It prevents the paint from scratching since you will not need to lean it on a wall or any rough surface.
You need to know how to fix a loose bike kickstand. Fortunately, tightening this bike attachment is relatively easy. It only requires a wrench, and you can get your kickstand working perfectly again.
---
Learn more about Pedals, Handlebars and Brakes
---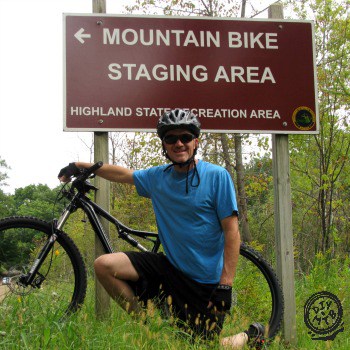 David Humphries is the creator of DIY Mountain Bike. For me a relaxing day involves riding my mountain bike to decompress after a long day. When not on my bike I can be found wrenching on it or making YouTube videos at 👉 DIY Mountain Bike Read more about David HERE.
Sources