The Multi-Tool I Carry in my Hydration Bag
I gave my kids some multi-tools for there bikes a couple years back and looked at them the other day. Rusted almost to the point that they were useless. So that got me thinking about my Multi-Tool. Worn and scratched, it's tighten bolts, fixed chains and adjusted derailleurs. A Mountain Bike Multi-Tool is like a weather friend. Mine is the Crank Bros M19. Snappng a picture of it was like making a selfie – I'm all beat-up as well.
So what do I RECOMMEND – Hands Down get the Crank Bros M19 Multi-Tool (Amazon link to check price and reviews)
I trust that little thing enough to spend a little time writing about it. You can pay a whole lot more for one of these tools but sometimes you need the basics. This guy and a handful of other tools and some stuff to fix tires has served me well.
So What do you get in the Crank Bros M19 – (you guessed it 19 Tools)
Chain Tool for removing and re-setting a chain link
(7) Hex Wrenches #2, 2.5, 3, 4, 5, 6, and 8
T-10 and T-25 Torx
Open-End Wrench size 8mm and 10mm
Spoke Wrench Sizes #0, 1, 2, and 3 (Why can't we have just ONE spoke size?)
(3) Screw Drivers (2) Phillips 31 and #2 and a Flat #2
A nice paluminum case to protect you and the tool.
A LIFETIME WARRANTY!!!
For way less than $30 you can ride with some peace of mind. Check out the Crank Bros M19 (link to Amazon)
Here's a video I found of the Crank M19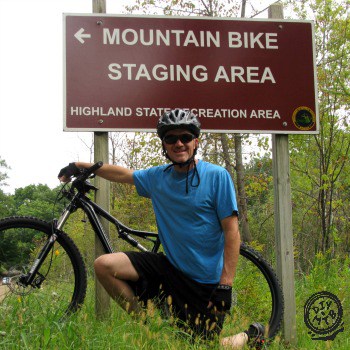 David Humphries is the creator of DIY Mountain Bike. For me a relaxing day involves riding my mountain bike to decompress after a long day. When not on my bike I can be found wrenching on it or making YouTube videos at 👉 DIY Mountain Bike Read more about David HERE.