I was riding this great single-track trail when I had a pretty horrid fall, and my bike smashed into some rocks. Luckily, I survived with just some bruises and scrapes, but I had to figure out how to cut a mountain bike chain to remove it and replace it. Not a fun task when you don't know how; I can assure you.
Cutting a mountain bike chain isn't as hard as you might think and can be accomplished in X easy steps. If it's your first time working with a bike chain, it may seem intimidating, but stick with me, and I'll walk you through the process.
7 Steps to Cut a Mountain Bike Chain
Move the bike to a place that you can see the chain. If you have a bike repair stand, mount the bike in it. It's nice to be able to rotate the pedals when cutting the chain.
Pro Tip: Great affordable bike repair stands are now available. I OWN and recommend the Bikehand Bike Repair Stand. I bought mine from Amazon. If you look close at the reviews on Amazon I have a video review as well. Here's a link to Amazon to check out prices and reviews. Bikehand Bike Repair Stand
If you don't have a bike repair stand, place a mat or some cardboard on the ground and flip the bike onto its handlebars and seat upside down on the mat or cardboard. It won't be as convenient as a bike stand, but you'll be able to freely move the pedals (although you won't easily be able to shift gears, so shift them before flipping over the bike if needed).
Clean the chain with a rag, so you don't get grease all over everything.
Note how the chain routes through the derailleurs and around the gears of the main cogs and rear cassette. Remember that you will need to reinstall the chain or a new chain precisely as the existing one is routed. If you aren't sure, you'll have to remember to take a short video showing how the chain routes to ensure it's back in the right place on reinstallation.
Inspect the chain for a quick-connecting link. Many modern bikes use a quick connect link for easier removal of the chain. If the chain has a quick connecting link, you can efficiently utilize a set of needle nose pliers to remove the retaining clip and undo the connector link. If there is no connector link, proceed to step 4.
The next step requires a tool known in bike mechanic circles as the chain breaker. This device uses a threaded piston to push the center pivot out of the chain links in a bike chain. By doing so, you can easily remove a bike chain. Without this specialty tool, it is exceedingly difficult to remove a chain.
Setting your chain breaker in place with the chain locked into the link holding teeth of the breaker, start turning the threaded piston inward toward the chain-link pivot. The piston will push the pivot out of the chain link, eventually freeing the link and separating the chain.
To reinstall the chain, you need to press the pivot back into the link. It is accomplished by reversing your technique for removing the pivot pin. If you do not have the proper chain breaker tool, you can use a pair of vice-locking pliers, but it is exceedingly complex, and I recommend just buying the chain tool. It is worth its weight in gold for the number of headaches you'll have without this tool.
DIY MTB Pro Tip: Do you think you need to tighten your chain? I've got you covered. 👉 How to Tighten a Bike Chain
Tools for Shortening and Cutting a Bike Chain
The following tools are required for a headache-free chain repair experience.
Can You Shorten a Bike Chain without Tools?
You can shorten a bike chain without tools if the bike chain is equipped with multiple quick-connect links. Without quick links, you will need tools to shorten a bicycle chain.
When Do You Need to Replace a Mountain Bike Chain?
When you need to replace a mountain bike chain, several common factors will make this decision for you:
The chain is so rusted that flakes of rust are coming off. If the metal started 'peeling,' the chain has lost structural integrity and must be replaced for safety.
The chain is bent or damaged, causing inferior chain movement. If a chain link or several are bent, damaged, twisted, or otherwise deformed, the chain might skip or stick on the gears. If this is the case, don't bother trying to fix the chain and just replace it.
The chain is stretched and loose. All chains will stretch over time. If a chain has stretched enough, the chain will start to skip or catch up on the gears. At this point, the chain needs to be replaced as it could likely break given the amount of deformity.
Pro Tip – Pick up a chain measuring tool to suit your chain size. The tool usually costs under $20, and you can measure the amount of stretch, so you know precisely when to replace a worn chain. Take a look at this tool I picked up on Amazon for my 12-speed. The tool is compatible with all 5 to 12-speed chains.
Selecting the Correct Chain for an MTB
Mountain bike chains come in a variety of sizes and lengths. Most good quality chains will have a stamped number on the side of the outer link plates that denotes the chain-link sizing. However, keep in mind that the chains come in both SAE and Metric sizes. If your bike was made in Europe, it is likely a Metric chain size. If your bike is American-made, it will be SAE sizing.
Most mountain bikes use a 7/32 or a 9/32 chain link size. However, there are many different variations in link size and link width, and overall chain length.
The best thing to do is remove the chain, bring it to a bike shop and have the chain professionally matched. However, if you're short on time (it won't cost more than ordering one and will save the hassle of returning one that is the wrong size), there is a method to measure and find out what you have.
How To Measure My Bike Chain Size
The best thing to do is take your old chain to a bike shop and have it sized. However, if you need to do things a little faster, you can measure a) the width of the chain links, b) the length of one link, pivot pin to pin, center to center, and the number of links. Remember that the old chain will stretch, so you need to count links; you cant just use length for length.
To correctly measure chain size, look at the chain and locate three pivot pins in a row. Measure the center of the first to the center of the third and divide by two. It gives you an accurate measurement of the distance between two pins, center to center. It is a more accurate method than simply measuring between two pins.
Keep in mind the chain will stretch over time, so the more accurate you can measure, the better.
Some generalizations are valid when it comes to chain size versus the gearing of a bike. Here's a chart to show the typical chain sizes. (source)
| | | | |
| --- | --- | --- | --- |
| Bike Speeds | SAE Chain Link Size | Metric Chain Link Size | Brands |
| 6-Speed | 9/32" | 7.3mm | Shimano HG |
| 7-Speed | 9/32" | 7.3mm | Shimano HG |
| 8-Speed | 9/32" | 7.3mm | Shimano HG |
| 9-Speed | ¼" – 9/32" | 6.5 – 7.0mm | (all brands) |
| 10-Speed | ¼" – 9/32" | 6.0 – 7.0mm | Shimano, Campagnolo |
| 10-Speed (Narrow) | 7/32" | 5.88mm | Campagnolo, KMC, Shimano CN series 5700, 6700 and 7900 |
| 11-Speed | 7/32" | 5.5- 5.62mm | Campagnolo, KMC, Shimano CN-9000 |
| 12-Speed | 13/64" | 5.3mm | SRAM |
Where to Buy a Chain for a Mountain Bike
Buying a mountain bike chain should be a relatively simple process. All you need to know is the length of the chain (number of links) and the bike's speed. It also really helps to know the manufacturer as well.
The manufacturer may not seem important, but if the bike were made in America, it would be an SAE chain, and if it is European manufacture, the chain will be a metric chain size.
The difference between the metric and SAE chains is negligible in most cases but can make a difference in how the chain works and the speed the chain wears. An improperly sized chain can stick or even get caught up in the gears, so make sure you get the right one.
Most major department stores that sell bikes, like Walmart or Target, will have a section near their bike racks in the store with all the accessories. Usually, you can pick up a generic bike chain for pretty cheap at these stores for the most common bikes. The chains are typically cheap and generic but not recommended if you have a mid or high-end bike like a Specialized, Santa Cruz, or Ellesworth, for example.
Every specialty bike shop carries bike chains. A bike shop without chains is like a restaurant without food; it just doesn't happen. Bike shops will have the best quality bike chains around, but the price will often reflect this fact.
Another excellent source for bike chains is the online community with stores like Amazon. Products like the Zonkie 6/7/8 speed chains are pretty easy to get and readily delivered from the online giant. Here is the Zonkie chain I just mentioned: Zonkie 6/7/8 Speed Bike Chain
Tips and Tricks to Help a Bike Chain Last
Bike chains don't last. However, you can do a few things to extend the life of the chain significantly. Here are a few simple tricks and tips to extending bike chain longevity.
Keep it clean. One of the worst things for a chain is to let dust, dirt, sand, and moisture get into the chain and sit there. Another bad thing for chains is salt, a common problem in the northern states from salting roads. Take a few moments to clean the chain after a ride, and you're ahead of the game.
Keep it lubed. Lubrication is the best, the number one, the only way to prevent rusting and oxidation. As well, lubrication allows the chain to move freely and helps prevent the chain from seizing up. Good quality lubrication will form a layer to protect the metal from oxidation and extend the chain's life, dramatically protects the metal from dust and dirt entering between the link plates, pins, and bushings.
Use the correct size. I can't tell you how many times I've replaced chains that stretched because they were the wrong size. People often 'eye-ball it' when measuring bike chains. It is incorrect and often leads to using the wrong size of the chain. For example, someone might use a metric chain in place of an SAE one. Although highly similar in size, the minute difference causes excessive wear on the incorrect chain size.
Monitor your cogs and cassette. The gears on your bike are essential to pay attention to and monitor. Many people drop their bike without using a bike stand, or even a fall can cause the gears at the pedals to have bent teeth. If a gear has a bent tooth, it can cause the chain to twist, bend, deform, or accelerate wear and link stretch. By monitoring and repairing any damaged cog or cassette teeth, you ensure the maximum longevity of the chain.
Tune your bike. Another major cause of chain damage is an improperly tuned bike. If your derailleur maximum travel settings are incorrect, the chain can jump off the gears. We've all had a chain come off, and you know it can get jammed pretty good between the cogs and the frame by the rear wheel. When it happens, it can seriously twist or deform your chain. When you keep your bike tuned properly, the chain shouldn't jump off the gears and get jammed.
Get Out and Roll
Cutting a mountain bike chain is pretty easy when you have the right tools. Given the difficulty you can have, trying to cut a chain without adequate tools is like trying to find a needle in a haystack – it's more than a little challenging.
That's why I recommend using a master link (also known as a quick-connect link) for your chain. You'll need the proper master link pliers to go with it, but it will make your chain maintaining and replacing tasks that much easier.
---
Learn more about Pedals, Handlebars and Brakes
---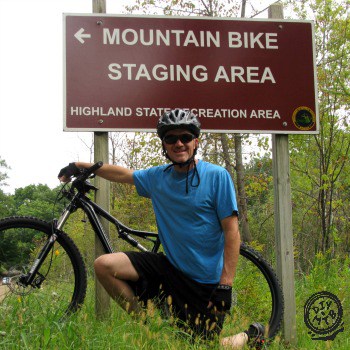 David Humphries is the creator of DIY Mountain Bike. For me a relaxing day involves riding my mountain bike to decompress after a long day. When not on my bike I can be found wrenching on it or making YouTube videos at 👉 DIY Mountain Bike Read more about David HERE.