My middle daughter Megan (20) seems to appreciate many of the same activities as me. Last year we had an awesome trip to the Smoky Mountain National Park where we mountain biked, and fly fished.
Megan's bike is my old 26in Gary Fisher hardtail. The bike has lots of miles and it's too big for Megan so I'm considering updating her setup. What I'm struggling with is whether I should build or buy a mountain bike.
Build a Mountain Bike vs Buy It Complete?
I'm an Engineer so it seems like I need to over analyze these things. The quick answer; it only makes monetary sense to build a mountain bike when the mountain bike cost is over $3,500. Below that threshold you can get more value if you buy a mountain bike.
What are the steps for this MTB project
Define the use – How is the bike going to be used
Within riding distance of our house we're lucky to have a nice single-track trail. No it doesn't have mountain views or long descents (I live in Michigan we don't even have a true mountain) What the trail does have is some climbs, small rock gardens and a mix of challenges. The kind of trail that begs for a full suspension bike.
Megan is also in college (MSU), one of those mega schools with 30,000 kids. She is in the outdoor club which actively backpacks and mountain bikes. The reason I mention this is my fear of a +$5,000 bike being stolen. So, the bike isn't going to be used for commuting around campus and will be stored in her dorm room or car.
Answering the need – finding a MTB that best fits the person and use.
Megan is 5' 3" (she might be smaller but I'm afraid to dig into the subject) So to size her we went to a couple bike shops and had her sit on and do a couple short test rides. We found out she has a short torso and legs. Because of these characteristics a female specific bike really works well for her.
A stand out bike was the LIV Intrigue 2 at $3,880 model by Giant. Giant introduced the LIV brand a couple years ago to bring a fit, form and function design to women's mountain bikes.
Another brand and model that fit well is Specialized Juliana retail $3,899. The suspension on the Juliana wasn't quite as nice as the Intrigue. But the differences were so minute I hesitate to even state that.
The last test bike we tried, and a real surprise was the Diamondback Clutch 2 retailing $3,499. With a sweet 150mm fork and a serious 130mm rear travel. The only component I didn't have experience with was the Race Face 1 x 11 drivetrain.
Megan spent the most time on the Liv, which has what I would consider the a higher end FOX suspension setup and the SCRAM NX Eagle drivetrain.
With the MTB selected, started Shopping for the Components to Build it myself.
I'll include all the comparisons in the [download id="4382″] but for the article, but I'm selecting the Liv Intrigue 2 as my baseline for cost comparison.
The Intrigue 2 retails for $3,885, this is a lot of cash and I'd really like to find some deals to build this for less.
MONEY SAVING TIP: Selecting a hardtail suspension can have a significant savings. The frame and rear shock are a major cost driver. I could slice +$400 off the purchase price easily by backing down to a HT.
What do I need to build a Mountain Bike?
I created a big matrix of the specs for the Liv. The objective is to shop for deals for components of similar quality at a savings. As much as possible I'm going to try to get new items unless I can find a screaming good deal on lightly used upgrade.
Download this MOUNTAIN BIKE BUILD CHECKLIST PDF – NO EMAIL necessary. A perfect companion for shopping and tracking components needed to build a mountain bike.
[download id="4382″]
Frame
Tires Front and Rear
Wheel set Front and Rear (hubs included)
Presta valves
Rear cassette
Rear Derailleur
Rear Shift Cable
Rear Thru Axle
Extra rear de hanger
Rear disc
Rear Disc Brake
Extra brake pads
Bottom Bracket
Crankset
Pedals
Front chain ring
Chain
Rear Shock
Seat Post (Dropper)
Seat Clamp
Seat
Front Fork
Front Disc
Front disc brake hydraulic with grip
Extra brake pads
Shifter
Threadless Stem
Handle Bar Clamp
Handle bar
Grips
Break down the actual numbers plus factor in a CONTINGENCY
So after a couple hours shopping on Amazon, Ebay and Craiglist I had all the parts compiled.  Of course I lost the deal of the century on EBAY for a new 2018 LIV Intrigue Frame for only $508.  I broke up my shopping over the course of a couple days and when I finally totaled everything up, I realized the frame I had found was a STEAL.
It might have been stolen. So your probably wondering what the totals are.
BUY the LIV Intrigue = $3,885
Build the LIV Intrigue = $2,287 (NOTE this included the EBAY Frame Deal)
When I priced a new LIV Intrigue Frame from the LBS it added = +$812. For a total = $3,099
How much is my time worth building a mountain bike?
Like most folks I've got a lot going on. A house that seems to be falling apart. A wonderful family that includes three kids and glorious wife. Plus a full time job and a couple little side jobs to pay for my mountain biking passion.
I estimated I would have 4.5 hours including shopping time actual build was a little over 3 hours. If I said each hour is worth $50. I would have a labor cost of $225.
Cost savings that weren't quite equal.
Ok, I'll admit some of the components I picked weren't quite as nice as the Liv Intrigue. To equal things up a little I've detailed those items.
Wheelset – The wheel set I selected isn't as nice as the Giant setup on the complete bike. Saving estimate = $220
The Handlebars aren't quite as nice and the Liv purchase bike. Savings estimate = $45.
You could debate that the Shimano brake-set I selected isn't quite as nice as the LIV purchase bike. I'll toss $50 savings to quite the complainers.
If you look closely at the cost summary you'll notice I added a 15% contingency. Like any project unknown items pop-up, something gets broken or an extra tool is needed.
Some other Mountain Bike Items that have a Value
Does a factor warranty have any value? The Liv comes with a lifetime warranty on the frame. Plus my experience has shown having the local bike shop service a bike purchased from them carries an implied warranty. I've had bikes tuned up for free, cleaned and wheels trued.
Tools, If you didn't have the tools to actually build the bike you could easily add another $400. Luckily I have most of the tools available to build a bike. If you'd like to read about the tools needed go to The Ultimate Mountain Bike Tool List for On and Off the Trail.
GRAND TOTAL for Build versus Buy a Mountain Bike
Again you can download the below, plus see some of the details behind this summary.
[download id="4382″]
If I total everything up to equalize the components and add in labor what do I get?  Purchase the bike for $3,885 or build it for $3,630.  So what should I do?  Once you start down the road of getting a couple items you're basically committed to building a bike.  It's fun, I've done it in the past, and I'll probably do it again in the future.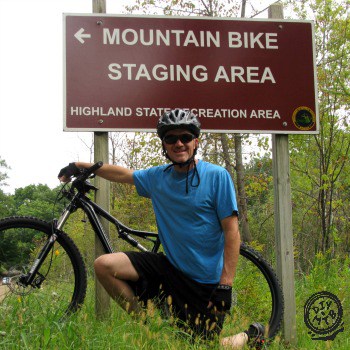 David Humphries is the creator of DIY Mountain Bike. For me a relaxing day involves riding my mountain bike to decompress after a long day. When not on my bike I can be found wrenching on it or making YouTube videos at 👉 DIY Mountain Bike Read more about David HERE.