I, too, wondered how much it costs to rent an MTB, except that I wanted to do a USA tour, so I needed multi-state information. I did a study and made a list of the eleven states I wanted to ride next and their subsequent dual-suspension mountain bike rental rates. Let's dive in and see what the results were!
Across 11 of the best states of the USA to mountain bike, MTB rental rates average for 2021 at $81 per day for a single bike. The bikes I studied were dual-suspension mountain bikes, always striving to find high-quality performance models.
Ride along with me as I divulge the details of the rentals, I found in 11 of the best states to do some mountain bike riding in.
How Much Does It Cost to Rent A MTB In The USA?
As I mentioned, I wanted to make a trip where I rode a mountain bike in 11 different states. To see if I could keep my bike at home and provide me a chance to test ride some other bikes, I decided to seek out some rental companies and do some research on how much I could expect to pay to rent a decent mountain bike for a day.
I found that the cost to rent a mountain bike in the USA ranges from $35 to $125 per day, depending on the state and attitude of the rental company.
I say attitude because some of them appear somewhat elitist, while others appear family-oriented and friendly. And yet most were renting similar, if not the same, model of the mountain bike.
11 Representative Dual Suspension Rentals
In my research, I found many bike rental companies. Some states have many more than others. It just depends on how much demand that particular state has for the experience. States like Utah and Colorado have a pretty large number of rental companies, merely due to the world-renowned conditions in those states for things like mountain biking.
Alaska
Famous for mountains, fjords, wildlife, and scenery to take your breath away, it's no wonder so many adventurers seek out the state for adventure. Mountain biking is just one of the many ways I recommend you see Alaska.
Here's some information about the bike I found to rent:
Alabama
Known for their Southern hospitality, I like the people in Alabama and will always enjoy an excuse to travel to the sweet tea and football-loving state.
Take a look at the bike rental information I found in Alabama:
Arizona
How anyone could pass on a mountain bike ride or ten in the state that boasts the Grand Canyon, I'll never know. Arizona is one of my number one mountain biking locations, and renting a mountain bike in the state is easy as rolling downhill. Here's what I found:
Arkansas
Besides being the only state that produces diamonds, Arkansas is as beautiful as states come. Over 600,000 acres of lakes dot the state, and the mountain biking in the many surrounding parks is marvelous.
Take a look at what I found for full suspension MTB rental rates in the state:
California
One of those parks that you need to see, in my experience, is Yosemite National Park. So, renting a bike in the state for a day or two isn't such a bad idea. Now, the other place I think riding would be fun is down the coast. But that's a tale for another day.
Here's information and pricing from a typical higher-end MTB rental in the state:
Colorado
If you don't know what's impressive about Colorado (from a Mountain Biker's perspective), then you're missing out for sure. Colorado is beautiful as it is wild. I consider the state of being sort of the wild west of mountain biking adventure, with many a trail yet to be explored (by myself and possibly by you).
If you need some help finding a great trail, check out this article with 13 of the Best Mountain Bike Trails in Colorado.
Typical mountain bike rental rates in the state fluctuate, but I was able to find the following rental after only a few minutes of searching:
Idaho
Idaho is the best kept secret for mountain biking. Don't hesitate, just find a trail and go. Nee d help finding a trail? I got a comprehensive guide to the BEST. Here's the link -> 11 Best MTB Trail in Idaho
Thousands of miles of trails cross the Idaho surface, so new adventures always await in Idaho. The state is scenic, and you can get some great MTB rental deals in the state, just like in Colorado. Take a look at this one I found:
Nevada
Not far from Las Vegas, there are some ludicrously insane mountain biking trails I need to try. Many downhill and single-track trails abound in the state, and like Idaho, there's always somewhere new to explore. I want to try my luck near Las Vegas (not in it unless on a bike).
Typical MTB rental information and pricing for Nevada:
North Carolina
Having spent some time in the Northern United States during winter, I've come to appreciate the climate in places like North Carolina. The forest trail mountain biking there is exquisite, often because the weather is mild and perfect for much of the year.
It isn't Death Valley, folks, but it isn't Canada either. It's nice and warm, right where you want it to be. Here's the bike rental information I found that seemed reputable:
Utah
Utah is a riders paradise. Slick rock, high mountains and incredible scenery. With national parks call Canyon Lands, and Arches. The culture in towns like Moab are about exploring on an MTB. An amazing guide -> 15 Places to MTB in Utah.
Utah is one of those states, like Nevada or Arizona – the natural landscape paints breathtaking backgrounds and carves great rides for us. There are few places as incredible to mountain bike with a view, in my experience. Take a look at what kind of rates are typical in the state at a higher-end rental MTB business:
Wyoming
If you live to ride with incredible vista views, long down hills after a couple miles of climbing then Wyoming is where to go. I've complied the 11 Best Places to Ride in Wyoming. Also check out Wyoming's State Park system – HERE.
The mountain biking in Wyoming seems to be a mixture of landscapes like North Carolina meets Nevada. There is scrub, hilly rides, breathtaking views with mountain backdrops, and forest trails with awe-inspiring beauty. What I like about the state is the rich Old West history. That and the abundance of natural wonders you can explore. Reasonable mountain bike rental rates in the state also:
Summary of MTB Rentals Across the USA
My study focused on mountain bikes. In particular, I wanted to find decent-quality dual-suspension mountain bikes. What I found what that there are more and more companies offering rental electric mountain bikes. There were some instances where I found companies that did not rent regular mountain bikes, only electric mountain bikes.
The trend for rental mountain bikes in 2021 is trending towards electric-powered bikes. Many even offered suspension systems tunable via an app. I wonder when the rental mountain bikes that are self-driving will appear.
In all seriousness, if you're looking to rent a mountain bike in the United States, you likely won't need to spend more than a few minutes to find a rental company. And you are looking at a price of between $35 and $125 per day. Some rental companies tag on extras like insurance, so be prepared to pay an additional $15 in fees that aren't initially advertised.
---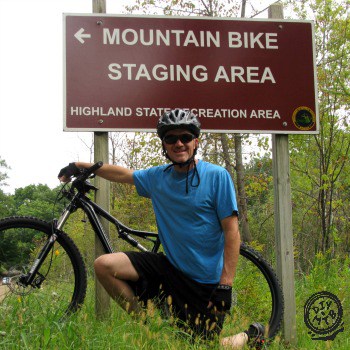 David Humphries is the creator of DIY Mountain Bike. For me a relaxing day involves riding my mountain bike to decompress after a long day. When not on my bike I can be found wrenching on it or making YouTube videos at 👉 DIY Mountain Bike Read more about David HERE.