When you're looking for a bike helmet with GoPro mount, it is tough to find a decent one. I spent a long time searching for the right helmet, so I thought I'd help you with what I learned (so you can spend more time on your bike and less time researching).
The Best Bike Helmet with GoPro Mount
Modern mountain bikers often take videos of the trail where they ride. While a GoPro action camera is one of the best tools to take motion videos, you will also need an excellent helmet that you can mount your camera on.
A good helmet will let you take high-quality videos without too much shaking or reducing your camera's focus. That said, what is the best bike helmet with GoPro mount?
The Mongoose Capture Bike Helmet with Camera Mount
As mountain biking becomes more modern, so does the accessories needed for the sport. For this reason, bikers look for accessories, such as an MTB helmet, that fit their needs and requirements.
One helmet that took a twist from the norm is the Mongoose Capture Bike Helmet with a removable GoPro mount. It boasts 15 air vents for comfort and extended rear coverage for additional protection.
The Mongoose Capture Bike Helmet with GoPro Camera Mount features an all-mountain design with extended coverage at the back for better protection. It consists of a detachable action camera mount. The GoPro mount is durable and rattle-free so that you can take high-quality videos of your entire ride.
Why I Love the Capture Bike Helmet with GoPro Mount
We've all stuck those adhesive pads onto our bike helmets, only to find out that your action camera falls off or when you don't have a camera mounted you look like a total NEWBIE.
Mongoose Capture Helmet Specifications
GoPro Hero compatibility
Built-in camera mount
ABS outer shell
15 vents
The Camera Mount
The Mongoose Capture Helmet features a durable camera mount that holds your GoPro well in place. This mount is compatible with GoPro Hero, so you can ensure that your action camera will fit perfectly.
It even has a shake-resistant design that prevents your camera from moving too much while riding on bumpy trails. The mount is also detachable, so you can remove it when you don't want to bring your camera with you.
Inner Pads
This mountain bike helmet with GoPro mount consists of soft and cushy pads that ensure a perfect fit. With the softness of these pads, you can wear this helmet for hours without any discomfort as the pads prevent the hardness of the bike's shell from putting pressure on your head.
Proper ventilation is essential when it comes to mountain bike helmets. The Mongoose Capture has 15 vents that allow the breeze to circulate inside it.
Perfect Fit
Mongoose found the perfect fit for modern all-mountain bike helmets with the Capture helmet, which is not too fit and not too small.
The adjuster works excellently to prevent the helmet from moving around.
However, the only downside is that the adjuster dial is challenging to rotate. The reason is that the top part of the dial tucks under the helmet foam. (source)
Choosing The Best Bike Helmet with GoPro Mount
Bike helmets with action camera mounts are an excellent choice for hands-free recording. There are also various bike helmet types and styles that you can choose from. If you are not aware of these helmet styles, it can be challenging to get one that will actually meet your needs.
So, before getting a helmet from your local bike shop, there are some things that you first need to consider so you can get what you are paying for.
Durability
You are buying a helmet to protect your head during unfortunate circumstances. For this reason, it should be durable enough to withstand impact without acquiring any severe damage.
A durable bike helmet is also worth purchasing since you can use it for a long time.
Mounting Location
One of the best places to mount your GoPro is at the top of your helmet. However, there are also other locations on the helmet, such as the sides, where you can mount your camera.
However, it is essential to note that the side mount may feel uncomfortable to wear. The reason is that the camera's weight will drag the helmet down.
Still, the best place for your camera mount will depend on your needs.
Getting the right shot for the video is all about where you mount the GoPro and which GoPro you're using. Find out my secrets for mounting in this article -> Best Places to Mount a GoPro and which GoPro is best in -> Best GoPro for Mountain Biking
Compatibility
A bike helmet with a GoPro mount is not universal. One GoPro model may be compatible with a particular bike helmet but not with the other.
For this reason, it is crucial to ensure that the helmet you are getting supports the type of action camera you have. (source)
Alternatives To Mongoose Capture Helmet
It's great to have multiple options when choosing a mountain bike helmet. So, while the Mongoose Capture Helmet is truly a must-have, some alternatives are similar, if not as good, as the Mongoose Capture.
This mountain bike helmet features a minimal yet elegant look. The GoPro mount works well in securing your camera. The helmet has a little space between the padding and your head, so there is proper ventilation as you pedal.
However, this helmet is 4 times more expensive when compared to the Mongoose Capture.
If your looking for the "coolness" factor the BELL Sixer comes in 15 colors and has hundreds of good ratings. Check the current prices on Amazon with this link -> BELL Sixer MIPS Helmet
Read even more about this helmet directly on the BELL website HERE
A really color feature is that the camera mount is "break away" so during a crash, you don't smash you camera.
I've been using the Giro Fixture for a couple years. I bought it because of "my fat head" the Fixture comes in big sizes and is full adjustable. Now to attach a GoPro you will need to stick the GoPro foot onto the helmet or use straps.
What I've enjoyed with the Giro Fixture is the fit and ventilation. Most MIPS helmets seem "big" because the additional protection allows the helmet to shift during a crash.
Highly recommended especially if you have a bigger size noodle, check the current prices and reviews with this shortcut link to Amazon -> GIRO FIXTURE MIPS BIKE HELMET
This helmet is also lightweight, even with a GoPro installed. So, it feels comfortable to wear even when it receives a continuous gust of wind while you are cycling. (source)
Mongoose Bike Helmet Outtake
This MTB helmet is versatile as you can also use it for hoverboarding, skateboarding, and similar sports.
Similar to the Mongoose Capture, its camera mount is removable, so you can reduce the helmet's weight when you want to. It even has ten vents for some cooling when biking on a summer day. (source)
DIY MTB Pro Tip: If you are wanting to take video while riding seriously consider the Mongoose Capture. You can read more at Amazon with this link (Mongoose Capture Bike Helmet) or go to the Mongoose Bike site HERE.
In Summary
A bike helmet with a GoPro mount is a crucial part of biking. It allows you to take videos of your adventure and record how well you did on a particular trail.
When it comes to a great bike helmet with a camera mount, the Mongoose Capture Helmet is a product worth having. It has a rattle-free GoPro mount design to get solid videos without too much shaking.
The inner padding is also soft yet durable, and the helmet has 15 air vents. For this reason, the Mongoose Capture Helmet can protect bikers while ensuring comfort.
Looking for More Mountain Biking Video Tips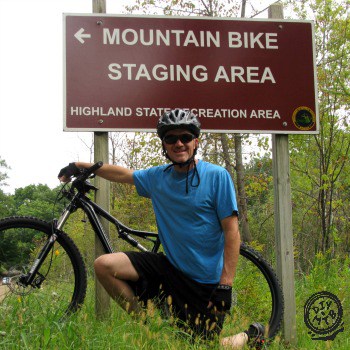 David Humphries is the creator of DIY Mountain Bike. For me a relaxing day involves riding my mountain bike to decompress after a long day. When not on my bike I can be found wrenching on it or making YouTube videos at 👉 DIY Mountain Bike Read more about David HERE.
Sources
Mongoose All-Terrain and Outtake BMX Bike Helmet. Amazon. Accessed April 6, 2022. https://www.amazon.com/Mongoose-Bike-Helmet-Multi-Sport/dp/B0823B6HKN/ref=as_li_ss_tl?crid=ZM7377LW1A2U&dchild=1&keywords=bike%2Bhelmet%2Bwith%2Bgopro%2Bmount&qid=1611615794&sprefix=bike%2Bhelmet%2Bwith%2Bg%2Caps%2C385&sr=8-64&th=1&linkCode=sl1&tag=wowtravel-20&linkId=f13176223204d21e171ff3de6ae3a646&language=en_US&psc=1.