Proper GoPro settings for mountain biking are crucial if you want to take videos of your adventures with high and consistent quality. However, GoPro's settings seem to be a little too technical for bikers who are not camera-savvy. In reality, setting your GoPro is not that technical.
Resolution, frame rate, exposure value compensation, field of view and white balance are the most critical GoPro settings. To prevent jarring videos, turn on stabilization and use a chest mount. 4K resolution with ~ 24to 30 fps and the widest possible field of view and an EV Comp setting of -1 or 0 is a proven setup.
The Ideal GoPro Settings for Mountain Biking
Having a GoPro while mountain biking lets you capture trail videos and watch them over again. Taking videos of your adventure can also help you see how you perform on a path and improve your weak areas.
But without the proper GoPro settings for mountain biking, you will end up with low-quality videos that won't look good even when edited. (source)
Suppose you wonder why you cannot get good footage while mountain biking. This article will help you. Below are the ideal adjustment settings for your action camera.
DIY MTB Pro Tip: Some simple accessories makes all the difference filming your MTB trips. Check out the list of items I use in this article: Essential GoPro Accessories for Mountain Biking
Adjusting Your GoPro for Your Next MTB Adventure
Resolution
A high video resolution results in sharp footage. So, you may think that combining a high resolution with a high frame rate will result in extremely clear videos. But such is not always the case in reality.
While you can set your video resolution to the highest possible setting, combining it with a high frame rate slow down your footage. As a result, you will look like you are biking slower than you are. (source)
So, if your GoPro has a 4K resolution, setting the frame rate to 24 to 30fps is ideal. This frame rate gives you the standard speed in many MTB videos.
Meanwhile, you can use 60fps when you need to slow down your video or capture an image from the frame.
Frame Rate
A video is a composition of several images played at a smooth speed. The term frame rate refers to how many photos particular time.
For instance, a standard video has a frame rate of 24 to 30 frames per second (fps), which means a shot displays 24 to 30 images per second.
If you aim for a cinematic effect, this standard frame rate is one of the ideal GoPro settings for mountain biking. But if you want your videos to become smoother, you can set the frame rate to 60fps.
Exposure Value Compensation
Exposure Value Compensation or EV Comp is among the most essential camera settings. It allows you to adjust your video's brightness according to how bright or shaded the trail you are in is.
True enough, automatic EV Comp excellently brightens up your footage while riding on shaded areas. However, this setting is not fast enough when adjusting from low light to a bright environment, which results in inconsistent video quality.
It helps to underexpose your footage by setting your EV Comp to a negative. If you want a safer and foolproof setting, you can leave the EV Comp to 0.
Proper GoPro settings for mountain biking are crucial if you want to take videos of…
Field Of View
This setting adjusts the wideness of your shots. The best GoPro settings for mountain biking are either Wide or Superwide in terms of field of view.
Wide angles are ideal when you are taking videos at speed. It lets you get a lot of image data, which you can use for editing.
Color
GoPro uses high contrast for your video colors to pop up. While a high-contrast video looks great and alive, it may fail if your environment already has bright colors.
For this reason, the ideal color setting for a GoPro is a flat color profile. This setting will make your footage look dull, but you can always do some color grading during editing.
White Balance
White balance adjusts your GoPro's color sensitivity, allowing it to match an environment's light color. A GoPro has a great auto white balance setting. However, it is not ideal for mountain bikers since trails often have high contrast.
Manually setting your white balance is better as it consistently provides your entire video. It also makes videos easier to edit. (source)
| | |
| --- | --- |
| Resolution | 4K |
| Frame Rate | 24 to 30fps |
| Stabilization | On – HyperSmooth |
| Exposure Value Compensation | -1 to 0 |
| Field Of View | Superwide or Wide |
| Color | Flat |
| ISO Limit | 100/1600 |
| Sharpness | Low |
| Hyper smooth | On |
Tips For Taking Great Biking Footage
Having the correct GoPro settings for mountain biking can make your videos look professional. But there are also some tricks that you can use to capture excellent shots. (source)
1. Find A Good Camera Angle
You want to find an angle that shows the most trail and action. Camera angles can make or break your videos, so you have to ensure that you are giving your viewers a first-person point of view through your videos.
2. Use the Proper GoPro Settings for Mountain Biking
It would be best to get the widest possible shot when taking videos during an MTB adventure. This way, your camera's lens will be able to mimic what you are seeing while making the video look stable.
3. Record Other Clips
If you plan to edit your videos, you need to have footage other than your actual ride. For instance, you can show what the trail looks like or take a clip of a good view.
You can use these clips as transition shots when connecting one video to another.
4. Let Your Viewers Hear the Trails
Some people remove the original sound of their videos and use music instead. But if you want your videos to bring viewers into the scene, retaining the actual sound of the trail will give a more realistic feel.
If wind noise worries you, you can always look for software with a noise reduction feature. (source)
Best GoPro for Mountain Biking
There is a plethora of GoPro cameras right now. This number of choices makes it difficult for mountain bikers to find the right action camera.
With the right GoPro and the proper GoPro settings for mountain biking, you can get high-quality videos of your adventures.
The GoPro lineup keeps improving as time passes, with the HERO10 Black being its latest creation.
The GoPro Hero10 Black has GoPro's new processor, making it smoother and slicker than other action cameras. It has a 5.3K video resolution and can shoot at 60fps.
Even better, the HERO10 Black features the brand's HyperSmooth 4.0. For this reason, your footage will be smooth and stable.
DIY MTB Pro Tip: If you want to get the right GoPro, check out this article Best GoPro for Mountain Biking. I've even got a review of some budget alternatives in Best Budget Action Camera for Mountain Biking
While this action camera is expensive, the price is all worth it as it is water repellant and scratch-resistant. It even has a horizon leveling of up to a 45-degree tilt.
The GoPro HERO10 Black can help you take professional videos while mountain biking with all these features combined. (source)
The Final Shot
A GoPro is a must-have for every mountain biker. It allows you to take videos of the trails to rewatch them. You can even use these videos to find your weakness when climbing or going down a trail.
While GoPros settings can sound too technical, it is easy to adjust them if you know what each setting is for.
The GoPro settings above can be your starting point for customizing your footage. Once you get the hang of things, you can start experimenting with your camera settings to find the best setting for a given trail.
Looking for More Mountain Biking Video Tips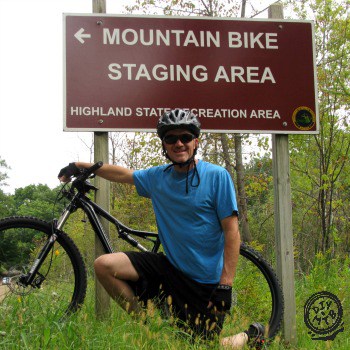 David Humphries is the creator of DIY Mountain Bike. For me a relaxing day involves riding my mountain bike to decompress after a long day. When not on my bike I can be found wrenching on it or making YouTube videos at 👉 DIY Mountain Bike Read more about David HERE.
Sources