Finding the best GoPro for mountain biking in your particular style can be a daunting task. You will barely see a cyclist who does not have an action camera mounted on their helmet or the bike itself. However, with many choices now available in the market, finding the right GoPro for your mountain bike can be a real challenge.
The truth is that the best GoPro for your mountain bike depends on your needs. But you still need to look at the features of the action camera you will purchase.
This way, you can ensure that you are getting the best out of your investment. Apart from knowing which the best GoPros are, you also need to know the proper way of mounting it either to your helmet or your handlebar. Knowing proper mounting will allow you to make sure that the GoPro will not fall off while riding on rough trails.
The Best GoPro for Mountain Biking: Getting the Best Model for Your MTB
GoPro has come a long way in the past years. It developed excellent features for action cameras, allowing it to cement its name among the best brands. From simple action cameras, the brand was able to create a variety of features. For instance, it now has a camera with 4K resolution and can stabilize and level pictures.
For that reason, GoPro action cameras became one of the most sought-after brands by mountain bikers. With GoPro, they can easily take videos of their every ride and share them on social media. However, choosing the best GoPro for mountain biking can be challenging due to the many models the brand has. So, if you are planning to get one, here are some of the best units to check out:
The good thing about GoPro is that it always strays from its templates and dares to try incorporating new features into its designs. As a result, it always has a new addition to its list of the best GoPro for mountain biking. With the GoPro Max, it incorporated a feature that allows the unit to be a 360 camera.
It is not the first time that GoPro tried to develop a 360 camera. In 2017, it released the GoPro Fusion, an action camera that can undoubtedly shoot fantastic footage. However, consumers did not take so much interest in it as it was complicated to use. For this reason, GoPro made sure that Max is simple to use. The camera has tie-in features on the GoPro app, making things extremely easy for you. You will only need to take a stable 360-degree video that is instantly shareable.
If you'd like to learn more here's a link to the GoPro Max on Amazon
Next, you need to access the app, click a couple of buttons, and the app will be responsible for doing the rest of the job. Moreover, the GoPro Max is three cameras in one unit. You can:
capture 360-degree videos in 6K resolution
shoot single-lens and HERO style videos
Additionally, this action camera has six built-in microphones, letting it record 360-degree audio. Another great thing about the GoPro Max is that it has a stabilization feature — the Max HyperSmooth. The brand claims that this feature is "the new king of stabilization." True to this claim, the visual benefits of the GoPro Max are pretty astonishing. With all these features combined, there is no denying that the GoPro Max is the best GoPro for mountain biking. (1)
GoPro proved the king of action cameras with the HERO8, an update to the GoPro HERO7.
The HERO 8 boasts itself for the HyperSmooth 2.0, a more polished version of the HyperSmooth. After some reprogramming and optimization, this feature now offers the best built-in stabilization for many action cameras in the market.
As a result, the HERO8 (link to Amazon for reviews and current prices) can provide you with good footage while you are mountain biking. For bikers who do not have much camera experience, getting a usable and non-shaky video while cycling on rough trails can be difficult. For this reason, it is essential to have the best GoPro for mountain biking, such as the HERO8. There are also four options for the lenses:
distortion-free linear
With these options, mountain bikers will be able to take videos of trails from different angles. The camera even has a TimeWarp effect with automatic speed selection. This way, you will be able to speed up or slow down your footage. Another thing that makes the GoPro HERO8 is that it is waterproof and robust. So, even if you need to ride on rocky trails or under the rain, this action camera will still work well. It is entirely waterproof down to 10m or 33ft. (1)
The HERO9, an update to the HERO8, is probably the most versatile action camera GoPro has ever made. Its new features (front display) provide great benefits in comparison to its predecessor. For this reason, it is safe to say that this action camera is among the best GoPro for mountain biking.
Two of the most significant updates featured on the HERO9 are the front display and the new sensor. It now has a 4K video resolution on its new 23.6MP sensor. For this reason, you will be able to shoot more detailed videos compared to what the HERO8 provides. But the greatest benefit that the HERO9 has is its electronic stabilization — the HyperSmooth Boost.
Read what 1000's of people have said about the HERO9 at Amazon with this link – GoPro HERO9 Black
Thanks to this update, mountain bikers will be able to capture videos with the brand's strongest stabilization in every available shooting mode. Additionally, the HERO9 has a new battery that boosts its lifespan a little. It even has a Scheduled Recording feature that lets you set when the camera will record footage automatically.
On the other hand, the new software trick called HindSight allows you to capture an action that already happened 15 to 30 seconds before you press the shutter. Moreover, this action camera is quite rugged, something that you would expect from a brand like GoPro. (2)
If you are looking for the best GoPro for mountain biking at an affordable price, you might want to check out the HERO5 Session. This mountain biking camera has a 4K image quality, allowing cyclists to capture videos with many details. The video stabilization feature makes the footage even better as it reduces the shakiness while the video is being taken. This feature also makes the images you take crisp.
The GoPro Session is super small and can be mounting all over your MTB. Reviewed by 1000's of loyal fans. Read more and get your questions answered with this Amazon link – GoPro HERO5 Session
Furthermore, this camera comes with a 1000mAH lithium-ion battery built-in. (3)
A few particular action cameras provided great leaps forward for GoPro, and the HERO7 Black is among them. It was the predecessor of the HERO 8 and 9. Additionally, it was the first GoPro action camera that had the HyperSmooth image stabilization feature. To put it simply, it was one of the reasons why the best GoPro for mountain biking, such as the HERO 8 and 9, were developed.
The HERO7 is available today with updates to the UI that lets you shoot 4K videos at 60p. It is why this GoPro model is still a highly polished unit for mountain bikers who want a waterproof action camera.
Great video, the latest firmware updates and the proven GoPro name. Great prices over at Amazon link – GoPro HERO7 Black
Additionally, this action camera has 12MP sensors and a wide-angle lens. Meanwhile, the video specs include 4K at 60fps and Full HD to a maximum of 240fps. The latter video feature can support 8x slowed-down video footage.
Moreover, GoPro boasts itself for this action camera line's stabilization system. According to the brand, the HyperSmooth is the best in-camera system for video stabilization, not only for action cameras but for any camera. Even better, the system's means of operation does not put any penalty on the HERO 7, 8, and 9's battery life.
Furthermore, GoPro also added the TimeWarp video feature to the HERO7. For this reason, you can turn a regular frame-by-frame time-lapse shooting into a stabilized hyper-lapse. That essentially means that you can take time-lapse footage without a tripod, allowing you to move the camera however you want. (4)
MTB Pro Tip: Looking for a way to mount a phone to your MTB? I love my Quad-Lock it secures perfectly and keeps my phone in a convenient spot. Highly recommended, I reviewed the mount in this article. How to carry your phone on an MTB.
5 Tips For Installing The Best GoPro For Mountain Biking
An action camera does not only allow you to take footage of your entire ride. Instead, you can also record your movements. That includes the unfortunate fallbacks, misdirected movements, and wrong placing of weight. This way, you will be able to prevent yourself from making the same mistakes in the future.
But before you can record videos while riding your MTB, you first need to make sure that you have installed your action camera correctly. Even the best GoPro for mountain biking will not stand a chance of capturing usable footage if it keeps on shaking due to unstable installation.
That said, we have gathered some useful tips for you to mount your GoPro on your MTB correctly.
Mount Your GoPro To Your Helmet
The best place to install your GoPro is probably your helmet. Most MTB riders prefer to use the top mount to ensure that the bike's vibration will not affect the action camera. But if you will mount your GoPro at the top of your helmet, you need to refrain from cycling at high speeds. The reason is that the high speed can cause too much wind, thus affecting the overall quality of your videos. Even the best GoPro for mountain biking will record low-quality videos if the wind keeps on shaking it.
Your head movements can also lead to poor recordings. But if you want to capture footage from behind you, this position is the best place to mount your camera.
Install GoPro on MTB's Handlebar
The best way to secure your GoPro on your mountain bike's handlebar is to get an appropriate handlebar mount. This area is the most convenient place for you to install your GoPro is your MTB's handlebar. With this mounting method, you will never have to take the adaptor off of your bike, thus preventing it from getting loose in the long run.
Another benefit of placing your GoPro on your bike's handlebar is that you will have a stable mounting location. It will also let you record videos of the trails in front of you. This way, you will give the video's viewers an experience similar to what you had during your bike ride.
With a sturdy handlebar mount, you can drive your MTB fast without worrying that the wind might affect the footage's quality.
However, the best GoPro for mountain biking is also affected by vibration. For this reason, you need to install it directly to the bar itself to prevent it from receiving too much vibration.
A GoPro chesty is a chest belt used to secure the best GoPro for mountain biking, making it perfect for cycling on rocky trails. This type of mount can provide you with a classic view shot that will frame your handlebars in the footage.
I like the view from a chest mount best when riding. Seeing the handlebars and a bit of the bike frame lets you know you're on an MTB. I own and recommend the GoPro Brand Chest Mount (Amazon link) the cushioned chest pad is super comfortable.
A chest mount is also the best tool to use if you plan to film your co-bikers who are trailing behind you. You can wear it backward, and you will be able to take videos of the bikers behind you.
This type of GoPro mount is also an assurance that your action camera will not drop while cycling uphill. Just like mounting the camera on the handlebar, a GoPro chesty will prevent the wind from affecting your video's quality. (5)
Looking for More Mountain Biking Video Tips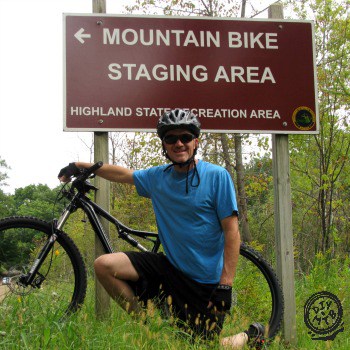 David Humphries is the creator of DIY Mountain Bike. For me a relaxing day involves riding my mountain bike to decompress after a long day. When not on my bike I can be found wrenching on it or making YouTube videos at 👉 DIY Mountain Bike Read more about David HERE.
Sources