Mountain biking helmets have evolved much like the bikes themselves. "Mountain Biking" is a relatively new sport originating in the 1970's. Using helmets back then was to avoid injury. Heavy, hot open face motorcycle helmets were used. Eventually the MTB helmet adopted a form following function design, hence the light weight, ventilated, safety helmets we have today – with visors.
Mountain Bike Helmets have visors for 3 primary reasons:
An MTB rider is more upright on a mountain bike as compared to a road bike. Allowing for a visor to block sun glare while still providing a clear view forward.
The visor provides increased protection during a fall.
MTB riders are typically moving slower than road bikes, so wind drag caused by a visor is not a concern.
---
It's important to stay safe on your mountain bike. Knocking your head on something is going to keep you out of the saddle so wear a helmet. Read more ways to stay safe on your MTB in this article – How to Fall Off a MTB and Ways to Avoid Injury.
---
Types of MTB Helmet Visors
SNAP-On Visors – Cheaper helmets will have snap on visors. I wouldn't advise getting this type. A simple slap from a branch will damage the snaps enough to break the visor off.
SCREW-ON Visors – A decent MTB helmet has the visor screwed on. The screws usually go into a molded nut, which allows some tilt adjustment of the visor. Another benefit of a screw on style is that you can remove it to clean out the debris that can collect between the helmet and visor – more about that below.
Molded-In Visors – use to be popular but you don't see them much anymore. The lip of the visor was significantly shorter which decreased the main benefit – glare reduction.
MTB With or Without a Visor?
In my opinion visors look cool, but I completely understand everyone has their own style. I get that outdoors feeling when I pick up my helmet. My wife has a helmet without a visor and I tend to think having a visor also reminds the rider to keep the helmet tipped down, which helps protect your forehead.
Sitting down and inspecting your helmet occasionally is a good pre-ride activity. Helmets go bad for a bunch of reasons, obviously an impact is a reason to replace it. Some subtle things to look at are the straps and clip lock. If your helmet flies off during a trash it isn't going to help much.
Can you Add a Visor to a Mountain Bike Helmet?
Soft flexible visors can be added to a helmet. Most attach with self-adhesive and Velcro™. Add-on visors are usually a little bit longer than standard visors with a length of approximately 3 inches. (depends on brand)
A popular brand on Amazon is the Salamander (Amazon link). Which is a fabric covered visor with a foam cell interior. From all the positive reviews, this visor comes highly recommended.
What Helmet Visor Length is Best?
This isn't a bigger is better thing, but more of what do you personally prefer. If you're more of a sunny day side walk biker a longer visor to protect your face and nose from the sun is probably best. Most visors are 2 inches long at the center.
A longer visor that sweeps down on the sides could limit visibility. I know for me, seeing a "shadow" in the corner of my eye is a bit distracting and will can shift my concentration off the trail.
What are Some Negatives of having a Visor on Your Mountain Biking Helmet?
Some of the single-track trails I ride get overgrown with leafy branches. My visor seems to catch these branches and strip the leaves off. Of course, the leaves get pinched between the helmet and visor.
A visor can be a pain if you're riding a long downhill and you'd like to get into a crouch like on a road bike to reduce wind resistance. The geometry of a mountain bike forces the helmet visor into your line of sight.
This last negative could be just my opinion, but it seems like I get a lot of bugs in my helmet. I would guess that those leafy branches I'm touching have bugs that get "funneled" into my helmet.
A visor helps shed rain if you're caught out is a downpour. Keeping rain off your glasses is great during a storm.
What Types of Mountain Bike Helmets are Available?
Traditional, with a visor. This is my favorite, to be honest I've got a weird shaped head. An oval shaped and the traditional style seems to fit best for me.
Check out all the styles of "Traditional" mountain bike helmets at AMAZON. This link goes to a group of HIGHLY rated Mountain Bike Helmets
The helmet that I recently upgraded to is the Smith Venture (sold on Amazon and delivered ASAP) It has the latest tech MIPS and fits me well.
Full Face, best for downhill for maximum protection. The helmets are heavier and hotter but offer the best protection to your face. When serious endos can mean a hospital stay choose a full face.
A popular Full Face Helmet is the Troy Lee Designs Downhill Full Face (link to Amazon for customer reviews and pricing) pictured above. It has hundreds of review on Amazon, check out the link for the latest pricing.
Half Shell, offers slightly less protection but still meets the safety standards for MTB Helmets. Because the helmet is more "engineered" the price is a bit higher. If you ride in a hot climate and want maximum ventilation check out a Half Shell.
---
When shopping for a MTB helmet, take your MTB glasses with you to make sure everything fits nice
Get the Right Fit on Your MTB Helmet
Comfort on your bike is important. Whether it's how your bike fits you or the fit of your helmet. TEST Fit a helmet before buying. Go to a local bike shop or REI and try some helmets on. Once you find one that fits nice shop for the best price.\
Are you looking for ways to get stronger on your mountain bike? I've found staying comfortable is one of the keys to building strength and endurance. Read these two articles that describe how to fit a mountain bike and stay comfy.

How to Make Your Mountain Bike More Comfortable
Safety and Comfort are worth spending a little bit of extra $$ so don't skimp. MTB Helmets can cost $15 but ask yourself – is it going to protect your head? A decent MTB Helmet with MIPS technology will cost from $65 to +$200. Budget $80 to $100 and protect yourself.
---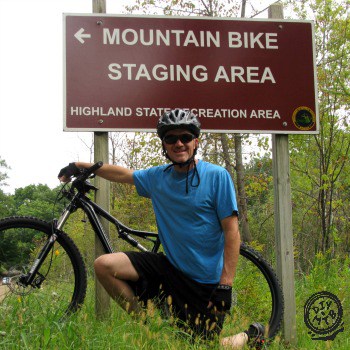 David Humphries is the creator of DIY Mountain Bike. The most relaxing days involve riding my mountain bike to decompress after a long day. When not on my bike I can be found wrenching on it or casting a fly on a small mountain stream. Read more about David HERE.