When cycling on rough trails, every biker needs to have the best sunglasses for mountain biking. It is easy to get a pair or two as there are tons of choices online now. However, it can be challenging to sort out the best ones due to many options.
The best mountain biking sunglasses should be able to protect your eyes from bright sunlight, be impact resistant and provide contrast to help pick the right line MTBing. They should fit securely without fogging up and still protect from dust and debris. The best sunglasses feel like a part of you. Impact safety, scratch resistance and comfort are paramount.
We have dug the internet to search for the best sunglasses for mountain biking. So, if you are planning to get a pair, stick with this article as we will review some of the best ones that we found.
MTB Accessories: The Best Sunglasses for Mountain Biking
Oakley is one of the best brands when it comes to sunglasses. It is the pinnacle of what the brand manufactures. Needless to say, it produces some of the best sunglasses for mountain biking.
The Radar EV Advancer belongs to the conservative aesthetic of the eyewear giant. You will even find this piece worn not only by mountain bikers but also by other cyclists. The reason is that it fits nicely on the face and does not fall off even when cycling fast downhill.
In terms of the features, the brand adopted the nosepiece of the Advancer to the Radar EV's frame. There is a flip switch placed over the bridge of your nose. You can use that switch to move the entire by approximately 5mm away farther from your face. This way, there will be additional airflow behind the lens, allowing you to de-mist it.
Get the Oakley Radar Sunglasses fast from Amazon link for prices and reviews – Oakley Radar EV Advancer
Additionally, you will not see the flip switch once you wore the Radar EV Advancer. So, it will not distract you while you are cycling. The cycling glasses also have a broad lens that extends down and around your face. Oakley also eliminated the edge, so you can see with the sunglasses if you need to look over your shoulder for cars. (1)
The Tifosi Jest Sunglasses is not only the best sunglasses for mountain biking. Instead, it is a pair of eyewear with multiple purposes.
These photochromic sunglasses not only fit comfortably, but they are also very clear. What's more, they are among the fastest-changing light-sensitive lens online. You can adjust the end of their arms to ensure a custom fit.
Hydrophilic rubber also wraps the arms, allowing them to fit comfortably while increasing the sunglasses' grip. The nosepiece also consists such rubber, so the sunglasses will stay in place no matter what direction you turn your head into.
Quick link to Amazon for current prices and reviews – Tifosi Jet Sunglasses
What makes the Tifosi Crit sunglasses even better is that it is not only the rubber that keeps it in place. Instead, it has frames made out of Grilamid TR-90, ultra-light nylon that weighs just around 31g.
According to the brand, this material is durable despite its weight. It can even withstand UV and chemical damage. So, the sunglasses are ideal for mountain bikers who stay under the sun for a long time.
In addition, the lenses of this eyewear come vented. For this reason, you will not have to worry that your vision might get blurry as the lenses will not mist up. Tosi even used a scratch-resistant and shatterproof polycarbonate to ensure that the lens will not acquire damage in the long run. Meaning the sunglasses will maintain their clarity even after using them for years. (2)
The best thing about the Bolle Bolt is that it is light and comfortable. Many sunglasses feel uncomfortable when worn as they sit too close to the eyes.
However, Bolle took note not to make such a mistake, allowing it to produce sunglasses that sit perfectly on every biker's face. This reason alone is enough to prove that the Bolle Bolt is one of the best sunglasses for mountain biking.
Read more about what others are saying about the Bolle Bolts with this link to Amazon – Bolle Bolt Sunglasses
Taking a good look at the significant features, these cycling glasses have:
Thermo grip nose pads and temple arms
photochromic lenses
hydrophobic coating
The Thermo grip pads on the nosepiece and temple arms promise comfort. You can even adjust the nosepiece for it to fit on every face shape and size. The adjustability feature allows the sunglasses to anchor in just one spot and not move regardless of how shaky the ride is.
On the other hand, the photochromic lenses adjust very well depending on how much sunlight there is. This way, you will not suffer from glare, and the lenses will not be too dark when you are not in well-lit areas.
Finally, the hydrophobic coating ensures that the lenses will repel water if it rains while biking. The lenses also have oleophobic properties, so there will be no smudging when riding your MTB on muddy areas.
Even better, the Bolle Bolt features the Trivex NXT lenses. This material is lighter than polycarbonate and provides greater impact resistance and shock. (3)
Pro Mountain Biker Tip: Read this article by Hannah Finchamp – 10 Ways to make your MTB more comfortable.
These cycling glasses boast themselves for their full-frame construction and trailing corners of the frame. These corners hide behind the frames to make the sunglasses look like they have a half-faced design. The removable lens also has a modern oversized trend and small mesh venting ports to support airflow.
Moreover, the frame and its arms have a translucent effect, which makes the design stand out. It is safe to include the Speedtrap in the best sunglasses for mountain biking due to its impressive features. This eyewear boasts itself for its clarity-boosting Hyper lens.
Great reviews, built for riders, in stock…get 100% Speedtrap – link to Amazon
In addition, these eyeglasses have a frame with a flexible top. For this reason, replacing the original lens with the extra clear lens is very easy.
The Speedtrap sunglasses have a nose pad and ear stocks that hold the eyewear in place. These glasses also provide wearers with a clear vision. Additionally, there are approximately one-centimeter gaps beyond the left and right eye movements of the wearer. However, that is not a problem at all.
That is because the gaps provide airflow along with the mesh vent. So, you won't have to worry that the lenses might fog up. (4)
These mountain biking sunglasses come with two lenses:
rose flash pink lens
grey lens
The rose flash pink lens is intended for lowlight conditions. Meanwhile, the grey version is for when there is too much sunlight.
Smith Sunglasses are are to mountain biking like gears and chains. Fantastic sunglasses and designed for mountain biking – Amazon quick link – Smith Attack Max
Additionally, the Smith Attack Max comes in six various frames for you to choose from. These frames have three different colors:
one frame has a green mirror lens
two frames have a platinum mirror lens
three frames have a red mirror lens
Moreover, all six frames feature ChromaPop. Smith Attack Max's measures 53mm deep and has a raised part just above your eyes. This feature is intended for excellent coverage even when you bow your head down. For this reason, there will only be little unfiltered light getting into the gaps of the eyewear.
The temple grips of these eyeglasses also hold exceptionally well, not to mention it is comfortable. Meanwhile, the rimless lens will flex with ease, thus providing a close fit. So, you can be at ease knowing that your sunglasses will not fall off while riding your mountain bike.
Smith made changing lenses hassle-free with the Attack Max. At the end of each side arm clip, just on the side of the lens, you will find a pincer. A strong magnet holds this pincer in place, so you can easily swap lenses whenever you need to.
Pro Tip: Mountain biking with glasses has some challenges. Find some solutions in this article – Mountain Biking with Glasses: Tips and Tricks
Furthermore, you can swap the nosepiece over to change its width. Indeed, the Attack Max sunglasses by Smith is among the best sunglasses for mountain biking. (5)
Some Great Tips to Choosing Mountain Biking Sunglasses
While wearing a protective eyepiece is essential, it seems that only a few bikers ever really mention the significance of finding the best sunglasses for mountain biking. The reason is that getting a good pair or two is as fast as tapping a few buttons on your phone. For this reason, checking what set is ideal is easily forgotten.
True enough, sunglasses may not make your ride a lot better. But wearing the wrong pair can lead to inconvenience. For instance, frames falling off of your face, foggy lenses, or dust getting into your eye can hinder you from enjoying your ride.
For that reason, you need to know how to pick the best sunglasses for mountain biking:
Check the Fit
Much like any piece of clothing, your mountain biking sunglasses must fit perfectly to your face. That said, you need to consider the fit of your sunglasses and how they will combine with your helmet.
At most times, frames with straight temple arms are best compatible with helmets. It would help if you also looked for sunglasses with adjustable nosepieces. This way, you can have custom and secure fit eyewear.
Protection and Coverage
It can be painful to have a speck of dust or small debris stuck in your eye. It can even cause an accident, mainly when you are mountain biking on a rocky path. So, you need to wear the best sunglasses for mountain biking to ensure your safety.
Most of the cycling glasses available today provide ample coverage, including the sides. They also have massive lenses that are similar to goggles. While the size can be overwhelming, it already became a trend. What's more, the huge size of the lenses can cover and protect the wearer's entire field of vision.
Mind the Weight
Most sunglasses for mountain biking are lightweight. The reason is that if manufacturers did not reduce the weight, the gravity would pull the sunglasses down your face, which is rather inconvenient.
In addition, the lighter your sunglasses are, the less you will notice them while you are cycling. This way, you will be able to focus on mountain biking. Of course, you would not like minding your sunglasses, thinking that it might jump once your bike shakes while driving on rocky trails, right?
MTB Pro Tip: assessing, fitting and selecting MTB sunglasses is tough. Pro MTB rider Hannah Finchamp has put together an amazing article – Mountain Bike Sunglasses (A complete guide to selecting the best)
The Lens Shape and Tint
You need to consider one more factor when choosing the best sunglasses for mountain biking: the lens shape and its tint. Do you need a light-colored lens or a tinted one? Should you go for a big or small lens? Regardless of your choice, there is a vast array of options offered by different brands.
The lens tint comes with both advantages and disadvantages. But the most important thing to take note of is that the tint must not be too dark. You might not see the trail or road you are cycling on in lowlight conditions if it is. Similarly, the lens must not be too clear, or it will not be able to protect your eyes from the bright sun.
To ensure that you have the right lens color, it is ideal to opt for photochromic lenses. Such a lens type adjusts tint depending on the amount of light that it receives. For this reason, it is perfect for cycling on trails with variable light conditions.
Lens Material
The material used for the lens of your sunglasses will affect their weight, clarity, and even the cost.
Moreover, the best sunglasses for mountain biking has four different lens materials:
polycarbonate
polyurethane
acrylic
brand-specific
Polycarbonate possesses durability, excellent impact resistance, and clarity. Polyurethane is the most expensive among the five materials, yet it also has the best resistance to impact. It is also flexible and will fit nicely on your face. So, if you have the budget, a lens made of polyurethane is the best sunglasses for mountain biking.
On the other hand, acrylic is the most inexpensive material for cycling glasses. If you plan to purchase acrylic cycling glasses, you need to be aware that they tend to distort images a little. So, such is only ideal for training.
Furthermore, brand-specific lens materials come from eyewear manufacturers who have developed and patented their lenses. For instance, Oakley created lenses blended with polycarbonate to ensure their durability. Such can also be the best sunglasses for mountain biking. (6)
---
Learning about Mountain Bike Tires could take years. Let me help you just a bit quicker with some articles.
---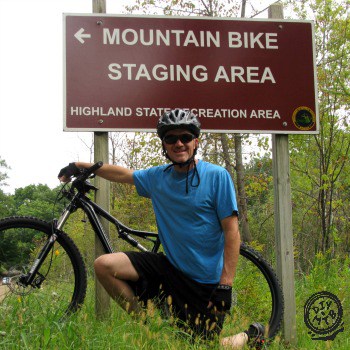 David Humphries is the creator of DIY Mountain Bike. For me a relaxing day involves riding my mountain bike to decompress after a long day. When not on my bike I can be found wrenching on it or making YouTube videos at 👉 DIY Mountain Bike Read more about David HERE.
Sources