If there's one part on my bike that I took for granted in my first year of mountain biking, it was my derailleur hanger. The problem I had was that my bike was a Frankenstein model, a mix-match of various parts and components. I built the bike out of spare parts, and I had no idea who made the derailleur hanger.
Derailleur hangers come in a variety of odd shapes and sizes to suit the numerous and varied models of bike frames and derailleur systems. Therefore, derailleur type determination requires identification by one of five parameters:
Number of fasteners
Axle diameter
Mounting position
Mounting method
Special additions
Depending on what manufacturer and year of the model you have, you may get a universal derailleur hanger if one of the original OEM ones isn't available for your bike model. I'll explain each of the five identification parameters; then, I'll get into some universal and emergency options for you, so stick around for the ride.
If you want to get back to the basics, read this article – What is an MTB Derailleur Hanger
Identifying What Derailleur Hanger You Need
As mentioned earlier, there are five parameters you need to observe if you are to identify the correct derailleur hanger to use on your MTB. Let's roll with each quickly to ensure we're on the same page.
Number Of Fasteners
Most older derailleur hangers mount with several screws. Some mount with one, some with two, and some with three. Significantly few mount with more than three screws.
Axle Diameter
The axle diameter can also help you to identify the correct type of derailleur hanger. The axle diameters commonly found on MTBs are:
Mounting Position
The mounting position of the derailleur hanger can help you to identify the type you need. The following types are common:
Inside frame mount
Outside frame mount
Clamp/fork mount
Other
Mounting Method
Ordinary derailleur hangers mount via one of three methods:
Standard mounting method
Standard mounting with a B-link adapter also called a Goat link
Direct mounting method
Special Additions
Some specialty frames use specialty derailleur hangers that only work with a particular combination of frame and derailleur. Sometimes you will have a derailleur hanger with a particular threaded post protruding from the hanger body. These customized designs should be pretty easy to identify if you know the brands of frame and derailleur.
Universal Derailleur Hangers For Newer MTBs
There are two big derailleur manufacturers in the MTB space: Shimano and SRAM. The good thing about only two significant brands of derailleur in the MTB world is that you likely only have one or the other in most cases. And with that, there will be a limited number of potential rear derailleur hangers.
However, back in 2019, a rumor started that SRAM came out with a universal derailleur hanger. And so they did. The universal derailleur hanger is a masterful bit of engineering because it works with all commercially available MTB and even E-MTB systems. That includes Shimano, Box, and Sunrace, according to the SRAM website. (source)
You can find all of the exact frame specifications for the universal derailleur hanger by SRAM here.
The universal derailleur hanger, or UDH as some call it, is a fascinating $15 device. The manufacturer states that a feature built into the device allows it to rotate back to avoid damage to your derailleur if your chain jambs.
Similarly, in case of impact, the derailleur again is designed to move to aid in withstanding crashes. There's nothing worse than a broken derailleur hanger when you're several miles into a trail, so this feature is highly acclaimed.
The downside? This UDH is not backward compatible with older models of MTBs or those designed differently than the rear dropout standards that make the UDH work with so many models.
If all of this seems confusing and you want a bike shop to install the hanger, check out this article – How Much Does it Cost to Replace a Rear Derailleur?
Older MTB Derailleur Hangers
If your mountain bike is an older model, then you may not be able to use the universal derailleur hanger. Not only that, you may find a difficult time obtaining a genuine OEM replacement if the model is now defunct.
Luckily, there are a number of companies that make aftermarket rear derailleur hangers for just such an occasion. Elanusparts.com is one such company based in Europe that offers over a thousand rear derailleur hangers and components to suit nearly every make or model of bike.
If you're in North America and don't want to ship overseas, you should look at Wheels Manufacturing, LLC. They also offer a ton of different rear derailleur hangers to suit many models.
Derailleur Hanger Replacement Procedure
Changing out a rear derailleur isn't a tremendous job. There are, however, a few essential steps that will make your life easier when it comes to performing this repair. I've changed plenty of rear derailleur hangers in my day, so stick with me for this. There might be something you find out that makes it easier for you.
What You'll Need
The key to having an easy repair is having the right tools for the job. So, before you start, ensure you've got the right tools. You'll need to remove the rear wheel, derailleur, and existing derailleur hanger. Most of the time, the following tools are preferred:
A set of Allen keys also called hex keys.
An adjustable wrench or socket set to suit the rear wheel axle if not a quick release.
A bike repair stand or flip the bike over and rest on the seat and handlebars
Grease
Rags (to clean up)
Steps To Follow For Rear Derailleur Hanger Replacement
One of the most critical aspects of the following instruction is the concept of keeping things clean. I mention that you'll need rags. It is not an overly messy repair by any means, but you don't want sand grains in between components on the rear frame, so I'm stressing the importance of cleaning at every step.
Start the process by setting up your bike on your bike stand. If you don't have a bike stand, flip the bike over to rest upside down on handlebars and seat. However, if doing this, I recommend laying down a few rags, so you don't scratch your handlebars or seat on the ground.
Move the chain to the smallest cog.
Remove the rear wheel.
Remove the rear derailleur.
Remove damaged rear derailleur hanger.
Inspect rear drop out.
Clean rear drop out.
Apply a small amount of grease to the frame.
Install new derailleur hanger.
Install derailleur to the new hanger.
Reinstall the rear wheel with the chain on the small sprocket.
Test the bike derailleur by shifting through the gears.
Simple process, right? It's easier than it sounds. The real trick is finding the correct replacement derailleur hanger. Especially if you have an older model bike, but if you have a newer bike that is compatible with the new UDH from SRAM, I would buy two – one for the bike and one spare.
MTB Tools I Love and Recommend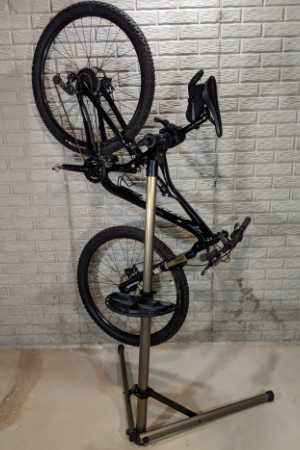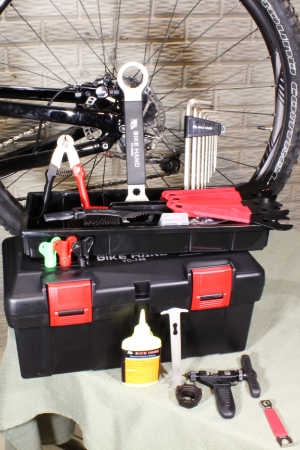 I own each of these tools and only recommend things I own and use.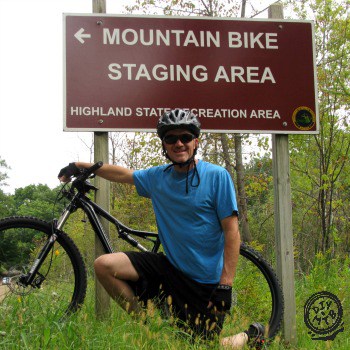 David Humphries is the creator of DIY Mountain Bike. For me a relaxing day involves riding my mountain bike to decompress after a long day. When not on my bike I can be found wrenching on it or making YouTube videos at 👉 DIY Mountain Bike Read more about David HERE.