The best mountain biking backpack is essential for long trail rides. The reason is that you will need to bring plenty of essentials, especially water, to keep things on track. However, you first need to know what backpack can provide you with such a benefit.
The TETON Sports Oasis 2-Liter Hydration Pack is the best backpack for mountain bikers. It has a 2L water capacity and plenty of storage for the essential items all riders need. It also has sections to keep things separated and organized.
Best Mountain Biking Backpack
Backpacks are an essential item for mountain bikers. This item carries their essentials such as water and first aid kits. Even better, a good backpack can even protect your back a little in case you crash.
Moreover, the best mountain biking backpack should have a lot of water storage. It should also have sectioned storage spaces for optimal organization.
But with so many MTB backpacks available, there is one that stands out – the TETON Sports Oasis.
TETON Sports Oasis 2-Liter Hydration Backpack
This hydration backpack boasts quality and affordability. It has an 18L capacity and includes some features that you can only get from expensive packs. For instance, it has a sewn-in rain fly kept in a Velcro pocket. This feature can protect your belongings if rain suddenly falls.
Moreover, the TETON Sports Oasis backpack is so popular that one user said, "I picked up this TETON Sports Oasis 2-Liter Hydration pack to replace a bulkier standard backpack, and I couldn't be more pleased with its performance, capacity, and looks."
DIY MTB Recommendation: Have you ever found a product and just feel confident to recommend it? The Teton Sports Oasis is like that for me. If you want to read more great reviews and check the prices here's a link to it on Amazon – Teton Sports Oasis 2-Liter
The Features
| | |
| --- | --- |
| Size | 18.5″ x 10″ x 7 |
| Weight | 0.9kg. |
| Material | 210D weatherproof honeycomb ripstop polyester and 600D polyurethane |
Two-Liter Hydration Bladder
Mountain bikers need to have enough water when on trails. Fortunately, the TETON Sports Oasis has a two-liter hydration capacity. This hydration pack features a tube for easy sipping and a push-lock cushioned bite valve for easy opening and closing. Even better, the hydration bladder is leak-proof.
Moreover, you can remove the hydration bladder if you need more space for your items.
Thick Padding
The backpack is comfortable to carry due to its thick padding on the back panel. Even better, the chest and shoulder straps also have paddings. For this reason, you can carry the backpack effortlessly regardless of how heavy its content is.
Adjustable Fit
The best mountain biking backpack should fit any body frame. Such is something that the TETON Sports Oasis backpack can do. If the pack feels too tight or loose, you can easily adjust the waist, shoulder, and chest strap.
That way, you will feel comfortable and stable while conquering trails.
Moreover, the chest strap has an anti-shock system that absorbs bouncing for easy mountain biking.
Safety Features
This mountain biking backpack has a reflective trim, which lets others see you easily at night. There is also a loud safety whistle on the chest strap. This way, you can ask for help in case of an accident. (source)
How Do I Choose a Mountain Biking Backpack?
The best mountain biking backpack is practical for riding on trails. These packs are easy to find as they come in all sizes and prices.
However, the backpacks that you will find in the market do not have the same objectives. For this reason, you need to know how to choose the right mountain biking backpack for your next ride.
1. Identify Your Needs
There are different kinds of mountain biking backpacks. These packs have features that can meet your needs and requirements. But one thing in common is that they all have a hydration pack to quench your thirst.
That said, you can choose between:
Lightweight pack
Trail pack
All-day pack
2. Lightweight Backpack
This mountain biking backpack holds approximately 1L of fluid. It also has a space for your essential tools, such as your car keys, first aid kit, and bike repair equipment. Such a pack is suitable for regular mountain biking that lasts approximately an hour in length.
3. Trail Pack
The trail pack is the most common mountain biking backpack you will see among mountain bikers. It can carry 2L of water and has enough sections for tools and food.
Additionally, a trail backpack is suitable for rides lasting about two to three hours.
4. All-Day Backpack
This backpack is ideal for all-day adventures. Most all-day packs have a 3L hydration bladder and about 10L of storage. For this reason, there will be a lot of space for your rain jacket, tools, and snacks.
4. Ventilation
The best mountain biking backpack should have foam padding at its backside and straps for comfort. However, this comfortability feature can be hot to wear.
For this reason, you need to look for a backpack that has a ventilation design on the paddings. This ventilation keeps air flowing within the back, padding to your skin, thus reducing the heat that you feel.
5. Fit
Your MTB backpack should have the right fit for a comfortable ride. Riding on rough trails with your pack slipping or rubbing across your back while you conquer terrains can be uncomfortable.
That said, your backpack should fit your body perfectly. You should also make sure that the pack has a lot of adjustability in height to make sure that it sits comfortably across your back. (source)
Helmets, Sunglasses and Mountain Biking are a Perfect Mix – Read More
---
Do I Need a Hydration Pack for Mountain Biking?
There is an increasing popularity in long travel mountain biking. The long hours that bikers spend on the trail require enough essential items, such as water, food, tools, and other necessities.
As a result, mountain bikers have embraced the idea of bringing backpacks to their rides. Even better, mountain backpacks now have hydration packs that can carry enough water for a whole day of the ride.
That said, do you need a hydration pack when mountain biking? Most mountain bikers need a hydration bladder. The reason is that pedaling for long hours can cause you to lose some water. If the weather is hot, this water loss can even cause dehydration.
Moreover, below are the other reasons why cyclists need a hydration pack:
It Helps You Combat Dehydration
Not having enough water can lead to muscle cramps and fatigue when mountain biking. It can even lead to heat exhaustion and heatstroke. That said, the best mountain biking backpack should allow you to bring enough water throughout your ride.
Fortunately, hydration packs allow you to do just that. You can even bring enough water using this backpack for a whole day of cycling. (source)
Easy Drinking
A hydration pack has a tube that lets you drink easily without stopping pedaling. Even better, this tubing has a bite valve that opens easily and closes tightly to ensure no leaking. (source)
What Should I Carry While Mountain Biking?
One of the best things about mountain biking is that it allows you to journey as far as possible. However, this factor also means that it will be on your hands to address the problem when an injury or mechanical problem occurs.
For that reason, you need to carry these necessities in the best mountain biking backpack:
DIY MTB Tip: If your looking for a list of what to carry, check out this article – Mountain Bike Tools the Ultimate List for On and Off Trail
Spare Tubes
Having two spare tubes inside your backpack is a must for a long mountain bike ride. The reason is that double flats can happen, especially if you suddenly hit rock gardens and jump with flat runouts.
Tire Pump
Spare tubes are worthless if you do not have a pump. A mini pump will work just fine if you have a small backpack. However, a CO2 inflator and cartridges are better as they will get you rolling quicker than a mini pump.
Multitool
It would be best if you never went mountain biking without a multitool. It does not take up much space compared to a toolbox but can still get the fixing that you need to be done.
Chain Lubricant
In an instance that you will encounter streams along the way, your best mountain biking backpack should have a small bottle of chain lube. This item is also beneficial if it rains while mountain biking.
DIY MTB Tip: Lubes and grease need to be applied correctly or you could prematurely wear stuff out. Read this article – Greases and Lubes for Bikes, Bearings, Chains and More…
First Aid Kit
The best mountain biking backpack is not complete without a first aid kit. A first aid kit inside a waterproof bag is a must.
It should contain gauze, bandages, tweezers, and disinfecting wipes. These items can help you or your co-cyclist when you encounter an accident.
Packable Rain Jacket
Even if the sun is high when you go mountain biking, rain is still a chance to fall. For this reason, you need to bring a lightweight rain jacket to keep you dry and warm if it rains. (source)
Are Mountain Biking Backpacks Worth It?
A pocket with snacks and a water bottle is enough for short mountain biking rides. However, such will not suffice when it comes to hardcore rides. For this reason, you need to have the best mountain biking backpack where you can put your essentials.
Not only a mountain biking backpack can help you carry your things, but it can also protect your back from minor accidents.
That said, a mountain biking backpack is worth purchasing, especially if you have a long ride. (source)
The Takeaway
A long mountain biking journey requires you to bring plenty of essential items. You also need enough water to keep you going, especially if the weather is hot. Fortunately, the best mountain biking backpack allows you to do that.
But if you think that the TETON Sports Oasis is too big for you, you can always purchase a smaller backpack.
However, you need to make sure that you get the one that fits perfectly for you. This way, you can ensure the comfort of your ride regardless of whether you have a heavy pack on your back.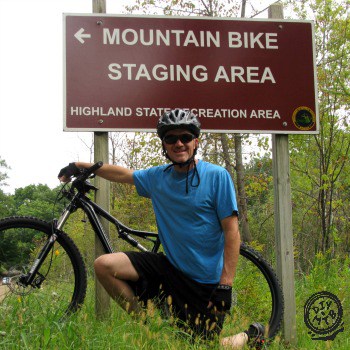 David Humphries is the creator of DIY Mountain Bike. For me a relaxing day involves riding my mountain bike to decompress after a long day. When not on my bike I can be found wrenching on it or making YouTube videos at 👉 DIY Mountain Bike Read more about David HERE.
Sources
"TETON Sports Oasis Hydration Packs; 2-Liter Hydration Backpack with Water Bladder; For Backpacking, Hiking, Running, Cycling, and Climbing." Amazon. Accessed December 10, 2021. https://www.amazon.com/TETON-Hydration-Backpack-Climbing-Included/dp/B00OXPC074.
Helena Kotala, "An Intro to Hydration Packs." How to Choose a Hydration Pack for Mountain Biking (blog). November 1, 2016. https://www.singletracks.com/mtb-gear/how-to-choose-a-hydration-pack-for-mountain-biking/.
Marie Spano, Laura Kruskall, D. Travis Thomas, Nutrition for Sport, Exercise, and Health. USA: Walsworth, 2018. https://books.google.com.ph/books?id=dvR6DwAAQBAJ&printsec=frontcover&dq=dehydration+symptoms&hl=en&sa=X&ved=2ahUKEwiy_I_9stv0AhUsp1YBHVMGC3IQ6AF6BAgEEAI#v=onepage&q=dehydration%20symptoms&f=false.
Eric Wolfe, Dayhiking. Exploration Guides, 2013. https://books.google.com.ph/books?id=0bv3uk8jwPIC&pg=PT62&dq=hydration+pack+tubing&hl=en&sa=X&ved=2ahUKEwjFhdj7tNv0AhVTZt4KHdEbC70Q6AF6BAgEEAI#v=onepage&q=hydration%20pack%20tubing&f=false.
Spruce Goose Enterprises, Mountain Biking – Planning An Expedition. Spruce Goose Enterprises, 2010. https://books.google.com.ph/books?id=1t2pwCqj_ugC&pg=PP6&dq=What+Should+I+Carry+While+Mountain+Biking?&hl=en&sa=X&ved=2ahUKEwij-a3As9v0AhXIfd4KHX31BzMQ6AF6BAgIEAI#v=onepage&q=What%20Should%20I%20Carry%20While%20Mountain%20Biking%3F&f=false.
Clive Forth, Mountain Biking Pocket Guide. UK: Bloomsbury Publishing, 2012. https://books.google.com.ph/books?id=o9MTsAVvDJ0C&pg=PA35&dq=should+i+bring+a+mountain+biking+backpack&hl=en&sa=X&ved=2ahUKEwjqqOPFtNv0AhWGd94KHU7JAeEQ6AF6BAgIEAI#v=onepage&q=should%20i%20bring%20a%20mountain%20biking%20backpack&f=false.