Mountain biking is an extreme sport. You may not ride your bike hard, or you might be a downhill adrenaline fan; either way, your bike will inevitably break down. When it does, you'll need to visit a bike repair station. However, depending on where you live and who you talk to, a bike repair station might mean one of several things.
I'm going to lend a mower to this proverbial thicket to cut through the noise and bring you a clear understanding of the bike repair station. I'll discuss all three, from the one you might pay a visit to the one you set up at home in your garage.
What is a Bike Repair Station? – The 3 Fundamental Types Explained
You understand that a bike repair station is a place where bicycles are repaired. The term station indicates a likelihood that there are multiple required tools or pieces of equipment that one would need to complete a primary repair. Of course, this is just an assumption as there are no laws concerning what exactly constitutes a repair station versus a repair shop, for example.
However you like to look at it, there are just three types of bike repair stations:
The Public Access Bicycle Repair Station
The Private Commercial Business Bicycle Repair Station
The Private Residential Bicycle Repair Station
The Public Access Bicycle Repair Station
Publicly accessible bicycle repair stations are becoming more and more popular in parks across the nation. In order to encourage cycling and healthy living, many municipalities are turning to fund exercise programs to decrease economic strain on health care systems from an overabundance of obesity-related issues.
Did You Know? According to the Centers for Disease Control and Prevention (CDC), the US obesity prevalence was 42.4% in 2017-2018. Cycling is a great way to stay on the healthy side of that statistic. (source)
Public access bike repair stations typically carry all the essential tools you may need to perform a primary repair. These stations are equipped to handle repairs like:
Replacing a flat tire
Pumping a low tire
Trueing a wheel
Adjusting brakes
Adjusting derailleurs
Tightening components
Depending on the specialty bike parts you may or may not have or the extent of the repair required (you're not likely going to find a mig welder to fix a cracked frame, for example), you might not find the precise tool you need for a repair.
The other downside to public repair stations is that there are no parts. So, you might be able to change an inner tube, but you'll need to have the spare with you.
Public bike repair stations are great when they exist and if they have what you need when you need it. However, most are located on friendly, gentle, paved city parks that don't require a mountain bike. So, unless you're doing some gentle Sunday riding in the city park, you may not come across a public access bike repair station. If you find one on a good MTB trail somewhere, let me know in the comments below because I'd love to check out the trail.
Do bike repair stations have pumps?
You may be wondering about publicly accessible bicycle repair stations whether or not they have pumps for your bike tires. Most of the bike repair stations, almost all, do indeed have pumps. However, not all are set up for both Presta and Schrader valves. Many of these public bike repair stations are only equipped to deal with the standard Schrader valve you'll find on most big box department store bikes. In other words, the valves that are on the majority of cheaper bikes sold.
If you ride with only Presta valves, you may want to carry either a Presta-friendly portable air pump or a set of valve adapters.
The Private Commercial Business Bicycle Repair Station
If you're an avid mountain bike rider like me, then you have seen this before: a bike shop repair station. Most people just refer to them as a bike shop, and it's implied that they repair bikes on site. This fact makes them technically a bicycle repair station.
The one thing that separates the public access bike station from the commercial bike shop is, you guessed it, one's free, and the other is decidedly not free. The bike shops all operate to make a profit, and who could blame them? If you are good at something, never do it for free, as the line goes (I believe it was the Joker played by the late Heath Ledger in the Batman movie).
Bicycle repair stations like those inside most bike shops will have all the tools, parts, and expertise to repair your bike the right way. The problem is that sometimes you have to wait a few hours or even days to get your bike back (depending on the repair and the line up ahead of you). Oh yeah, and you have to pay for it.
I have a few favorite bike shops I'll go to when a repair is over my head, but I try to do things myself for the most part. That leads me right into my favorite type of bike repair station: The home repair station.
The Private Residential Bicycle Repair Station
As mentioned, I like to tinker with my bikes and do whatever repairs I can myself. It means that I've bought a lot of tools over the years and have a BikeHand repair stand at home that I use to hold my bike in a suitable repair position and height (as you can see in the above image).
Not only is having a repair stand in my garage really handy, but I've also set up two sorts of repair stations for my bikes. First, I set up a small area where I keep my bike stand out and handy with a few tools and a towel to catch the oil when I oil it after cleaning. Second, I have a basic tool kit setup for my MTB which can go in the car with the stand if I want to take my bike repair station on the go.
Speaking of tools, if you're looking to start a bike repair station of your own, then take a look at this MTB Toolbox by By BikeHand. It's a 37-piece box that's portable and has all the essential tools you're going to need to repair your typical mountain bike. I recommend it; it's well worth it for getting yourself set up.
Is A Bike Repair Stand Worth It?
In my experience, a bike repair stand is worth its weight in gold if you love your mountain bike. Any MTB rider worth their salt will have a bike stand at home, in my opinion. As I mentioned earlier, I like the BikeHand repair stand and have one myself that you can see in several of my videos on YouTube.
---
Learn more about Pedals, Handlebars and Brakes
---
---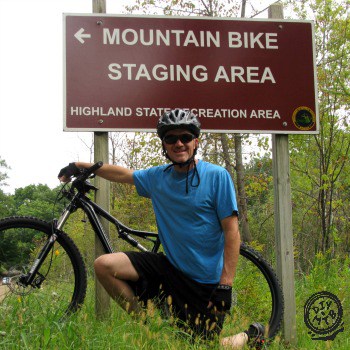 David Humphries is the creator of DIY Mountain Bike. For me a relaxing day involves riding my mountain bike to decompress after a long day. When not on my bike I can be found wrenching on it or making YouTube videos at 👉 DIY Mountain Bike Read more about David HERE.