Mountain bike camps are the perfect way of getting concentrated focused saddles time. Coaches, trails and locations are selected to not just improve your skills, but exponentially improve strength, picking lines and improving skills at speed.
Over the years, mountain biking became extremely popular, prompting many enthusiasts to build dedicated MTB camps and trails. So, if you want to get the best mountain biking experience, you need to know where you can find the best mountain biking camps and trails.
There are many MTB camps in different states, but some of the best ones are:
Wasatch Crest Trail
Mr. Toad's Wild Ride
Snowmass Bike Park
Massanutten Resort
North Table Mountain
These camps are only a few of the go-to destinations that you need to see. (source)
Mountain biking is no doubt one of the most popular sports right now. So, if you want to experience the best MTB ride, you need to know what mountain bike skills you need to have.
Mountain Bike Camps Near Me: The Top 10 Choices
One fantastic thing about mountain biking is seeing the dedication of cyclists in building excellent mountain bike trails. With the constant development of mountain bike camps, travel-thirsty cycling enthusiasts continuously search for the next MTB camp they should try.
Additionally, if there is something that everyone would agree with, it is the fact that people love biking. In fact, cycling got the name "the new golf" in 2016, and USA Cycling saw a 76 percent increase in the number of people who took a cycling license from 2002 to 2013. Needless to say, cycling is here to stay and develop further in the coming years.
If you are itching to try cycling as a sport, you should try looking for "mountain bike camps near me." These mountain bike camps will teach you how to ride dirty up and down trails while giving you the best mountain biking experience of your life.
1. Massanutten Resort – McGaheysville, Virginia
Beginners and professional mountain bikers will fall in love with the spectacular view of this mountain bike camp. It is located right in the Blue Ridge Mountains and the Shenandoah Valley. For this reason, mountain bikers will have a perfect spot for sightseeing after almost three hours of cycling.
If you sign up for this mountain bike camp, you will get a 75-minute lesson and safety gears including:
a helmet
knee/shin pads
elbow pads
In addition, you will get to use the beginner and intermediate skills. This way, you will be able to hone your skills without worrying that there are advanced riders who are barreling down the mountain.
If you are from McGayheysville, Virginia, and you are searching for "beginner-friendly mountain bike camps near me" on the internet, the Massanutten Resort is a perfect spot for you. (source)
2. Mr. Toad's Wild Ride – Lake Tahoe, California, and Nevada
While searching for mountain bike camps near me, I came across Mr. Toad's Wild Ride in Lake Tahoe. It is an iconic technical, rocky, yet fun descent that lets advanced cyclists experience riding a satisfying 6-mile downhill.
The upper part of the camp is much more technical than its starting point. So, if you want to try riding this trail, you need to observe your speed and make sure that you are wearing a helmet.
Additionally, the upper section of the trail has many huge drops and big rocks. There is even a huge stair-step section that you will quickly come across. For this reason, this mountain bike camp is not ideal for beginners.
But if you have some moderate to advanced experiences in mountain biking, Mr. Toad's Wild Ride is a spectacular adventure that awaits you.
Moreover, one of the most popular ways to ride this MTB trail is to loop it up to the direction of Fountain Place, Armstrong, Rim Trail and ride down Toads for an approximately 20-mile loop. On the other hand, you can also shuttle up to the Big Meadow TRT parking area and ride up from there for a three-mile climb to the top. (source)
DIY Mountain Bike Tip: Tires make a huge difference in how your bike will handle.  Different tires are made for different terrain.  Read tire articles about: MUD, SAND and ROCKS.
3. Wasatch Crest Trail – Park City, Utah
A must-ride mountain bike camp in Park City, Utah, is the Wasatch Crest Trail. But before anything else, it is essential to note that this trail is not for the faint of heart. The Wasatch Crest Trail requires mountain bikers to have a minimum strong fitness level and moderate to advanced mountain biking ability.
But if you are not new to mountain biking, this camp will reward you with Wasatch's fantastic views. You will see these views while you are cycling through the saddle of Parleys Canyons and Big Cottonwood.
Moreover, this mountain bike trail ranges from simple ridge line technical sections to fast and flowy grooves. With such a tricky trail, you will have to duck and dive through pine and tree branches. (source)
4. Snowmass Bike Park – Snowmass, Colorado
A mountain village near Aspen, Colorado, turns into a mountain bike camp as soon as the snow melts. Known as the Snowmass Bike Park, this two-wheeled oasis has:
chair lifts that offer direct-to-trail access
maintained trails
tracks that stretch to 80 miles
pro instructors
People who search for "mountain bike camps near me" often come across the Snowmass Bike Park. The reason? It is one of the most popular MTB trails for mountain bikers of all abilities. The camp even offers a biking clinic where you can learn from a few of the best mountain bikers in the world.
Moreover, this 25-mile bike camp extends almost 3000 vertical feet from the top of the Elk Camp Chair lift and down to Snowmass Base Village. (source)
5. North Table Mountain Trail – Denver, Colorado
The North Table Mountain Trail is a 1.5-mile mountain bike park located in Denver, Colorado. It traverses the southwest part of North Table Mountain right below the cliff band. This bike park offers fantastic views of the Golden Valley after providing riders with moderate to advanced mountain biking difficulties.
This mountain bike park is 300 vertical feet from the north and 400 vertical feet from the south. It is important to note that shortly after the trailhead in the north, it will branch left to the Golden Cliffs Trail. That said, you need to stay right on the North Table Mountain Trail for you to finish the ride.
Moreover, this mountain bike trail ends near Peary Parkway. (source)
6. Reno/Flag/Bear/Deadman's Gulch – Crested Butte, Colorado
Crested Butte, Colorado, is one of the birthplaces of mountain biking sport. For this reason, you can expect to see the Reno/Flag/Bear/Deadman's Gulch if you are searching for the list of "mountain bike camps near me."
This route is more than 20 miles long, so it will take you about three to four hours to finish. It is also perfect for beginner mountain bikers as it does not have any extreme challenges. Still, the trail features uphill rides, which will serve as your adventure in this single-track bike park.
Moreover, the Deadman's Gulch ends with a fast and somehow steep downhill. (source)
7. The Bike Farm Pisgah – Brevard, North Carolina
The Bike Farm is a professional mountain bike camp for cyclists who are looking for an adventure. It features ride-in and ride-out glamping and camping. This service is for mountain bikers who want to access the hundreds of miles of all-mountain and cross-country terrain that the camp is popular for.
This mountain bike camp also boasts itself for something that does not exist in the area:
beginner-friendly single-track for riders who are new to mountain biking
progressive trails for advanced and professionals
The area for mountain biking varies greatly. There are flowy trails and highly technical terrains. There are even beginner loops that allow newbies to get in action. Additionally, there is a gravity trail that runs 800 vertical feet that will surely satisfy downhillers. (source)
8. Soul Ride Prescott Mountain Biking Camp – Prescott, Arizona
Soul Ride provides mountain bikers with MTB skills clinics, kids camps, and community group rides. And if you are from Arizona and are digging the internet to find "mountain bike camps near me," you should definitely see the Soul Rise Mountain Biking Camp.
This camp even offers bike maintenance nights where professionals teach new riders new skills. Additionally, the camp's mountain bike classes cater to everyone regardless of their age. They also have expert coaches to hone the skills of beginner, intermediate, and advanced mountain bikers.
Soul Ride fosters a skilled, secured, and encouraging environment where mountain bikers can learn cycling fundamentals. (source)
9. Trek Dirt Series Mountain Bike Camps – Moab, Sedona, Fruita, and St. George
Whether you are new to mountain biking or have advanced skills, the Trek Dirt Series Mountain Bike Camps are the right place for you. The camps have professional mountain bike coaches who will help cyclists develop their skills and passion for MTB.
Trek Dirt has a series of camps in:
Moab
Sedona
Fruita
St. George
During the camps, you will learn root riding skills, and beginners will develop new mountain biking skills. By the end of the camp, you already know the basics of mountain biking. I addition, you will learn how to ride up and downhill.
During the morning, participants will be taught everything, starting from jumps and climbing to drops. In the afternoon, they will try the new skills that they learned on the trail. (sources)
DIY Mountain Bike Tip: Having a coaching staff dedicated to your success is going to drive real MTB experiences into your head through "Doing It!"
10. Snowshoe Mountain Resort – Pocahontas County, West Virginia
If you are from West Virginia and you are looking for "mountain bike camps near me" for your next adventure, this mountain bike camp is a great place to see.
The Snowshoe Mountain Resort does not only offer biking training. It also lets participants see the best views of Pocahontas County. The camp covers 941 square miles and is home to scenic byways.
Mountain bikers who are new to this sport will love the machine-groomed trails that the camp offers. It also has expert terrains with jump lines, berms, and manufactured features of professional mountain bikers.
Additionally, the camp offers service shuttles and chairlifts. For this reason, you will not have to pedal up the mountain. (source)
Skills Would I Learn from Mountain Bike Camps Near Me?
Mountain bike camps no doubt let beginners and advanced mountain bikers learn and develop their skills. If you are a beginner, mountain bike camps will help you know what you need to learn. On the other hand, these camps allow experts mountain bikers to practice their skills on uphill and downhill trails.
To help you understand things further, here are the things that you will learn from attending mountain bike camps:
Balancing
Going to a mountain bike camp will let you learn how to balance your weight on the bike in different positions. This way, you will be able to maneuver your MTB through trail obstacles without falling.
Reading the trail
When mountain biking, you need to look as far up a trail as possible. It would be best if you also kept your eyes on the exit every time you turn. Scanning the course will allow you to anticipate the obstacles you may encounter, letting you ride safely.
Such is something that I learned when I went to different mountain bike camps near me.
Pedal stroke
The key to saving energy when you are mountain biking is an efficient pedal stroke. Learning how to pedal appropriately will let you gain a powerful sprint, climb smoothly, and help you go through enormous obstacles.
If you are a beginner mountain biker, achieving a good pedal stroke with a solid transfer of circular power will help you save a lot of energy. This way, you will have a more pleasant ride.
Cornering
Another thing that I learned when I attended a couple of mountain bike camps near me was how to corner correctly. Many general crashes and trailside dirt naps happen during turning. For this reason, cornering is an element that every mountain biker should improve.
In addition, cornering is one of the best methods to go faster when you bike. When you try this skill for the first time, you will definitely feel your body's force being pushed into a berm at a speed where you will enjoy the wind all over your body.
Lifting your front wheel
Different obstacles are things that will never be absent on every mountain bike camp. But if you know how to bike over these obstacles, you will undoubtedly experience a lot of fun.
One important thing that you need to learn when going over obstacles is how to lift the front wheel of your mountain bike.
Additionally, front wheels can be a great transition to wheelies and manuals.
Wheelies and manuals
Another thing that I learned from some expert mountain bikers I met in a few mountain bike camps near me was how to do wheelies and manuals. These skills will let you place your front wheel where you want it, while manuals are helpful in many same situations as wheelies.
Moreover, you know that you achieved the most useful elements of these skills once you learn how to manual for two to three bike lengths. (source)
---
Learning about Mountain Bike Tires could take years. Let me help you just a bit quicker with some articles.
---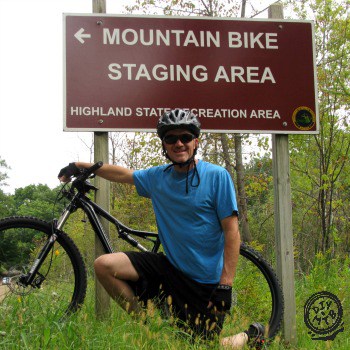 David Humphries is the creator of DIY Mountain Bike. For me a relaxing day involves riding my mountain bike to decompress after a long day. When not on my bike I can be found wrenching on it or making YouTube videos at 👉 DIY Mountain Bike Read more about David HERE.
Sources