Whether you are a mountain biker or cyclist, and you live in an area of the world where you deal with the winter elements, then you have come across this nasty thing at least once! Road salt is a killer to all the moving parts on your bike.
This is why I usually don't ride in the winter time because I don't want to deal with the aggravation of replacing different parts of my bike or at least cleaning and then re-oiling the bike after each winter ride.
Fortunately, there are a few precautions that you can do in order to keep your bike looking brand new and working like new immediately after a winter time ride. As a mountain biker, you may not be doing all of your ride on the road, but getting to your favorite trail system may expose your MTB to salt.
DIY MTB Pro Tip: Winter riding is awesome! Staying comfortable is even better. I've got a couple recourses that can help. Check out – 10 Tips to Keep Your Hands Warm in Winter and 7 Tips for Mountain Biking on Snowy Terrain
Riding on a short stretch of road in the winter will put a fine coating of that nasty white stuff on your bike even on dry sunny days. Heck, when I carry my MTB on my rack it seems like one side get coated with salt kicked up from tires.
Cleaning a Salt Covered MTB
I will now go over a few things that I do with my bikes after I know my bike has been exposed to the road salt, dirt, sand and any other grime that was on the road and is now adhered itself all over my bike.
Being that the bike may still be wet and I'm still wearing my cycling gear and want to get changed as soon as possible, that makes these steps go by very fast.
I first grab my bike repair stand, set it up and tighten the clamp around the seat post.
I fill a bucket with warm water and pour in some car wash soap. I drop in a brush and rag.
Spray the bike with the hose. (I know it's winter and your hose might be put away)
Then I proceed to grab an old rag and wipe down the entire frame, wheel rims, and braking surface (if I'm wiping down a road bike that is.)
Once I have cleaned all the hard-to-reach places, I then grab my spray can of bike lubricant and spray the moving parts. These consist of the brake calipers, both derailleurs and even the area where your cables move underneath the bottom bracket.
While you are performing this, it is a good idea to spin your cranks and shift through all the gears on your bike so that you know for sure that everything is in working order.
Also, don't forget to take a rag and wipe your chain. There is most likely a ton of dirt, grime, and road salt on your chain. If your chain does not get clean, there is a good chance that it will turn to rust and therefore will not work smoothly. It really sucks having to replace a chain due to not cleaning it! I know this from first-hand experience!!
Once your chain is clean, you are now ready to take some chain oil and lube it back up again.
Now all the main things are done and you may feel the need to check over your bike to be sure that you've met your expectations and your bike is ready to be put away.
Protecting From Salt
The steel items are most vulnerable to corrosion from salt. Spend the most time cleaning and lubricating the chain, cassette (rear gears), front chainring and bearings. The best protection is having everything lubricated BEFORE exposure.
Pay particular attention around the bottom bracket. If salt works its way into those bearings a rebuild might be needed.
A light coating of lube on your front forks is also a great idea. I use Park Tool Polylube (link to Amazon for more reviews) polylube
DIY MTB Pro Tip: I've got a complete guide on where and what to grease and lube your MTB with. Check it out Greases and Lubes for Bikes
Every month or so I give my bike a deep clean. I'll run the chain through a cleaner, clean around the bottom bracket, pull the goo out of the derailleur lower pulleys. I'll also remove the thru axles and wipe down with grease. Inspection and cleaning regularly will help.
Fenders Help
It's easy to knock a lot of salt down and keep your bike a little bit cleaner by using fenders. Those simple fenders that attach to the fork are easy and cheap. Heck, it's a great way to show a bit of personal style!
Your front tire kicks up most of what sticks to your bike. I'll admit that those short fenders help the rider most, but every little bit of salt reduction is going to help.
A favorite fender of mine is the AMS Front Mudguard (link to Amazon) I'm using the camo/black, but the folks at All Mountain Style a bunch of styles and colors to select from.
Frame Protectors
These simple stick-on protectors can add years to your bike. Preventing stones and rock salt from penetrating through your bikes paint is the first defense for reducing corrosion. I personally bought matching frame protectors from AMS. You can select the same color scheme as your fender. Mine are the semi-transparent camo. Here's a link to Amazon for some ideas. – AMS High Impact Frame Guard.
DIY MTB Pro Tip: A good MTB isn't cheap. If you get a quality frame and maintain it you'll get years of riding. Ever wonder how long an MTB will last? Check out this article – How long do MTBs Last
Extra Bike for Winter?
I've got a group of friends that put away their high dollar rides and use a cheap department store bike. This does seem to make sense, why ruin an expense MTB when for $300 you can keep your legs cranking. (source)
Another option for winter riding is to put your MTB on a trainer. Swapping out the rear tire for something smooth is easy. I've got an article about doing this – Can I Put My MTB on a Trainer?
Frequently Asked Questions
Will Salt Rust My Bike?
Yes, steel exposed to salt can start rusting in a day or so. Even if your bike has an aluminum frame, the gears, chain and many fasteners will rust. The best defense for rust is a liberal application of lubricates before riding, followed up with cleaning after salt exposure.
How Can I Protect My Bike from Salt?
Keep your bike well lubricated.
Wash and maintain your MTB regularly.
Install frame protectors and fenders.
As much as possible keep your bike inside.
Is Snow Bad for an MTB?
Straight snow shouldn't harm your bike, just like rain the best thing to do is to clean, dry and lubricate your bike after every ride. Keeping your bike on a regular maintenance schedule will help your MTB last a lot longer.
Another MTB Single Track
This should be enough information that you can use to assist you as you attempt to clean your bike after a day of being exposed to its worst enemy, …Road Salt!
---
Looking for Some More Ways to Help Your Bike Last
---
---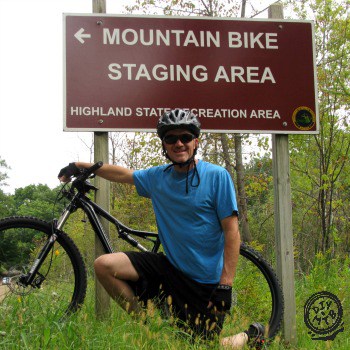 David Humphries is the creator of DIY Mountain Bike. For me a relaxing day involves riding my mountain bike to decompress after a long day. When not on my bike I can be found wrenching on it or making YouTube videos at 👉 DIY Mountain Bike Read more about David HERE.