Mountain bikes, snowy terrain — this combination sounds exciting and dangerous. A snowy landscape can be really slippery, so you have to prepare for how you can safely cross it. That said, you need to know to prepare you and your mountain bike for cycling on snowy terrain.
Here are some tips for mountain biking on snowy trails:
Adjust the tire pressure
Watch out for ice patches
Know that sliding is normal
Remain seated
Spin and do not hammer
Stay hydrated
It would be best if you avoided sudden and jerky movements when riding your mountain bike in the snow.
Cycling in the snow needs a good amount of preparation. So apart from knowing the practical mountain biking tips, you also need to know the type of bike you can use in the snow.
Mountain Bikes On Snowy Terrain: Top 5 Tips
Mountain biking can be a year-round sport. That means you do not need to toss your mountain bikes inside your sheds during the winter. With a few tips, you will be able to ride hilly trails even when snow covers them.
1. Adjust the tire pressure of the MTB
If you are using a regular mountain bike instead of a fat bike, reduce the air pressure of the tires to increase their surface areas. However, please do not drop the pressure too low as it will increase the risk of puncture.
2. Watch out for ice patches and deep snow
Riding your mountain bike fast and hitting an ice patch can cause you to tumble down if you are not prepared for it. For this reason, you should always keep your eyes on the trail ahead of you. If you see anything that looks shinier than the rest of the snow, you need to reduce your speed to ensure that you will remain safe.
If you happen to bump on some ice, do not panic and try not to steer or touch the brakes. Instead, try to coast perfectly straight over the ice patch.
Preparing how to ride mountain bikes on snowy terrain will ensure that you are safe throughout the course.
4. Be aware that it is normal to slide
Riding in deep snow will cause you to slide around a lot. You can compare it a bit to ice skating. It may feel weird at first since many terrains are curved up and concave on the sides. For this reason, you may slide back into the center once you get too high while riding in power.
In addition, your mountain bike will always try to settle at the low parts of the trail. It is essential to note that such is entirely normal. It will take you some time to get used to sliding down and riding up slopes.
Once you are already comfortable with curved up trails, try not to stare down at the ground when trying to ascend. The reason is that looking up and focusing on the path ahead will give you better balance.
5. Remain seated
A lot of mountain bikers tend to stand when they are cycling uphill. But if you and your group are riding mountain bikes on snowy terrain, you need to remain seated. The reason is that your rear-wheel-drive needs weight to gain traction in the snow.
You also need to retain that traction on the rear wheels. For that to happen, you need to keep your weight on the back by remaining seated. Do not attempt to stand unless you experience a quick punch against a rock or bump.
6. Spin and do not hammer
This tip is another essential step to gain traction. You tend to lose your traction if you try to hammer when cycling. That said, the best thing to do is to keep your revolutions steady while keeping consistent pressure while pedaling. It might not be easy at first, but riding in the snow will finesse your pedaling. (source)
If you are ascending a short hill, try increasing your speed and maintaining it until you reach the top. This tip may sound complicated, but you will be able to do it effortlessly after some practice.
7. Keep yourself hydrated and avoid sudden movements
Dehydration is one of the top reasons why people experience frostbite. The reason is that dehydration promotes cell destruction, which causes them to die. For this reason, always make sure to bring enough water with you when riding your mountain bikes on snowy terrain. (source)
Additionally, it would be best if you avoid sudden movements. Mountain biking in slippery conditions requires smoother motions than cycling on regular landscapes. If you make sharp adjustments to your steering, chances are you will slip out of the trail and get hurt. Hitting the brakes too hard will also lock up your tires and send you out of control.
That said, you must keep your tires as much as possible. This way, you are likely to get traction, thus keeping your bike on the right trail. You need to gain momentum in slippery terrains, so avoid cycling too much or too slow. (source)
DIY MTB Pro Tip: Riding in winter is a great way to keep fit through the winter. It's also an easy way to get hurt. Read this article from Hannah Finchamp Pro MTB rider – Common Mountain Bike Injuries and How to Avoid Them
Can You Ride Your Mountain Bike In The Snow?
Many cyclists love their mountain bikes but feel they have no choice but to leave them in the garage in winter. But what you do not know is that you can ride regular mountain bikes on snowy terrain.
According to Jack Todd, spokesperson for Bicycle Colorado, "What I see more than anything this time of year and with the weather like we've had the past couple of weeks, is people (in their cars) are going later and later through that yellow light because they don't want to slam on the brakes. Going slowly is super important this time of year because that reduces crash severity if anything does happen."
That said, you can still use a regular mountain bike in the snow. You need to go slow on flat terrains and increase your speed only when you need to ascend hills. (source)
Preparing Yourself For Mountain Biking In The Snow
It is not only your mountain bike that needs some preparation when riding in the snow. Instead, it is equally essential to prepare yourself and the gears that you need to wear. This way, you will have additional comfort despite the cold.
Here are some of the gears that you need to have riding mountain bikes on snowy terrain:
Snow Jacket
You need to wear an insulated jacket when braving through the snow. However, the coat should not be oversized to prevent it from accidentally hanging on tree branches. The coat should also be lightweight for maximum comfort.
If you do not have a light yet warm jacket, you can layer your clothes instead. You can wear something warm underneath your activewear and a cycling cap to protect yourself from the colds.
Protecting yourself from the cold when riding mountain bikes on snowy terrain will make the ride comfortable. (source)
Gloves
You do not need to wear anything bulky. Instead, you need to wear something waterproof and insulated. Your gloves also need to be waterproof to keep your hands dry and warm throughout the ride.
DIY MTB Tip: Keeping your hands warm can be tough. I'd love to recommend a easy fix, but squeezing grips makes circulation tough. Read my article – 10 Tips to keeping your hands warm
That said, wear a warm pair of gloves that will still provide you with complete control of your shifters and brakes. In addition, the gloves need to grip well, even in wet weather.
Cycling Headwear
A skullcap or cycling cap that fits perfectly under your bike helmet can add warmth when riding mountain bikes on snowy terrain. If the temperature is too cold, you can opt to wear a face mask or a full-face helmet to cover your face as well. You can even wear goggles to protect your eyes.
Winter Cycling Boots
One of the most essential things you need to wear when riding mountain bikes on snowy terrain is a pair of cycling boots. You can also wear high top hiking boots. However, they need to be waterproof to keep your feet dry and warm.
Gators
Your mountain bike tires will toss snow up on your feet, especially when the snow is deep. That said, you may want to wear some gators over your boots to prevent the snow from getting into your boots. (source)
Some recommended gators are as easy as a couple clicks away. RockBros carries a neoprene shoe cover that will help keep your feet warm and dry. The bottom is open so you can "clip-in". Check them out with this link to Amazon for current prices – RockBros Cycling Shoe Covers
How To Prepare Your Mountain Bike For Snowy Terrains
Daylight fleets during the winter. For this reason, you need to prepare yourself to ride in the dark. That said, you need to have bright lights and an attention-grabbing amount of reflectivity. If you are bringing rechargeable lights, make sure to bring extra batteries as they drain quickly in the cold.
Moreover, it would be best if you prepared your mountain bikes on snowy terrain.
| | |
| --- | --- |
| Rear Lights | Install the brightest lights you can afford. Both on your helmet and bike. |
| Front Lights | I prefer a simple rechargeable light like the Ascher Ultra Bright – link to Amazon The rubber mounting strap is easy to remove incase you need to use it as a flashlight. |
| Reflective Clothing | Quality reflective clothes is a MUST. I don't care what brand, it allows others to see you and keeps you warm. The weather can turn bad quickly in winter be ready for it. |
---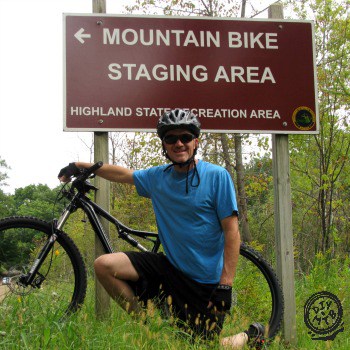 David Humphries is the creator of DIY Mountain Bike. For me a relaxing day involves riding my mountain bike to decompress after a long day. When not on my bike I can be found wrenching on it or making YouTube videos at 👉 DIY Mountain Bike Read more about David HERE.
Sources