About three years ago I bought myself a new mountain bike and I researched every part of the bike so that it would conform to my strengths and weaknesses while every detail would be directed to the type of riding and racing that I participate in.
Without getting into too much detail about the bike itself, I mainly want to talk about something that many mountain bikers may tend to overlook as they buy an upgrade for their current bike or any customizations for a new bike.
I believe the grips on a mountain bike are something that can be overlooked and this is something that is equally or possibly more important than most other parts of a bike in including but not limited to frame material, suspension types, drivetrain types, power meters, and so on.
If you think about it our bodies are connect to the bike in three places; Pedals, Saddle and Grips.  Each of these contact points creates a first line for comfort.
MTB Pro Tip: Fitting handlebars correctly has made a world of difference for me. I've got two articles you should read – How to Make MTB Handlebars More Comfortable and 10 Ways to Make a Mountain Bike More Comfortable
Prior to owning the bike that I currently have, I had the typical round grips on my previous bike and during 2 to 4 hours of continuous riding, my hands would become numb and that would lead me to not be able to focus very well on the trail.
So, as you could imagine, over time I wanted to upgrade to a pair of Ergon grips and I would soon find myself having those types of grips on my next mountain bike. The idea of having this type of grips seemed great as I would eventually find out first-hand about the great benefits!
So, when I purchased my new bike, I had the Ergon GP1 grips installed rather than the standard grips. With this needed customization, I knew that my longer training rides and especially the Six-Hour Mountain bike race that I did this past summer would be much easier with the GP1's.
If you are someone who is unfamiliar to most of the Ergon grips or if you want to get more information on why I chose them for my bike, then you're at the right website. What sets these grips apart from their competition is they allow for a larger portion of your hand to rest on the grip while you are riding.
From my own experiences, I have noticed that when descending a long trail while I am out of the saddle and even though most of my weight is positioned behind the saddle, I am also putting a lot of pressure on the handlebar. This in turn leads to more pressure being applied to the grips than what I would normally put on them while riding on flat terrain.
DIY MTB Tip: If I only hand one tool with me it would be my Crankbrothers M19. The right tools packed tight – Check out this YouTube review Crank Brothers M19
So, by having more surface area for my hand to rest on, I have found this leads to an increased level of comfort and therefore more enjoyment while riding for an extended period of time. If you also find yourself doing many epic rides where you are holding the handlebars for an extended period of time, you will find these grips offer much more comfort.
I also chose the GP1's because of the larger pad allows me to adjust where I place my hands. One of the main advantages to this added feature is it gives you an additional option for hand placement while riding. One reason is that you can effortlessly switch to holding onto the finger grip while ascending a long climb or riding on a flat double track trail.
The GP1 comes in two sizes large and small. I've found the small great for folks that have shorter brake lever arms or twist shifters. For most riders the large size is going to be perfect.
When I'm on a long ride with my mountain bike, I am constantly switching between holding onto the grips and the bar ends to ensure that my hands stay comfortable for hours at a time.
Since I have the tendency to be very meticulous when buying a product that will enhance my mountain biking experience, I am very glad that I went with the Ergon GP1's. These are well worth the investment and to me they may be one of the favorite parts of the bike that I have as these Ergon are what keeps my hands from becoming fatigued during a long mountain biking adventure.
The larger pad provides added protection to the rider. If the trails that you ride have a ton of trees that you have to traverse through and you often find your hands coming close to the trees, then in that case you might want to consider this type of Ergon grip as extra size extends past your hand and will protect your hand from those nasty collisions with trees as I've done that many times before I bought these grips!
Features of the GP1
Simple assembly with a 5- and 6-mm Allen wrench. Sometimes brake and shifter levers need to be moved. I recommend carrying a 6 Allen wrench for a couple rides to adjust the angle.
GP1 Short is 100 mm or 3 7/8 inch, great for twist shift or smaller hands
GP1 Large is 130mm or 5 1/8 inch, great for bigger hands and "comfort" riding. Lots of room to move your hands around
Both the Size Large and small have the same size pad or "wing"
Added Features I Didn't Realize
The locking ring protect grip with bike upside down. The ring gets scratched instead of the grip getting torn up.
Less shoulder fatigue (in my opinion) this might be because I'm able to adjust my hand position during long rides.
Wrists seem to be more comfortable; the Ergon grips have a softer rubber compared to my old grips which seems to absorb more vibration.
Where to Buy Ergon GP1's
I bought my grips from Amazon.  The delivery was super-fast and I trust Amazons return policy.  I highly recommend these grips, if your interested here's a link.  –  Ergon GP1
Other Grip Options
Ergon GP3 with Bar Ends
Built on the GP1 Design but with a bar end for added comfort and hand placement. Link to Amazon for prices and reviews – Ergon GP3 Grip with Bar Ends
Ergon GP1 Biokork
Classic look and comfort of cork with the added benefits of a bigger palm pad. Amazon link for current prices and more reviews. GP1 Biokork Grip
---
Learn more about Pedals, Handlebars and Brakes
---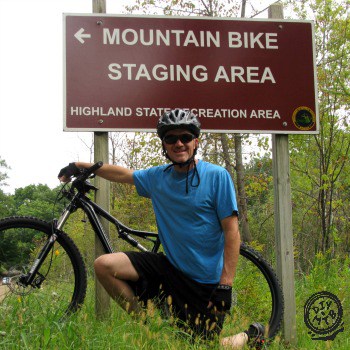 David Humphries is the creator of DIY Mountain Bike. For me a relaxing day involves riding my mountain bike to decompress after a long day. When not on my bike I can be found wrenching on it or making YouTube videos at 👉 DIY Mountain Bike Read more about David HERE.