The best mountain bikes for heavy riders should have the best features while providing riders with comfort. However, most MTB manufacturers only specify the ideal height for their bikes. For this reason, it can be difficult for the big guys and gals to find the right mountain bike for them.
The Roscoe 8 is among the best MTBs for heavy riders. It features an extra-wide set of tires and an Alpha Gold aluminum frame.
Mountain bikes with wide tires and aluminum, steel, or carbon materials are ideal for heavy riders.
While it is not common knowledge, many mountain bikes fit well for heavy riders. I listed 9 of the best mountain bikes for heavy riders.
Mountain Bikes for Heavy Riders
Mountain bikes are built to be durable. They need to withstand the abuse, such as constant vibrations on bumpy roads, high jumps, and forceful descends. For this reason, a heavyweight is not a problem for high-quality mountain bikes.
The problem is that most mountain bike manufacturers do not mention a weight specification for riders. Big and tall riders may find it challenging to find a bike that can support their weight. Here are two points for you to focus on when finding a mountain bike:
Frame Material
When choosing mountain bikes for heavy riders, the first thing to consider is the frame material. There are three materials used for heavy-duty mountain bikes:
Carbon fiber frames are lightweight and sturdy. But if you want a durable yet affordable MTB, you should opt for ones with steel or alloy frames.
Wheel Width
Wide wheels can support weight better. Therefore, heavy riders need to find a bike with wide wheels, such as a fat tire bike.
The wider the bike's wheels are, the better the traction they can provide. You will have more control over your mountain bike, especially when taking corners. (source)
DIY MTB Pro Tip: What's the best wheelbase for an MTB? Read -> What's the Wheelbase on a Mountain Bike and Does it Matter?
1. Roscoe 8
The Roscoe 8 is a low-maintenance mountain bike with durable parts that allow you to control trail conditions. It has a long travel fork for mountain bikers looking for fun and challenging off-road rides.
This mountain bike has a set of extra-wide tires for more traction. The Roscoe 8 has excellent stability and grip, allowing you to travel technical trails without difficulties.
The Alpha Gold aluminum frame is perfect for heavy riders who seek comfort and durability for every ride. It is one of the best mountain bikes for heavy riders with a high-tech frame, air spring fork, and suspension lockout. (source)
2. Cannondale Fat CAAD 2
It would be best to have a comfortable mountain bike when cycling on bumpy paths. Fortunately, the Cannondale Fat CAAD 2 is a durable and comfortable mountain bike for the big guys and gals out there.
It features an out-front steering construction for stability regardless of your speed. For this reason, it will not be difficult to pedal your mountain bike.
Even better, this mountain bike has a Smartform C1 alloy frame that can carry a weight of up to 300lbs. The stem length and handlebar weight are also perfect for heavy riders. (source)
3. Mongoose Dolomite Fat Tire Men's Mountain Bike
A fat tire bike is among the best mountain bikes for heavy riders. The Mongoose Dolomite can support up to 370lbs with its heavy-duty frame and extra-wide tires.
Besides supporting your body weight, the fat tires can also get you through rough terrains. They can reduce contact vibrations and soak up bumps to help you ride comfortably.
Additionally, this mountain bike comes with a seven-speed Shimano rear derailleur so that you can pedal uphill with ease. (source)
4. Schwinn Bonafide
The Schwinn Bonafide mountain bike offers a lot for big guys, making it one of the best mountain bikes for heavy riders. It has 29-inch tires, alloy rims, and single mechanical disc brakes for easy stopping. The aluminum frame and 24-speed Shimano EZ-Fire trigger shifter ensure that you can go to your destination without any hindrance.
On top of that, the durable suspension absorbs bumps to provide you with a smoother ride. Overall, this mountain bike provides convenience when taking on rough terrains, thanks to its stable gearing and lightweight parts. (source)
5. Diamondback Overdrive 29 1
The Diamondback hardtail MTB makes a convenient mountain bike for the big guys. Constructed with a hand-built aluminum frame, 27.5-inch wheels, and Tektro Aries disc brakes, it can provide the durability you need for your weight.
However, this mountain bike is built for guys with a height of 5'4″ to 5'7″. But it should still work fine even if you are taller than 5'7″.
Moreover, the compact design of the Diamondback MTB provides it with a fantastic riding performance on technical trails, making it one of the best mountain bikes for heavy riders. (source)
6. Mongoose Tyax Expert
The best mountain bikes for heavy riders should come from a top-rated manufacturer. And when talking about bike manufacturers, Mongoose is a brand that can provide the best mountain bikes.
The Mongoose Tyax Expert features the SRAM SX Eagle 1 x 12 drivetrain, making this mountain bike a beast on the trails. It also has Tektro brakes that are powerful enough to stop the bike no matter how fast you are going.
Additionally, this fat bike has a Suntour XCR fork with 100mm of travel, Kendra tires, and WTB alloy rims. (source)
7. Marin Pine Mountain 2019
The Marin Pine Mountain 2019 features incredible features. While it does not have a front suspension, it has wide tires perfect for trail riding.
The wheels of this mountain bike can absorb shock and vibration, so you don't need front suspension. It has a rugged steel frame and fork that can support the weight of heavy riders.
For this reason, you can ensure that the Marin Pine Mountain 2019 is one of the best mountain bikes for heavy riders. (source)
DIY MTB Tip: I've called out a couple Schwinn Bikes in this article. Are you wonder if they're still good? Find out in this article -> HERE
8. Schwinn High Timber Mountain Bike
Schwinn is one of the top-notch brands when it comes to mountain bikes. For this reason, we recommend the Schwinn High Timber MTB for big guys who seek adventure.
This mountain bike has an aluminum frame along with high-quality Schwinn suspension forks. It also features a three-speed crank and seven-speed cassette. So you can roll and climb hills efficiently.
The twist gear shifters are also an excellent feature as it lets the rider change gears quickly. (source)
9. Salsa Mukluk SX Eagle Fat Bike
The best mountain bikes for heavy riders should have a high-quality frame and wheels. These are what the Salsa Mukluk SX Eagle Fat Bike is famous for amongst riders.
It is essential to note that this mountain bike is ideal mainly for moderate terrains. You can use it to ride on snowy off-road paths or even sandy trails.
The lightweight construction of this mountain bike makes it comfortable. It even features multiple frame mounts for a better riding experience. (source)
Are Carbon Mountain Bikes Good for Heavy Riders?
Carbon material makes the lightest frame for mountain bikes. It is also durable and high-quality, which allows it to resist harsh riding conditions. For this reason, carbon mountain bike frames are less likely to bend and break than other frame materials.
Carbon and aluminum are the best materials for mountain bikes made for heavy riders. Carbon also has the best stiffness-to-weight ratios apart from a high weight limit.
Carbon is also an excellent material if you like riding on rugged, technical trails. Since carbon frames are lightweight, which reduces the mountain bike's resistance. As a result, it will be easier for you to pedal uphill.
Carbon frame bikes are among the best mountain bikes for heavy riders. (source)
Carbon Mountain Bikes: The Pros and Cons
| | |
| --- | --- |
| Pros | Cons |
| Lighter than other frame materials | More expensive than steel and aluminum frames |
| Provides better ride quality | Less expensive carbon frames tend to crack on light impact |
| Repairable when damaged | Damaged carbon frames may fail without any warning |
| More efficient and responsive | More difficult to carry as you cannot add racks on most carbon frames |
| Feels comfortable to ride | |
| Rust-proof | |
| More technologically advanced than other materials | |
How Much Weight Can A 26 Inch Bike Hold?
Different mountain bike models have different sizes. Since every mountain bike is built differently, they possess different resistances to weight. The only problem is that brands are not very clear about the weight limit of their mountain bikes.
To find out the answer, we asked Trek Bikes, one of the most popular brands in the mountain bike industry, the weight limit of their 26″ mountain bikes. The brand's representative states, "Bike weight limits vary by model, not wheel size."
You cannot identify the weight limit by looking at the wheel size alone. You also need to consider the frame material and the parts used to make the mountain bike.
Suppose you are a tall and heavy rider. In that case, it is ideal to avoid getting a mountain bike with extra yet unnecessary engineered parts. Suspension frames, for instance, are worth more than you need. So, instead of getting an MTB with a suspension frame, it is better to focus on a mountain bike made with a rigid frame.
It would be best if you also considered your cargo weight. If you carry a heavy backpack when mountain biking, you need to deduct its weight from the overall weight limit.
Do Fat Tire Bikes Hold More Weight?
Fat tire bikes have thicker wheels that provide better traction on snow, sand, and smooth roads. But apart from this benefit, fat-tire cycles can support more weight. The tires and the other parts of the bike are made of sturdy material, allowing it to hold extra weight while withstanding abuse.
Moreover, some fat bikes can hold up to 400lbs. There is still room for weight more than specified. However, it would be best if you didn't put too much weight on your bike, as the extra weight can make the bike collapse while you are on the trail.
In terms of the tires, fat tires can carry up to 200lbs. On the other hand, regular bike tires can only support a weight range of 100lbs to 150 lbs. (source)
DIY MTB Tip: What's the difference between regular MTBs and Fat Tire Bikes. I'll tell you in this article – The REAL Difference between MTBs and Fat Bikes Explained
Does Weight Matter When Buying a Bike?
Does the rider's weight affect the performance and lifespan of a mountain bike? This question has always been the topic of debate for many mountain bikers.
The truth is that your weight matters when purchasing a mountain bike. You can be too heavy for your mountain bike. Of course, the issue will not be noticeable at first. Instead, it will gradually show up in the form of minor problems.
You can ride your bike even when you are a few pounds more than the manufacturer's stated weight limit. It will not break your bike's frame after a few rides. However, doing such can decrease the lifespan of your fat bike significantly.
Fat bikes are one of the best mountain bikes for heavy riders. But riding it at peak weight capacity can create minor damage until your bike reaches the breaking point.
The damage will show mainly on the mountain bike's wheels. While the best mountain bikes for heavy riders feature durable wheels, too much weight will damage them in the long run. As a result, you will need to replace the wheels one after another. (source)
The Best Mountain Bikes for Heavy Riders: Final Thoughts
Mountain biking is undoubtedly an excellent sport for many people. But for heavy riders, finding the best mountain bike can be challenging. Fortunately, mountain bikes with extra wheels and rigid frames can support more weight.
Mountain bikes with steel, aluminum, and carbon frames are also ideal. Carbon is lightweight, efficient, and durable, working well as an MTB frame.
In terms of the bike type, fat tire bikes are one of the best mountain bike types for the big guys and girls. Their tires provide more traction, along with the bike's overall durability. So, it can support a heavyweight while making the entire ride comfortable.
---
Looking for Some More Ways to Help Your Bike Last
---
---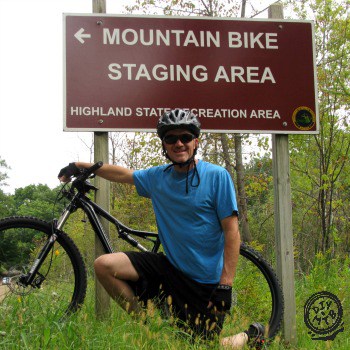 David Humphries is the creator of DIY Mountain Bike. For me a relaxing day involves riding my mountain bike to decompress after a long day. When not on my bike I can be found wrenching on it or making YouTube videos at 👉 DIY Mountain Bike Read more about David HERE.
Sources