I learned from being a home bike mechanic how easy it is to cut bike cables and install them. Before learning how to perform bike cable replacement, I always brought my bike to a professional mechanic, as I was afraid to cut the cables to an incorrect length. But now, I have all the knowledge and tools I need to replace my bike cables.
This article will provide insight into bike cable cutting and installation. We'll also offer tips to help you easily install your bike cables.
It would be best if you cut cables to the shortest length possible while allowing them to pass through the mounting locations. The cables should have big bends so the bike's moving parts can move freely. It would be best if you cut the cables using a sharp cable cutter.
Is It Easy To Replace Bike Cables?
Bike cables acquire wear and tear every time you use your bike. These micro tears accumulate over time, eventually requiring you to replace your bike cable. The cables will cause your bike to shift and brake poorly without replacement.
Worn-out bike cables are also a potential danger to bikers, as they can snap while you pedal. That said, routine cable replacement is a requirement for every bike owner.
However, you may ask, "is it difficult to cut bike cables and replace them?"
Is Bike Cable Replacement Easy?
Cutting bike cables is easy as long as you have the right tool. A sharp dedicated cutter will allow you to make a clean cut, so you can avoid messing up the end of your bike cable.
Cable wires are rigid, so using a blunt cutter can make it challenging to cut bike cables. A dull cutter can also cause fraying on the ends of the wire. If fraying happens on your bike cables, you will need to cut their ends again, thus reducing their length.
Moreover, bike cable replacement is something an amateur home mechanic can easily do. All you need are tools, cables, and about an hour of your time.
Worn-out bike cables can cause your bike to shift and brake slowly. These issues are potentially dangerous, as there are instances in the trail that require you to brake swiftly. If your cables cannot do such, it can lead to an accident, which you can avoid by routinely checking and changing your brakes. (source)
How To Cut A Bike Cable Housing
One way to improve your biking experience is to cut bike cables to the correct length. For instance, your brakes will work brand new, and shifting from one gear to another will be smooth.
The same goes when you cut bike cable housing. Cutting the cable housing too short can cause it to stretch too much and break. When worse comes to worst, incorrectly cut bike housing can lead to braking or shifting failure. Fortunately, you can avoid these issues by cutting your cable housing correctly.
The Correct Housing Length
Bikers follow no general length when you cut bike cables and their housing. For the cable housing, the rule of thumb is to cut it as short as possible. However, the entire housing should still pass through all the routings. They should also connect all the levers and frame stops throughout your bike.
In addition, the cable housing should allow you still to move the handlebar to its full range of motion after you install the cable.
Cut bike cables and housing either too short or too long, and they will cause unnecessary friction whenever you use your brakes and shifters.
The Cutting Procedure
Use a sharp dedicated wire cutter and hold the housing close to its jaws in a perpendicular position. Once the housing is in place, make a quick cut to ensure that your housing will have a clean end.
If the end of the cable housing flattened while cutting it, use the crimper of your cable cutter to open it up. (source)
Different Parts Of A Bike Cable
Bike cables for gear and brake cables are different and non-interchangeable. It would be best if you used compressionless housing for gear cables and wound housing for brake cables.
Understanding the different parts of cable housings is essential to avoid interchanging them.
Brakes
The braking system of your bike works using cable-pull brakes. This cable has two parts:
an inner cable made up of braided stainless steel wire
a cable housing
Inner Cable
The inner cable of a bike braking system features flexible steel wires twisted together to create the ideal thickness. This cable design is called the Bowden cable, invented by Sir Frank Bowden on April 3, 1904.
The cable used for your bike's braking system has an inner core that consists of twisted steel wires that resemble a rope. The twisted design gives the cable the durability and flexibility it needs, as it stretches when you pull your brakes. This way, the cable can transmit mechanical power once you pull your bike's brakes. (source)
Cable Housing
The other part of the braking cable is its housing. As mentioned, the housing for brake cables is different from that of the shifters. The brake cable uses wound housing. This cable housing is twisted like a spring. This way, it can compress a little whenever you put pressure on the cable by pulling your bike's brakes. (source)
Shifters
Similar to brake cables, shifters use the Bowden cable to jump from one gear to another. Shifter cables have the same parts as the brake cables. However, the difference lies in how tightly the cables are installed.
The individual wires of a shifter cable twist tightly together. For this reason, it can wear out faster than a brake cable. Meanwhile, a brake cable is a bit looser than a shifter cable. The reason is that it runs a straighter line than the shifter cable when installed on a bike.
Shifter Cable Housing
After you cut bike cables for your shifter, they need to be inside a housing different from the brake cable used. The shifter cable is inside the compressionless housing.
Like the wound brake housing, the compressionless shift housing consists of steel surrounding the inner liner. This steel lining has a plastic coating that prevents moisture from entering and corroding the shifter cable.
The difference between brake and shifter housing is how their steel lining is placed. While the steel inside the brake housing twists throughout it, the steel lining strands for the shifter housing run straight. This design provides the shifter cable with precision, preventing your chains from shifting to a different gear from where you want them to. (source)
Where To Buy Bike Cables?
Replacing your bike cables with high-quality ones can significantly impact the performance of your bike. For this reason, we looked for the best bike cable brands you can get for your next ride.
Shimano
Shimano is one of the most popular bike part brands today. One of the excellent products they sell is bike shifter cables. According to Shimano North America's Road Brand Manager Nick Legan, Shimano shifter cables can give the gears lighter action. Meaning you will need to apply less force when shifting gears. The Shimano cables can also make bikes shift more smoothly.
The smooth-shifting action reduces friction, preventing the cables from wearing out quickly. (source)
Yakamoz
Cut bike cables, and their ends will begin fraying after some time, making them shorter than your bike needs. But the Yakamoz bike cables are different. For instance, the Yakamoz Universal XL Brake Kit is different. This bike brake cable kit is 8 feet long, so you can cut it to the appropriate length without worrying that the fraying ends will mess up your measurements.
The inner steel lining of this cable's housing consists of high-carbon steel, allowing it to resist corrosion. (source)
Tools Needed To Install Bike Cables
As mentioned, installing and cutting bike cables is easy if you have the proper tools. These tools will help you prepare your cable and housing with ease. Even better, they can make the installation process hassle-free.
Cable And Housing Cutter
A cable cutter allows you to cut bike cables and housing with minimal damage to their insulators. This tool has sharp jaws that prevent it from ruining the ends of the cable once you cut them—using a cable cutter instead of a regular wire cutter results in a cleaner and more precise cuts.
Side Cutter Pliers
Side cutter pliers have a similar purpose to cable cutters. The difference is that you can use this tool to cut the ends of the cables diagonally. You can also use side cutter pliers if necessary to strip off the wire.
For bike cables, you can use the side cutter pliers to clean the wound housing.
End Caps
Cut bike cables fray on end. To prevent fraying from happening, you need end caps to hold the wires together. The end caps also allow you to install the cable and housing into its designated levers easily. (source)
---
Looking for Some More Ways to Help Your Bike Last
---
Tips And Tricks For Working With Bike Cables
Working with bike cables is an easy task. Below are some bike cable installment tips for home mechanics:
Make clean cuts
One of the essential things during bike installation is to cut bike cables cleanly. If the cable frayed a little, you could twist it back to close the ends again. Your bike cable would only fray a little if you bought a cheap one.
You can cut your cables cleanly by using a sharp cable cutter. Snip off the cable to your desired length quickly to prevent the cutter's jaws from flattening their ends too much. The inner lining of the cable housing will close after cutting, but you can use any pointed tool to open it up.
Install the cables while leaving big bends
It is ideal for installing bike cables by leaving big bends on each cable guide. This way, you can ensure that your bike's moving parts, such as the handlebar, can move freely. These bends will also provide the cables with enough length.
Use tie-downs and cable ties.
Install cable ties to the cables' mounting locations before routing them. The cable ties do not have to go tightly around the mountain locations. The reason is that they should only support the cables' route while still allowing them to move freely.
Install and crimp up end caps
End caps are essential for bike cables as they prevent the ends from fraying. They hold the cable strands tightly, ensuring that they will not wear out quickly. (source)
Bike Cable Recap
Cutting and installing new bike cables is a task every home mechanic can do if they have the tools needed for the project. A sharp cable cutter will help you cut the cables cleanly. The other tools mentioned above will also aid you in quickly installing the new cables to your bike.
We hope that this article helped you understand how bike cable installation works. If you have comments or questions, please drop them in our comments section.
MTB Tools I Love and Recommend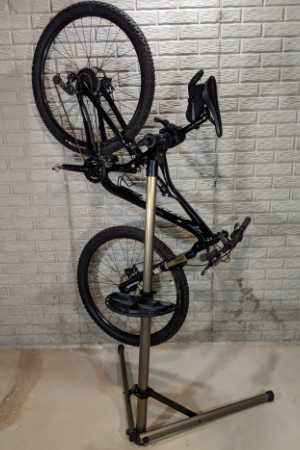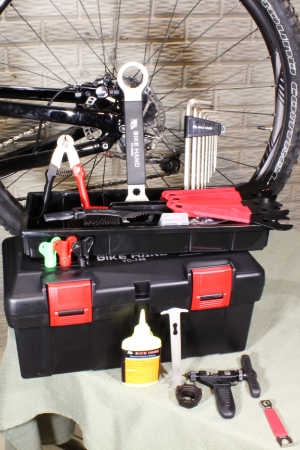 I own each of these tools and only recommend things I own and use.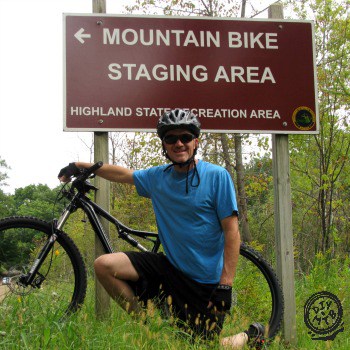 David Humphries is the creator of DIY Mountain Bike. For me a relaxing day involves riding my mountain bike to decompress after a long day. When not on my bike I can be found wrenching on it or making YouTube videos at 👉 DIY Mountain Bike Read more about David HERE.
Sources
Bowman-Melton Associates, Inc. Bicycle Commuter's Handbook Part 2: Companion To The ETC Guide To Bicycling To Work Or Transit. https://www.nctcog.org/getmedia/526fdd66-5bb7-4518-83c4-5993d889bc91/Bicycle_Commuter_Handbook.pdf. Accessed November 30, 2022.
Mike Davis and Guy Andrews. Complete Mountain Bike Maintenance. A&C Black, 2014. https://books.google.com.ph/books?id=FcVdAwAAQBAJ&pg=PA58&dq=how+to+measure+bike+cables&hl=en&sa=X&ved=2ahUKEwjIwfiXsNf7AhWVDd4KHU-PAukQ6AF6BAgFEAI#v=onepage&q=how%20to%20measure%20bike%20cables&f=false. Accessed November 30, 2022.
Neto, Antonio Ribas, Matheus Del Porto, Julio Fajardo, Victor Ferman, and Eric Rohmer. "A Wearable Underactuated Robotic Glove Driven by Myoelectric Control Input." pg. 2007. doi: 10.17648/sbai-2019-111433. Accessed November 30, 2022.
C. Calvin Jones. Big Blue Book of Bicycle Repair: 4th Edition. Park Tool, 2019. https://books.google.com.ph/books?id=CDcLEAAAQBAJ&pg=SA13-PA69&dq=wound+and+compressionless+bike+cable+housing&hl=en&sa=X&ved=2ahUKEwi7k9yitNf7AhWHZd4KHfzLAWYQ6AF6BAgHEAI#v=onepage&q=wound%20and%20compressionless%20bike%20cable%20housing&f=false. Accessed November 30, 2022.
Easy Upgrades: Shimano Cables and Housing. Shimano. https://bike.shimano.com/en-US/information/news/easy-upgrades–shimano-cables-and-housing.html. Accessed November 30, 2022.
Universal Sport XL Brake Kit. Jagwire. https://jagwire.com/products/diy-cable-kits/universal-sport-xl-brake-kit. Accessed November 30, 2022.
Easy Upgrades: Shimano Cables and Housing. Shimano. https://bike.shimano.com/en-US/information/news/easy-upgrades–shimano-cables-and-housing.html. https://bike.shimano.com/en-US/information/news/easy-upgrades–shimano-cables-and-housing.html. Accessed November 30, 2022.