The Carrera Mountain bike came from a company that manifests sophistication. It can offer more than just a leisure ride since it came from a reputed manufacturer. However, what do people think of this mountain bike, and what can they expect from it?
Some people think that Carrera MTBs are good bikes since their frames come from the same factory as Specialized and Giant frames. Meanwhile, the features of this MTB will not disappoint. The Carrera MTB has durable parts and a detailed design.
If you are looking to purchase a Carrera MTB, it is essential that you check what previous users say about the model. However, it would be best to buy based on your needs, so it is crucial to look at its features.
What People Think About the Carrera Mountain Bike
Mountain biking poses abuse to your bike. For this reason, your mountain bike needs to be durable enough to withstand extreme environments, such as bumpy trails and hilly terrains. Such is why brands are constantly introducing high-end technologies to the mountain bikes that they launch to the market.
One of these brands is Carrera, a company founded in 1989. The number of years that Carrera has been thriving in the market allowed it to develop its mountain bikes further and further.
That said, is the Carrera mountain bike any good? We have checked different biking forums to know how people answered this question.
What Do People Think?
While it is true that expensive bikes mean better quality, less expensive bikes are not built to wear out faster than the high-end ones.
According to one comment, the Carrera MTB is a good bike. The frame of the Carrera MTB came from the same factory as Specialized and GIant frames. For this reason, users can ensure the bike itself will last for a long time.
Another comment from a person who once bought a Carrera Kraken proved the quality of the mountain bike that came from the said brand. The bike weighed 32lbs before he stripped off the heavy kit. "I was shocked at how good the quality of the frame was; it was way better than I was expecting," he said.
DIY MTB Tip: Read about the "Typical" weight of a mountain bike in this article: What's the Typical Weight of an MTB?
He also weighed the bare frame and found out that it was only 4lbs. Meaning Carrera uses affordable and heavy wheels and finishing kits to cut down the bike's overall cost. But when it comes to the frame, the brand sticks to the high-quality ones to maintain its durability. (source)
In another forum, someone who owned a Carrera mountain bike said that the MTB did its job quite well. He added that it was a simple massive single pivot that did not wear out despite being used on various trails. (source)
To conclude, several people think that the Carrera MTB is a high-quality bike that meets their needs and requirements. But if you are planning to purchase a mountain bike, you need to know its features to decide if it will fit your requirements.
What to Expect with the Carrera Mountain Bike?
For more than 25 years, Carrera has always been a handy mountain bike brand for amateur and mid-range riders alike. Since Carrera bikes came from a reputed company, they have always been among the top choices among users. It leads us to the question, what can people expect from the Carrera mountain bike?
To answer the question above, let us list down the features.
Comfort
Every mountain bike should provide cyclists with excellent comfort. Fortunately, the mountain bikes from Carrera feature an exceptional level of comfort. The reason is that the bikes consist of carbon-bladed forks with alloy steerer support.
Additionally, there is reduced vibration when you ride the mountain bike on bumpy and hilly terrain. And riders will experience smooth gear change, thanks to the Shimano cassette wide spacing.
Shimano Gearing System
Some people find it challenging to shift bike gears. But the Carrera Mountain bike makes this job an easy task with the Shimano gearing system. So, whether you are shifting to a higher gear down a slope or a lower gear up the hill, Carrera can deliver a smooth and effortless transition.
Design and Build
Recently, Carrera gave its mountain bike a new design and build, making them beautiful and relatively detailed. That said, the Carrera MTB packs fantastic features.
For instance, you will notice the mountain bike's high tensile steel fork and aluminum frame. For this reason, pedaling and control will become easy once you hit the trail.
Braking System
There are times when mountain biking gives you so much adrenaline that you forget about controlling your speed. A sound braking system is vital at moments like this one. The question is, how good are the brakes of the Carrera mountain bike?
DIY MTB Tip: Mountain bike maintenance is essential. Keep your bike running smooth, longer and maybe faster with this guide: The Complete Guide to Mountain Bike Maintenance
Well, the answer is simple: Carrera's braking system is top-notch. It works perfectly regardless of the weather. Meaning you will not experience any skidding when the rain suddenly falls while you are mountain biking.
Frames
Most of the frames used in creating Carrera MTBs are made of aluminum. For this reason, they are highly durable yet lightweight. This feature makes the mountain bikes perfect for uphill riding.
More than that, the frames have a design that can provide riders with a high level of protection. Meaning it could save you from severe injuries during unforeseen events.
Lightweight
Mountain bikes need to be lightweight so you can quickly ascend hilly trails. As the years passed, MTB manufacturers shifted from heavy-duty construction to lightweight bikes. Carrera was one of the brands that adapted this shift.
For that reason, you can ensure that the Carrera mountain bike is lightweight enough to bring you to the top of the trails efficiently.
Furthermore, the brand already manufactured different mountain bike models. For this reason, you will indeed find the one that fits your needs and requirements.
Wide Tires
The mountain bikes that Carrera offers feature considerably wide tires. For this reason, they can cover more surface areas, thus having better contact with the ground. This feature is perfect for people who are looking to go mountain biking on bumpy and rocky trails.
DIY MTB Tip: Wider tires? How much air? Learn more in these articles: Can I Put Wider Tires on My MTB? and What Should My Mountain Bike Tire Pressure Be?
In addition, a mountain bike with wide tires can provide you with excellent comfortability and high balance.
Price Range
There are many mountain bikes from Carrera that are perfect for people who are on a tight budget. On the other hand, higher-quality models can range from $300 to $400. This price range is already an excellent deal considering that Carrera bikes are high quality and well designed. (source)
Disadvantages of the Carrera MTBs
Online forums where cyclists lurk are an excellent place to be when looking for a mountain bike to purchase. Still, it is essential to note that not all these forums will guide you in finding the best mountain bike for you. That said, you also need to consider your needs when it comes to choosing a mountain bike.
More than that, forums are another excellent place to find if a particular mountain bike has downsides.
Below are a few disadvantages that the Carrera mountain bike has:
1. High friction
The mountain bikes from Carrera come with wide tires. While it can provide additional surface areas, the same feature can also serve as a disadvantage. The reason is that these wide tires can cause high friction.
As a result, maneuverability can be challenging for sharp bends, and steering can be relatively slow. Such happens regardless of the mountain bike's high-end gearing and braking systems.
Additionally, the large wheels and wide tires tend to decrease aerodynamic drag, resulting in a challenge for many cyclists.
2. Some high-end Carrera MTBs are expensive
While there are affordable models, higher-quality mountain bikes from Carrera can cost more than $300. You can find this price range on new Carrera mountain bikes as they are packed with new features and technologies.
3. Additional costs
You are likely going to use your mountain bike frequently. For this reason, the abuse that it will get from hilly terrains and bumpy trails will wear out some of the bike's parts, such as the wheels, saddles, rims, and handlebars.
For that reason, you may need to spend additional costs to replace these parts when they wear out. (source)
Mountain Bikes by Carrera: A Comparison
| | |
| --- | --- |
| Mountain Bike Model | Features |
| Carrera Valor | Lightweight, allowing cyclists to ride uphill effortlessly. Aluminum alloy frame for extra durability. Features 24-speed Shimano gearing speeds, making it perfect for rough terrains. It consists of a V-braking system |
| Carrera Vengeance | It comes in different sizes so that it can cater to both children and adults. Features an aluminum frame for a lightweight feel. Shimano 24-speed gear set with 3 x 8 shifters. Features Tektro Disc brakes |
| Carrera Hellcat | Features an aluminum alloy frame It runs on a 24-speed SRAM gear system. Has the Tektro braking system and a Suntour XCM suspension system for excellent shock absorption. Has variants for adults and kids. Rolls on Kenda tires that measures 27.5 inches in width |
| Carrera Vendetta | Features lightweight aluminum construction, making it perfect for uphill trails. Tektro Novela discs braking system. It consists of a 24-speed SRAM RD-X4 gearing system. It has a 100mm Suntour front suspension fork. The wheels measure 27.5 inches with a 2.8 plus tire fitting. (source) |
Does Halfords Own Carrera?
If your aim in mountain biking is to push yourself faster in every ride, then the mountain bikes from Carrera may be the right bike for you. Owned by Halfords, Carrera offers different bike models ranging from entry-level road bikes to high-end mountain bikes.
Carrera is popular with amateur cyclists who are looking for excellent bikes at an affordable price. It loads better value for money in comparison to other brands. The reason is that the brand is not as popular as high-end brands like Specialized and Trek. Still, the Carrera mountain bike can provide what cyclists need. (source)
How to Choose a Mountain Bike?
As mentioned, you need to look at your needs and requirements when looking to buy a new mountain bike. However, it can be challenging to do this job if you are new to mountain bikes. For this reason, we listed down some of the features that you need to look for when choosing a Carrera mountain bike.
1. Find the correct size
It is essential to find the right bike fit for you when choosing a mountain bike. It would be best to look for the reach and stack measurements to ensure that the bike will be comfortable when you ride it.
While mountain bike manufacturers are switching their bike sizes to small, medium, large, and extra-large, ask your seller about the particular sizes.
DIY MTB Tip: Sometimes it's better to understand what bike to avoid. To help out read my article: 9 Mountain Bikes to Avoid
In addition, modern mountain bikes have a lengthy design. Such is a go-to trend for people who are looking to experience higher aerodynamic drag and more balance. However, while this bike model is fancy-looking, it is not always the best option.
For this reason, remember to take geometrical considerations when finding a Carrera mountain bike.
2. Strength overweight
Weight is essential when choosing a mountain bike. However, what is more, essential is the strength that the bike can show once it goes off-road. Lightweight and flimsy bikes will not stand a chance with random rocks, bumps, and roots around the trail. More than that, it can even grab at you from all your steering accuracy, thus dragging your speed down.
Fortunately, the Carrera mountain bike does not sacrifice quality to reduce weight. For this reason, you can ensure that you can ride speedily regardless of the obstacles that a trail might have.
3. Check the suspension quality
Once you have your eye on a particular mountain bike, make sure to check its shocks and forks. You can even use the manufacturer's website to find the exact models of the bike's suspension.
Additionally, it is essential to note that the original equipment units have different specifications than similar-looking aftermarkets. (source)
4. Know the different types of mountain bikes
Choosing a mountain bike is a challenge if you do not know its different types. The reason is that some mountain bikes are for trails while others are for snow. That said, knowing the features of each MTB type will help you get the right bike for your needs.
Trail Bikes – This MTB type is the most common mountain bike category. Amateur bikers can use it for local trail riding with some climbs and descents. Meaning trail bikes emphasize fun and efficiency.
Cross Country Bikes – This mountain bike is for cyclists who like riding fast while emphasizing ascending power. It is an excellent choice if you want to experience long rides on different trails.
Fat Tire Bikes – Fat bikes feature oversized tires that range from 3.7 inches to more than 5 inches. It offers excellent traction, especially if you are mountain biking on sandy and snowy trails. Additionally, fat bikes are great for beginners as they are reassuringly forgiving.
Downhill Bikes – This type of mountain bike is big and tough. Downhill bike riders often wear full-face helmets and body protection as they encounter berms, jumps, and rocks along the trail.
All-Mountain Bikes – Riding an all-mountain bike means you will encounter more significant climbs and longer descents. This bike type is made for more technical features as its design performs well on steep descent while being light enough for ascends. (source)
---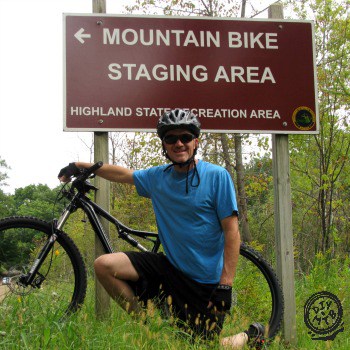 David Humphries is the creator of DIY Mountain Bike. For me a relaxing day involves riding my mountain bike to decompress after a long day. When not on my bike I can be found wrenching on it or making YouTube videos at 👉 DIY Mountain Bike Read more about David HERE.
---
Sources