People often ask why mountain biking is fun. Such is understandable since the trails mountain bikers need to cycle on look dangerous, challenging to say the least. So, why do mountain bikers find MTB riding fun?
There are five reasons why mountain biking is fun:
trails equate to adventures
improves your focus
brings you to fantastic views
let's you discover your abilities
serves as a great exercise
Combining all these features into one extreme sport, we see how mountain biking stirs the excitement of many people.
Why Mountain Biking Is Fun?
There is no denying that mountain biking is a fun activity. It aligns your mind and body with nature. On top of that, climbing and descending trails give a different level of thrill, well, at least for those who experienced it.
But beginners and those who want to try MTB riding often ask why mountain biking is fun. We asked several mountain bikers why they consider conquering the trails fun to answer this question.
Is Mountain Biking a Fun Sport?
Mountain biking is fun yet a high-risk sport. You need to pedal across tree roots, climb hills, and descend very fast on slopes. These obstacles require a professional level of experience to ensure that you will not experience any accident.
If you are a beginner, it is ideal to start on trails that are not too technical. Once you improve your skills, you can move on to more challenging trails. This way, you can ensure that you have mastered different tracks, thus allowing you to cycle safely.
When you have the skills needed for technical trails, mountain biking is a fun sport. It lets you move your entire body while prompting your mind to figure out how to win over obstacles. If you like thrill and excitement, mountain biking is the right sport for you.
DIY MTB Pro Tip: It's really easy to get caught up buying a bunch of stuff. I'd take a look at ways to stay more comfortable first. Comfort equals fun! Read this article for tips -> 10 Ways to make a Mountain Bike More Comfortable
5 Reasons Why Mountain Biking Is Fun
1. Different Trails, Different Adventures
With mountain biking, you can experience the world through trails. Your mountain bike allows you to cover more ground than just by walking. So, you will be able to travel more within a given period.
Additionally, you do not know what to expect when mountain biking. For every trail that you will conquer, there are different obstacles.
2. Mountain Biking Prompts You to Focus
There is a lot to focus on when you are mountain biking. You need to pay attention to your pace, energy, and cadence throughout the trail. The trails also require your full attention, especially if they are bumpy and technical.
Due to its fast pace, you can feel your speed, the wind, and how your heart rate increases. It is a different excitement for people who love the adrenaline rush. (source)
3. Trails Have Fantastic Views
If you love riding your mountain bike uphill, mountain biking is fun because the trails will welcome you with spectacular views. After hours of pedaling and climbing routes, there is no better way to rest than to enjoy the view while inhaling fresh air.
Even better, you can encounter wildlife while mountain biking. For instance, you will see beautiful birds perched on the trees, making the view even more fantastic.
4. Discover Your Capabilities
If you are a beginner, the fun thing about MTB riding is that it lets you discover your capabilities. Mountain biking allows you to find out how strong you are.
There are always new things to learn when it comes to mountain biking. For this reason, you can develop your capabilities further. You can learn new riding styles, skills, so you would not have the time to be bored.
5. A Great Workout
Mountain biking is an intense form of workout. It burns calories, strengthens your heart and muscles, and improves respiration. You also get to enjoy the outdoor view and fresh air, so you are distracted from the pain that your muscles are experiencing. (source)
Why Are Mountain Bikes So Popular?
According to Eric McNamara, "Mountain bikers get a big thrill in riding on unpaved, rough terrain, even though this is hard on a bicycle." Now, MTB riding is already a substantial part of the biking scene.
But the question is – why are mountain bikes trendy?
One reason is that it allows you to get intense. If you are adventurous, mountain bikes give you the intensity you need to fulfill your fun idea. You'll also have your heart thumping more than you expect, especially if you are biking on a challenging trail.
Mountain bikes are also popular for people who love to travel and escape traffic. They allow you to reach remote and beautiful places without commuting on busy roads. When you get to your destination, you can enjoy the view from above while preparing your body and your MTB to descend.
DIY MTB: Are you looking for some weird "Facts" about mountain biking? I compiled a list – includes the Longest Jump. Read it HERE
Another reason why mountain biking is fun is that it sharpens your reflexes. Such is especially true if you are riding your mountain bike at night. Since it is more difficult to anticipate the obstacles on the trail, your only choice is to ride loose and only react when your mountain bike hits a bump. (source)
Is a Mountain Bike Good for City Riding?
A mountain bike does not solely work on trails. If you want to get from one location to another in a city, you can use your mountain bike for road riding. However, the best mountain bike for urban riding is a hardtail.
DIY Pro Tip: Pro Rider Hannah Finchamp put together an awesome guide to Urban MTB Riding. Check it out -> Urban Mountain Biking (Getting Out in the City)
Additionally, you need to avoid putting too much weight on your bike when using it on the road. The extra weight will result in rolling resistance, making it difficult for you to pedal.
Moreover, mountain bike tires have a more extensive surface area than regular road bike tires. Meaning you need more energy to pedal and keep the tires moving. For this reason, the biggest challenge when using a mountain bike for city riding is fatigue.
You may also ask – is riding a mountain bike on the road a bad thing? The answer is it is not. Mountain bikes are durable since they need to withstand abuse, so they will not have any damage when you ride them on the road. (source)
Are Modern Mountain Bikes More Fun to Ride?
There are many reasons why mountain biking is fun. But mountain bikes have evolved as technology advances, making modern mountain bikes more fun to ride than the old models.
Below are some modern advances on mountain bikes that make them more fun and better to ride:
Geometry
Modern mountain bikes have increased wheelbase, slacker fork, and lower bottom bracket. This geometry provides the rider with more corner grip and stability.
As a result, riders will feel more comfortable with their riding position.
Gears
Modern mountain bikes are more straightforward and lighter than old MTB models, making them lighter. Manufacturers removed all the unnecessary gears from old mountain bikes. As a result, they were able to shed some weight and create more space for gears that make your MTB better and faster.
Tires
Modern mountain bikes have wider tires, which provide more clearance. As a result, there is better comfort, grip, and impact when riding on muddy and technical trails. (source)
DIY MTB Tip: The type of bike you get can make ALL the difference. If you're a bit older and want to have some FUN riding a mountain bike -> What is the BEST Mountain Bike for Older Riders?
What Was the First Mountain Bike?
The first mountain bike ever created was the Breezer Series 1, launched in 1978. Joe Breeze created this bike using Chromoly instead of traditional steel.
The Breezer 1 consisted of components that can resist abuse, including
Araya 26" steel rims
Suntour derailleurs
Phil Wood hubs
Dia-Compe brakes
Along with the Breezer 1, MTB pioneers Charlie Kelly, Gary Fisher, and Tom Ritchey also produced their own mountain bike. Ritchey created the frames that Fisher and Kelly used for the mountain bikes they sold in their company called MountainBikes. (https://books.google.com.ph/books?id=FC1WDwAAQBAJ&pg=PA14&dq=joe+breeze&hl=en&sa=X&ved=2ahUKEwiN2NnKycf2AhWbEIgKHY9nAQEQ6AF6BAgLEAI#v=onepage&q=joe%20breeze&f=false)
The Takeaway
There are many answers to why mountain biking is fun. But to sum them up, MTB riding is a fun activity as riding on rugged and bumpy trails brings excitement to those who love the thrill.
Modern mountain bikes are even more fun to ride since they have improved geometry. For this reason, they are more comfortable and stable to pedal.
You can even use your mountain bike for city riding. However, it is essential to note that doing such will be tiresome. The reason is that they are mountain bike tires that have a wider surface area, which means they also have more resistance.
---
More Ways to Stay Safe On Your MTB
---
---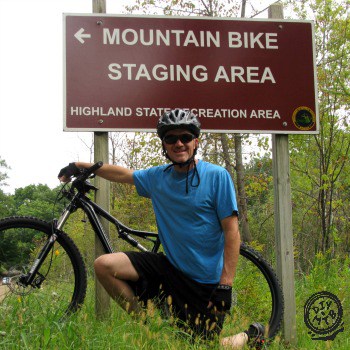 David Humphries is the creator of DIY Mountain Bike. For me a relaxing day involves riding my mountain bike to decompress after a long day. When not on my bike I can be found wrenching on it or making YouTube videos at 👉 DIY Mountain Bike Read more about David HERE.
Sources
Melissa Bopp, Dangaia Sims, Daniel Piatkowski. Bicycling for Transportation: An Evidence-Base for Communities. Elsevier, 2018. https://books.google.com.ph/books?id=FC1WDwAAQBAJ&pg=PA14&dq=joe+breeze&hl=en&sa=X&ved=2ahUKEwiN2NnKycf2AhWbEIgKHY9nAQEQ6AF6BAgLEAI#v=onepage&q=joe%20breeze&f=false.