Can I put a basket on a mountain bike? Yes, on most mountain bikes you can install a basket. The type of basket and location will vary by the type of mountain bike you have. Let's dig into the subtleties of each style and lead you to a basket solution for your bike.
*preferred for strength and capacity
A study conducted by Richard Bunning, Zachary Cole, and Mathew Lamont for the Journal Of Vacation Marketing revealed that the number of recreational mountain bikers in the US had an annual increase of 1.13% from 2006 to 2012. So, it is no longer surprising to see mountain bikes cruising across the commuter roads.
Suppose you are one of the people who use their mountain bikes for commuting. In that case, chances are you think making some adjustments to make commuting more convenient. One of these adjustments is mounting a basket on your MTB.
But is a basket suitable for a mountain bike?
Key Takeaways
This article will tackle the following:
Putting a basket on a mountain bike
Special attachments for mountain bike baskets
The pros and cons of installing a basket to your mountain bike
How to choose a mountain bike basket
At the end of the article, we will help you decide whether installing a basket on your mountain bike will help you with your ride.
DIY MTB Pro Tip: Looking for even more storage on your bike? Get some pannier bags, I've got a complete guide 👉 Can You Put Pannier Bags on an MTB
There's no problem with you putting a basket on a mountain bike. The process is straightforward, but you may need a special attachment to install the basket. Depending on its specifications, you may install the basket in front or at the rear of your mountain bike.
It would be best if you considered different factors when planning to install a basket on your mountain bike. I'll discuss everything you need to know about mountain bikes and bike baskets.
Can I Put A Basket On A Mountain Bike?
Are you planning to use your mountain bike for regular commuting? If you are a cyclist, you probably know that mountain bikes do not usually have many accessories installed. You want them to be as light as possible, making them easy to maneuver, especially during ascends.
Meanwhile, things are different if you want to use your mountain bike on paved roads. Adding extra storage to the bike, such as a basket, is a thing people think of doing. A survey conducted by the International Journal Of Electrical And Computer Engineering (IJECE) found that out of 288 bike owners, 28.8% prefer a basket as an additional accessory.
But is a mountain bike and basket a good combination?
Can You Install A Basket On A Mountain Bike?
Putting a basket on your mountain bike is entirely possible. You can install the basket in front or at the back of the bike. Even better, the installation process is quite simple.
However, adding this extra accessory to your mountain bike will increase its weight. But this fact is not an issue if you do not need your bike to be extra fast. Putting a basket on your mountain bike may be beneficial, as you can place additional loads on it instead of carrying it on your back.
When doing this task, you may need to purchase a special attachment, like eyelets, depending on the basket you want to install. Some baskets come with their attachment, so all you have to do is to screw them on your bike. However, it is worth noting that the installation process is not always straightforward. Installing the basket can be tricky if you have a full-suspension mountain bike.
Can You Install A Basket On Any Mountain Bike Type?
You can install a basket on any type of mountain bike. However, the installation process may differ from one cycle to another. Different mountain bikes may also need different baskets and special attachments.
There are three major mountain bike types that people commonly use:
rigid mountain bike – a bike that consists of a standard fork rather than a suspension
full suspension mountain bike – consists of a front and rear shock
front suspension mountain bike – only has a suspension for on the front wheel
As mentioned, the basket installation process will vary from one MTB to another. That said, let us discuss how this process may differ in the common mountain bikes that people use:
Rigid Mountain Bike
Professor Wyand Steyn and Janik Warnich mentioned in the publication called Innovate that rigid mountains are not very common among mountain bikers. These bikes do not have suspension systems, giving them more bar sensitivity. This fact makes installing a basket onto the mountain bike easy.
Putting a basket on a suspension mountain bike impacts the shocks' suspension capabilities. It also limits the type and size of the basket you can install.
Since a rigid mountain bike uses standard forks, you have more basket size and type options. The installation process is easy, as the basket will not interfere with the suspension fork.
Full Suspension Mountain Bike
This type of mountain bike is the most common choice among trail riders. It absorbs the most shock and vibration, making it the best option for riding on bumpy trails. According to Michael Berry, suspension systems isolate cyclists from vibrations caused by road bumps, resulting in a more comfortable ride.
However, the same suspension system that makes this mountain bike comfortable makes it tricky to install a basket. The reason is that the basket can affect the shock absorption of the mountain bike. And since the front and rear of the MTB both have a suspension fork, you only have limited space to install the basket.
The only option is to use a small basket, so it will not affect how the suspension forks work.
Front Suspension Mountain Bike
As the name suggests, a front suspension MTB only has a suspension fork in front of it. For this reason, you do not want anything to interfere with its shock absorption capabilities, or it will no longer have much shock-resisting power. This fact leaves you with two installation options:
on the rear of the mountain bike
on the handlebar
Installing the basket on the bike's rear allows you to fill it with heavy loads. On the other hand, adding weight to your handlebar can make it difficult to maneuver; installing the basket on it is only ideal for carrying lightweight items.
Regardless of how you want to install your mountain bike basket, ensure you find the best spot on the bike. This way, you can ensure that the basket will not obstruct the suspension or how the mountain bike works.
DIY MTB Recommendation: I've got two of the Ibera Bike Racks. One on my wife's bike and on my MTB. The bags and panniers are fully interchangeable. Here's a shortcut link to Amazon to check prices and read reviews. 👉 Ibera Rack with PakRak
The Different Attachments For Mountain Bike Baskets
While there is a limit to your mountain bike installation options, there are various attachments you can use to install the basket.
Quick-Release Attachment
This attachment has a unique mechanism that makes it easy to install and remove from the bike without needing to use any tool. You can use this attachment to connect the basket to the handlebar for suspension mountain bikes and on the fork's stem for rigid ones.
However, a quick-release attachment cannot support the basket if its contents are too heavy.
Front Rack Attachment
Another tool you can use to install a basket on your mountain bike is a front rack. A front rack serves as a mounting spot for the basket.
There are two front racks – a standard rack and a lower rider rack. However, the standard rack is the only type you can use for a basket. The reason is that a lower rider rack hangs on the sides of your mountain bike's front part, so it is only suitable for hanging bags.
On the other hand, you have to install the standard rack on top of the mountain bike's front wheel, allowing you to increase its load capacity. After installing the rack, you can mount your basket using zip ties, screws, or the attachment system the basket comes with upon purchase.
Struts Attachment
This type of attachment is ideal for rigid mountain bikes. If your mountain bike's forks have fender eyelets, you can use them to attach the support struts in front of the bike.
But just because your mountain bike does not have fender eyelets does not mean you cannot use a struts attachment. You can still connect this attachment to the bike if you have P-clamps. However, using P-clamps as an attachment point will not give the same stability as installing a struts attachment to the front rack or fender eyelets.
After installing the attachment of the struts, you will next mount the basket onto it.
MTB Tools I Love and Recommend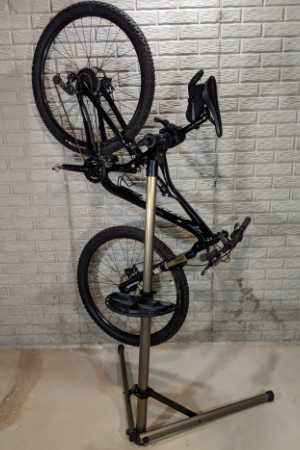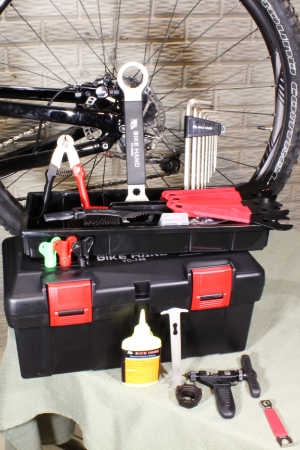 I own each of these tools and only recommend things I own and use.
The Pros And Cons Of Installing A Basket On Your Mountain Bike
Understanding the technicalities of installing a basket on a mountain bike is crucial. However, understanding these technicalities alone is not enough. Instead, you also need to know the pros and cons of installing a basket to your MTB to help you decide whether it will benefit you.
Understanding The Advantages
Increases your load capacity
A bike basket allows you to carry more loads while you are traveling. Instead of putting your things in a bag and carrying it on your back, you can arrange them in the basket. The basket is especially helpful during long rides, as carrying a heavy backpack can be uncomfortable after some time.
Keeps your things organized
Carrying a backpack while cycling makes it sway, particularly when you pass on bumps. As a result, the items inside the bag become messed up. However, securely mounting a basket to your mountain bike can keep your things organized, as the basket will not shake during your ride.
It helps you efficiently access your things.
If your things are in a bag, you must stop your ride if you need to access something inside the bag. On the other hand, a basket offers easy access to your possessions. If the basket is in front of a mountain bike, you can easily reach it when you need to get something.
The Disadvantages
Adds weight to the bike
A basket makes your mountain bike bulky. On top of that, it increases the bike's weight, which can make it a bit challenging to maneuver.
Affects balance
Installing a basket on the rear part of your mountain bike impacts balance. Fortunately, you can prevent this disadvantage by evenly distributing the weight of your bike basket's contents. This way, you can keep the mountain bike's center of gravity.
How To Choose the Right Mountain Bike Basket
There are only a few things you need to consider when choosing a basket for your MTB:
Size
One of the first things to consider when getting a basket for your mountain bike is the size. You want the basket not to be too small that it could not hold all your things but not too large that it would make the mountain bike bulky.
You also need to ensure that the basket will not make your bike too heavy. According to Jeremy Grooves in his study Bicycle Weight And Commuting Time: A Randomized Trial, keeping the bike lightweight makes it easy to maneuver, especially on uphill roads.
Type
Metal, wicker, or folding basket? Mountain bike baskets come in different types. For this reason, choose one that can withstand various riding conditions. If you intend to put heavy items in your basket, select a metal one so that it can handle your parcels.
Compatibility
Baskets come in different sizes and types. When choosing the one you want to install on your mountain bike, you want to look at the basket's specifications to ensure that it is compatible with your MTB.
Basket On Mountain Bike: The Takeaway
You can install a basket on a mountain bike as long as its size and type are compatible with your bike's model. Some baskets come with a dedicated mounting point. In contrast, others require a support struts attachment, a quick-release mechanism, or a front rack during installation.
Do you have any questions about putting a basket on a mountain bike? We'd love t hear your thoughts, so drop your comments, questions, and suggestions in our comment box.
Different mountain bike types require different basket installation methods. After identifying the compatible basket type and size, the installation process will be straightforward.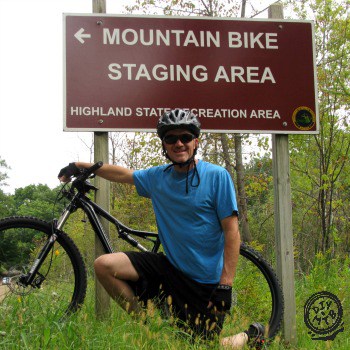 David Humphries is the creator of DIY Mountain Bike. For me a relaxing day involves riding my mountain bike to decompress after a long day. When not on my bike I can be found wrenching on it or making YouTube videos at 👉 DIY Mountain Bike Read more about David HERE.
Sources
Buning, Richard & Cole, Zachary & Lamont, Matthew. A Case Study Of The Us Mountain Bike Tourism Market. Journal of Vacation Marketing. 10. (2010) DOI: 10.1177/1356766719842321. Accessed January 18, 2023.
Corno, Fulvio, Teodoro Montanaro, Carmelo Migliore, and Pino Castrogiovanni. "Smartbike: An IoT Crowd Sensing Platform For Monitoring City Air Pollution." International Journal of Electrical and Computer Engineering 7, no. 6 (2015). https://www.up.ac.za/media/shared/404/Articles/innovate_10_2015_the-impact-of-tyre-diameter-and-surface-conditions-on-the-rolling-resistance-of-mountain-bikes.zp73367.pdf. AccessedJanuary 18, 2023.
Steyn, Wynand, and Janike Warnich. "The Impact Of Tyre Diameter And Surface Conditions On The Rolling Resistance Of Mountain Bikes." https://www.up.ac.za/media/shared/404/Articles/innovate_10_2015_the-impact-of-tyre-diameter-and-surface-conditions-on-the-rolling-resistance-of-mountain-bikes.zp73367.pdf. AccessedJanuary 18, 2023.
Davie, Mark C. "Mountain Bike Suspension Systems And Their Effect On Rider Performance Quantified Through Mechanical, Psychological And Physiological Responses." Ph.D. diss., University of Glasgow, 2011. https://theses.gla.ac.uk/2432/1/2011daviephd.pdf. Accessed January 18, 2023.
Groves, Jeremy. Bicycle Weight And Commuting Time: Randomised Trial. The British Medical Journal (2010). DOI: https://doi.org/10.1136/bmj.c6801. Accessed January 18, 2023