The best mountain biking app can make a difference in your cycling experience. You can use it to find various trails or even reach a fitness goal. However, what is the best MTB app today?
Trailforks is the best MTB app. You can use it to find singletracks and help you not get lost along the way. Trailforks also let you see how easy or difficult a track is.
Best Mountain Biking App
If you are mountain biking on an unfamiliar trail, chances are you will get lost along the way. Fortunately, countless Google Play and Apple App Store apps can help you find your way on every terrain.
Even better, some MTB apps will let you measure how long you have biked or how many calories you have burned. However, the dilemma comes from the countless number of MTB apps out there makes it difficult to choose the best one.
To help you choose, we have checked the most popular apps to find the best mountain biking app.
The best app for mountain biking is Trailforks. This app is a trail database that consists of 300,000 trails. It is a user-generated community, meaning almost everything on the app came from actual hikers and mountain bikers.
Trailforks allow cyclists to read trail descriptions, look at trail reports, and view photos on their smartphones and computer.
Moreover, the trails that this app features are rated based on their difficulty. The trails have different colors, representing how difficult they are.
Green – the most accessible trail in Trailforks. Green trails are perfect for amateur mountain bikers.
Blue – the middle level
Black – the most challenging trail, consisting of many up and downhill and cliffs
That said, you will be able to find the right trail for you.
Moreover, there is no denying that Trailforks is the best mountain biking app on Google Playstore and Apple App Store.
Ride Mapping and Trail Alerts
Trailforks allow you to map and record your rides. This way, you will review your MTB adventures and compare them to your previous ones. That said, Trailforks' ride mapping feature is ideal if you are mountain biking for fitness.
On the other hand, trail alerts let you see if the trails you want to bike on have problems or hazards. As a result, you will be able to avoid encountering hassles on your way.
The Features
| | |
| --- | --- |
| Ridelog Stats and Heatmap Data | Gather real-time demographic info regarding the riders on your trails |
| Easy Adding and Editing | Allow you to publicize the latest information that you have about your trails. |
| Trail Reports | Send the most recent information in your inbox about the different trails (source) |
Nine Best MTB Apps Next to Trailforks
ViewRanger
There is no denying that Google Maps is already a fantastic app for finding locations. However, ViewRanger can do more than just that. It boasts excellent features, making your cycling routes easy to plan, navigate, and explore.
The Open Cycle Map feature allows you to see bike-specific routes. Even better, it will enable you to download highly detailed topographic maps. However, it is worth noting that this feature is available for a fee.
You can also share your location with your friends using the Buddy Beacon feature. This way, your friends will know that you are safe, and they will be able to find you when they need to.
In addition, you can also record, follow, and make routes within the app using your phone or computer. You can also add your points of interest to the map, making ViewRanger the best mountain biking app next to Trailforks. (source)
What3words
This app is a geolocating platform. It locates users anywhere around the globe using a three-word code. For this reason, this app is famous not only for mountain bikers but also for the police and mountain rescue teams.
Moreover, the app divides the planet into 3m x 3m squares and gives each square a unique three-word code. The result is a fast yet straightforward and foolproof way of sharing your location with co-cyclists.
For this reason, What3words is the best mountain biking app for bikers and emergency service teams. (source)
DIY MTB Pro Tip: How in the heck should you carry your phone riding. Read this article from MTB Pro Hannah Finchamp – 6 Ways to Carry a Phone on a MTB
Strava
What makes Strava popular among mountain bikers is its ability to record training and rides. Its Segment Explore feature lets you discover new trails for a unique cycling experience. The said feature will show you different riding segments in a particular area. This way, you will see whether the area you want to bike on is a trail or a singletrack delight.
Additionally, the app has a Buddy Beacon option where you can let a maximum of three people locate you in real-time. If you subscribe to Strava Premium, you will see how you are doing on a trail in real-time. (source)
MapMyRide
MapMyRide has already been available on Google Playstore and Apple App Store for quite some time. For this reason, it is the best mountain biking app for finding different routes in your area.
The app has an extensive database that contains all the available routes. So, it is an excellent choice for cyclists who want to explore the available trails in their country.
Moreover, MapMyRide is free, but you can opt for a premium version that allows you to access advanced mapping and tools. (source)
Endomondo
Another best mountain biking app is Endomondo. It is an activity tracking app that records the speed and duration of your cycling. The app also records the calories you have burned.
Even better, you can use Endomondo with a heart rate monitor.
This way, you will be able to log your entire training, analyze, and compare it with your previous ones.
In addition, the app allows you to see the altitude of the trails that you mountain biked on. (source)
BikeComputer
The best mountain biking app should let you turn your smartphone into a GPS tracker. Such is something that BikeComputer can do. It allows you to track basic metrics such as route, distance, elevation, and pace.
You can also connect BikeComputer with Bluetooth heart rate monitors. This way, you can share all your rides on Facebook once you finish them. (source)
FATMAP
FATMAP works by uploading routes and trails to your smartphone before mountain biking. There are also unique features such as
Topo Maps – there are seven topo maps, namely USA, UK. Switzerland, Spain, Austria, France, and Germany.
Live Information – lets you see the live status of trails and lifts to know which is accessible and not.
Custom Layer – allows you to choose the elevation, gradient, and aspect you want to highlight on the map.
Snow Layer – lets you check the snow depth and snow forecast on a trail. (source)
DIY MTB Tip: Are you ready to take your MTB skills up a notch? Seriously, when I signed up for an MTB camp things changed for the better. Read this article – Searching for a Mountain Bike Camp? – 10 Skills to Look At!
AllTrails
This app is ideal for mountain bikers who need a quick, straightforward, and intuitive platform. AllTrails allows you to plan out your adventure by setting the distance, difficulty, and points of interest. This way, you can find the appropriate trail options, its reviews, and even those trail photos.
You can also access the map offline. And right after you finish a trail, the app lets you share your thoughts about the route by leaving a comment. You will even see the total length, moving time, elevation gain, pace, and the calories you burned throughout the ride.
No doubt, AllTrails is also the best mountain biking app for cyclists. (source)
Komoot
Komoot is an app that makes your phone satellite navigation with voice commands. Before starting your ride, you can use the app to key in your location and where you want the endpoint to be. The app will then save the route as a planned journey and record the trails you finished as completed tours.
What sets Komoot apart from other mountain biking apps is that it provides numerous routes that you can take to reach your destination. (source)
MyFitnessPal
If you need the best mountain biking app for your fitness journey, you need to check out MyFitnessPal. When you use the app for the first time, it will prompt you to enter your weight and other questions about your fitness goal. You can also set a goal for how much weight you want to lose weekly.
The app also tells you how many calories you need to eat daily. Once you go mountain biking, MyFitnessPal will count it as negative calories. This way, you can eat more while still meeting your daily goal. (source)
Is There a Better App Than Trailforks?
As mentioned, Trailforks is the best mountain biking app. However, only you can answer whether or not there is a better app than Trailforks.
The reason is that Trailforks may work best for one cyclist but not for another. For instance, if you want to see the altitude that you could travel using your mountain bike, Trailforks may not work for you as it does not have such a feature.
On the other hand, the app may work excellently for someone who wants to have their burned calories recorded along with maps and trails.
Is Trailforks No Longer Free?
Trailforks is a trail management platform initially available only as a website accessible through your computer. However, the app creators opted to make it more accessible while cyclists were on the trail, prompting them to make a phone application.
According to Trailforks, "The website remains free, as do the Trailforks trail association tools, but full access to the Trailforks App now requires a subscription." The creators added that cyclists can still use the app for free. However, it will be limited to a local area.
In addition, the functions of the app will remain free. That includes:
checking trail reports and status
looking for events, badges, and contests
viewing and recording your log.
Moreover, the free area is 36-mile sides, which equates to 3600 sq. km. (source)
Is Komoot Better Than Trailforks?
Trailforks is an excellent app for locating singletracks. It lets you check for tracks depending on the difficulty, making it the best mountain biking app. Another thing that makes Trailforks an excellent app is that it enables you to choose the trail you want to take, depending on how amateur or professional you are. (source)
On the other hand, Komoot allows you to see different trails that get you to one destination. You can even mark your start and endpoint, save it, and the app will label it as completed tours once you finish them. (source)
That said, Trailforks is better than Komoot if you aim to find various trails that lead to one endpoint. But if you only want singletrack for every ride, with tracks that have different levels of difficulty, Trailforks is a better app.
Does Strava Have Mountain Bike Trails?
Strava is a mobile app that lets you share information about your MTB rides using GPS. It enables cyclists to track their fitness progress. More than that, Strava lets riders discover different trails for mountain bikers to take. (source)
Final Thoughts
Mountain biking is more challenging when you can discover various trails. That said, mountain biking apps are an essential part of your MTB journey.
Some apps even let you record your elevation, cycling duration, and how long the trail you took is. If your goal is to reach your fitness journey, the best mountain biking app will allow you to record your weight, how much you have to lose, and the calories you want to burn.
---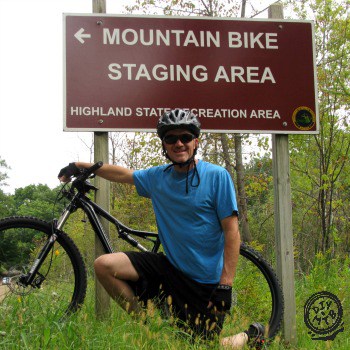 David Humphries is the creator of DIY Mountain Bike. For me a relaxing day involves riding my mountain bike to decompress after a long day. When not on my bike I can be found wrenching on it or making YouTube videos at 👉 DIY Mountain Bike Read more about David HERE.
Sources
"About." Trailforks. Accessed December 8, 2021. https://www.trailforks.com/about/.
Graeme Hilditch, Trail Running: From Start to Finish. Bloomberg Publishing: 2014. https://books.google.com.ph/books?id=jsdEAwAAQBAJ&pg=PA134&dq=viewranger&hl=en&sa=X&ved=2ahUKEwikuMGvkNb0AhUkr1YBHZoADqUQ6AF6BAgDEAI#v=onepage&q=viewranger&f=false.
Annette Froehlich, Space Fostering African Societies: Developing the African Continent through Space, Rondebosch: Springer Nature Switzerland, 2020. https://books.google.com.ph/books?id=TNDGDwAAQBAJ&pg=PA166&dq=What3words&hl=en&sa=X&ved=2ahUKEwi0u675kNb0AhXSc94KHXHnCpwQ6AF6BAgDEAI#v=onepage&q=What3words&f=false\
Jason R. Rich, Apple Watch and iPhone Fitness Tips and Tricks, USA: Pearson Education Inc., 2016, https://books.google.com.ph/books?id=SCGMCgAAQBAJ&pg=PT292&dq=MapMyRide&hl=en&sa=X&ved=2ahUKEwijrcSnkdb0AhVMZt4KHekODLcQ6AF6BAgGEAI#v=onepage&q=MapMyRide&f=false.
Bruce W. Perry, Fitness for Geeks: Real Science, Great Nutrition, and Good Health, O'Reilly Media, 2012. https://books.google.com.ph/books?id=P1WbTGVB4ZYC&pg=PA27&dq=endomondo&hl=en&sa=X&ved=2ahUKEwiolaHckdb0AhUVDd4KHeQGDYgQ6AF6BAgDEAI#v=onepage&q=endomondo&f=false.
"Bike Computer Co." Bike Computer Co. Accessed December 8, 2021. https://bikecomputer.co/.
Jon Williams, "What Do You Get," Be Ready for Any Adventure with FATMAP Explore (blog), February 27, 2019. https://about.fatmap.com/journal-digest/introducing-fatmap-explore.
Andie Thueson, The Big Book of 30-Day Fitness Challenges: 60 Habit-Forming Routines to Makes Working Out Fun, USA: Ulysses Press, 2019. https://books.google.com.ph/books?id=fRGbDwAAQBAJ&pg=PA20-IA5&dq=alltrails+app&hl=en&sa=X&ved=2ahUKEwiNu6bYktb0AhUUZ94KHeQuBL0Q6AF6BAgIEAI#v=onepage&q=alltrails%20app&f=false.
Constantine Stephanidis, Vincent G. Duffy, Norbert Streitz, Shin'ichi Konomi, and Heidi Krömker, HCI International 2020 – Late Breaking Papers: Digital Human Modeling and Intelligent Environments, Copenhagen: Springer Nature Switzerland, 2020, https://books.google.com.ph/books?id=_gMHEAAAQBAJ&pg=PA231&dq=komoot&hl=en&sa=X&ved=2ahUKEwitrIz9ktb0AhWbZd4KHatfAb8Q6AF6BAgGEAI#v=onepage&q=komoot&f=false.
Scott M. Davis, Jeff Gourdji, Making the Healthcare Shift: The Transformation to Consumer-Centricity, New York: Morgan James Publishing, 2019. https://books.google.com.ph/books?id=J2Z0DwAAQBAJ&pg=PT57&dq=myfitnesspal&hl=en&sa=X&ved=2ahUKEwjdu6yjk9b0AhVaEnAKHSCvDNQQ6AF6BAgFEAI#v=onepage&q=myfitnesspal&f=false.
"Trailforks Introduces Paid Trailforks Pro Option," Trailforks. Accessed December 8, 2021. https://www.trailforks.com/blog/view/introducing-trailforks-pro/.