The dilemma – the fall colors are beginning to explode here in Michigan, and I'm stuck riding close to the house because my cheapo bike rack isn't even close to being capable of carrying my 88 lb, fat tire eBike.
After weighing the price, pros and cons and looking at countless reviews, I got the Saris MHS 1+1. The short story? My research paid off big, let's ride a bit deeper into this value packed, heavy duty bike carrier.
Discovering the Saris MHS 1+1
When I unboxed the Saris MHS 1+1, I was intimidated by the thick instruction manual. But to my relief, it was just a single page of instructions, with the rest catering to multiple languages. Assembly time from box to a loaded bike took 17 minutes.
Easy Peasy time to explore.
The First Trip Out the MHS Kills Bike Wobble
I filmed the bike on the rack while encountering bumps on the road. Nearly all the side to side wobble was eliminated using this carrier. I would image that folks with a 2" receiver will see even better results given my van has a smaller 1 ¼ inch receiver.
Pros and Cons – Ins and Outs
After nearly a month now, I've been able to note the things I like about the MHS 1+1 and the Cons to be aware of.
| | |
| --- | --- |
| Pros | Cons |
| Modular design allows for customization based on needs. | Relatively heavy, making it challenging to move between vehicles. (~68 lb) |
| Compatible with a wide range of bike sizes and types. | Security wrench required for adding bike trays. |
| Easy assembly with a straightforward instruction manual. | Many not work well with bike fenders and rear racks. |
| Integrated cable locks and hitch lock offer added security. | Tire interface arms may require adjustment of tire retainer, which was difficult for me. |
| Tilting feature allows easy access to the vehicle's rear, even with bikes loaded. | |
| Sturdy enough to handle heavy eBikes like the Himiway Cobra. | |
| Dual-arm system provides added stability and security for bikes. | |
| Expands exploring opportunities, especially for those with heavy bikes. | |
Ready to unlock new adventures with your eBike? The Saris MHS 1+1 is designed to securely handle heavy eBikes that are made for adventure. Don't miss out on the freedom to roam wherever your heart desires. Start exploring farther with the Saris MHS Systems.  Here's a shortcut link to read more 👉 https://saris.com/products/mhs-1-bike-package
Design and Features: Built for the Heavyweights
The MHS 1+1 stands out with its modular design. The "One plus One" signifies the two parts: the receiver and the tray for the bike.
The integrated locks, especially the one on the receiver, added an extra layer of security, ensuring my precious eBike was safe.
Another stand-out feature is the two tire retainer arms. Most of the bike racks I looked only had one retaining arm. A single arm is not going to hold a bike as securely as the MHS.
Because the Saris folds up nice and close you can keep the rack on and not worry about parking issues.
Specifications of the Saris MHS
The rack is built like a tank. Quality welding and thick gauge steel throughout. The finish is a thick powered coat that should last for years.
| | |
| --- | --- |
| Feature Category | Details |
| Bike Capacity | Carries 1 bike up to 80 lb, eBike friendly, and can expand to carry an additional bike with the DUO 1-Bike Add-On Tray. Accommodates wheel bases up to 53 inches. |
| Product Design | Modular tray-style, adjustable for various wheel sizes, and includes integrated locking systems. Features multiple folding configurations and is compatible with both 1 ¼" and 2" hitch receivers. |
| Product Weight | MHS 1+1 Base weighs 35 lb, DUO 1-Bike Tray is 33 lb for a total of 68 lb. |
Comparison with Other Racks
I've had my fair share of bike racks over the years. But the MHS 1+1, priced at $550, offers features that even pricier models from brands like Thule and Yakima racks. The integrated locks, the dual-arm system, and the ability to handle heavy eBikes like my Himiway Cobra make it stand out.
Exploring the Fall Colors: A Dream Realized
With the MHS 1+1, I was ready to ride into the heart of Michigan's fall. The vibrant oranges and the serene countryside called out, and I answered.
The rack's sturdiness was evident as I drove through varying terrains, with the bike barely moving. The tilting feature was a pleasant surprise, allowing me easy access to my van's hatch, even with the heavy eBike loaded.
Opening Up the Door to Exploring
The Saris MHS 1+1 is not just a bike rack; it's a door way to adventures. It has expanded my exploring opportunities, allowing me to immerse myself in the beauty of Michigan's fall. For those with heavy eBikes, this rack is a game-changer.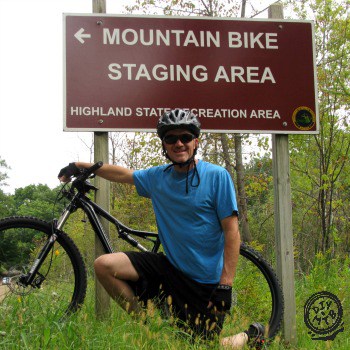 David Humphries is the creator of DIY Mountain Bike. For me a relaxing day involves riding my mountain bike to decompress after a long day. When not on my bike I can be found wrenching on it or making YouTube videos at 👉 DIY Mountain Bike Read more about David HERE.